There is nothing better than having a rotisserie chicken or leftover roasted chicken in your fridge to get dinner going, especially for busy weeknights! Having that tender cooked and delicious chicken makes your meal prep fast and easy. Now all you need are a couple good chicken recipes that call for cooked chicken.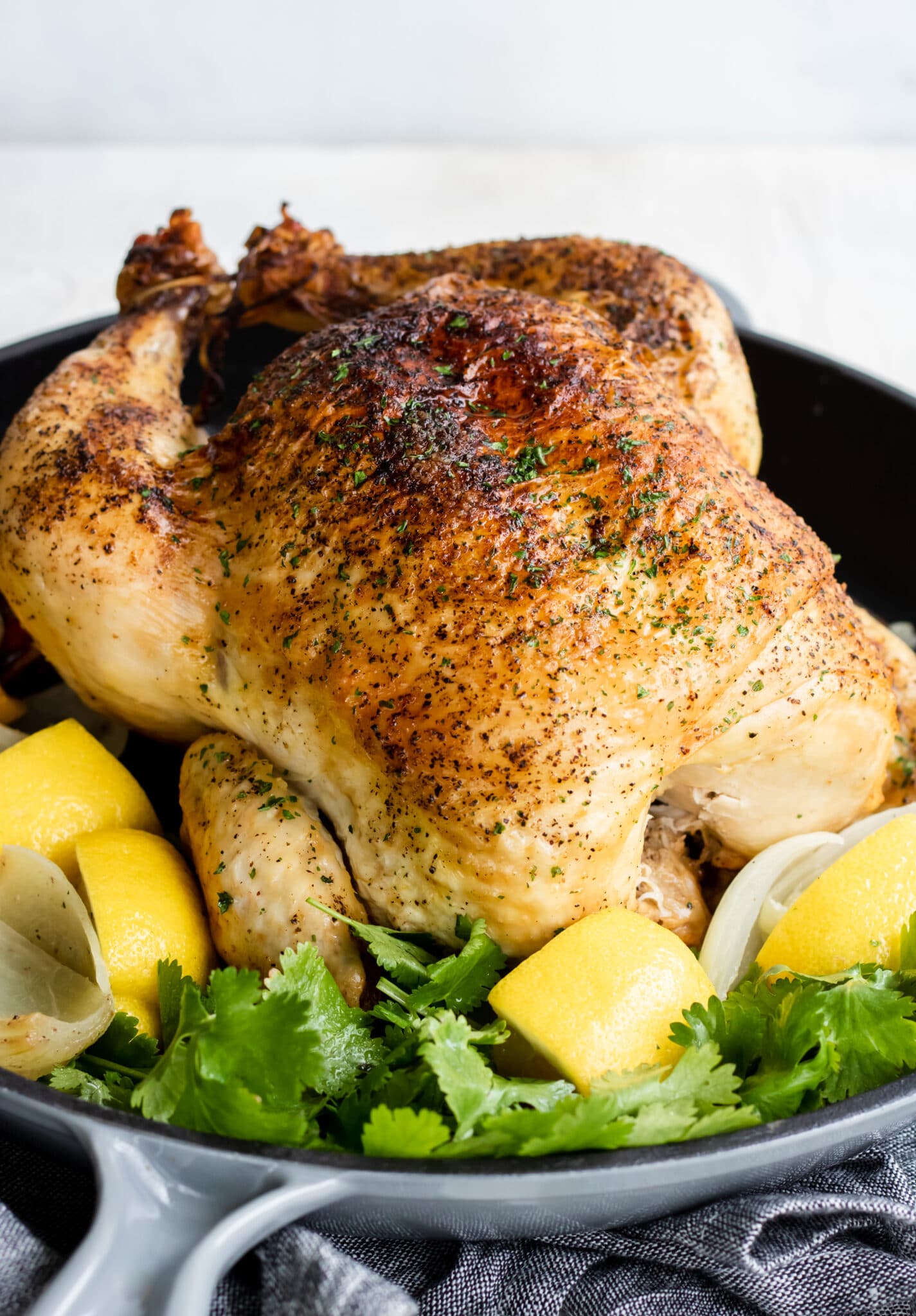 Rotisserie Chicken
Before we get started with leftover chicken recipes, let's talk about buying a rotisserie chicken. One of my favorite places to buy a whole roasted chicken is at Costco. You can grab one for under $6, that is a bargain! I will say Costco makes a really juicy rotisserie chicken! YUM
Your local grocery store, Target, or Walmart also carry already cooked rotisserie chickens. They will generally be near the deli section/counter.
Making Your Own Rotisserie Chicken
You can absolutely make your own "rotisserie" chicken. Most home kitchens don't have an actual rotisserie, but roasting it in the oven or in your Instant Pot will work too!
Or if you just want simple cooked chicken to use in recipes this Poached Chicken recipe is super simple!
How to Break Down a Rotisserie Chicken
A whole chicken can be broken down into 8 pieces: 2 breasts, 2 wings, 2 legs, 2 thighs.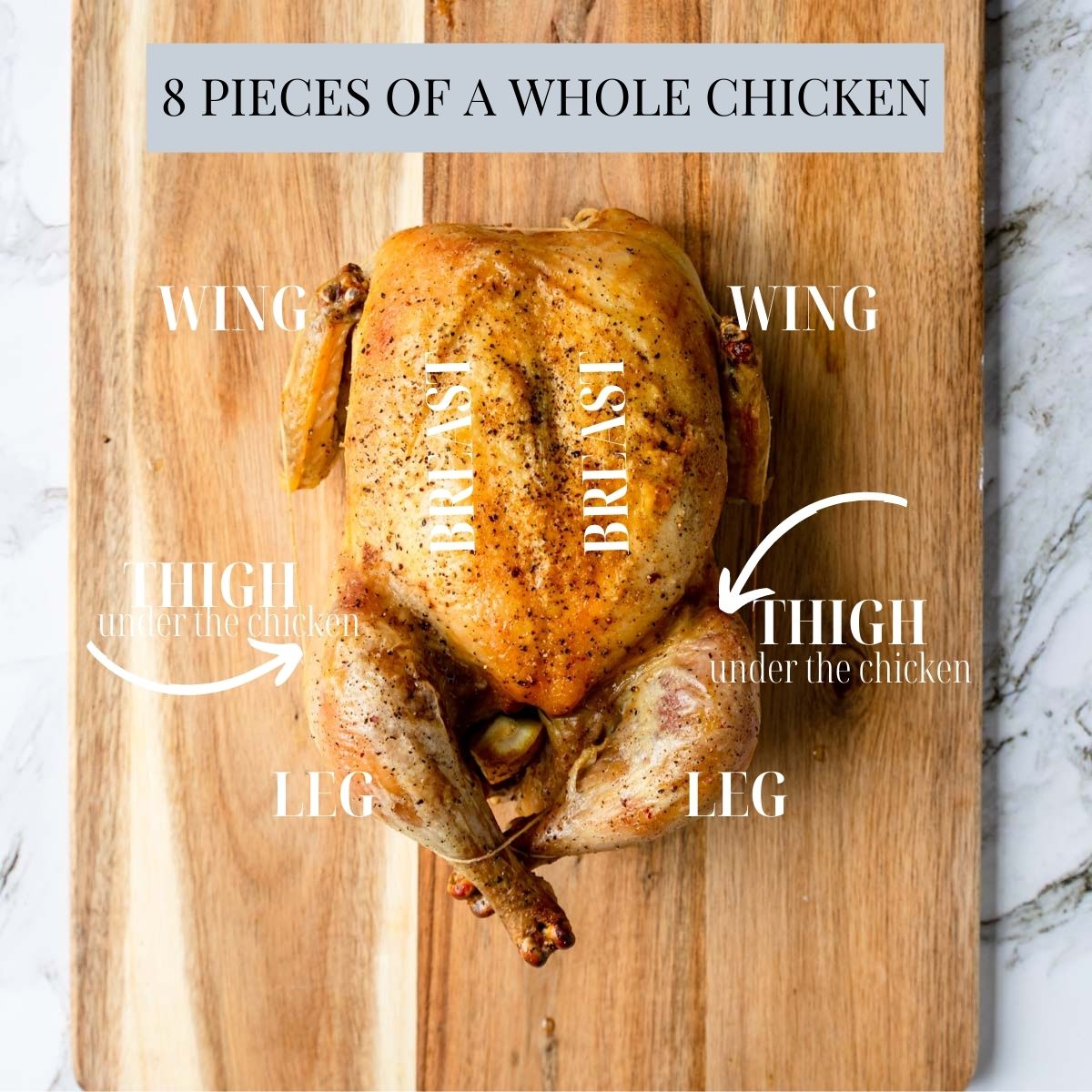 Here is a great video showing you exactly how to break your chicken down (and shred the chicken if you want):
Rotisserie Chicken Tips
It is easier to pull the meat from the chicken when it is still a little warm.
You can shred the chicken meat with a stand mixer (paddle attachment) while it is still warm!
Since most rotisserie chicken are one set price instead of "per pound" buy the biggest one they have.
If you are shredding or chopping the meat, pour a cup of chicken broth in the bottom of the storage container to help keep your chicken from drying out.
Storing Rotisserie Chicken – Fridge & Freezer
Rotisserie Chicken keeps in the fridge for up to 4 days. Make sure you keep it in an airtight container or baggie.
Pro Tip: Pour a little broth at the bottom of the storage container to keep your chicken from drying out!
You can also keep your shredded rotisserie chicken meat in the freezer for up to 3 months. I recommend storing it in 2-3 cup portions for easier use in recipes. To use from the freezer thaw in the fridge overnight.
Don't throw Away the Carcass!
After you have removed all the meat from the chicken you can use the bones to make the best Stock! I like to use my electric pressure cooker to make Instant Pot Chicken Stock. It will be full of collagen and nutrients!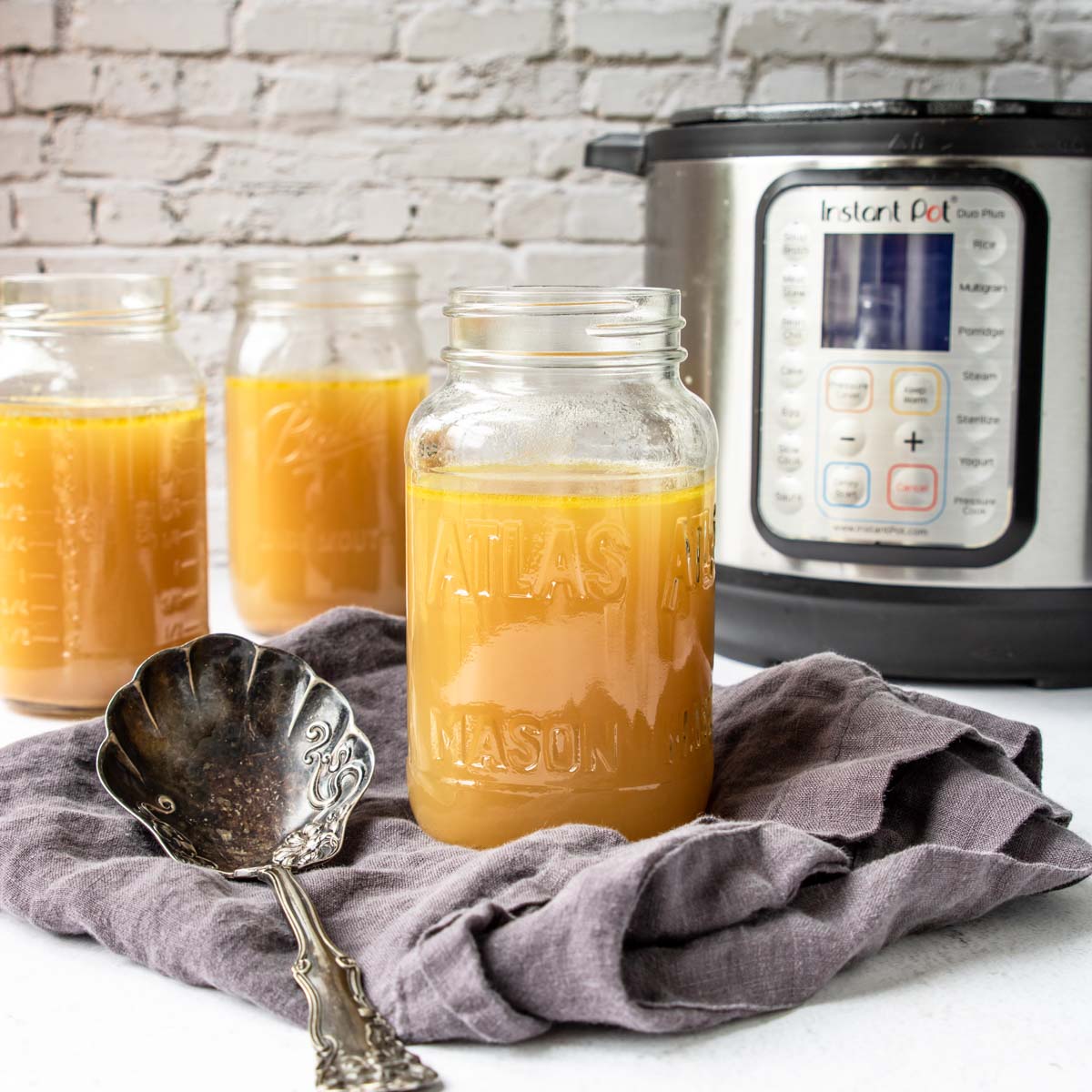 If you aren't' ready to make the chicken stock right away you can keep the carcass/bones in the freezer in a Ziplock for up to 3 months.
Pro Tip: When I have a chicken carcass in the freezer I will add veggie scraps to it until I have enough to make Stock. Onion peels and tops, Carrot peels, celery stalk stems, parsley stems…all work!!
Chicken Enchiladas
This is a great recipe for Chicken Enchiladas that is full of flavor and uses already cooked chicken, store bought enchilada sauce, and flour tortillas. Just add some chips and guacamole for an amazing dinner.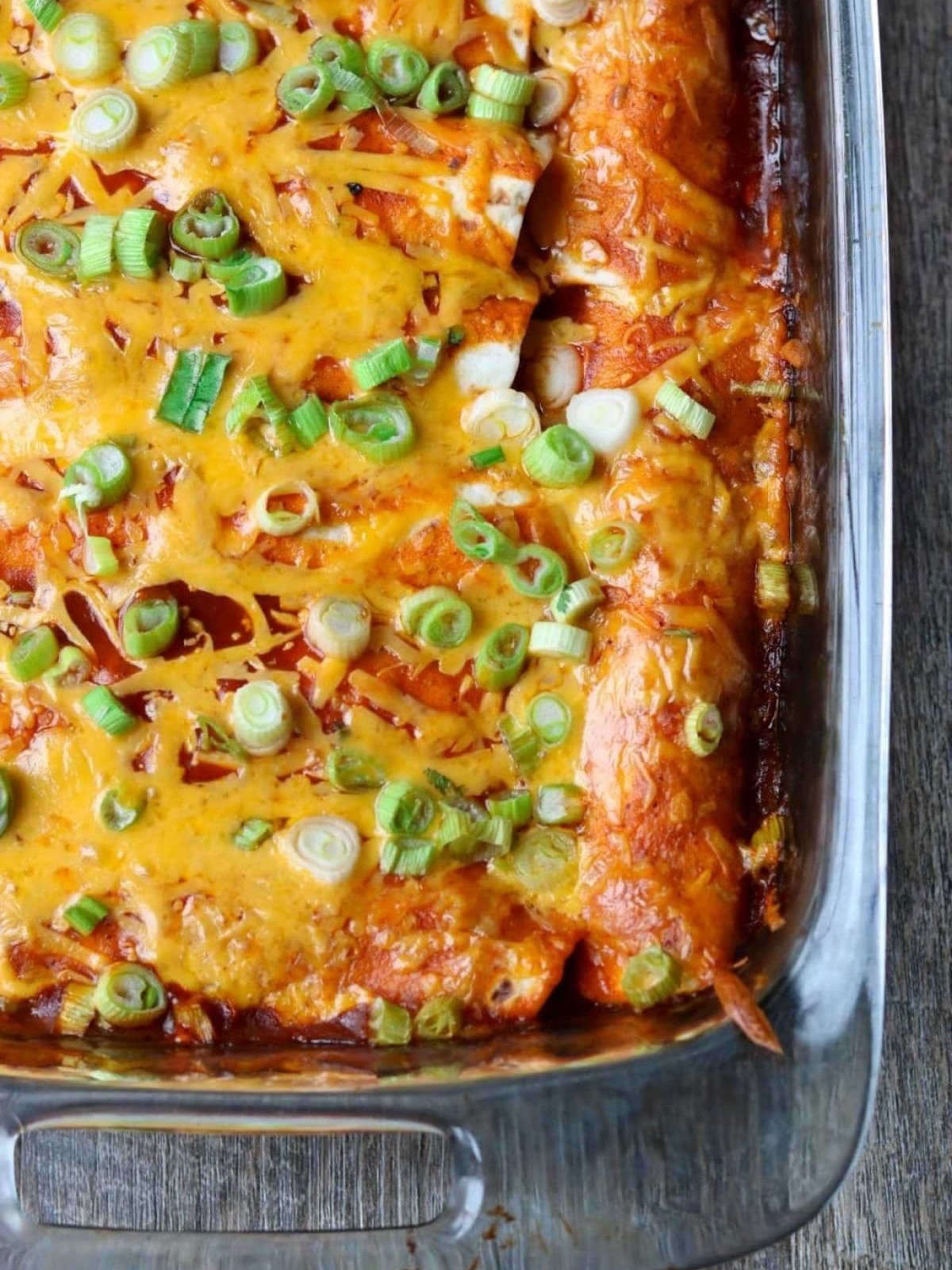 Some other chicken enchiladas to check out:
Chicken Soup
There's nothing better than chicken soup made with rotisserie chicken. It is the ultimate comfort food.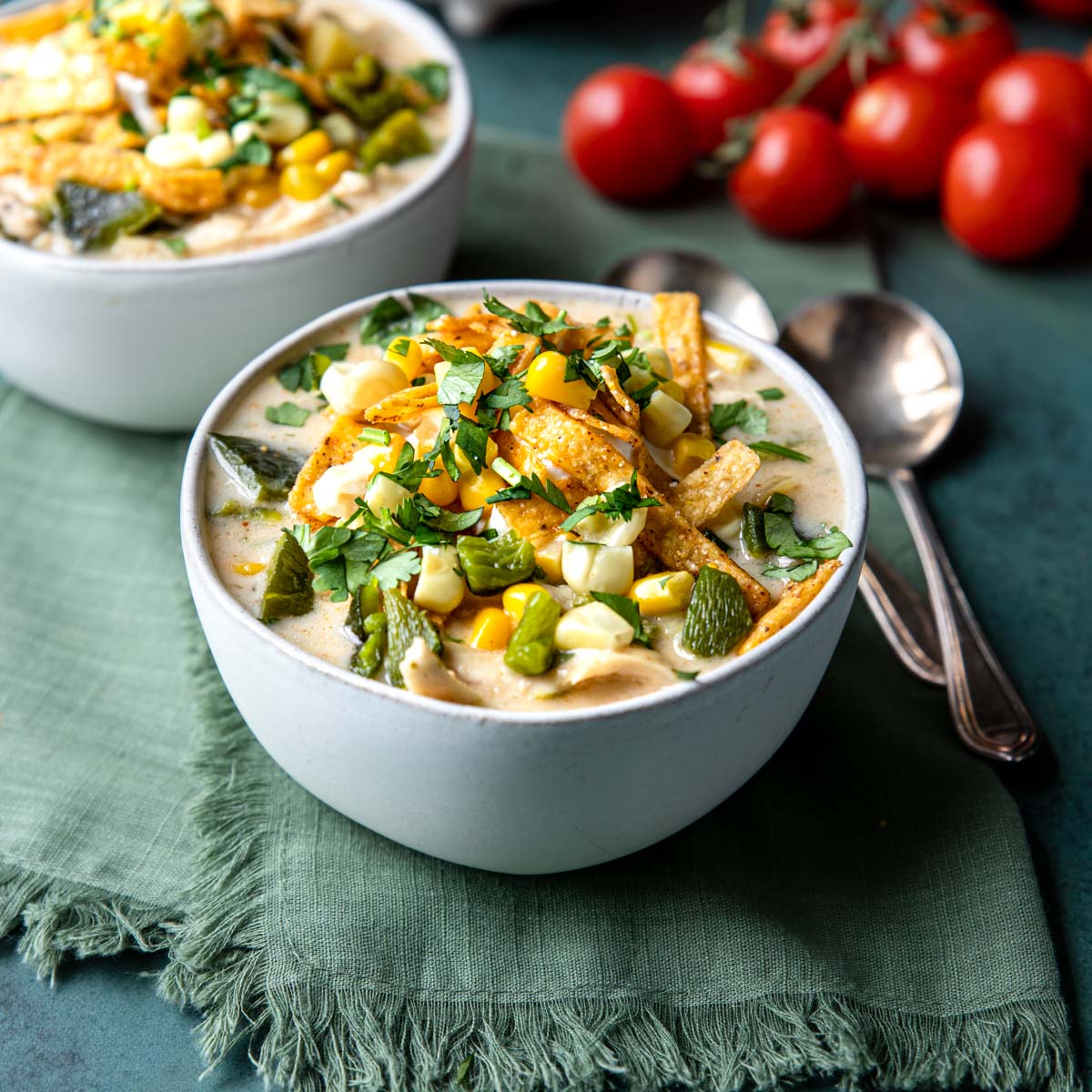 Here are a few options depending on who you are feeding:
Easy Chicken & Biscuits
If you are in the need of some quick and easy comfort food you can turn to this recipe for Easy Chicken & Biscuits. The rotisserie chicken and store bought biscuits help this recipe come together in just 30 minutes.
Creamy Chicken & Noodles
Cold nights call for a warm and delicious dish. This Creamy Chicken and Noodles recipe is full of egg noodles, cooked chicken, heavy cream, parmesan cheese, and an Italian dressing spice packet. The best things is it's actually a simple recipe that comes together quickly.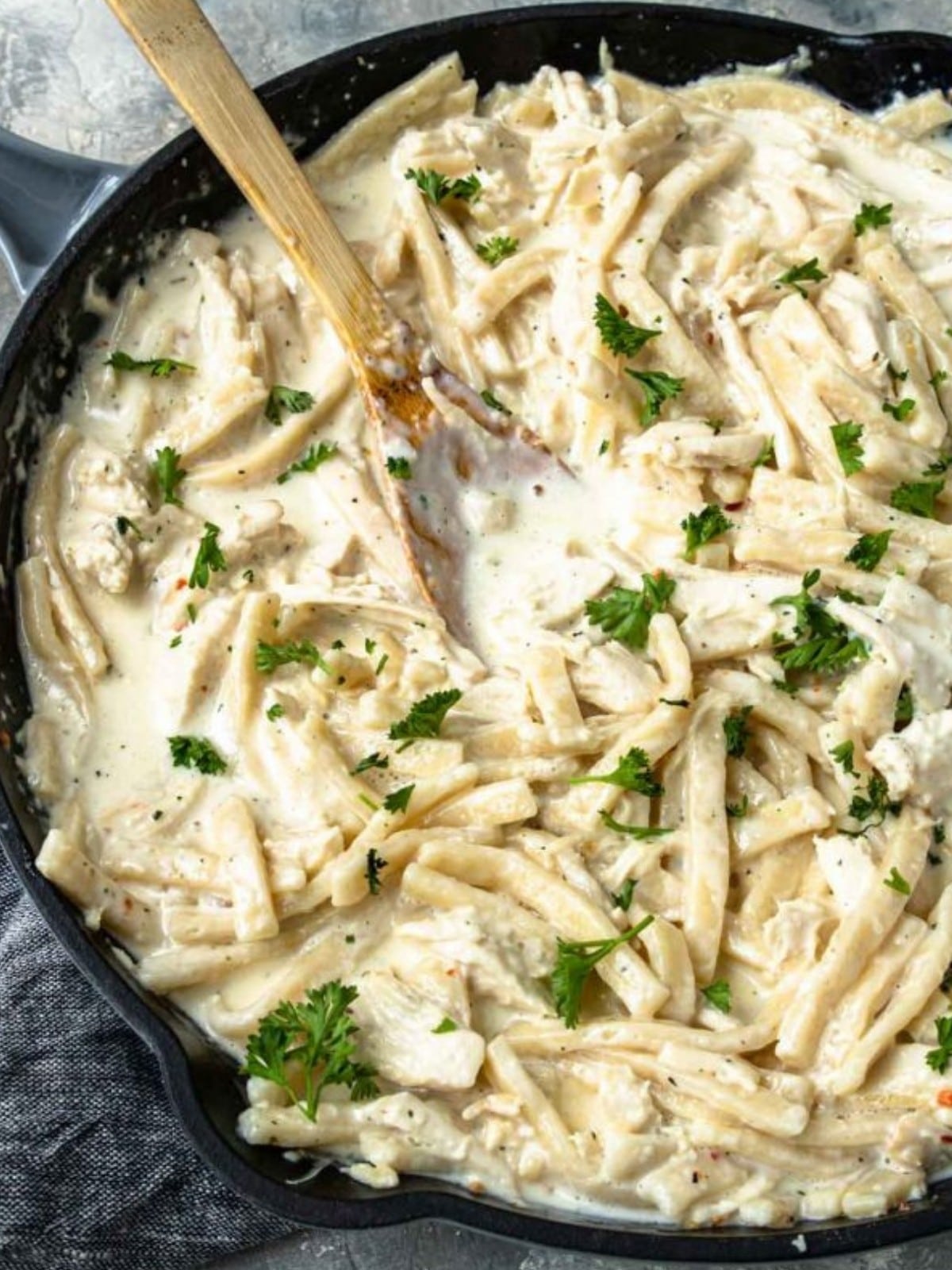 Chicken Nachos
Who doesn't love nachos!? These Buffalo Chicken Nachos can make a great meal served up with some celery, carrots and cucumbers. Pile up the tortilla chips, spread on the spicy chicken topping and bake in the oven for 5 minutes, sprinkle with cheese and slide back in the oven for another 5 minutes.
Garnish with green or red onion and blue cheese.
Chicken Salad Sandwiches
A super creamy and savory chicken salad recipe that is full of artichokes, green onions, crunchy water chestnuts, and topped with those French fried onions we all love. Artichoke Chicken Salad Sandwiches make a great dinner or lunch.
Pot Pie
A recipe that will for sure become a family favorite is Chicken Pot Pie. The written recipe calls for cooked turkey but that can absolutely be swapped out for leftover chicken breast. It's not really a quick meal but makes a wonderful Sunday night or weekend dinner.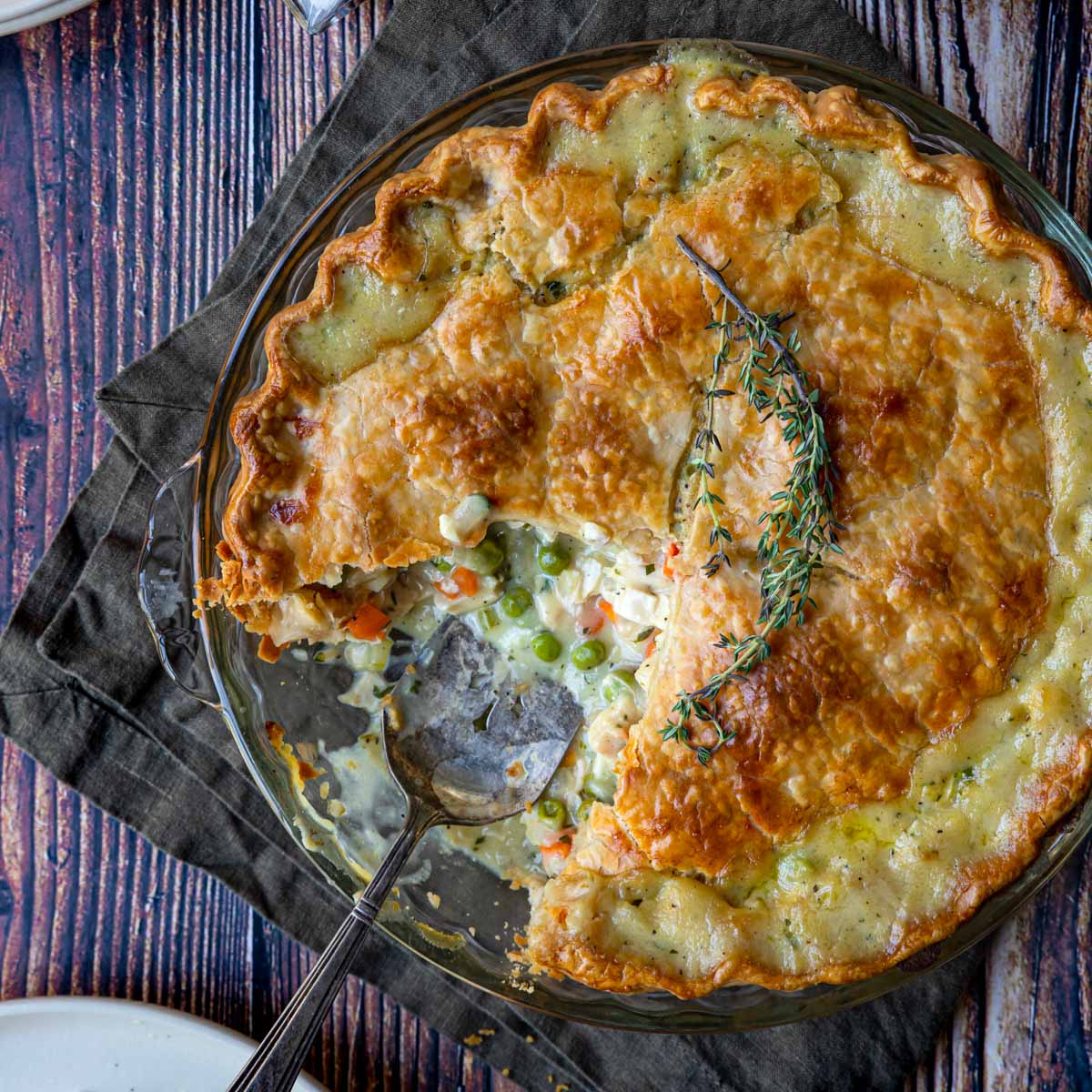 Tetrazzini
A Tetrazzini is a baked pasta dish that is make with cooked chicken or turkey meat, spaghetti noodles, mushrooms, and peas in a creamy sauce. This is another dish that is great for Sunday Night Family Dinner.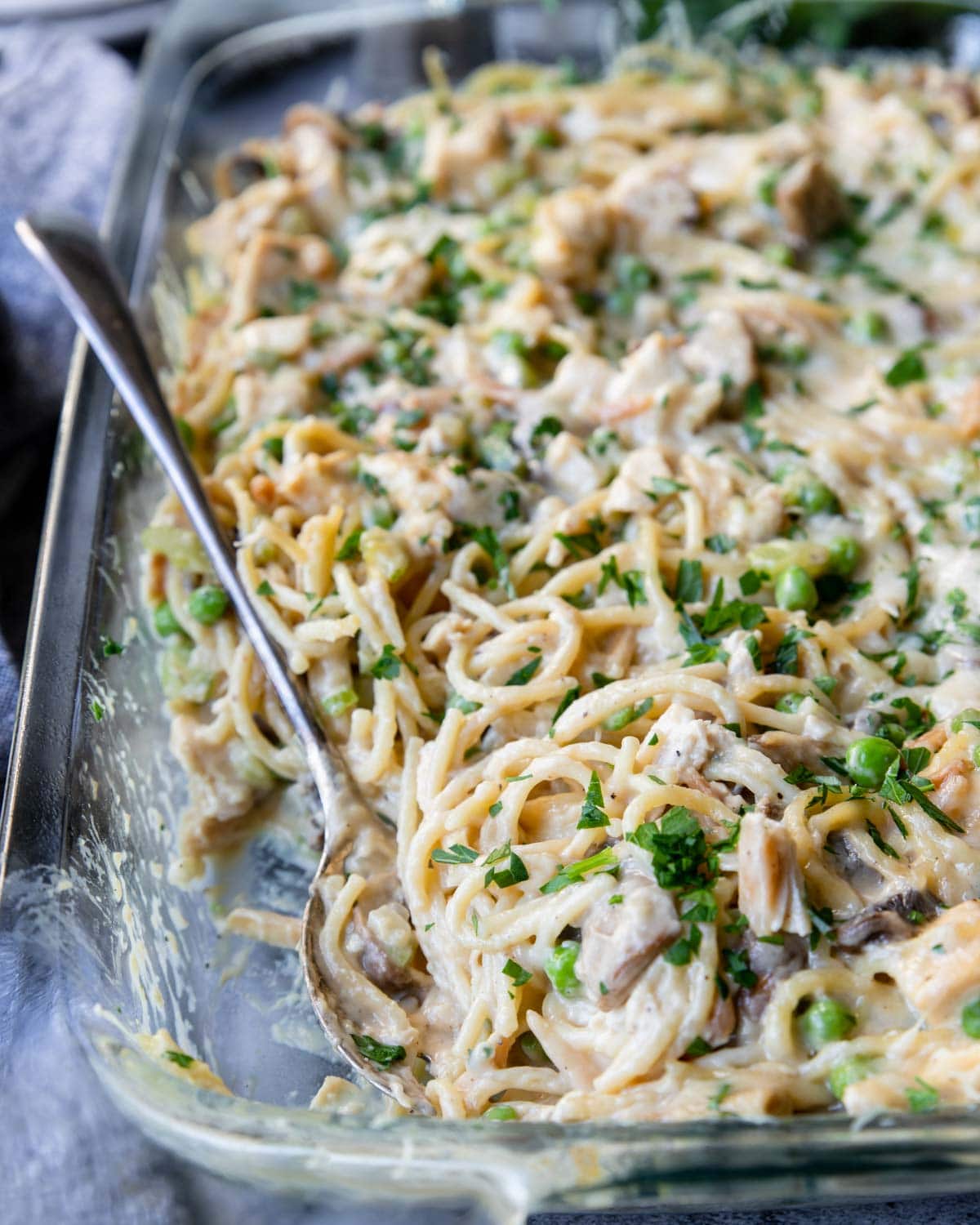 Chicken Tacos
Cooked/Rotisserie chicken is mixed with tomatoes, cheese, Greek yogurt, mayo, and lots of spices, then baked in the oven and rolled into warm tortillas for these amazing Creamy Chicken Tacos. Just add all your favorite taco toppings.
Sliders
Sliders are basically small sandwiches made on rolls or small buns. They have become so popular that you can now find "slider" buns in the grocery store.
This BBQ Chicken Slider is one of our favorite sandwich recipes. Shredded chicken is mixed with your favorite barbecue Sauce then piled high on buns and topped with red onions, cilantro and provolone cheese.
Pizza
Finally, who doesn't love pizza!? This BBQ Chicken Pizza is a great copycat for California Pizza Kitchen!
Or if you are feeling spicy, make this Buffalo Chicken Pizza from Josie & Nina!
Crepes
These Chicken & Mushroom Crepes make a great brunch, lunch or dinner! Serve them with some fresh fruit and a side salad.
Subscribe To Stay Connected
Sign up for Mom's Dinner Newsletter, delivered every Sunday morning, straight to your inbox. It includes all the new recipes, dinner ideas for the week, and kitchen tips and tricks.
Let me know in the comments below what your favorite recipe is to make with leftover chicken!?