This is an amazing Homemade Chicken Noodle Soup FULL of flavor, tender chicken, veggies, and delicious thick egg noodles (those amazing frozen Reames noodles). It will be your new go-to Chicken Noodle Soup recipe!
If you are looking for a kid friendly chicken noodle soup recipe check out this one for Chicken Noodle Soup for Kids. Or if you have an Instant Pot and want to make quick work of this recipe then hop over to my recipe for Instant Pot Chicken Noodle Soup (it's a dump and start recipe!).
Chicken Noodle Soup IS The Best Comfort Food
There is a bite of cold in the air, the leaves are turning beautiful shades of red and yellow, and snow is not long off. Fall is here and it is time to break out my favorite Homemade Soup recipes.
There's nothing better than a chilly day, a big fuzzy blanket, and a warm bowl of Homemade Chicken Noodle Soup.
This Homemade Chicken Noodle Soup recipe is one that you can go back to again and again. It is the one homemade chicken noodle soup to permanently put in your recipe box. It has all the classic flavors you love: sweet slices of carrot, fresh hints of celery, savory pieces of onion, the warm flavor of garlic, and, the star- chicken.
The Secret to Flavorful Chicken Broth
The broth in my recipe is not homemade chicken broth, but it is bursting with chicken flavor! There is nothing worse than digging into a bowl of chicken soup and the broth looks like water and the only chicken flavor comes from the actual pieces of chicken.
The "secret" to getting a bold flavored broth without making your own stock is a tablespoon of chicken base. It adds that intense chicken flavor you want in the the broth of your chicken noodle soup.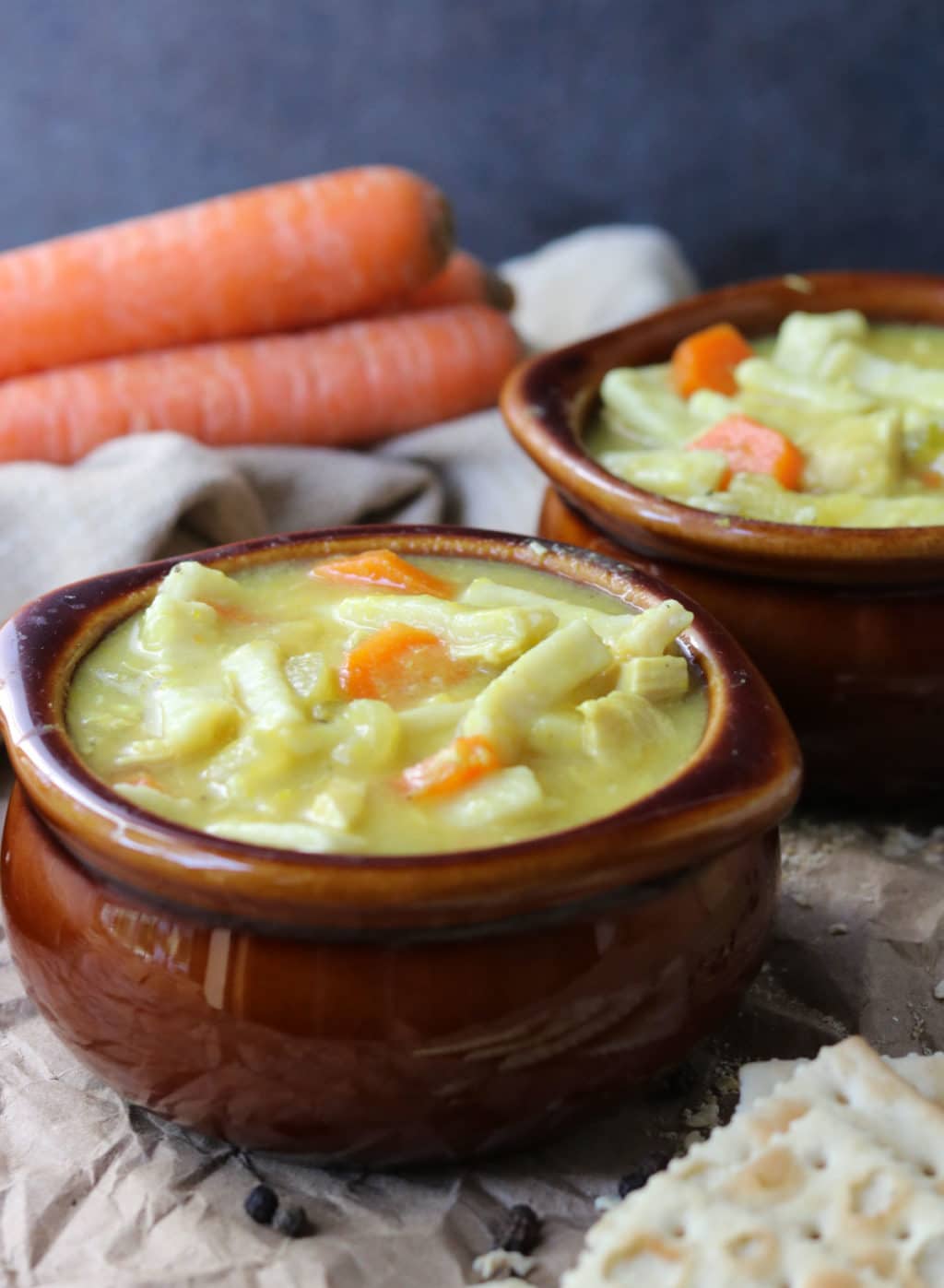 If you are not familiar with chicken base it is similar to a chicken bouillon but it comes in a tub and is paste-like. You can find it in the soup aisle of your grocery store. I like to buy Better Than Bouillon brand.
Frozen Egg Noodles
One of the very best part of this chicken noodle soup recipe is the Reames frozen egg noodles. They are so much better than the traditional dry kluski noodle or dry egg noodles. The Reames noodles are thick and have a big hearty bite and actual FLAVOR. It really is the icing on the cake.. or I guess in this case, the noodle in the soup.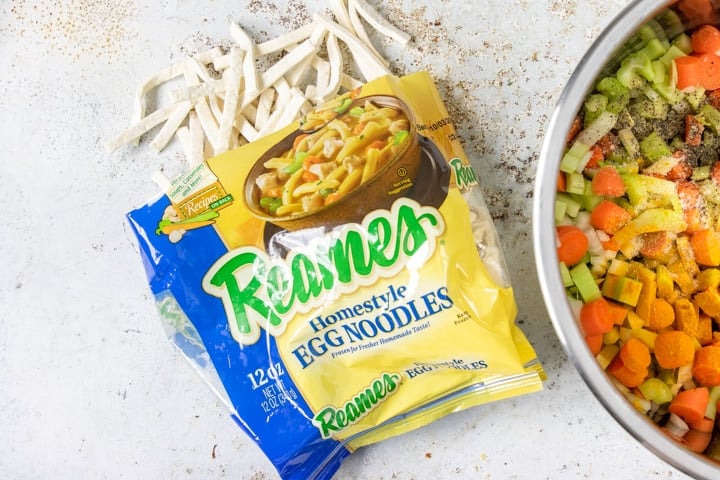 Soup for Dinner
At our house we just serve this with saltine crackers or a large warm baguette, and that's it. This is a pretty hearty soup that fills you up on it's own! A loaf of my 4 Ingredient Beer Bread would make a great side too!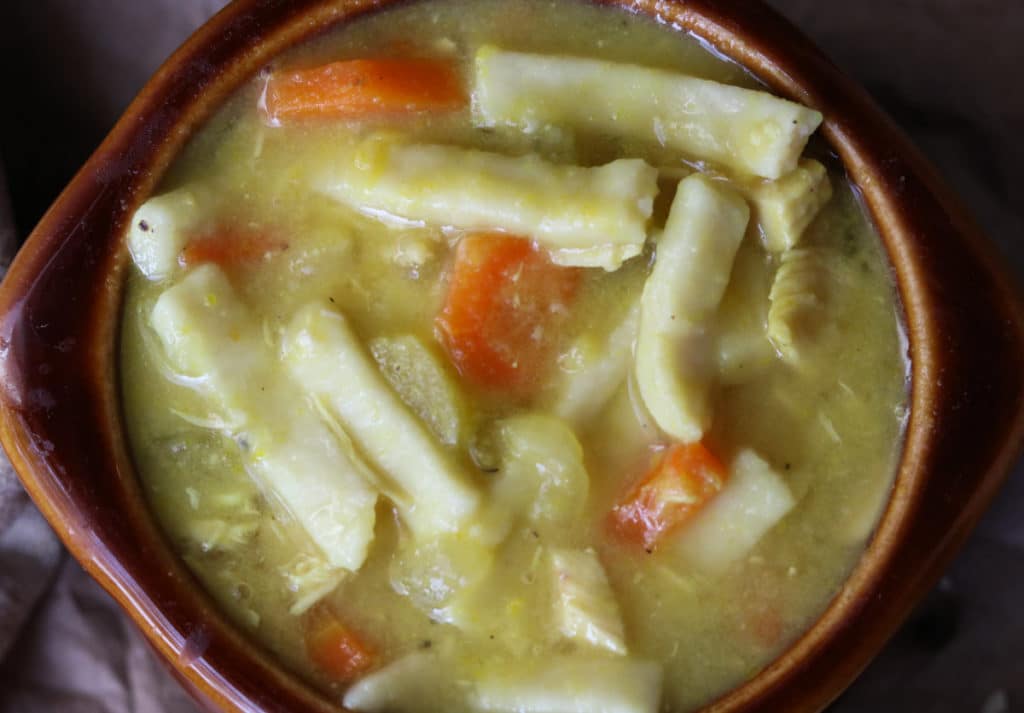 This recipe makes quite a bit of soup, so plan on leftovers! Which, in this case, is even better than the first go-around. YUM
If you love having soup for dinner then check out some of these other comforting soup recipes:
Homemade Chicken Noodle Soup Recipe
Homemade Chicken Noodle Soup
An over the top delicious Homemade Chicken Noodle Soup. This recipe has a SUPER flavorful and slightly thick broth, tender carrots, celery and onions. It is topped off with thick and hearty egg noodles. This will be come your go-to Chicken Noodle Soup recipe!

Print
Pin
Rate
Ingredients
1

Yellow Onion

chopped

3

Celery Stalks

chopped

4

Carrots

peeled and chopped

2

Large Garlic Cloves

chopped

4

tablespoon

Butter

½

teaspoon

turmeric

½

teaspoon

onion powder

1

teaspoon

kosher salt

½

teaspoon

pepper

1

bay leaf

2

tablespoon

flour

2

quarts

Chicken Stock

1

tablespoon

Chicken Base

12

oz

frozen egg noodles

I use Reames

3

cups

cooked chicken

diced/chopped (I use rotisserie chicken)

1 ½

teaspoon

apple cider vinegar
Instructions
Melt the butter in a large pot over medium heat. Saute the onions, celery, carrots, and garlic in the butter until the veggies soften and onions become translucent- about 10 minutes.

Add the next 5 ingredients and stir to coat the vegetables with all the herbs and spices.

Add the flour and cook, stirring, for 2 minutes.

Whisk in the chicken stock and bring to a simmer. Once it is simmering whisk in the chicken base.

Add the frozen egg noodles and cooked chicken. Cook over medium- low heat for 20-25 minutes until the noodles are cooked through.

Turn the heat to low and add the vinegar, cook for an additional 5 minutes. Remove the bay leaf and serve.
Notes:
You can make this ahead… it is even better the next day!!!!! It will thicken in the fridge- you may need to add a little chicken stock when you are reheating. This recipe will serve 6-8 people.
Want to make this in your INSTANT POT? Check out this recipe for Instant Pot Chicken Noodle Soup
Have super picky kids (or family) that won't eat onions or green things? Check out this recipe for Chicken Noodle Soup for Kids
Did you try this recipe? Connect with me & let me know how it turned out by commenting below!
Jump to Comments
If nutrition facts are provided they are calculated as an estimate to the best of our knowledge.