Creamy Chicken Tacos are my new favorite chicken taco! Tender pieces of cooked chicken get mixed into a creamy sauce full of Mexican seasonings & spices, tomatoes & chilies, fresh herbs, and cheese. 
Simply pop that delicious chicken mixture into the oven for 20 minutes and it comes out ready to serve, just add some toppings, and warm tortillas. Don't forget the chips and salsa!
The creamy sauce for the Chicken Tacos is a mix of Greek yogurt, a touch of mayonnaise, and some shredded pepper jack cheese. You will not be standing over the stove making some complicated cream sauce for this recipe. I keep it nice and simple…. and delicious.
3 Great Reasons to Love This Creamy Chicken Taco Recipe
It is semi-guilt-free (though I will say my food guilt gauge is pretty low). Since half of the cream sauce is made with Greek yogurt you can eat these with out a ton of guilt! Although they taste like you should be feeling super guilty!
This recipe can be made ahead for busy week meal prep. Simply prepare the chicken mixture, place in an oven safe pan covered with foil. Keep it in the fridge for up to 3 days. When you are ready to have Creamy Chicken Tacos for dinner simply grab it out of the fridge and pop it in the oven for 20 minutes.
If you buy a rotisserie chicken at the store you can literally have dinner in the oven in minutes. All the other ingredients are easy to find- truly you probably have most of them in your fridge and pantry right now! Which makes it a great option for busy weeknights.
Ok, 4 reasons… these taste completely amazing ♥
How to Cook Chicken for Creamy Chicken Tacos
My absolute preferred way to prepare chicken for Creamy Chicken Tacos is to not cook the chicken myself! I'll always take a shortcut, especially if it doesn't compromise quality! I like to pick up a rotisserie chicken at Costco for $5.00, and I know I am not alone in this. They make a great rotisserie chicken for CHEAP! Thank you, Costco, from all the home cooks across America.
If I do not have time to run to Costco the second best way to prep your chicken is by poaching:
How to Poach Chicken
Simply place 2 boneless skinless chicken breasts in a pot and cover with enough water to cover the chicken by 1 inch. For this recipe I do not worry about seasoning the water too much, just a teaspoon of salt and some peppercorns is fine. Bring the water to a hard simmer over medium high heat, then reduce the heat to medium low and simmer lightly for 15-18 minutes until the chicken reads 165° on a meat thermometer at its thickest point. Remove the chicken from the water and let it cool until you can handle it for chopping. Or you can let it cool and refrigerate it for up to 3 days.
How to Make Creamy Chicken Tacos
I'm gonna keep this real simple… mix all the ingredients together, place the mixture in an oven safe casserole pan, cover with foil and pop it in a 350° oven for 20 minutes.
That's it. Say it with me…. "Easy".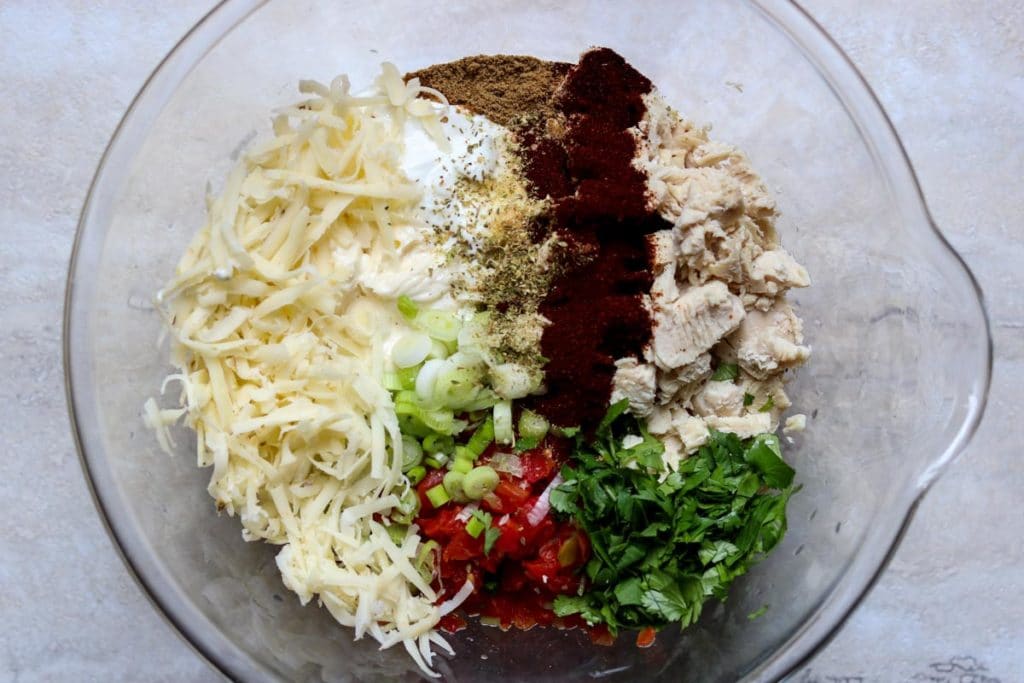 All you have to do now is wrap the warm creamy chicken mixture in a tortilla and pile on your favorite toppings!
Dinner is ready.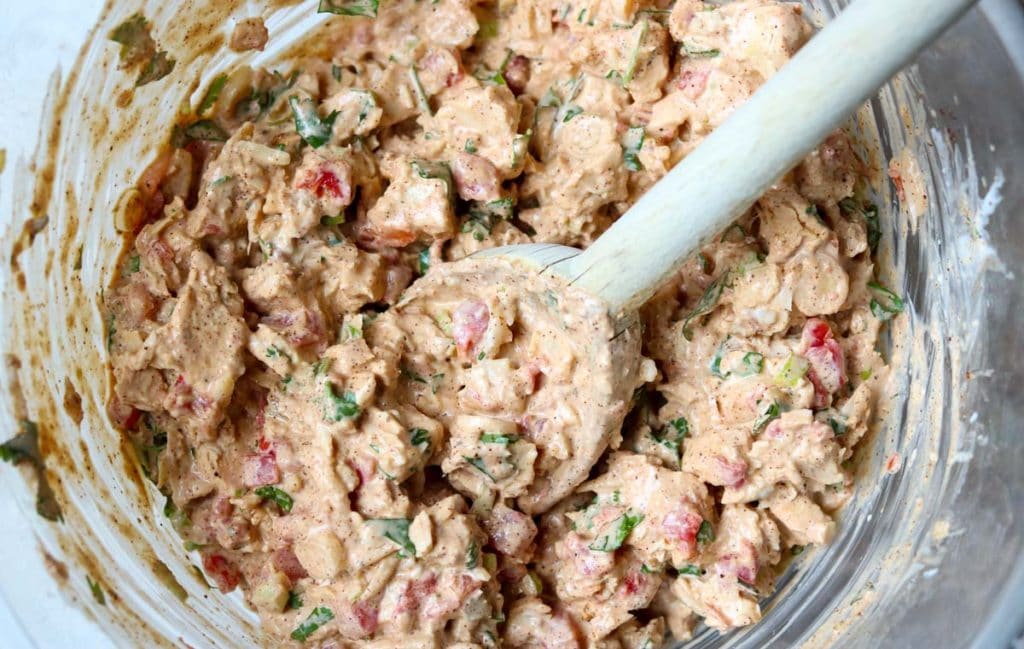 Creamy Chicken Taco Variations
This Chicken Taco recipe is a pretty versatile recipe. There are a lot of ingredients you can mix-in to change the flavor profile. Here are some ideas to get you started: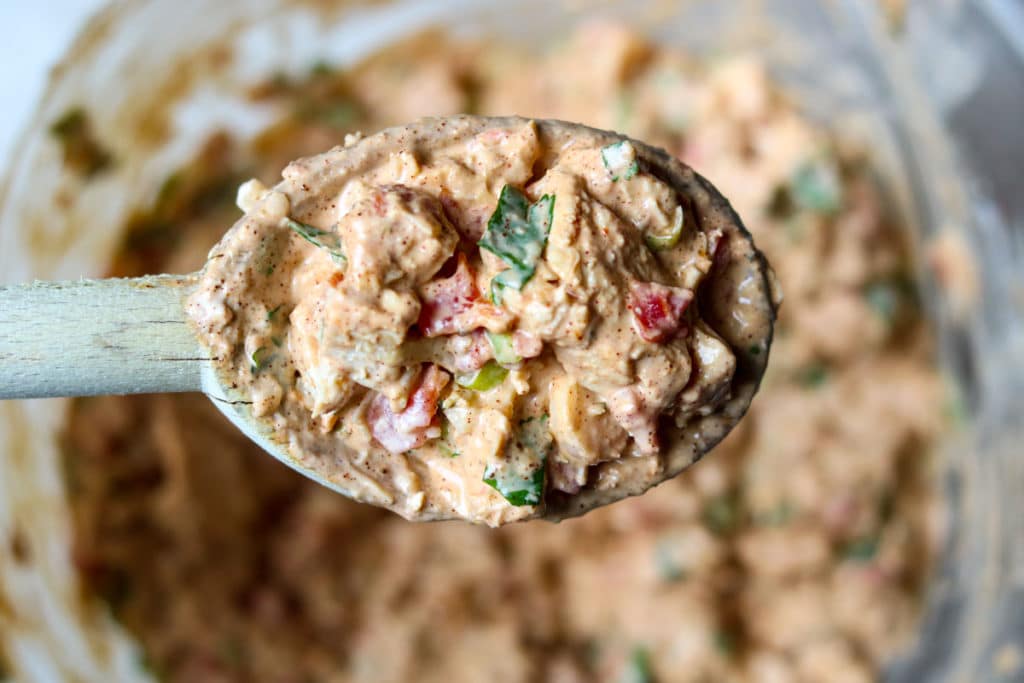 Add a can of drained black beans or pinto beans to the chicken mixture before it goes into the oven. This should also yield 2-3 more tacos.
½ cup of Frozen Fire Roasted Corn would also make a great addition. Mix it in with the chicken before it goes in the oven.
If you like a little heat in your Mexican food add some cayenne pepper, red pepper flakes, or a few dashes of hot sauce.
To add a smokey flavor stir in a finely chopped chile in adobo, this will also give you a nice amount of heat. A little goes a long way with chiles in adobo.
Don't like any spice or heat? Sub monterey jack, cheddar jack, or cheddar cheese for the pepper jack cheese.
If you are not a fan of plain Greek yogurt, sour cream can be subbed in its place.
To add a crunch to your tacos add a 5 ounce can of drained and chopped water chestnuts.
What Tortilla to Use
You can really serve these Creamy Chicken Tacos in whatever tortilla you like, or have on hand. I like to use either a soft taco or fajita sized flour tortilla because they are the perfect hand held size.
You could also use a whole wheat tortilla or corn tortillas. Although I sometimes find that corn tortillas fall apart easily. A flavored wrap would also work (spinach or sun dried tomato).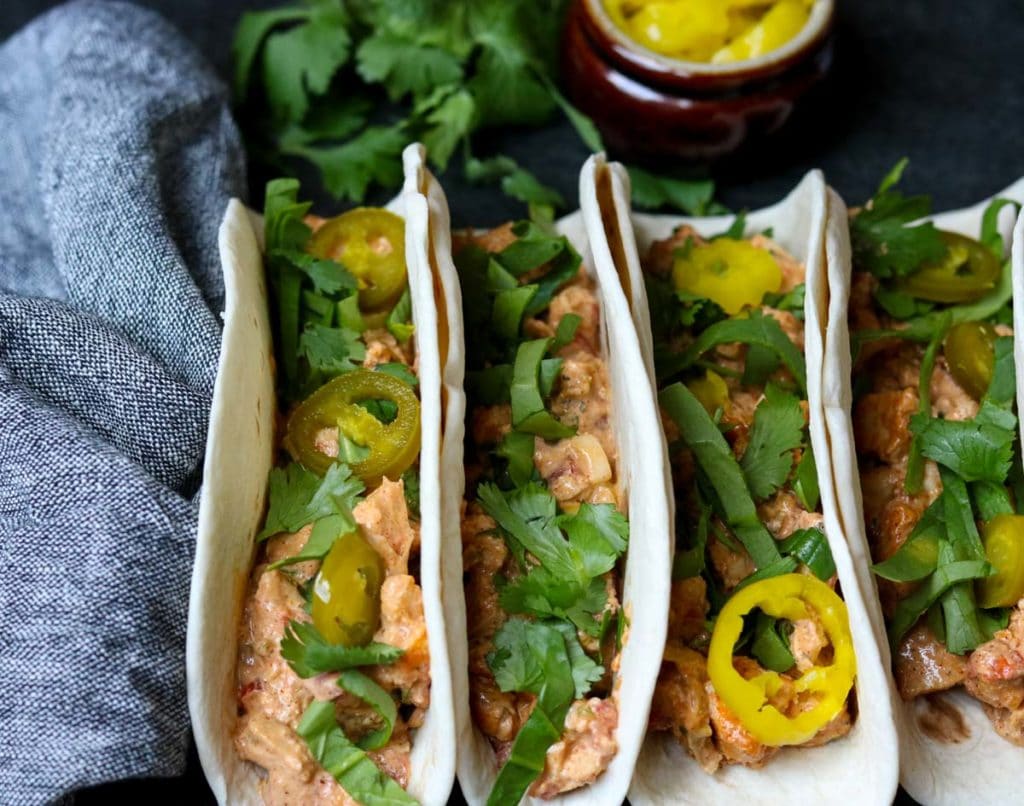 What Toppings to Use on Creamy Chicken Tacos
When I eat Chicken Tacos I like to pile them high with toppings, until they are practically dripping down my arm. Just make sure you serve these with a lot of napkins!
Here are some great topping ideas for Creamy Chicken Tacos (I put an asterisk next to my favorites):
Guacamole*
Sliced Avocado*
Black Beans or Pinto Beans
Extra Cheese: Pepper Jack, Cheddar, Cotija, Monterey Jack, just to name a few!
Pico De Gallo
Cilantro
Jarred Banana Pepper Rings*
Jarred Pickled Jalapenos*
Diced Red Onion
Shredded Spinach* (I take a handful of spinach leaves, roll them, then slice them into ribbons)
Shredded Lettuce
Roasted & Salted Pepitas
Mexican For Dinner
If you love Mexican food for dinner as much as I do then you might want to check out these other recipes from Mom's Dinner:
Creamy Chicken Taco Recipe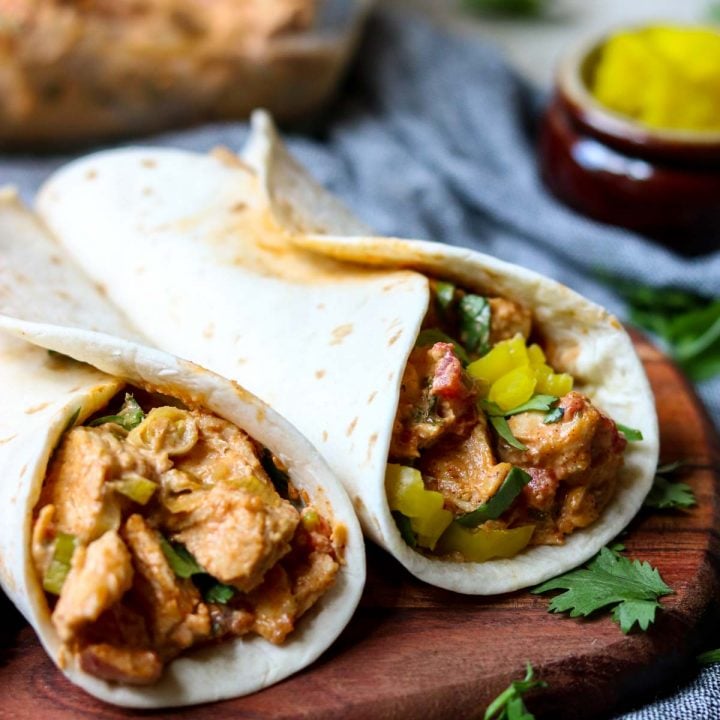 Creamy Chicken Tacos
A creamy chicken taco filling that is baked in the oven. Wrap the baked filling in a flour tortilla and garnish with all your favorite taco toppings.
Print
Pin
Rate
Save
Saved to Grow
Ingredients
2.5-3

cups

cooked and chopped chicken, 2 chicken breasts

I like to use rotisserie chicken or poached chicken

1

-10 ounce

can diced tomatoes with green chilies, drained well (I use Original Rotel Tomatoes)

½

cup

shredded pepper jack cheese

½

cup

plain greek yogurt

⅓ cup

cup

mayonnaise

⅓

cup

chopped cilantro, loosley packed

3

green onions, white and light green parts chopped

½

teaspoon

garlic powder

½

teaspoon

dried oregano

¼

teaspoon

onion powder

1 ½

tsp

chili powder

½

teaspoon

cumin

½

teaspoon

salt
Instructions
Mix all the ingredients together until they are well combined, place in an 8×8 or 9×9 baking dish. Cover with foil and bake for 20 minutes.
Serving:
Spoon the desired amount of Creamy Chicken Taco filling into warmed flour tortillas (soft taco or fajita size). Top with your desired taco toppings. I like pickled jalapenos, banana pepper rings, sliced avocado, and shredded lettuce or spinach.
To Make Ahead:
Combine all the ingredients and place in an oven safe dish. Cover with foil and place in the fridge for up to 3 days. When you are ready to have Creamy Chicken Tacos for dinner pull it out of the fridge and pop it in a 350 degree oven for 20 minutes.
Did you try this recipe? Connect with me & let me know how it turned out by commenting below!
Jump to Comments
If nutrition facts are provided they are calculated as an estimate to the best of our knowledge.
Originally Posted May 2018 – Copy Updated March 2020