My Homemade Chicken Enchilada Recipe is full of tender chicken, garlic, red onions, cilantro and cheese. The outside is warm and flavorful with lots of red enchilada sauce, ooey gooey cheese, and fresh green onions.
Chicken Enchiladas for dinner is a favorite at our house. If I had to only eat one thing for the rest of my life Enchiladas would be a hard contender!
If you love them as much as me, also check out these recipes for veggie enchiladas, beef enchilada casserole, and enchilada zucchini boats.
How to Cook Chicken Breasts for Enchiladas
There are a few ways that I recommend cooking your chicken for enchiladas.
Buying a rotisserie chicken is the easiest way, and probably my preferred method (You can make your own rotisserie chicken in the Instant Pot!). Shred both breasts, discarding the skin. You end up with super juicy and tender chicken.
Poaching the chicken breasts is my second preferred method. This is great if you do not have time to grab a rotisserie chicken. Place 2 chicken breasts in a pot with enough water to cover the chicken by 1 inch. Add salt and simmer on the stove over medium heat for 15-18 minutes until the chicken is cooked thru and reaches 165° in the thickest part. Let the chicken cool for 5-10 minutes before shredding. You can use 2 forks or clean hands to shred. Sometimes I will finely chop the chicken instead of shredding.
If you have an instant pot, this is a really quick way to cook your chicken for shredding or chopping. You can find the recipe and instructions for Instant Pot All Purpose Shredded Chicken here.
Enchilada Sauce
I'm all for a good shortcut in the kitchen. Ingredients that other people have already perfected is a great way to save time- like marinara or enchilada sauce.
I have tried A LOT of different enchilada sauces thru the years and found that my very favorite sauce is Market Pantry Red Enchilada Sauce from Target. It has an intense enchilada flavor and the vinegary tang that I want my sauce to have.
If you really want to make your own, this one includes vinegar so will have a nice balanced flavor: Homemade Enchilada Sauce.
How to Make My Chicken Enchilada Recipe
Start by preheating your oven to 350°.
In a large saute pan cook the garlic and red onions in oil over medium heat until the onions become slightly translucent, about 5 minutes. Then you will add your cooked, shredded or chopped chicken, cilantro, ⅓ cup enchilada sauce and all the spices/seasonings. Stir the mixture until the chicken is coated with all the seasonings and sauce.
Pour the remaining ⅔ can of enchilada sauce in the bottom of a 9×13 glass baking dish.
Now it is time to assemble the Chicken Enchiladas. Lay everything out in an assembly line to make rolling the enchiladas go a little faster. You will have:
Tortillas
Chicken mixture
1 cup of shredded cheese
Prepared 9×13 pan
Lay a couple spoonfuls of the chicken mixture down the center of the tortilla. Sprinkle the chicken with a pinch or two of cheese. Now roll the tortilla over the chicken mixture, like rolling a cigar.
Lay the filled tortilla seam side down in the prepared 9×13 glass baking dish. To fit all 10-12 enchiladas you may have to fit a couple in the side. See the picture below:
Once the pan is filled pour the remaining can of enchilada sauce evenly over the top of the enchiladas. If you like your enchiladas super saucy, you can use an extra can of enchilada sauce poured over top.
Sprinkle the remaining cup of cheese and finish with all the green onions.
Cover the pan with foil and bake at 350° for 25 minutes. Then remove the foil and bake for an additional 10 minutes until the cheese is melted and the sauce is bubbly.
Let the Chicken Enchiladas cool for about 5 minutes before serving.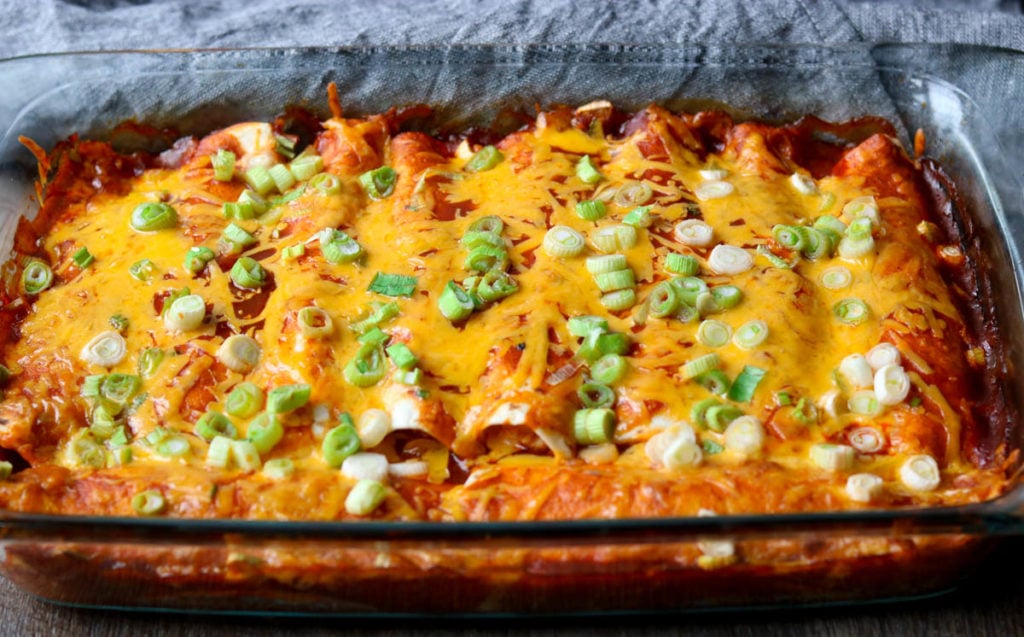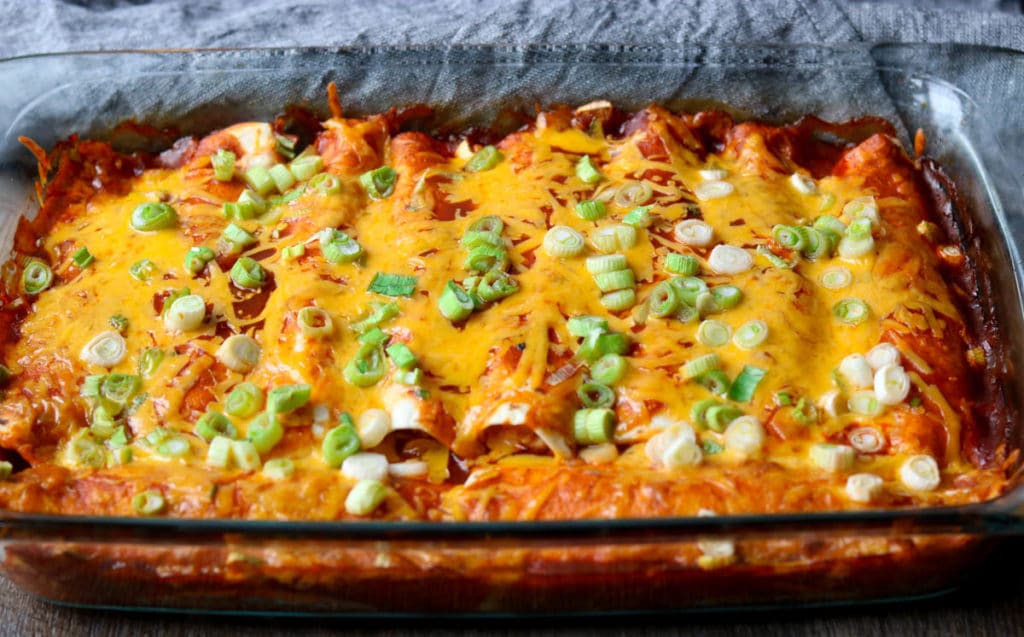 Flour Tortilla vs. Corn Tortilla for Chicken Enchiladas
This really depends on your personal preference. It is more traditional to use corn tortillas in your enchiladas. But, I find that sometimes they can be hard to work with. They are very temperamental and crack and tear easily.
Flour tortillas (fajita size) are much easier to work with, but you will be missing the extra flavor of corn. However, I do love the texture of the flour tortillas after they have soaked and baked in the enchilada sauce. They become soft and almost buttery.
So it's really a toss up. I say if you have the patience- use corn. If all you have is flour tortillas- use flour. Keep it simple and don't stress about these little things! This recipe will turn out whether you use flour or corn… because this Chicken Enchilada recipe is THAT delicious.
Variations on Chicken Enchiladas
Here are a few ideas to change up this Chicken Enchilada recipe to make it your own:
Add black beans to the chicken mixture for a little more protein.
Try using ground beef instead of chicken.
Use whatever cheese you have on hand. Monterey Jack, Colby Jack, Mexican Blend, Cheddar, or Pepper Jack would all work just fine.
Corn Tortillas or Flour Tortillas, use whatever you have or whatever you prefer.
If you want some heat add a few pinches of cayenne pepper or red pepper flakes to the chicken mixture.
Try using Green Enchilada Sauce for a Verde Chicken Enchilada.
What Goes Well with Chicken Enchiladas for Dinner
This is one of my favorite dinners. I keep the sides pretty simple! I like to serve my enchiladas with my Easy 15-Minute Refried Beans, sometimes I will also make some cilantro lime rice, you can find that as a bonus recipe here.
Don't forget the drinks, a Mexican Mule or Rosemary Paloma is the perfect pick, & Restaurant Style Salsa with chips is always good!
Chicken Enchilada Recipe
My Favorite Chicken Enchilada Recipe
This Chicken Enchilada recipe is fool proof and 100% delicious. Full of tender chicken, garlic, onions, cilantro, tangy enchilada sauce and lots of ooey gooey cheese!
Print
Pin
Rate
Ingredients
2

chicken breasts, cooked & shredded or finely chopped

(about 3 cups)

1

tablespoon

oil

½

cup

red onion, cut in a small dice

3

plump garlic cloves, minced

¼

cup

cilantro, chopped

2

10 ounce

cans red mild enchilada sauce, divided

For saucier enchiladas use a 3rd can (I prefer Target, Market Pantry Red Enchilada Sauce)

10-12

tortillas – flour (fajita size)

**see note if using corn tortillas

1

tsp

chili powder

½

teaspoon

ground cumin

½

tsp

onion powder

½

tsp

salt

¼

teaspoon

garlic powder

pinch

red pepper flakes

2

cups

freshly shredded cheddar cheese, divided

6

green onions, chopped- white and light green parts only
Instructions
In a large non-stick skillet saute the ½ cup diced onions and 3 chopped garlic cloves in the oil over medium heat. About 5 minutes until the onions are slightly translucent.

Add the 3 cups cooked chicken, 1 teaspoon chili powder, ½ teaspoon cumin, ½ teaspoon onion powder, ½ teaspoon salt, ¼ teaspoon garlic powder, pinch red pepper flakes, ¼ cup chopped cilantro and ⅓ cup enchilada sauce. Stir to coat the chicken with all the seasonings and sauce.

Prepare a 9×13 glass baking dish by pouring the remaining ⅔ of the opened can of enchilada sauce to the bottom of the pan.

Now set up an assembly line for your enchiladas. Tortillas, chicken filling, 1 cup of shredded cheese, and the prepared pan.

Place a few spoonfuls of chicken down the center of one tortilla and top with a few pinches of cheese. Roll the tortilla over the filling and lay it, seam side down, in the prepared pan. Continue this process until all the tortillas and filling are used. You will have 10-12 enchiladas.

Top the rolled enchiladas with the remaining can of sauce, remaining cup of cheese and all the green onions.

Cover the pan with foil and place in the preheated oven for 25 minutes. Remove foil and bake for an additional 10 minutes until the cheese is melted and the sauce is bubbling.

Let the Chicken Enchiladas cool for about 5 minutes before serving.
Notes:
USING CORN TORTILLAS: if you are using corn tortillas you will have the extra step of warming and softening them, otherwise they will crack and tear. 
In a warm skillet over medium low heat with a little oil, pan fry the corn tortillas for a minute on each side, with a watchful eye so they don't burn. Then continue with filling and rolling, just like the flour tortillas.
Optional step: you can also dip them in enchilada sauce before rolling to ensure they are ready to be rolled. If you use this step, just use an extra can of sauce for dipping. 
Did you try this recipe? Connect with me & let me know how it turned out by commenting below!
Jump to Comments
If nutrition facts are provided they are calculated as an estimate to the best of our knowledge.
Originally Posted April 2018 – Copy Updated March 2020