I am usually a pizza traditionalist.. I like supreme, sausage, cheese and all the veggies. The usual suspects for pizza toppings. However, BBQ Chicken Pizza is one departure from traditional that I love.
It is a great combo of smoky sweet barbecue sauce, chicken, spicy red onions, fresh cilantro, and mozzarella cheese. It makes a great weeknight dinner or a super addition to a football game watch party!
I really debated on whether or not to post this "recipe" for BBQ Chicken Pizza. It is more dinner inspiration than it is a recipe. But sometimes that is all we need… a little inspiration. The one thing this post will help you with is the ingredient portions. The recipe is a great balance of sauce- but not too much sauce, yummy cheese- but not too much cheese, and a perfect toppings-crust balance.
Great Recipe for Using Your Leftover Chicken
How many times do you have leftover chicken in the fridge and when you say "we are having leftovers", everyone is mad!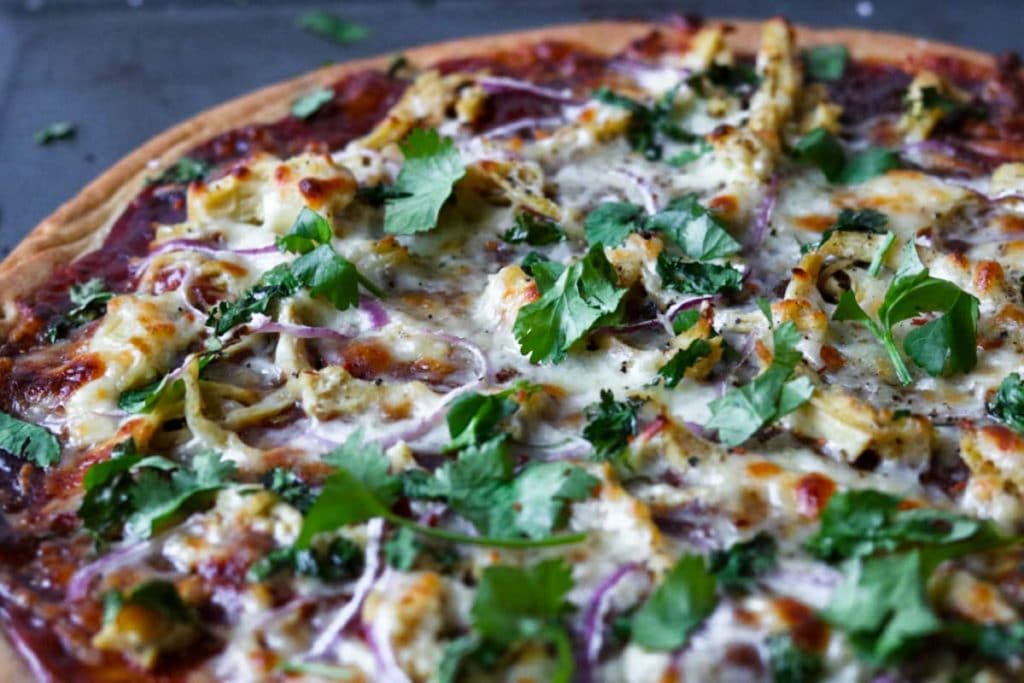 Well, this is the perfect redo for any type of leftover chicken; roasted, grilled, rotisserie, pulled chicken, BBQ Chicken, or marinated chicken. You probably already have the BBQ sauce and onions in your kitchen. Just pick up a pizza crust and cilantro at the store and you are ready to make dinner.
This is a great recipe to plan to have during the week, especially if you are grilling out over the weekend. Throw a chicken breast on the grill, let it cool and then pop it into the fridge and the chicken will be ready and waiting when you are ready to make this for dinner. (I love grilled chicken on this pizza!)
This is also a great time to use my recipe for INSTANT POT Pulled Chicken. This will usually be on the menu if I have pulled chicken in the fridge!
(all the pics in this post were made with my pulled chicken recipe)
Variations on the BBQ Chicken Pizza Recipe
This is a pretty casual recipe. You will want to keep the basics the same; crust, barbecue sauce, chicken, and cheese. But, the rest is up for negotiation. Here are some ideas to change up the recipe and make it your own:
Choose your own cheese, use a combo of multiple cheeses, or use what you have! Here are some cheeses that I like to use on this pizza: Provolone, Smoked Provolone, Gouda, Smoked Gouda, or Mozzarella.
We all have a favorite BBQ sauce- Smoky, Sweet, Vinegary. Use what you like! Joe's KC is our favorite. Just pick a sauce that is thick enough to stay on the crust.
I love the red onions on this pizza, but if you only have white or yellow- use what you have.
Do you feel like red onions can be a little strong and the flavor sticks around a little too long? After slicing the onions try soaking them in cool water. It washes away the enzyme that keeps the flavor in your mouth hours after you have eaten it.
I think the cilantro really sets this pizza off. But if it puts you off, don't use it or sub chopped parsley to still get that green fresh flavor.
Loving the spice of life? Add red pepper flakes or finely chopped jalapeno to give it a little kick!
Do you have a great recipe for homemade pizza crust that you like to use? Go for it! Trader Joe's has great premade pizza dough in their produce section. You will need to vary the cooking time to alot for your raw dough. (I use premade store bought crust for ease.)
BBQ Chicken Pizza for Dinner
This is a favorite pizza when we have a casual pizza night. If it is really casual- like eating in front of the tv kind of night- we will have the BBQ Chicken Pizza alone. But, if we are feeling extra hungry, I will pair it with a caesar side salad or a raw veggie plate with dip.
I hope you will give my BBQ Chicken Pizza a try in your kitchen.
Love, Susie
SAVE THE RECIPE FOR LATER. PIN IT HERE:
BBQ Chicken Pizza
BBQ Chicken pizza is a great combo of smoky sweet barbecue sauce, chicken, spicy red onions, fresh cilantro, and mozzarella cheese. It makes a great weeknight dinner or a super addition to a football game watch party!
Print
Rate
Save
Saved to Grow
Ingredients
1

12″ store bought pizza crust

original or thin

⅓

cup

(heaping) barbecue sauce

1

cup

shredded mozzarella or provolone cheese

2

tablespoon

fresh cilantro

chopped

Thinly sliced red onion- desired amount

Spices: Garlic Powder, Red Pepper Flakes, Salt, and Pepper
Chicken
1

large chicken breast

fully cooked, sliced
Instructions
Preheat the oven to 425.

Place the pizza crust on a sheet pan or pizza pan. Top with barbecue sauce and spread it evenly across the crust, leaving a 1 inch border around the edge.

Spread the chicken evenly across the pizza. Top with the shredded cheese.

Sprinkle with garlic powder, salt, and pepper. Add red pepper flakes if you like a little spice.

Finish the pizza by adding the red onion and cilantro.

Place the pizza in the oven, if you like a crisper crust place the pizza directly on the oven rack.

Bake for 10-12 minutes, until the crust is golden and crisp and the cheese melted and bubbly.

Let rest a few minutes before slicing.
Did you try this recipe? Connect with me & let me know how it turned out by commenting below!
Jump to Comments
If nutrition facts are provided they are calculated as an estimate to the best of our knowledge.