This Instant Pot Chicken Stock is a super fast and easy way to make chicken stock. It has wonderful depth of flavor and great health benefits. This is also a great recipe to use up leftover vegetable scraps and rotisserie chicken carcasses that would otherwise go in the trash!
It really enhances recipes like Homemade Chicken Noodle Soup, Corn Chowder, or even Instant Pot Chicken Alfredo!
Why Make Your Own Broth
Homemade Chicken Stock will have better, more intense flavor than the store bought chicken broth.
If you don't compost, it is a great way to use veggie scraps that would end up in the trash.
You can adjust the flavor to your liking… rosemary, thyme, more onion, extra garlic, whatever you like!
Enhances the flavor of any recipe you use it in – soups, stews, or casseroles.
Broth, Stock, & Bone Broth, What's the Difference?
Broth, Stock and Bone Broth are not the same things. The real difference comes from how they are prepared and the strength.
Broth – Considered a lighter/delicate version of these three. Broth is made by simmering meat, veggies and aromatics. No bones are used in making broth.
Stock – A heartier and more flavorful option. Stock is made by cooking the bones/carcass of a chicken with veggies and aromatics. It will have a richer color as well.
Bone Broth – The most intense of all three. Bone broth is similar to Stock in that it is made with the bones/carcass of the chicken. It should be simmered for so long that the bones almost bread down, releasing their collagen into the broth.
Ingredients
You just need a few simple things to make amazing chicken stock in your Instant Pot:
Veggies – Did you know that you can use veggie scraps to make Chicken Stock!? When you peel carrots, slice onions, or trim celery you can pop those scraps in a freezer bag and keep them for up to 6 months.
Chicken Base – This is a completely optional ingredient. I always have it in my fridge so I add it when I make chicken stock. It just adds a richer flavor that my family likes.
Making Homemade Chicken Stock in Your Instant Pot
Add your onion, garlic head to the pot.
Now add in the chicken carcass, bones, and veggie scraps, making sure not to go past the max fill line on the inside of your pot.
Pour water over the top so that it fills just under the max fill line in your pot.
Close the lid and turn the vent to seal.
Set your pot to cook on manual- high pressure for 30 minutes.
Do a 10 minute natural release and then finish with a quick release.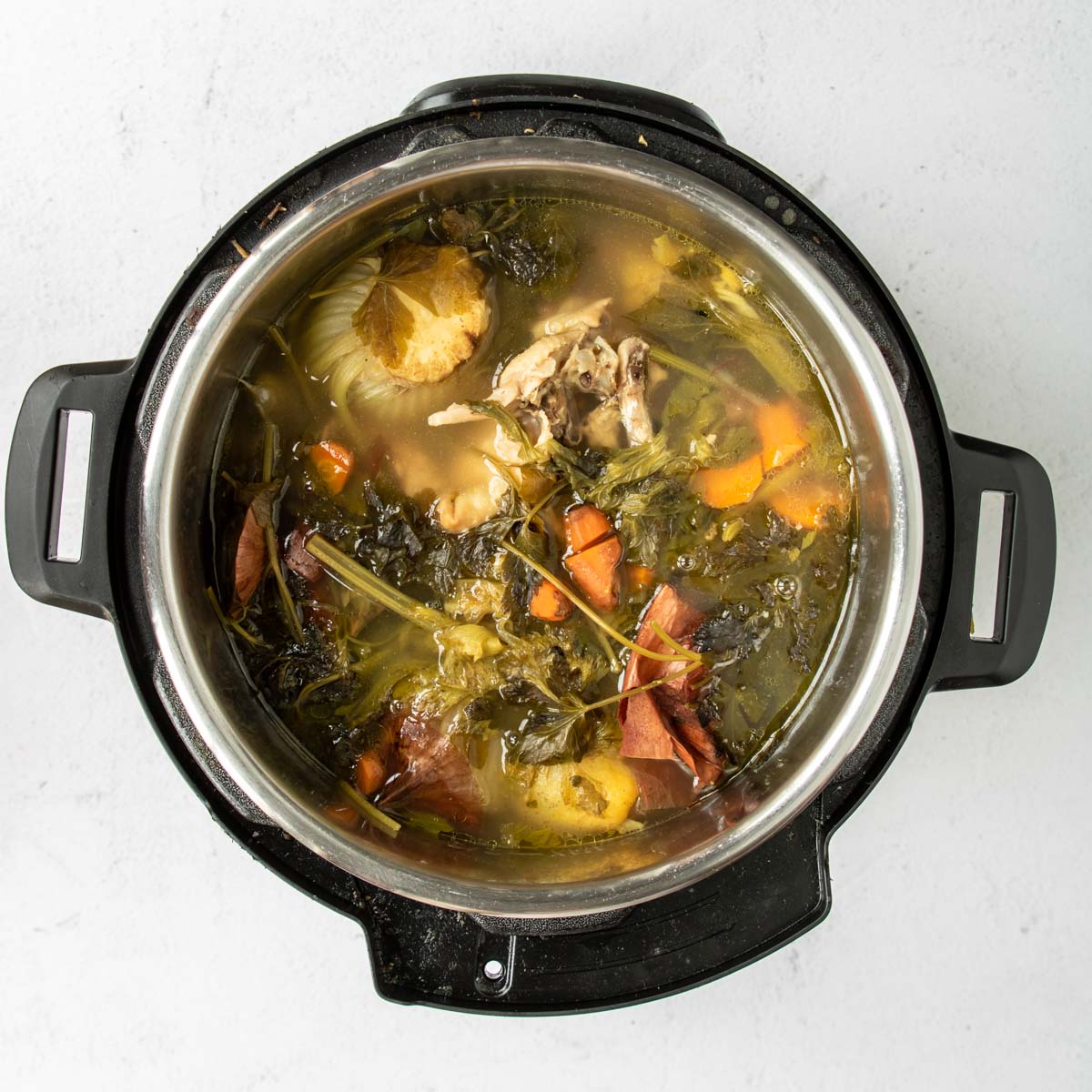 Strain the solids from the stock by using a fine mesh colander over a large bowl. Then with a wooden spoon press the solids so they release all their flavor into the broth!
Portion your stock into containers for storage.
Storing
I like to portion my Chicken Stock into 2-4 cup size portions. These plastic containers from Amazon work great. I also like to use large mason jars in the fridge.
Keep your strained Chicken Stock in the fridge for up to 7 days or in the freezer for up to 3 months.
After it has been refrigerated and completely cooled the fat will solidify on the top of the broth. Skim off the majority of that and discard before using.
Why Did My Stock Turn Into Jelly
It helps with everything to inflammation, arthritis, and boosts immune systems. Read all about it here!
It will turn back into a complete liquid with just the smallest amount of heat.
Making Bone Broth
To make this "bone broth" instead of stock, just increase the cooking time to 60 minutes.
Eating or drinking homemade bone broth or chicken stock has great health benefits. Here are just a few:
It is considered a nutrient dense food
Boosts immune systems
It's high mineral content is great for your bones and teeth.
The collagen content is great for your joints, hair, nails, and skin.
Aids in metabolism health and gut health.
Tips To Make it Amazing
These are great tips for making super flavorful and easy chicken stock in your kitchen:
Save all your veggie scraps in your freezer- carrot tops and peels, celery ends, potato peels, sweet potato ends and peels, turnip tops, onion peels and ends, etc…
Next time you have rotisserie chicken save the carcass in the fridge or freezer until you are ready to make homemade chicken stock.
When you have veggies in the fridge that are too soft to eat, or you forgot about them in the fridge (like me), chop them up for chicken stock.
Use chicken base! I know it is a cheat, but it adds such amazing flavor that it is worth it. You can find chicken base in the soup aisle at your grocery store, near the bouillon. It comes in a paste form in a tub or jar.
Recipes To Use Your Chicken Stock
---
Did you make this recipe?!
If you make this recipe I would love to hear your review. Pop down to the comment section and connect with me.
Then sign up for our Weekly Newsletter so you never miss a new recipe!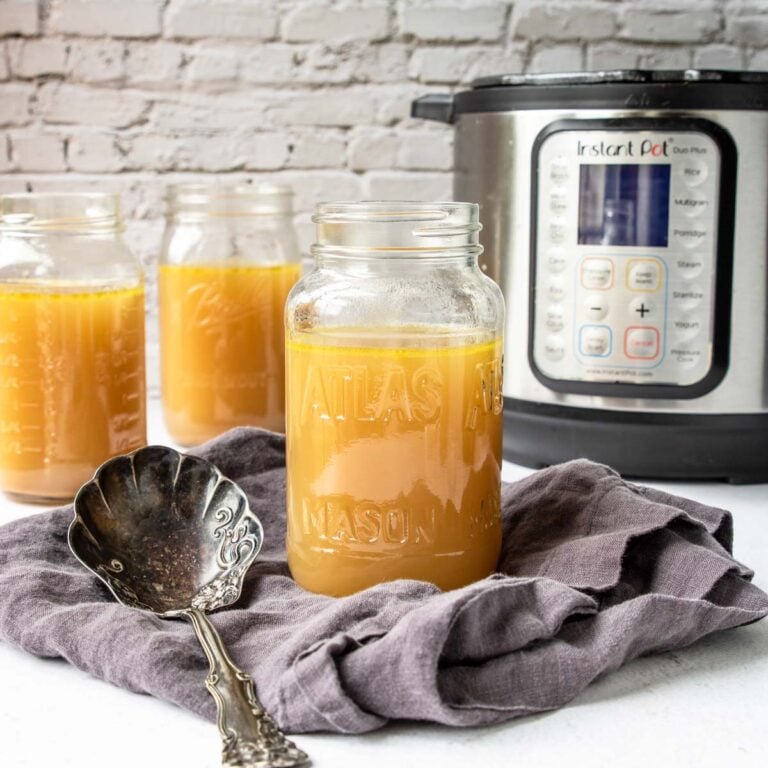 Homemade Instant Pot Chicken Stock
A super flavorful Chicken Stock that is made easily and quickly in your Instant Pot. Reuse all those veggie scraps and leftover rotisserie chicken carcass to make this beautiful stock.
Print
Pin
Rate
Save
Saved to Grow
Ingredients
1

onion, peel on, quartered

1

head of garlic, peel on, cut in half lengthwise

1

rotisserie chicken carcass

cleaned of chicken meat

few handfuls of veggie scraps

** see note

1

teaspoon

kosher salt

½

teaspoon

black pepper

or peppercorns

water

2

tablespoon

chicken base

– optional!!
Instructions
Add the cut onion and head of garlic to the pot.

Put the chicken carcass and bones on top of the onions.

Add in a few handfuls of veggie scraps (if no veggie scraps see notes), salt, pepper, bay leaves and optional chicken base.

Pour water into the pot so it reaches just below the max fill line marked on the inside of your Instant Pot.

Lock the lid in place and turn the pressure valve on top to lock. Turn the pot on to high pressure for 30 minutes. 

To make bone broth increase to 60 minutes.

Do a 10 minute natural release, then finish with a quick release of the pressure. 

Strain the solids from the liquid using a mesh colander. Press the solids with a wooden spoon so they release all their flavor into the stock.

After the chicken stock has been refrigerated the fat will solidify on the top, skim and discard before using.
Storing
Save the Instant Pot Chicken Stock in air tight containers in the fridge for 7 days .

You can also freeze the Chicken Stock for up to 3 months.

These are great storage containers from Amazon!
Notes:
Veggie scraps: I save everything from celery ends, onion tops, sweet potato peels, broccoli stems, turnip peels, etc… Really any veggie that you process in your kitchen. The part that would normally end up in the trash can be saved in a zip lock baggie, in the freezer, until you are ready to make Chicken Stock.
If you do not have any veggie scraps add in 4 large carrots cut in half, 4 celery stalks cut in half,  1 bunch green onions, 1 bunch parsley, and your favorite herbs (rosemary, thyme, dill, etc..) 
Instant Pot Rotisserie Chicken Recipe
Instant Pot/Pressure Cooker: I use the 6qt Duo Plus 9-in-1 Instant Pot
Did you try this recipe? Connect with me & let me know how it turned out by commenting below!
Jump to Comments
If nutrition facts are provided they are calculated as an estimate to the best of our knowledge.