This is a truly wonderful recipe for Guacamole with all the traditional flavors of lime, cilantro, onion, jalapeno and garlic. It comes together in minutes and is ready to eat, just dig in with some salty tortilla chips! I have included all the tips and tricks you need to make sure your Guacamole is pure perfection.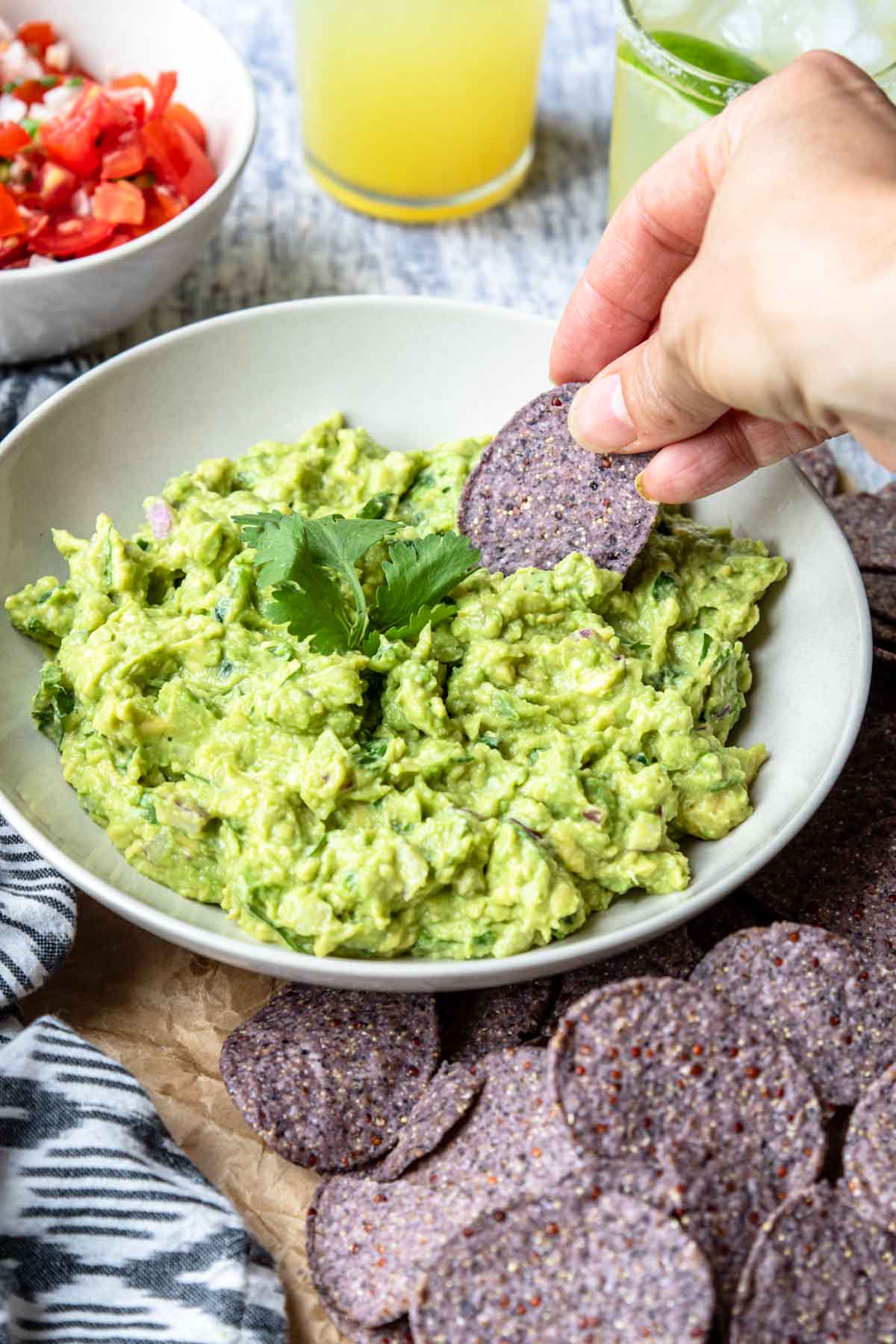 This Guacamole is great with chips, but it also makes an excellent condiment for tacos, burritos or quesadillas!
RELATED: How To Build A Taco Bar & Salsa Bar At Home
Why This Recipe Works
This recipe uses only fresh ingredients.
The majority of this recipe is avocado, no fillers here!
All the pro tips and tricks are included to find ripe avocados OR ripen green avocados are included.
There is a killer homemade Pico de Gallo and Salsa Recipe included to pair with your Guac.
Just add chips and you might eat this whole bowl for dinner!
Ingredients
Here are the items you need to make authentic Guacamole. Plus some tips on a few ingredients.
Avocado – The longer your avocado flesh is exposed to air it will begin to brown. To delay this process you will add lime juice, and the citric acid will slow the browning.
Below I go over how to find a ripe avocado or how to ripen a green avocado. I also detail how to open an avocado.
Onion – I recommend slicing your onion into rounds, then rinsing under cool water for about 30 seconds. Then dicing for your guacamole.
The rinsing process will remove the enzyme that can make raw onions overpower a dish.
Jalapeno– If you are sensitive to the heat of a jalapeno, choose your level of heat by following these guidelines:
Low heat – use only the green flesh
Medium heat – remove the seeds, and only use the green flesh and white ribs/pith.
Most heat – use the entire jalapeno, the green flesh, pith/ribs, and seeds.
Finding Ripe Avocado
To find a perfectly ripe avocado to make your guacamole look for these three things:
dark, almost black skin from stem to end.
slightly soft feel when you give it a VERY light squeeze. Don't over-squeeze or your will bruise a ripe avocado.
The real tell-all is when you pop out the little stem piece and if the flesh under is green then you have a perfectly ripe avocado. If it is brown it has gone too far, if it is bright lime green & almost yellow it is not ripe enough.
Quick Ripening
Now I know that you cannot always find ripe avocados in the store.
To do a quick ripening place your unripe avocado in a paper bag with some ripe bananas. The fruit emits enough ethylene gas to speed up the ripening process of your avocado.
They should ripen up perfectly in a day or two!
Opening an Avocado
If you have never opened an avocado here is how:
Start by slicing into the dark green/black skin with a sharp knife.
Your knife will go all the way to the pit. Now run your knife all the way around, coming back to where your knife started, creating two halves.
Grab the two halves and give them a twist, opposite each other. You will feel the seed give and you can pull the two halves apart.
To remove the seed give it a tap with the blade side of your knife to attach. Twist the knife counter clockwise and the seed will detach from the avocado flesh.
Now to safely remove the pit from the knife pinch the pit from the back side (non-blade side) and it will fall right off.
I also go over all these steps in the video below!
How to Make Fresh Guacamole
Start by scooping out the ripe flesh from your avocados. Place in a large bowl.
With the back of a fork mash the avocado, leaving a few chunks.
Add in the lime juice, red onion, diced jalapeno, cilantro, garlic, and kosher salt.
Stir everything together.
Dig in with some salty tortilla chips!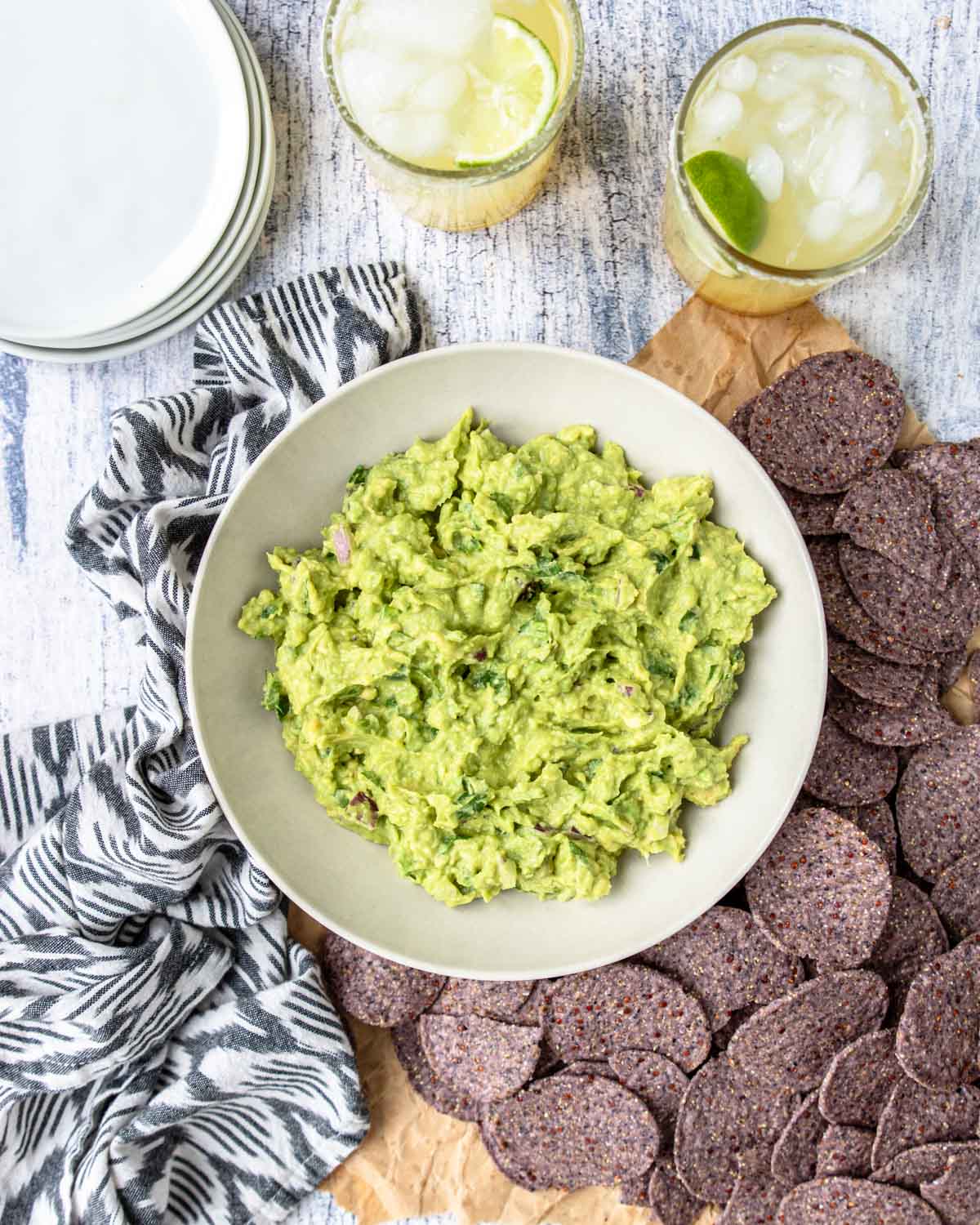 Storing
Like I mentioned before avocado will brown the longer it is exposed to air. The citric acid of the lime will slow this process, but it will still happen.
To store Guacamole properly cover with plastic wrap and press it directly on the surface, keeping out any air. Store in the fridge for up to 3 days.
It may still brown a little on the surface, however you can scrape off the very top layer and the layer underneath should be nice and green!
Freezing Guacamole
Yes! You can absolutely freeze your guacamole. Which is a great way to take advantage of avocados when they are cheapest.
Simply prep your Guacamole and place in a freezer safe baggie, making sure to squeeze all the air out of the bag.
Pop in the freezer for up to 3 months.
To thaw place in the fridge for about 24 hours. Then serve it up!
Recipe FAQ's
Is Guacamole just smashed avocado?
While avocado is the main ingredient in Guacamole, it is not the only ingredient. Traditional Guacamole is a mixture of ripe avocado, jalapeno, lime juice, and cilantro.
How do you make Guacamole better?
Make sure that you are adding enough flavor to the buttery avocado. A recipe should include lime juice, cilantro, jalapeno or serrano peppers, and salt. If your guac doesn't sing in your mouth add a little more lime juice and salt!
Related Recipes
---
Did you make this recipe?!
If you make this recipe I would love to hear your review. Pop down to the comment section and connect with me.
Then sign up for our Weekly Newsletter so you never miss a new recipe!
Guacamole Recipe
A delicious Guacamole dip made with ripe avocados, lime juice, cilantro, jalapeno and onion. Just add tortilla chips and dig in!
Print
Pin
Rate
Save
Saved to Grow
Ingredients
4

ripe avocados (or 3 large sized)

¼

cup

red or white onion

sliced into rounds, rinsed in cool water, then diced

1

jalapeno

* see notes about heat levels

¼

cup

cilantro

finely chopped

2

tablespoon

fresh squeezed lime juice

½

teaspoon

kosher salt

(more to taste)

1

garlic clove

minced
Instructions
Scoop out the ripe avocados into a serving bowl. Mash with the back of a fork, leaving some small chunks.

Add the diced onion, jalapeno, cilantro, lime juice, kosher salt and garlic clove.

Stir together until it is well combined.

Since avocado sizes can vary drastically, give your guac a taste and see if you need more salt, lime juice, or garlic.

Serve with Salsa or Pico de Gallo and tortilla chips or as a condiment for tacos, burritos, or quesadillas!
Storing
Cover with plastic wrap and press it directly on the surface of the guacamole. Refrigerate for up to 3 days.

The surface may brown in the fridge, scoop off the very top layer and it should be nice and green underneath!
Freezing
You can also freeze guacamole! Place in a freezer safe baggie and squeeze out all the air.

Pop in the freezer for up to 3 months. Thaw in the fridge overnight to serve.
Notes:
Jalapeno Heat – choose your level of heat by following these guides:
Low heat – only use the green flesh.
Medium heat – use the green flesh and the white ribs/pith.
Most heat – use the whole pepper, seeds, green flesh, and white pith.
Ripe Avocado – it will have a nice dark green, almost black skin. It will feel softer than the bright green ones. Remove the stem piece and if it is a nice green underneath it is ripe and ready!
Quick Ripening – to quickly ripen your avocados place in a paper bag with some ripe bananas. They will ripen in a day or two.
Did you try this recipe? Connect with me & let me know how it turned out by commenting below!
Jump to Comments
Serving:
1
recipe
|
Calories:
660
kcal
|
Carbohydrates:
38
g
|
Protein:
9
g
|
Fat:
59
g
|
Saturated Fat:
9
g
|
Sodium:
612
mg
|
Potassium:
2030
mg
|
Fiber:
28
g
|
Sugar:
4
g
|
Vitamin A:
805
IU
|
Vitamin C:
55
mg
|
Calcium:
60
mg
|
Iron:
2
mg
If nutrition facts are provided they are calculated as an estimate to the best of our knowledge.