Learn how to poach chicken breasts in salted water for tender and juicy chicken, perfect to use in any recipe that calls for cooked chicken. You can shred it for delicious Chicken Enchiladas, slice it to top a green salad, or cube it for a creamy chicken salad sandwich.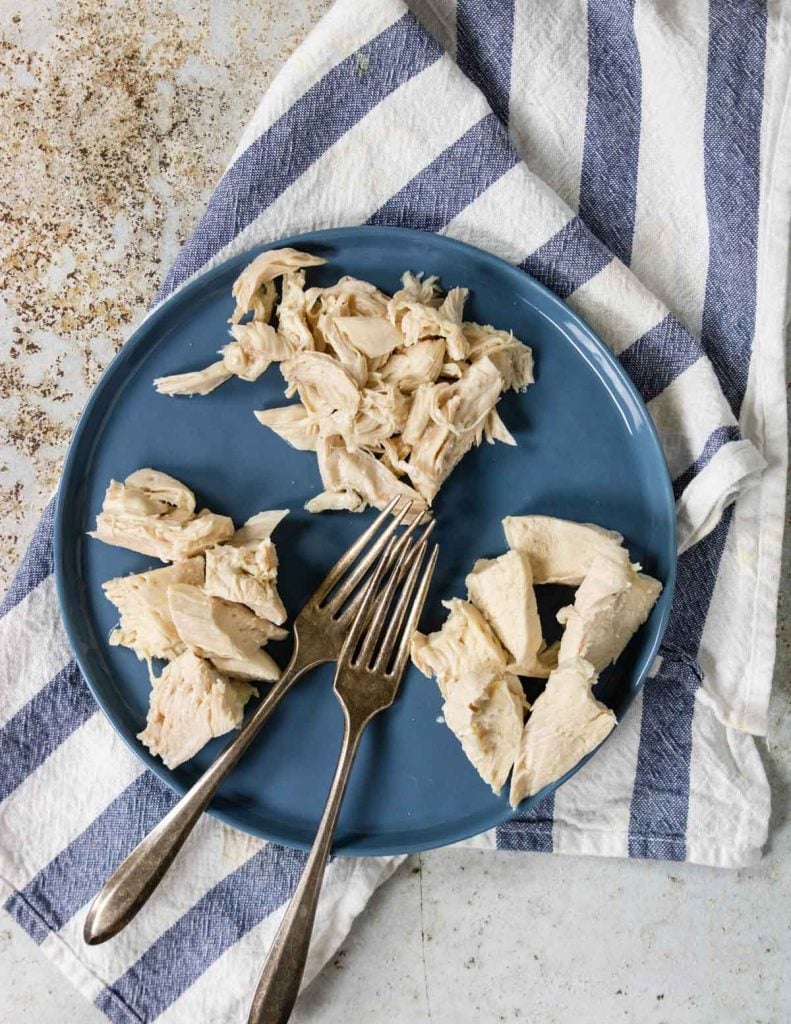 If you would rather make it in your Instant Pot, check out this recipe for All Purpose Instant Pot Chicken.
Poaching
Poaching is defined as cooking by simmering in a small amount of liquid. So in this recipe we are cooking chicken breasts with moist heat by simmering them in a small amount of water (or broth). You could also use part white wine for another flavor profile.
Step By Step
IF you have really thick or big chicken breasts start by cutting them in half lengthwise, so you end up with 2 thinner pieces of chicken.
Place your chicken in large pot.
Cover the chicken with cool water or broth by about an inch.
Sprinkle the salt in the pot. Also add any aromatics you would like to use (bay leaf, peppercorns, lemon, garlic…).
Over medium heat bring the water to a light simmer, not a full boil.
Once it simmers turn the heat to LOW and cook the chicken in the hot liquid for about 10 minutes.
Check the internal temperature, it should reach 165 degrees. If it isn't quite at temp then leave it on the heat for another 5 minutes.
Remove the pot from the heat and let the chicken sit for 5 minutes in the warm water.
Take the chicken out of the liquid and let it cool for about 5 minutes before cutting or shredding.
Shredding Chicken
If you want to use your chicken shredded try shredding it in your stand mixer! Place warm chicken (not cold chicken) in the bowl with the paddle attachment. Turn it on medium speed and it will shred up your chicken in about 30 seconds. There may still be a few large pieces you need to hand shred, but it is still quicker than the old 2 fork method.
NOTE: don't run the mixer too long or it will turn your chicken into crumbles.
Recipes to Make with Poached Chicken
How to Poach Chicken Breast
Learn how to poach chicken that is juicy and tender! Perfect to use in any recipe that calls for cooked chicken.
Print
Pin
Rate
Save
Saved to Grow
Servings:
4
chicken breasts
Ingredients
2-4

fresh boneless skinless chicken breasts

water

could use broth instead

1

tablespoon

kosher salt
Optional Aromatics
bay leaf, black peppercorns, lemon wedges, smashed garlic, quartered onion, rosemary, thyme
Instructions
If your chicken breasts are really big or thick I recommend cutting them in half, lengthwise, so you have two thinner chicken breasts.

Place your chicken breasts in a large pot and fill with water or broth so that it covers the chicken by about 1 inch. Sprinkle in the salt. Add any aromatics you wish to use.

Over medium heat bring to a slow simmer. Then lower the heat to low and cook in the hot water for about 10 minutes.

Check the internal temp of the chicken and it should be at 165° to be fully cooked. If you haven't reached that yet, keep on the heat for another 5 minutes.

Remove the pot from the heat and let the chicken rest in the water for an additional 5 minutes.

Using a slotted spoon remove the chicken from the water.

TIP: you can save the broth/cooking liquid and use in savory recipes that call for broth or water. The broth will also freeze well and can be kept in the freezer for 3 months.
Using Poached Chicken
Let the chicken cool for 5-10 minutes. Then you can shred, cube, slice, or use whole. Use in any recipe that calls for cooked chicken.

The poached chicken will stay good in the fridge for 4-5 days.

You can freeze the cooled poached chicken for up to 3 months.
Notes:
Try shredding your warm chicken with a stand mixer fitted with a paddle attachment or a hand mixer.
Did you try this recipe? Connect with me & let me know how it turned out by commenting below!
Jump to Comments
Serving:
0.5
cup
|
Calories:
140
kcal
If nutrition facts are provided they are calculated as an estimate to the best of our knowledge.