I know we all think of tequila cocktails as being super summery… you know, Margaritas on the beach, Cantaritos on the patio, or a cooling Tequila Soda after a long day of yard work. But I'm here to tell you that you don't have to give up drinking tequila for the Fall! The warmer flavors of Reposado and Añejo Tequila are great for Autumn. They pair perfectly with a cool breeze, crisp colorful leaves, and a cozy sweater.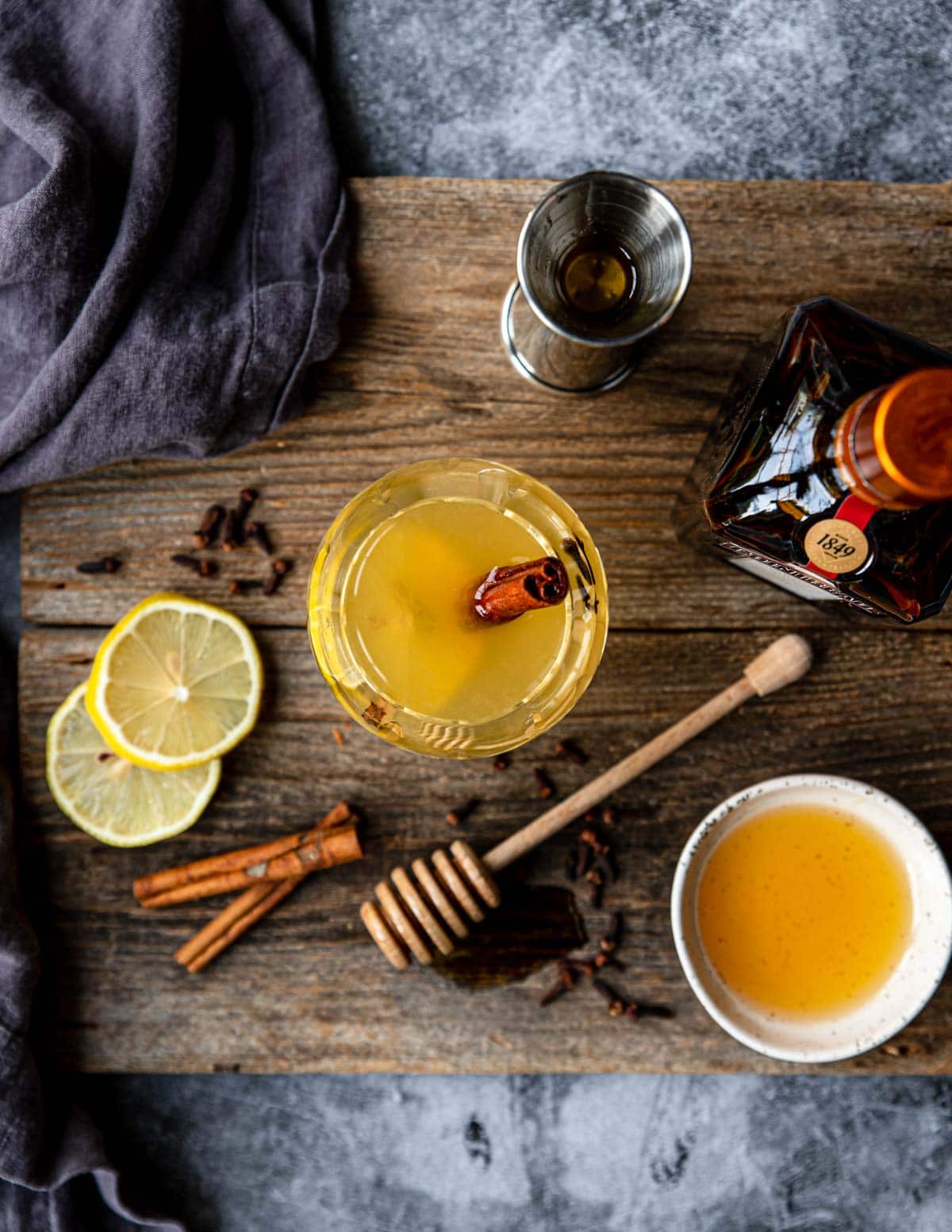 So get out your cocktail shaker and get ready to sip some really great tequila cocktails this fall!
Tequila Types
Tequila is a type of Mezcal, which is defined as any liquor made with the agave plant (but not all Mezcals are Tequila!). There are three main types of tequila to choose from. Now of course there are some sub-types like Extra Añejo and a Rosa Blanco… but the three main types are:
Silver or Blanco
Reposado
Añejo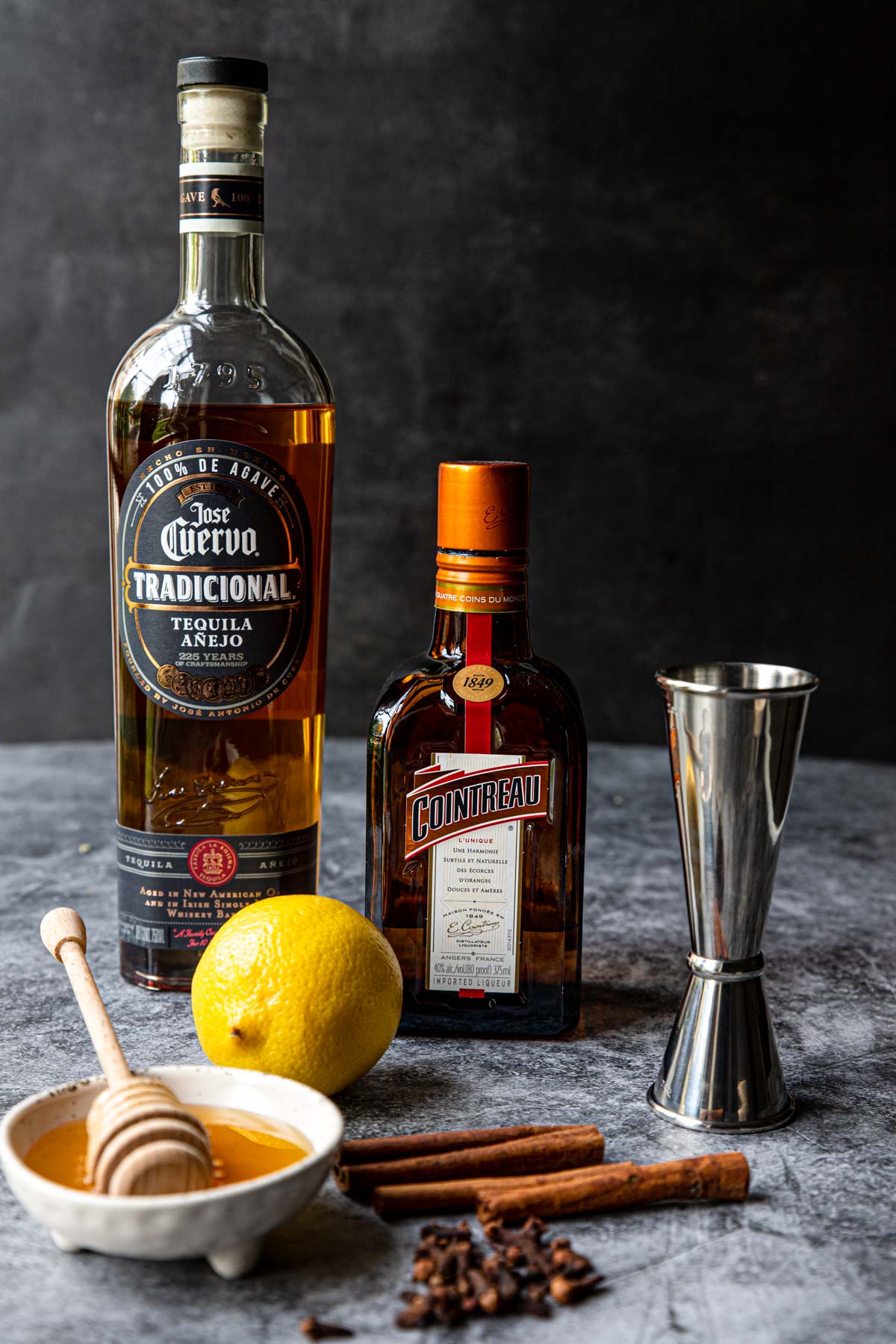 A Silver or Blanco Tequila is a young or non-aged tequila. It has a bright almost limey and salty flavor and aroma. It is most commonly used in margaritas, palomas or tequila sodas.
An Añejo Tequila is aged at a minimum of 1-3 years in oak barrels. It has very pronounced flavors of vanilla and caramel with that distinct tequila flavor waaaay in the background. Añejo is best used with very little mixers, like drinking it on the rocks.
A Reposado Tequila is a mix of silver and aged tequila, giving it BOTH flavors of silver and Añejo. This is a great tequila to use just about anywhere! It is very versatile from drinking it on the rocks to mixing heavily with additional flavors.
Some Great Tequila Brands
Of course you can buy tequila all the way from $15-$100 and everything in-between. A good way to decipher which quality ($-$$$) to buy is thinking about how you are going to use it.
If you plan on drinking it on the rocks or just with a splash of soda or fruit juice then I would opt for a high quality tequila like:
Clase Azul (the really fancy hand painted bottle)
Casamigos
Patron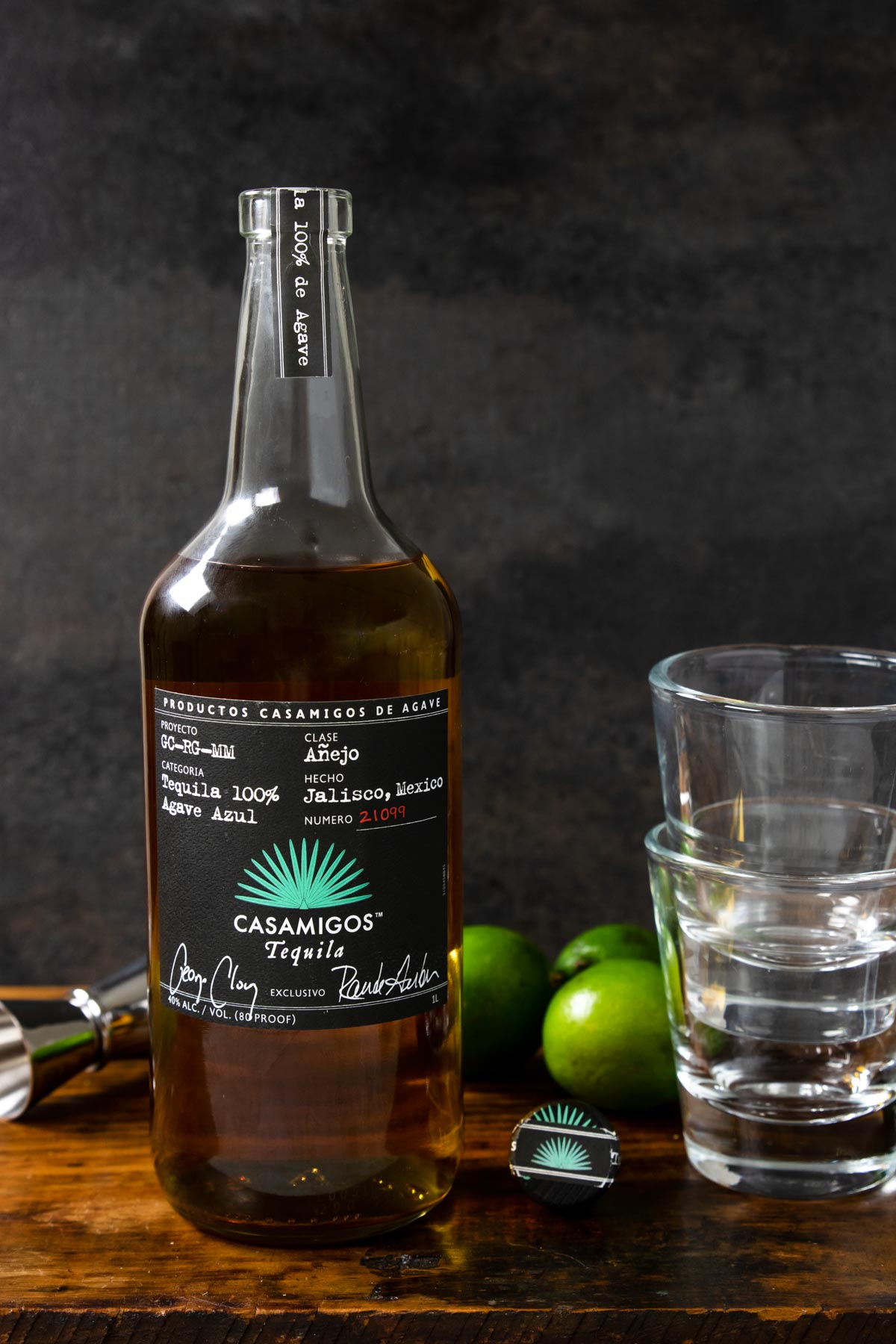 If you are mixing your tequila heavily with flavors then you can get away with a little less expensive brand:
Espolon
Cazadores
Jose Cuervo (I always like the Tradicional for margaritas!)
Tequila Cocktail Recipes for Autumn
These are some of our favorite tequila based cocktails that will keep you warm this Fall! Pair generously with soups, stews, sweaters, and snuggly fires!
Añejo Tequila Hot Toddy Recipe
A Tequila Hot Toddy Recipe that is made with Añejo and infused with lemon, honey, cinnamon and spices. Perfect night cap, to warm your bones on a cold night or when you are under the weather with a cold.
Check out this recipe
Spiced Apple Cider Margarita Recipe
A delicious fall inspired margarita that is made with sweet and spicy apple cider. Rim the glass with a salty sugar cinnamon for an amazing margarita during cold months!
LISTEN TO THE AUDIO RECIPE WITH THE PLAYER BELOW.
Check out this recipe
Añejo Soda
Just like this Tequila Soda Recipe, but this time we are making it with Anejo Tequila. It takes on the beautiful flavors of vanilla and caramel from the aged tequila, but is still completely refreshing!
Check out this recipe
Blackberry Tequila Smash
A twist on a classic smash cocktail. Delicious tequila cocktail made with smashed blackberries and a little mint, fresh lemon, and of course anejo tequila
Check out this recipe
Fresh Ginger Margarita
A delicious margarita recipe that is infused with a kick of fresh ginger flavor by making a homemade ginger simple syrup.
Check out this recipe
Añejo Manhattan Recipe
Añejo Manhattan is made just like a classic Manhattan Cocktail but it is updated with Añejo Tequila. The flavors of vanilla and caramel blend perfectly with the sweet vermouth and bitters. It is a perfect cocktail for tequila lovers!
Check out this recipe
Pomegranate Margaritas
A delicious margarita recipe made with pomegranate juice, orange, triple sec, and silver tequila. Serve this pomegranate cocktail in a glass rimmed with salt and sugar!
Make one margarita or make a pitcher to share!
Check out this recipe
Añejo Tequila Old Fashioned Recipe – Two Ways!
An updated version of a Bourbon Old Fashioned made with Añejo Tequila. It is the perfect cocktail to really enjoy the layers of flavors in Añejo Tequila!
We are giving two recipes to choose from! Which did you love the most?
Check out this recipe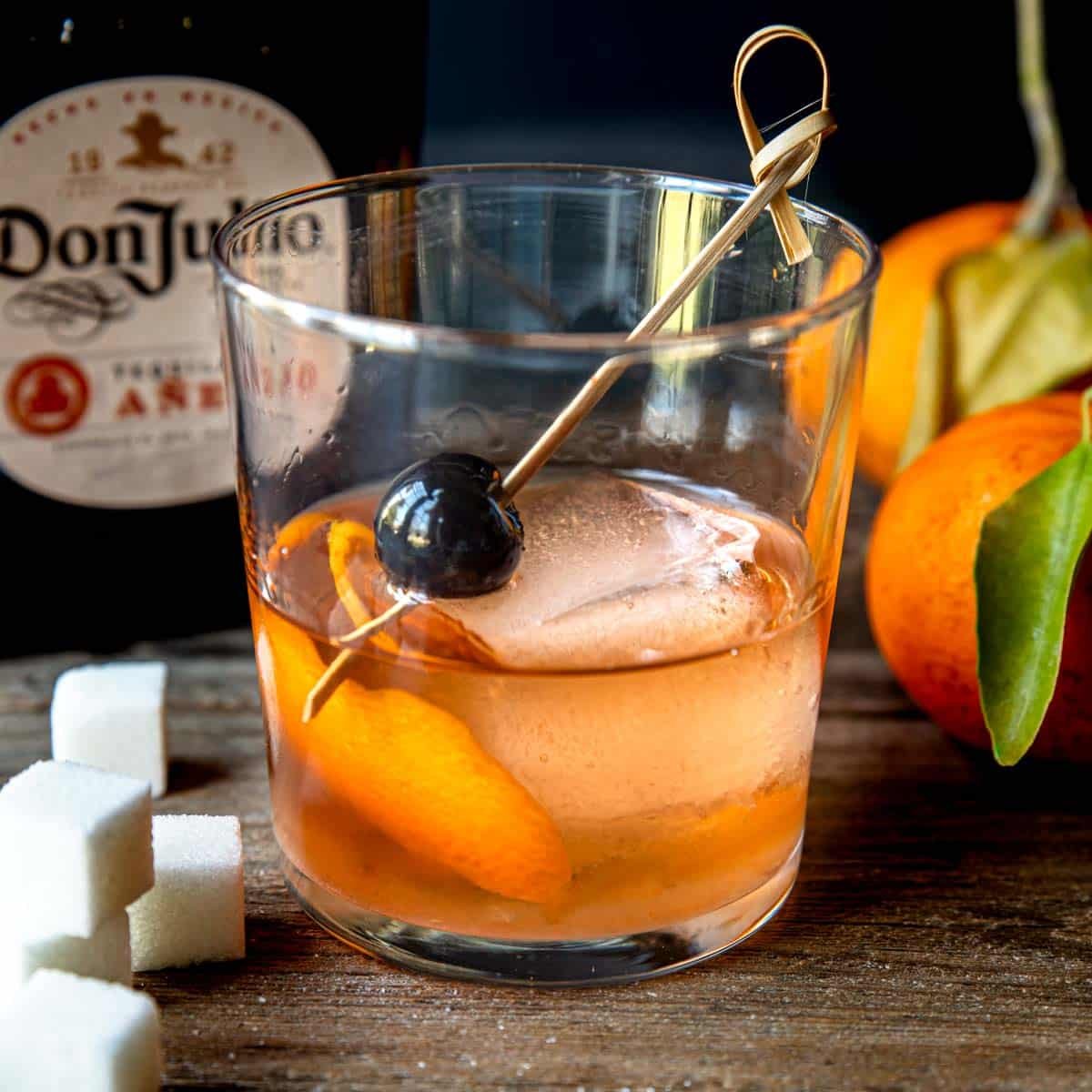 Rosemary Paloma
A tequila based drink that is mixed with fresh grapefruit juice and rosemary infused triple sec.
Check out this recipe
Frothy Tequila Sour Cocktail Recipe
A refreshingly delicious tequila cocktail that is made with Añejo tequila, citrus fruit juice, agave sweetener and an egg white. Use the dry shake method to make a super frothy drink. Serve it straight up in a stemmed glass with an orange peel garnish.
Check out this recipe
Tequila Moscow Mule with Jalapeno
A Mule Cocktail made with tequila and jalapeno- aka Mexican Mule. Tequila, Ginger Beer, Lime, and a little jalapeno make this a refreshing Tequila Cocktail with just a kiss of heat.
Check out this recipe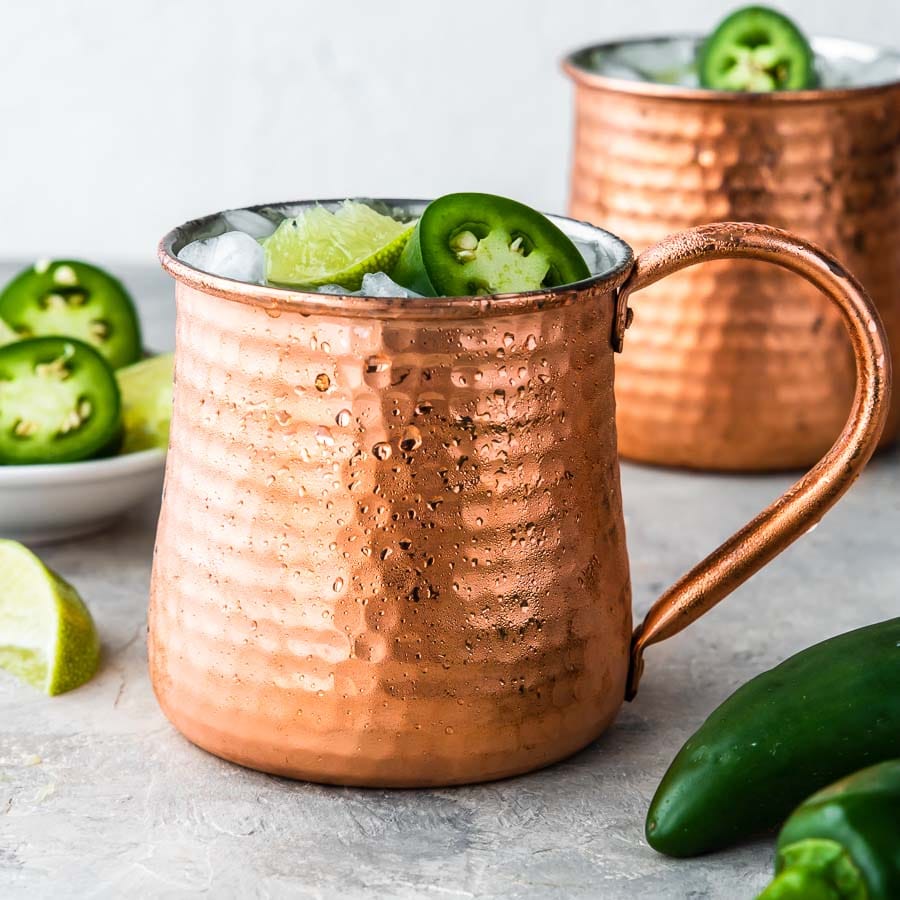 Devil's Margarita Recipe
A Devil's Margarita is part lime margarita layered with red wine and is a beautifully spooky cocktail perfect for Halloween season!
Check out this recipe
El Diablo Cocktail
A tequila based cocktail that has flavors of spicy ginger beer, fresh lime and blackberry from Crème de Cassis.
Check out this recipe
Subscribe To Stay Connected
Sign up for Mom's Dinner Newsletter, delivered every Sunday morning, straight to your inbox. It includes all the new recipes, dinner ideas for the week, and kitchen tips and tricks.