One of the best ways to enjoy all the flavors of Añejo Tequila is drinking it on the rocks. It is the best way to appreciate and realize all the flavors this dark tequila has to offer. You will really love the smooth caramel and vanilla finish mixed with the salty citrus characters of tequila.
If you are new to drinking tequila on the rocks, you can add an orange or lime coin and a drop or two of agave. Also stir the alcohol around the ice cube, it will help mellow the liquor and open up the flavors of the tequila!
If straight up tequila is not for you and you need a little mixer but not extra flavor, try my Tequila Soda. For another great Añejo Tequila recipe try Añejo Old Fashioned, Añejo Sidecar, Tequila Cobbler, or Tequila Blackberry Smash.
"On The Rocks"
On the rocks means that your liquor is served straight up over ice, no mixers.
Since there are no mixers added to your liquor now is not the time for cheap tequila! This is the time to break out the really good tequila! I like Casamigos which is around $65 for a 1 liter bottle.
Añejo Tequila
There are 4 main types of tequila – silver/blanco, reposado, añejo, and joven/mezcal.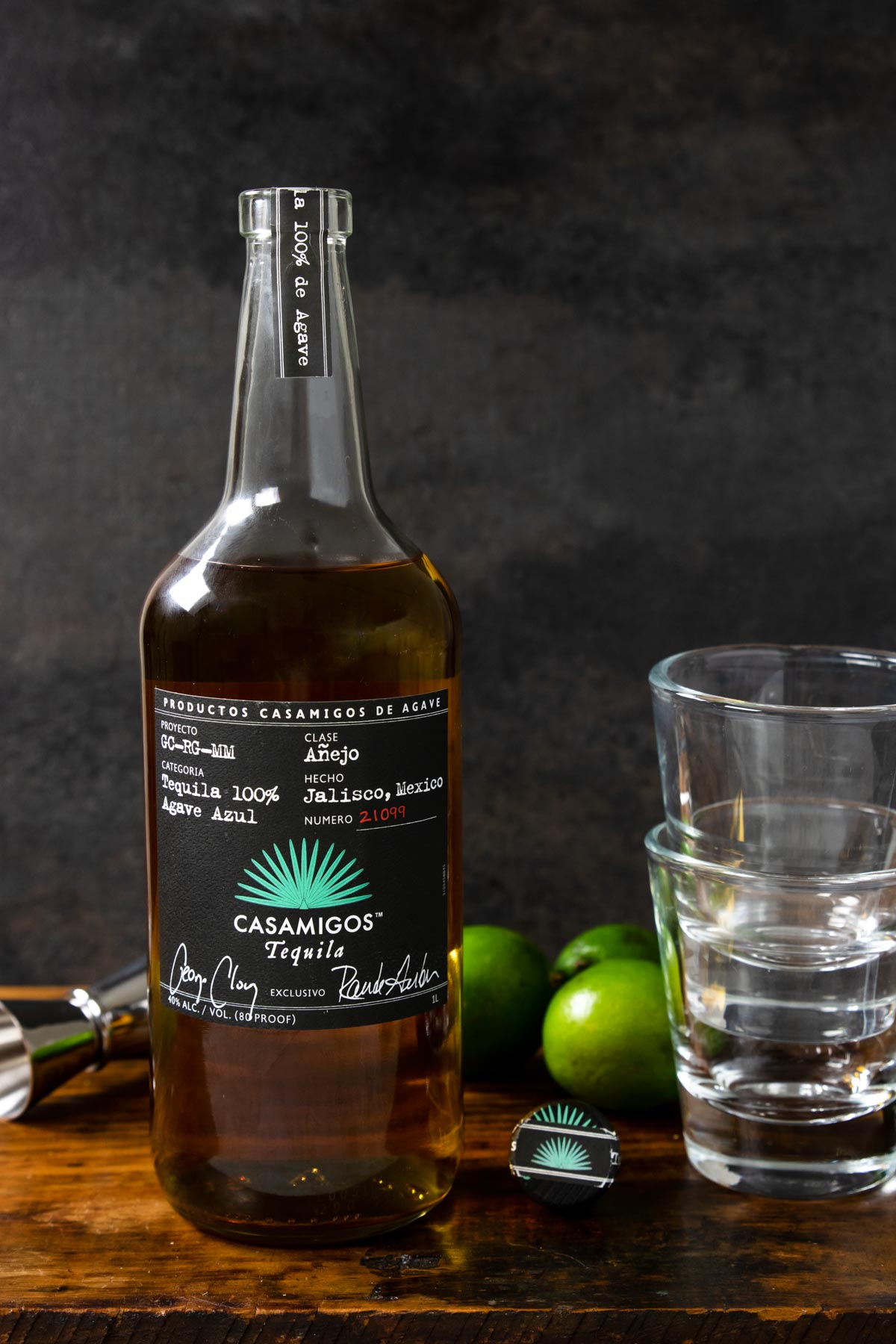 Pronounced "ah-nay-ho"
Añejo Tequila is a caramel colored tequila that has been aged in oak barrels for at least 1 year, up to 3 years. It is a smooth tequila that has a deeper and stronger flavor than a silver/blanco. You will first get a very slight smoky flavor and then it finishes with a smooth vanilla and caramel flavor, which makes it an excellent "on the rocks" drink!
How To Make Añejo Tequila on the Rocks
Start with a large clear ice cube or crushed ice in a rocks sized glass or whisky glass.
I like the Clearly Frozen large ice cube maker. Or just run crushed ice though your fridge ice maker.
Pour 2 oz. of Añejo Tequila over the ice. Give the tequila a stir around the ice.
Optional – add an orange or lime coin to the drink. A "coin" is just a round piece of citrus peel.
Also optional, add 2 tiny drops of agave syrup. Give it a really good stir around the glass. It doesn't change the flavor of the drink, it just takes the initial bite out of the tequila. And adds a super subtle sweetness that pairs really nice with the vanilla-caramel finish of the Añejo.
Wait Before Drinking
If you can, I highly recommend waiting about 2 minutes to sip your tequila on the rocks.
Give it a couple stirs around the ice. It makes ALL the difference! It becomes nice and cold and allows the ice to slightly melt. which opens up the flavors of your beautiful tequila.
Now you will be able to enjoy the intense flavors of vanilla and caramel in your Añejo Tequila. Cheers!
More Añejo Cocktail Recipes
---
Did you make this recipe?!
If you make this recipe I would love to hear your review. Pop down to the comment section and connect with me.
Then sign up for our Weekly Newsletter so you never miss a new recipe!
Añejo Tequila on the Rocks
A delicious drink served over ice, that allows you to enjoy the flavors of Añejo Tequila.
Print
Pin
Rate
Save
Saved to Grow
Ingredients
2

oz

Añejo Tequila

ice

large clear cube or crushed ice

optional – lime or orange coin and a little agave
Instructions
Fill a rocks glass with ice, one large cube or some crushed ice. Pour in 2 oz Añejo Tequila.

Optional – drop a lime or orange coin into the glass.

Optional– add two very tiny drops of agave and stir it around the glass for about 15-30 seconds. It mellows the bite of the tequila without adding a lot of sweetness. It also enhances the caramel flavor of the Añejo.

If you can, wait about 2 minutes before sipping your drink. It makes the tequila REALLY cold and the caramel/vanilla flavors can rise to the top.
Notes:
This is not the time for cheap tequila. You are going to enjoy ALL the flavors of the Añejo so make sure you buy a quality tequila! We love Casamigos!
If Tequila on the Rocks is a little too stiff for you, check out this Añejo Old Fashioned. It adds more layers of flavor and is a little more mellow. 
Or enjoy your Añejo mixed with fresh juices, like in this Añejo Cobbler, a take on an old fashioned Sherry Cobbler!
Did you try this recipe? Connect with me & let me know how it turned out by commenting below!
Jump to Comments
If nutrition facts are provided they are calculated as an estimate to the best of our knowledge.