The El Diablo is a tequila based cocktail that is a little sweet and a little tart with flavors of spicy ginger, lime and blackberry. It is translated as "The Devil" and is a great tequila cocktail to enjoy any time of the year. It is refreshing enough for Spring and Summer, but spicy enough for Fall and Winter.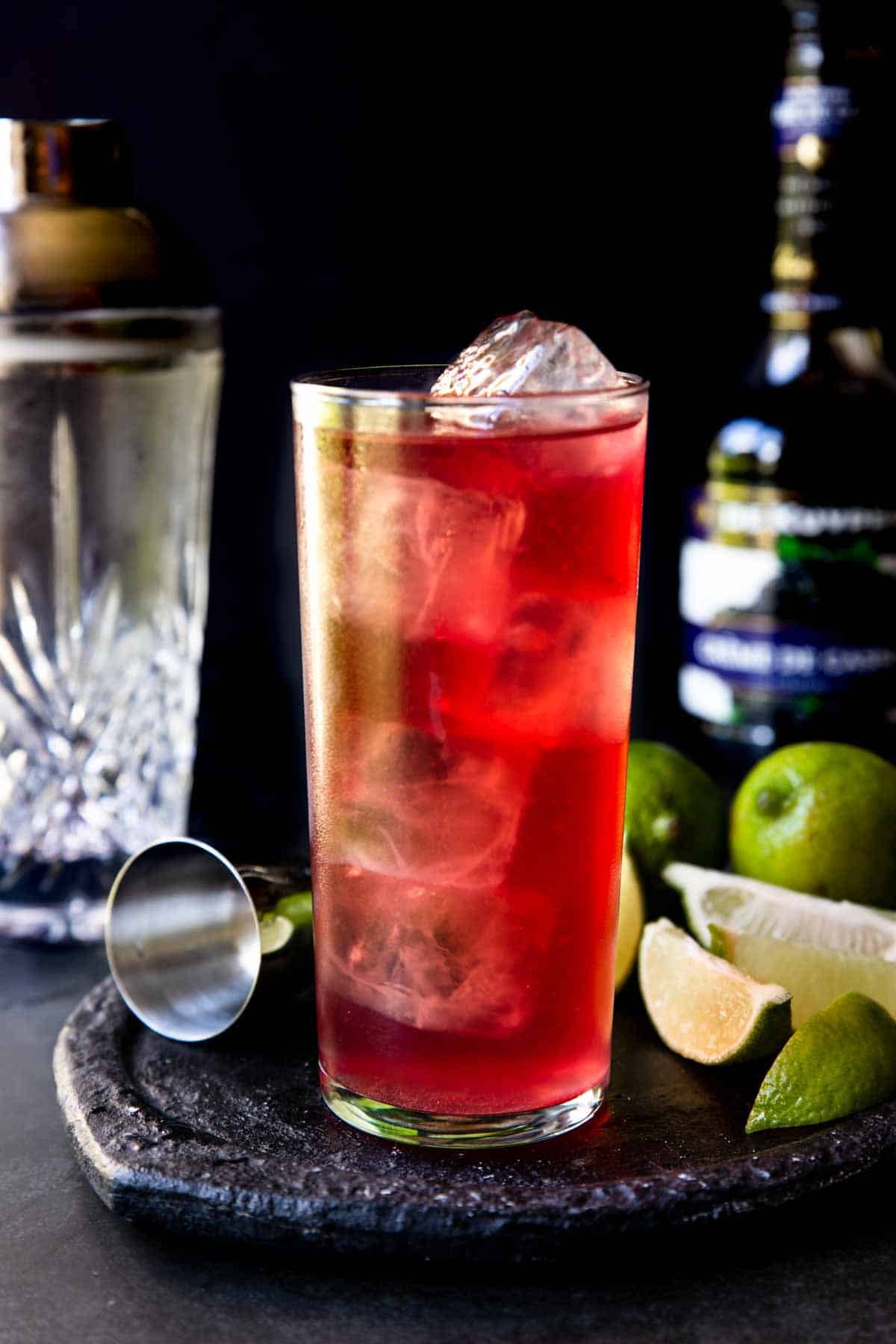 Translation
What does El Diablo mean? It is a Spanish word that translated directly means The Devil.
It is pronounced "el-dee-ahb-low"
Where Did El Diablo Come From
This cocktail was originally published in the 1940's in the Trader Vic's Book of Food and Drink and was published as a tequila cocktail with Crème de Cassis drizzled over top to sink through the cocktial. Over time it has evolved to a shaken cocktail that has a beautiful pinkish/red hue.
The original Trader Vic's cookbook is now about $200 a copy!! So if you have one or find one in your Grandparents house, treasure it!
Ingredients
To make the El Diablo you need to stock your bar with a few ingredients:
Reposado Tequila – this tequila is a mix of aged tequila and silver tequila. It has a nice mild flavor and light golden color. You can also make a Blackberry Smash with Reposado Tequila
Crème de Cassis – this is a very sweet liqueur made of black currants. It tastes like grape juice!
Ginger Beer – not all ginger beers are created equal! Some are SO overly sweet! I recommend the Q Mixer or Fever Tree brands. Ginger beer is also excellent for Mexican Mules!
Finally you just need some fresh limes!
Tequila
Since this is a mixed drink a mid range tequila will work just fine! No need to spend a ton of money like when you drink Tequila on the Rocks. Here are some brands we like:
Esplon
Cazadores
Jose Cuervo
Halloween Cocktail
El Diablo, being "The Devil", is a great cocktail to serve on Halloween, just like this Devil's Margarita. Pour it in a spooky glass, or garnish it with a gummy eyeball.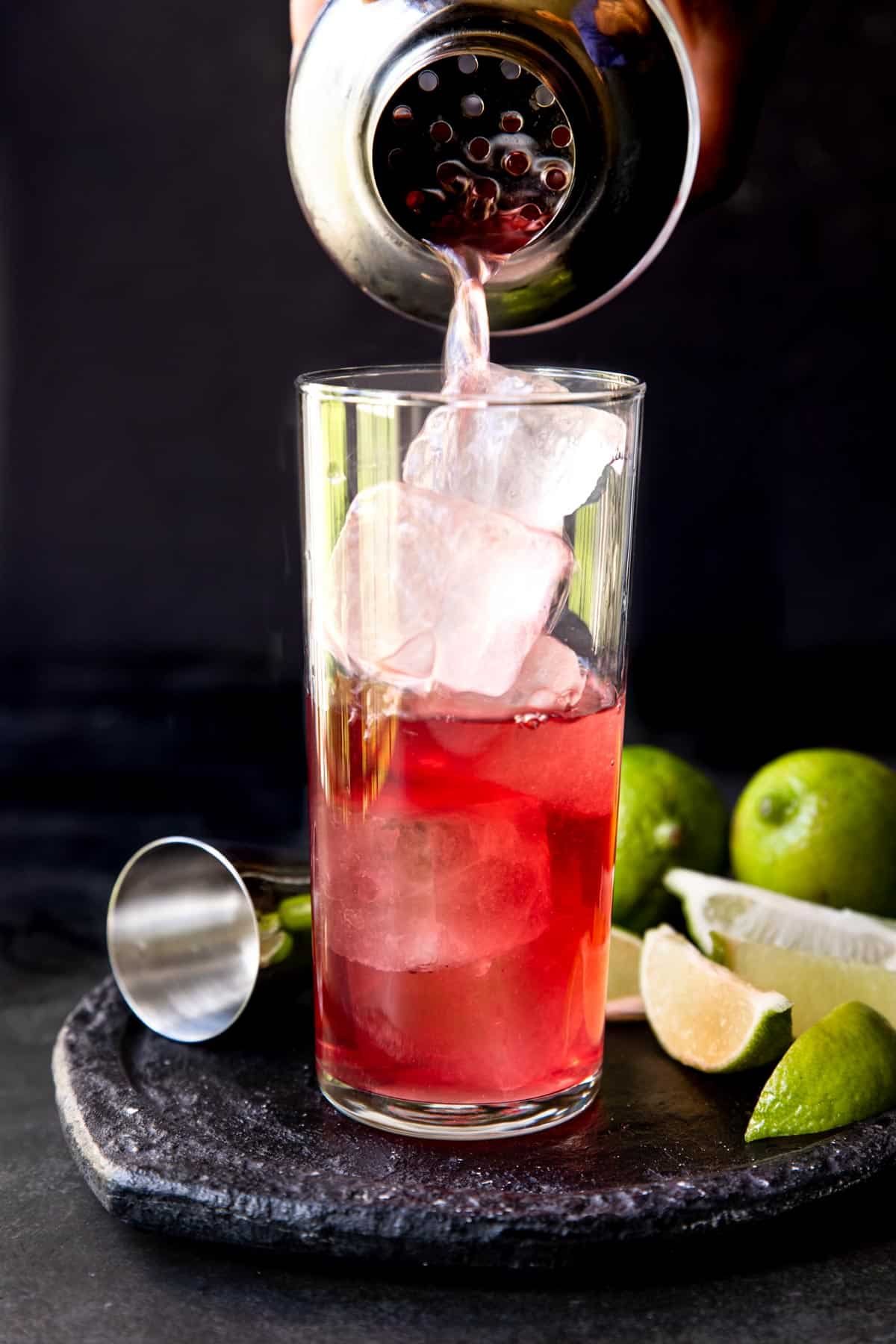 Just like these Bloody Shirley Temples you could serve the Crème de Cassis in a spooky syringe in the glass!
More Tequila Drinks
---
Did you make this recipe?!
If you make this recipe I would love to hear your review. Pop down to the comment section and connect with me.
Then sign up for our Weekly Newsletter so you never miss a new recipe!
El Diablo Cocktail
A tequila based cocktail that has flavors of spicy ginger beer, fresh lime and blackberry from Crème de Cassis.
Print
Pin
Rate
Save
Saved to Grow
Instructions
Fill a glass with ice, about an 8-10 oz glass. Set aside.

Put a few cubes of ice in a cocktail shaker (in a pinch use a mason jar carefully!!). Pour in the Tequila, Lime Juice and Crème de Cassis.

Give it a vigorous shake for 20 seconds.

Strain into the prepared glass. Top with 2-3 oz ginger beer.

Garnish with a lime wedge.
Notes:
GINGER BEER: not all ginger beers are created equally!! Some are SO overly sweet. The Q Mixer and Fever Tree are two brands that have a nice balance of sweetness, spiciness and bubbles. TEQUILA: a mid range tequila will work perfectly fine for this drink; Esplon, Cazadores or Jose Cuervo are great options here.
Did you try this recipe? Connect with me & let me know how it turned out by commenting below!
Jump to Comments
If nutrition facts are provided they are calculated as an estimate to the best of our knowledge.