If you like the biting flavor of fresh ginger you are going to go crazy for these Ginger Margaritas!! It is perfectly balanced between tart, salty, and sweet, with a kick from the fresh ginger. It is made similarly to a classic margarita but instead of agave we are adding a ginger simple syrup and topping with just a float of ginger beer. They are super refreshing and would go GREAT with any Mexican Style Dinner!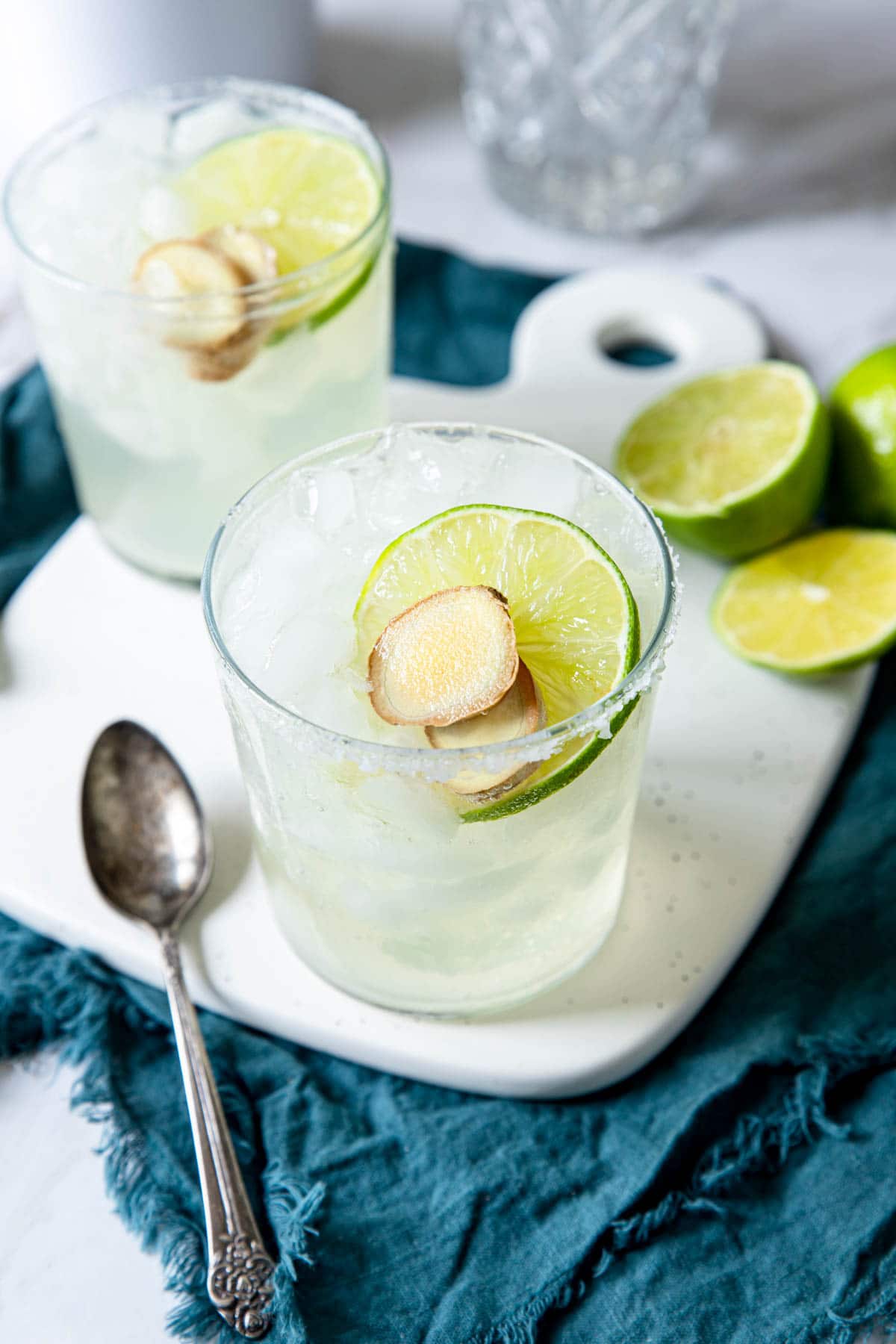 Tequila
For this Ginger Margarita I recommend using a mid priced silver or reposado tequila. Since you are mixing in a lot of other flavors now is not the time for a $50-$100 bottle of tequila!
Something like a Jose Cuervo Traditional, Espolon or Cazadores will be great.
Ginger Simple Syrup
Making a fresh ginger syrup instead of using a ginger liqueur makes all the difference. That fresh ginger has such a unique and beautiful flavor. It is like a cross between a spicy citrus and herbal fragrance.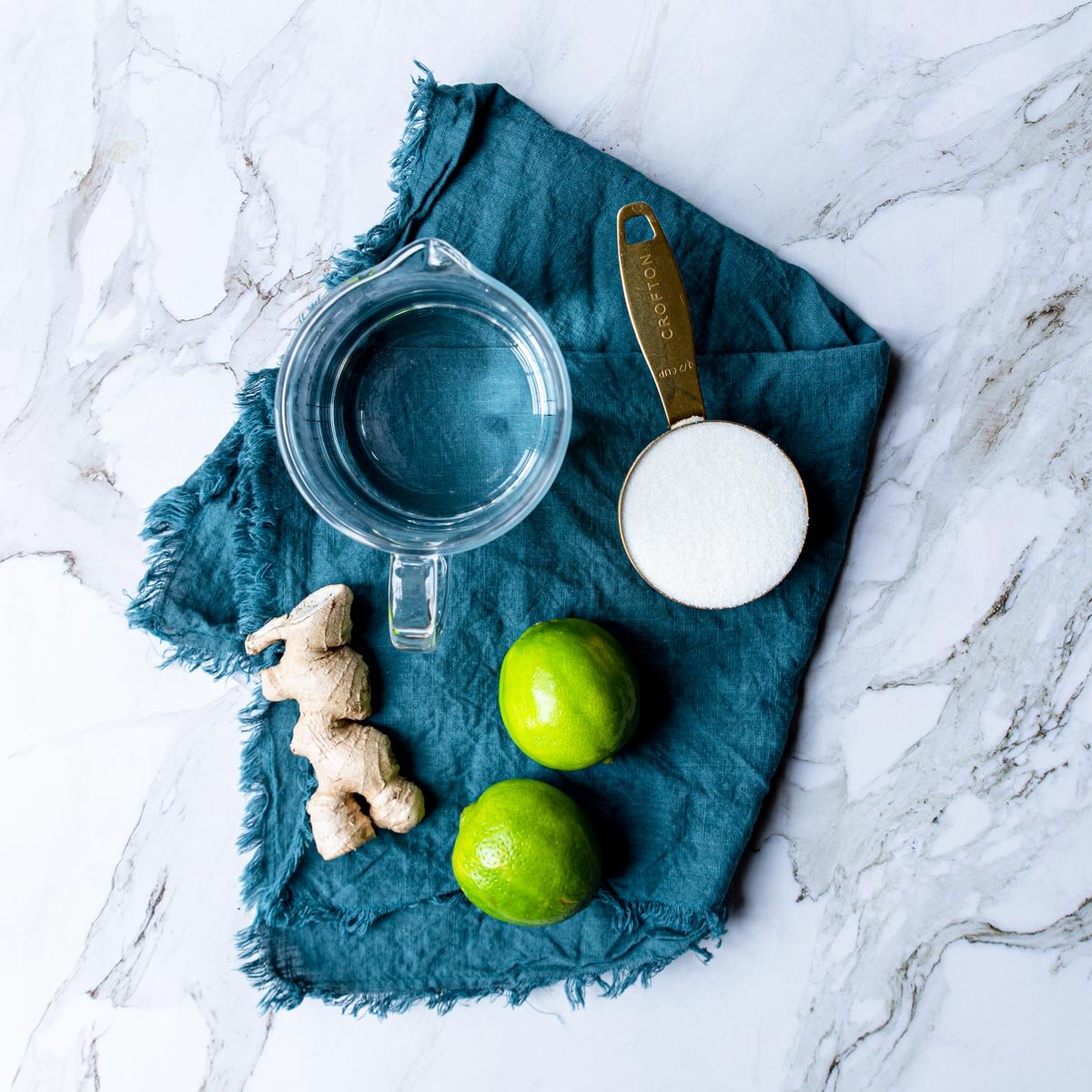 Just like the name says simple syrup is SUPER simple to make! Traditional simple syrup is equal parts sugar and water simmered together until the sugar melts. In this recipe you are mixing equal parts water and sugar with some lime juice and chopped ginger. Simmer for 15 minutes and then cool for 30 mins-1 hour. Strain the solids and save the syrup in the fridge or use right away.
Ginger Beer
Not all ginger beers are created equally!!! Some are waaaaay too sweet, in my opinion. Two that I have found are the most balanced between that strong ginger flavor, bubbles and sweetness are:
You should be able to find either one of these options at your local liquor store and most grocery stores, Target or Walmart.
Some other great cocktail recipes that use ginger beer are a Mexican Mule and a Cranberry Ginger Margarita.
Kosher Salt
When you are making margaritas a salt rim is classic! It gives you that perfect balance between sweet and salty and pairs perfectly with the saltiness of tequila. The salt you want to use for your rim is a kosher salt! Never use iodized table salt for the rim of your glass.
The three brands we love are:
Diamond Crystal – has a really soft texture and light saltiness. I call it salty snow.
Real Salt- a little more expensive but has a nice texture and very mineral-y flavor.
Morton – generally available in every store. Has a coarser texture.
Spice It Up
If you like a little more spice and heat than the ginger gives, consider whipping up a batch of this Jalapeno Infused Tequila to use in your cocktail.
Or you could add some jalapeno slices to your ginger simple syrup!
More Tequila Cocktail Recipes
---
Did you make this recipe?!
If you make this recipe I would love to hear your review. Pop down to the comment section and connect with me.
Then sign up for our Weekly Newsletter so you never miss a new recipe!
Fresh Ginger Margarita
A delicious margarita recipe that is infused with a kick of fresh ginger flavor by making a homemade ginger simple syrup.
Print
Pin
Rate
Save
Saved to Grow
Ingredients
Ginger Simple Syrup
1

large knob of ginger

washed and chopped into ¼ inch coins (no need to peel), this will be at least ¼-1/2 cup

¼

cup

lime juice

¾

cup

water

¾

cup

sugar
Instructions
Ginger Simple Syrup
In a sauce pan over medium, medium-low heat add the syrup ingredients. Stir together and let warm/simmer for 10 minutes.

Tip: Press lightly on the ginger pieces to release more flavor.

Remove from the heat and let cool for 30 minutes to 1 hour. Strain the solids from the liquid and discard the ginger. Store the ginger syrup in the fridge in an airtight container for up to 2 weeks.

Using a fine mesh strainer, strain the solids from the liquid and discard the ginger. However if you are serving the ginger margaritas right away save the ginger coins for garnish!

Store the ginger simple syrup in the fridge in an airtight container for up to 2 weeks.

Tip: a mason jar is the perfect storage container for your syrup!

This will make enough simple syrup for about 8 ginger margaritas
Ginger Margarita
Grab a rocks size glass, 8-10 oz in size. Run a lime around the rim of the glass and then dip in kosher salt. Fill with ice, set aside.

In the shaker add a few cubes of ice, tequila, fresh lime juice, ginger simple syrup, and Cointreau. Pop the lid on and shake vigorously for 20-30 seconds.

Tip: for an even stronger ginger flavor, muddle 2 coins of ginger in the bottom of the shaker before adding the ice and liquid.

Strain into your prepared glass.

Float a little ginger beef on the top, give it a quick stir.

Garnish with a lime wedge or wheel. Cheers!!
Notes:
Tequila: since you are adding a lot of flavors to this cocktail it is not necessary to have a $50-$100 bottle of tequila. Use a mid-priced tequila. We like:
Jose Cuervo Traditional
Espolon
Cazadores
Spice It Up – for a Spicy Ginger Margarita use this Jalapeno Infused Tequila!
Did you try this recipe? Connect with me & let me know how it turned out by commenting below!
Jump to Comments
If nutrition facts are provided they are calculated as an estimate to the best of our knowledge.