An Apple Cider Margarita is a great twist on a traditional margarita and is perfect for the colder months (Hellooooo Fall!!). This tequila cocktail is sweet with warm flavors of cinnamon and apples. Yet when it is served cold it is cool and refreshing.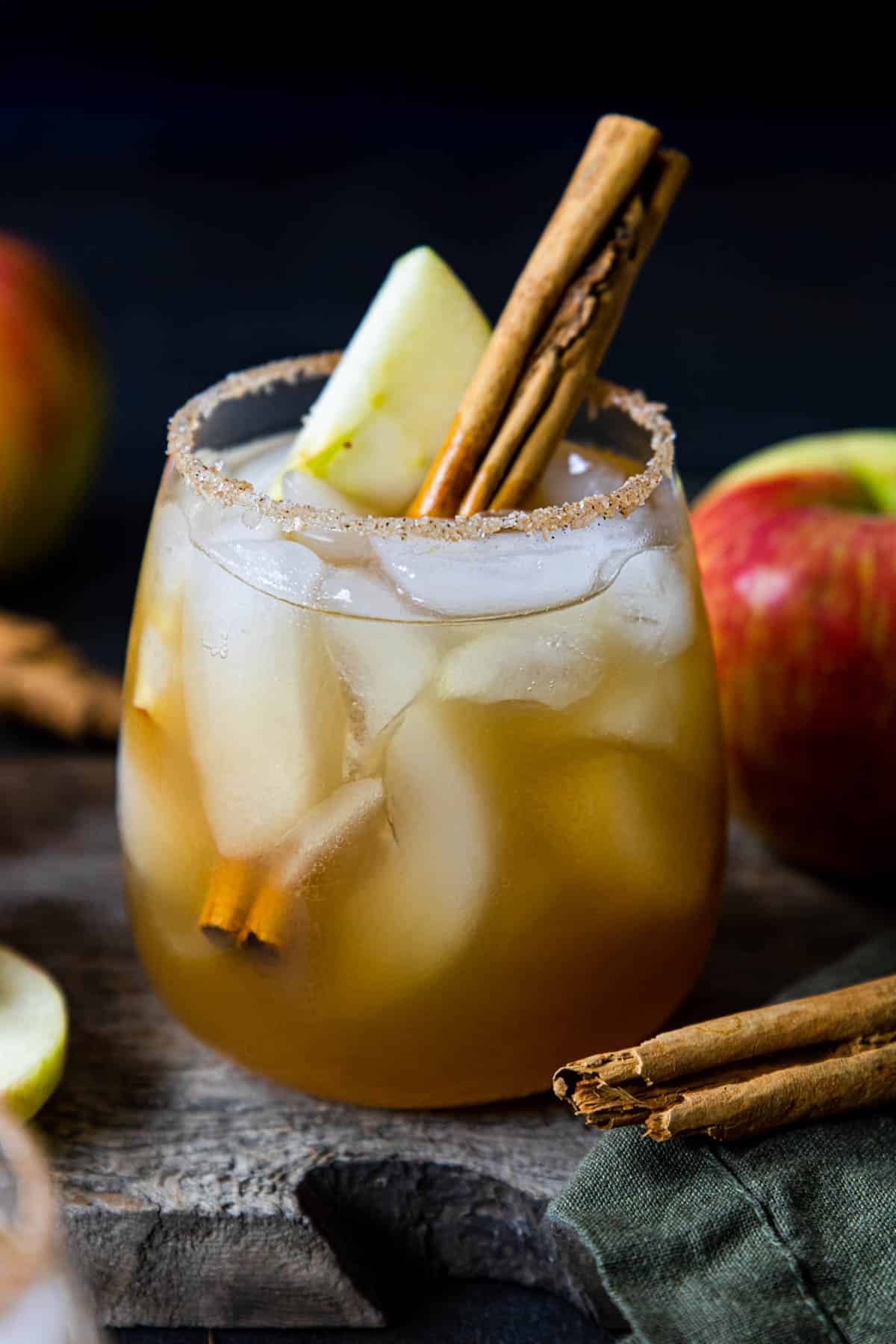 Some other really great fall time tequila drinks are this Tequila Sour or Tequila Sidecar. But, if you are looking for a more summertime tequila drinks, I love these Tequila Soda Cocktails and this Blackberry Tequila Smash. But you can also decide what sounds good by looking through all these tequila drink recipes!
Apple Cider
Apple Cider is the main mixer in this cocktail. Which is fresh pressed apple juice that is usually mixed with seasonings and spices. Generally it has more of an opaque look than apple juice.
The cider that you do NOT want to use is hard cider, as in alcoholic fizzy beverage.
If you have a local apple orchard they usually have some really great apple cider during harvest season (fall). Here in Kansas City we have Louisburg Cider Mill. Which luckily it is also sold in our local grocery stores.
But I have also used Apple Cider from Trader Joe's and it was delicious!
Tequila
For this margarita recipe I recommend you use a darker tequila. The recipe calls for a reposado or Añejo style tequila. Which, if you buy Añejo you can also drink it on the rocks or in an Añejo Soda and it is amazing!
Reposado is a mix of a silver/blanco or young tequila and aged tequila. This gives it a great mix of flavors which is pretty mello. The Añejo tequila, however, is a completely aged tequila which gives it the most delicious caramel/ vanilla flavor!
More Fun Flavored Margaritas to Try
---
Did you make this recipe?!
If you make this recipe I would love to hear your review. Pop down to the comment section and connect with me.
Then sign up for our Weekly Newsletter so you never miss a new recipe!
Spiced Apple Cider Margarita Recipe
A delicious fall inspired margarita that is made with sweet and spicy apple cider. Rim the glass with a salty sugar cinnamon for an amazing margarita during cold months!
LISTEN TO THE AUDIO RECIPE WITH THE PLAYER BELOW.
Print
Pin
Rate
Save
Saved to Grow
Ingredients
Garnish
cinnamon sticks, apple slices

OPTIONAL
Instructions
Rim the Glass
On a flat plate mix together 1 teaspoon sugar, ¼ teaspoon cinnamon, and a pinch or two of kosher salt.

Run an orange slice around the rim of the glass, then dip the rim in the cinnamon sugar mix.
How to Make Apple Cider Margaritas
Fill the rimmed glass with ice. Pour in 1 ounce reposado tequila, ½ ounce triple sec, and 3 ounces of apple cider. Give it a stir and enjoy!

Add optional garnish – apple slice, orange slice, cinnamon stick or star anise.
Notes:
Rimming the glass is totally optional and so is the ratio of sugar to salt! If you like a saltier rim, just mix in a little extra salt. But don't skip the cinnamon, it's amazing on the rim!
Did you try this recipe? Connect with me & let me know how it turned out by commenting below!
Jump to Comments
If nutrition facts are provided they are calculated as an estimate to the best of our knowledge.