Tequila Moscow Mule – aka: Mexican Mule – is a delicious tequila cocktail that is made with tequila, lime, and ginger beer. It is like a traditional Moscow Mule, but you replace the vodka with tequila. In this recipe you add a little jalapeno for just a touch of heat.
For another jalapeno cocktail with less sweetness, check out this Orange Jalapeno Tequila Cooler recipe! And if you love the bite of fresh ginger and ginger beer definitely try this Fresh Ginger Margarita next time!
How to Make a Spicy Tequila Moscow Mule
You will need 4 ingredients (plus ice) for this Tequila Mule cocktail:
Tequila of choice
Ginger Beer of choice
Limes
Fresh Jalapeno
In the bottom of a copper mug (not totally necessary) muddle two lime wedges until they release all their juice and you can smell their fragrance. Add a 1 inch chunk of jalapeno and lightly press with your muddling utensil, just to lightly bruise the skin.
NOTE: if you like it really spicy leave the ribs and seeds in and give it a pretty good smash in the glass. But if you just want a kiss of heat, like me, remove the seeds and as much of the ribs as you can.
Now, add ice to the glass about ¾ full.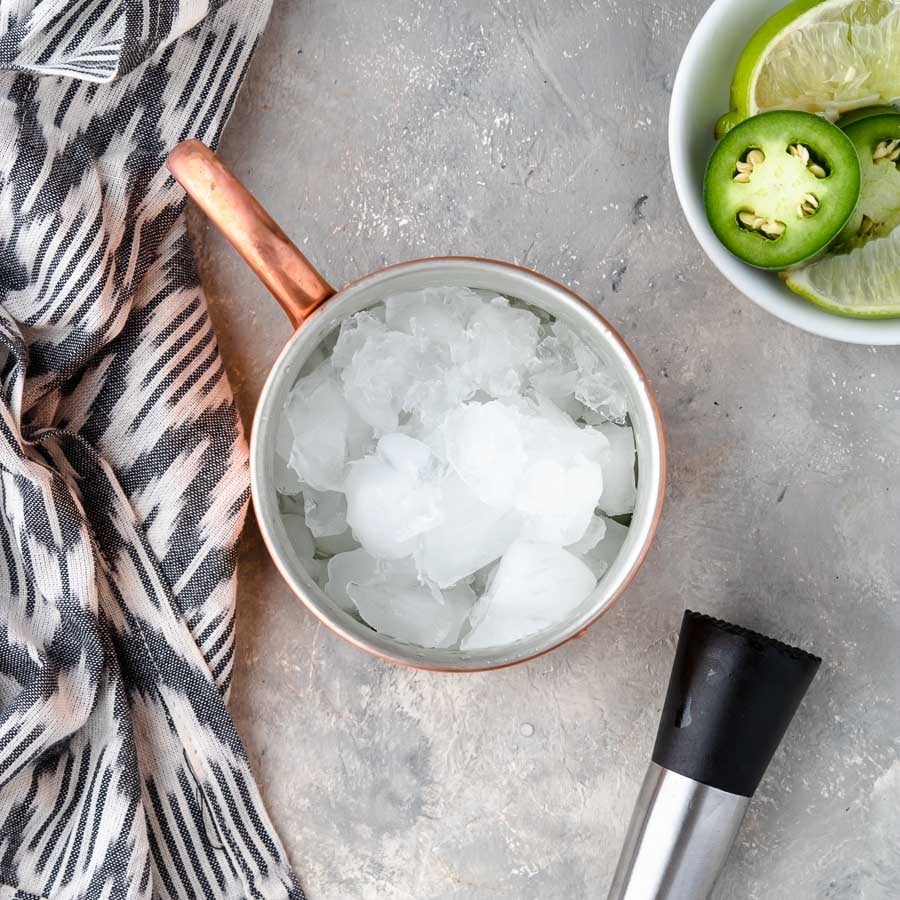 Pour in 2 ounces of tequila- or desired amount.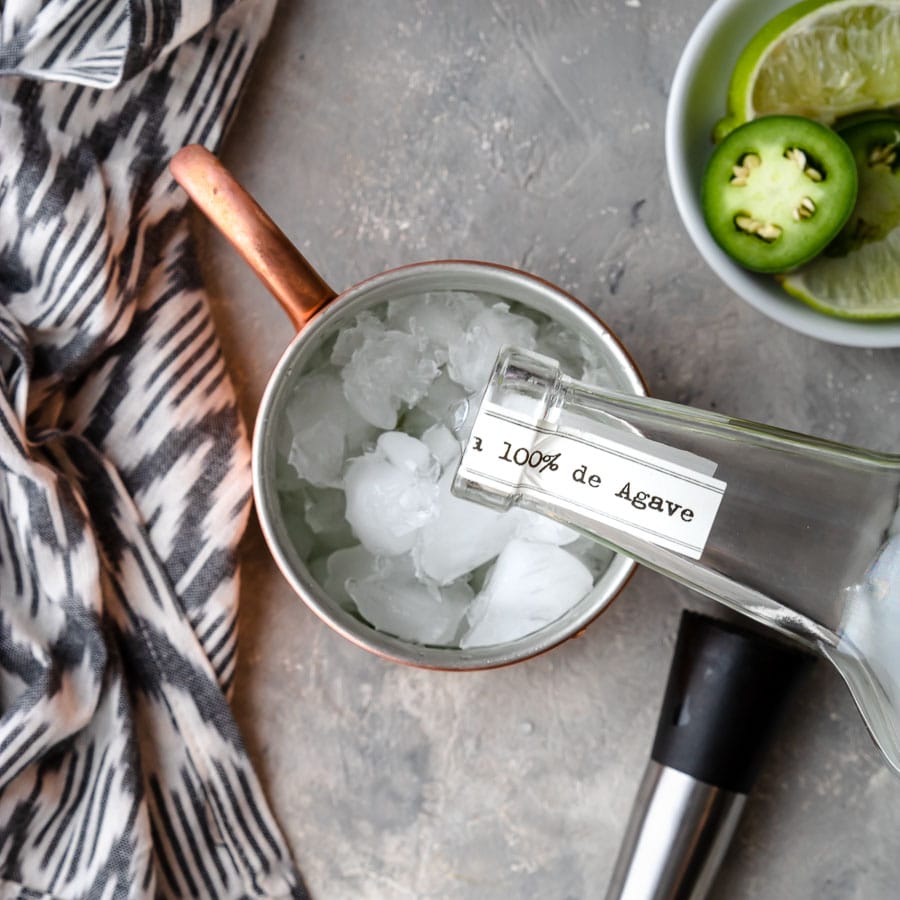 Then float the ginger beer to the top of the ice, about 3 ounces. Give it a little stir and then sip to taste. Add more tequila or ginger beer as desired.
Tequila For Your Mexican Mule
I am constantly on the lookout for Tequila that is delicious and reasonably priced….. like I would love to buy the hand painted blue and white bottle that is $100, but that's not currently in the budget.
Here are a few that I have tried and really love (note they are all agave azul- white tequila), in order of preference:
Casamigos – $$$
Espolon or Cazadores- $$
Jose Cuervo Tradicional – $
Ginger Beer
I was confused when I first started drinking Moscow Mules. I thought Ginger Beer was truly a BEER that had ginger in it. Wrong!
Ginger Beer is actually more akin to root beer. It is like a sweet carbonated beverage that is flavored with ginger root. Which makes it a great mixer for cocktails.
NOT all ginger beers are created equal! If you have tried a few then you know what I am talking about; some are overly sweet, some are made "diet" and have a weird aftertaste, and some don't give you that ginger zing that is oh so good!
My absolute favorite, and everyone I have introduced it to, is Q Mixer Ginger Beer. It is a simple mixer that isn't too sweet, has the perfect amount of carbonation (a lot), the ginger zing and flavor is amazing, AND super bonus- it has cayenne pepper in it to give it just a kiss of heat.
Q Mixer is the Ginger Beer brand I highly recommend for this Tequila Moscow Mule recipe. (ps. Their grapefruit mixer is also amazing!!!) I can find this brand on the shelves of my local Target. But, if you cannot find Q Mixer, Fever Tree is my next favorite!
How Jalapenos Bring the Heat
Pepper heat levels are measured on a scale called the Scoville scale- named per the inventor Wilbur Scoville. A bell pepper has a rating of 0, jalapeno pepper 5000, and a habanero 400,000. So sticking with jalapenos for your Spicy Tequila Moscow Mule will yield some heat but not so much that you will be reaching for a glass of milk.
The heat of a jalapeno is held in a compound called capsaicinoids, of which capsaicin is the most abundant. In a jalapeno there are 3 parts which produce the heat:
Flesh 12mg capsaicin
Seeds 73mg capsaicin
Pith/Ribs (the white inner flesh) 512mg capsaicin
So, you can see most of the heat of a jalapeno is held in the pith/ribs, so if you like a less spicy cocktail (like me) then you will want to remove the seeds and pith from your jalapeno.
If you like the heat- add it all!!!
The Copper Mug for Mules
It is traditional to drink Mules from a copper mug- just as you drink a martini in a long stemmed martini glass, or red wine from a red wine glass. It is all in the name of enhancing your experience and flavor of the cocktail.
Now it is not totally necessary to have the copper mug to really enjoy this cocktail, but here are some benefits to drinking out of the copper mug:
Copper gets extremely cold when the cold ice and cold beverage hits the cup, keeping your cocktail EXTRA cold all the way through and not allowing the ice to melt quickly.
The rim of the copper mug is nice and chilly with each sip, enhancing your drinking experience.
It is said that copper can increase the amount of bubbles in your carbonated drink, which is always a bonus in my book. Nobody likes a flat drink!
I have also read that there is actually an oxidation reaction between the liquor and the copper when you mix your cocktail, enhancing the flavor of your drink. Sounds good to me!
So if you are now convinced, these are the Copper Mugs that I have. Or you can find some less expensive Copper Mug options on Amazon.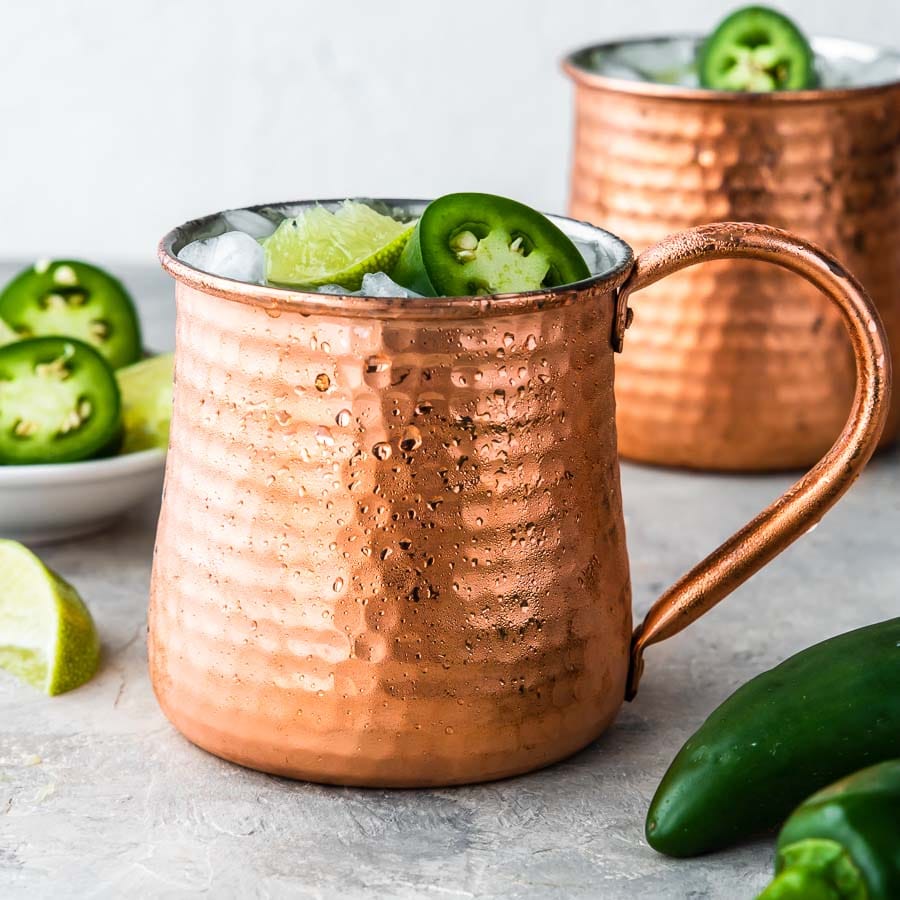 Tequila Cocktails
If you are like me and LOVE a good tequila cocktail, here are a couple recipes to check out:
---
Did you make this recipe?!
If you make this recipe I would love to hear your review. Pop down to the comment section and connect with me.
Then sign up for our Weekly Newsletter so you never miss a new recipe!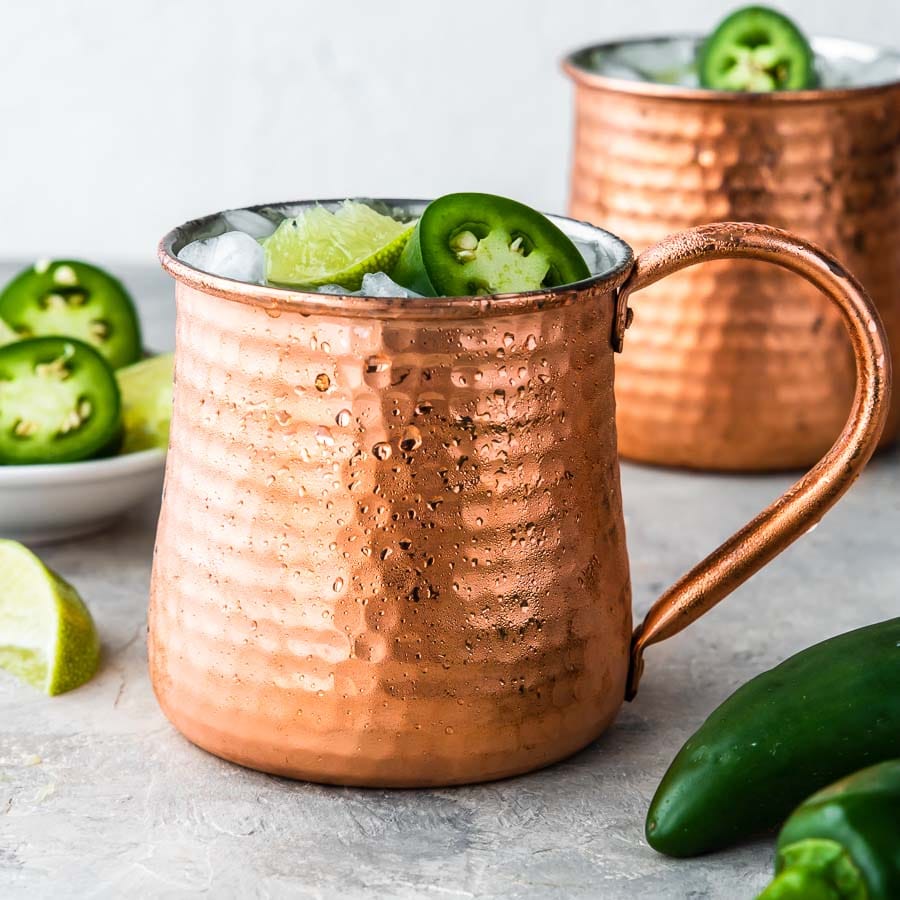 Tequila Moscow Mule with Jalapeno
A Mule Cocktail made with tequila and jalapeno- aka Mexican Mule. Tequila, Ginger Beer, Lime, and a little jalapeno make this a refreshing Tequila Cocktail with just a kiss of heat.
Print
Pin
Rate
Save
Saved to Grow
Instructions
In a copper mug muddle 2 lime wedges until they are completely juiced. Add 1 inch jalapeno chunk to the mug, remove the seeds and ribs/pith for less heat, muddle lightly to just bruise the skin.

NOTE: if you like more heat, leave in the seeds and ribs/pith, and give it a really good muddle.

Add ice to the mug, about ¾ full.

Float in about 3 ounces of ginger beer.

Give the cocktail a stir and taste. Add more tequila or ginger beer as desired.
Did you try this recipe? Connect with me & let me know how it turned out by commenting below!
Jump to Comments
If nutrition facts are provided they are calculated as an estimate to the best of our knowledge.