Grab all the Instant Pot Cooking Times here in an easy to navigate guide. Everything from Pasta to Vegetables to Meat cooking times. Take your favorite stove top and oven recipes and adjust them to be cooked right in your Instant Pot (electric pressure cooker).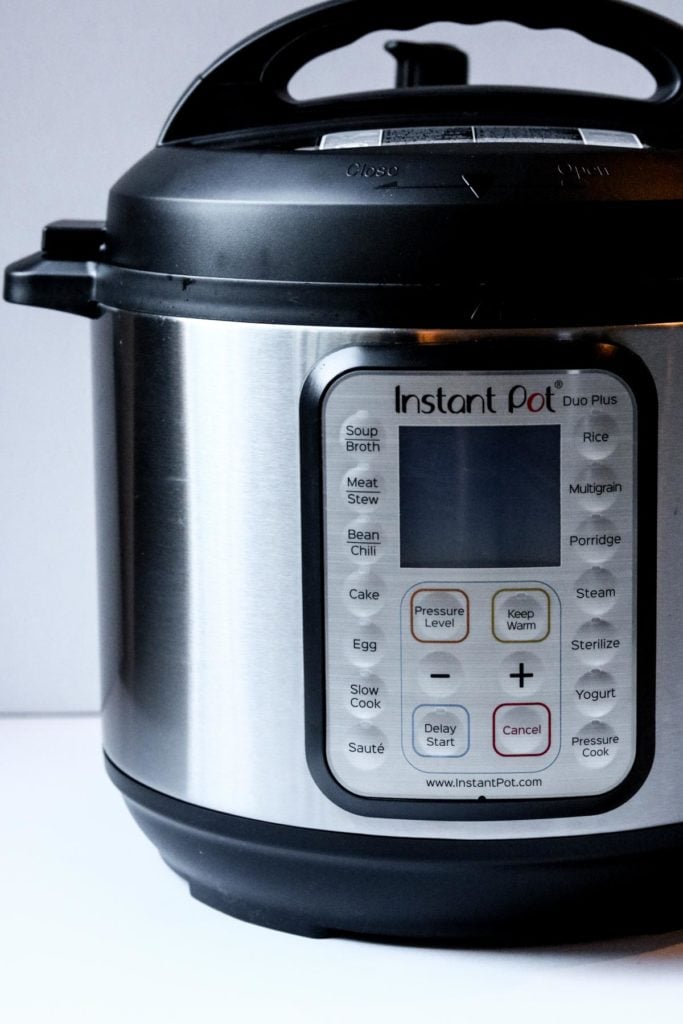 There are quite a few options when buying an Electric Pressure Cooker, however these cooking times are based on using a 6 quart Instant Pot.
Jump to:
Your Instant Pot
Cooking in your Instant Pot is quick and easy. If you are new to the Instant Pot, do not be scared, jump right in with the water test!
In this guide we will talk mostly about cooking times. If you need more info or easy recipes you can jump over to this post for Instant Pot Recipes for Beginners.
How to Set Cooking Time on Your Instant Pot
The very first thing you need to know how to do is to set the cooking time on your Instant Pot.
After you have locked the lid in place and turned the venting knob to "sealing" then it is time to choose your cooking time.
TIME: In general you will use the PRESSURE COOK button. Press the Pressure Cook button and then use the +/- button to choose your cook time per the recipe you are making.
PRESSURE: There are 2 pressure settings- low and high. Most recipes will call for "high" pressure, which most pots are already set to, you can check on the display screen. If the recipe calls for "low" pressure then you will press the pressure cook button a couple times and you can see it scroll through the pressure setting on the display screen.
BEEP: After choosing the correct pressure and time settings, wait for the pot to beep and that is the indication that the Instant Pot has accepted your settings. There is not a "start" button. After the beep it will start to build pressure. The pot will not start counting the time down until it has come to complete pressure.
Pressure & Release
Be aware that most recipes do not include pressure and release time in their time calculation, just like a baking recipe doesn't usually include the time for your oven to preheat.
So this can add 10-30 minutes to your overall time. However, the bonus is that this is all hands-off time!!
Standard Cooking Functions
There are a couple standard functions that you will want to know about on your Instant Pot. There are other fancy preset functions depending on the Instant Pot that you purchased, like rice, meat, stew, sterilize, egg, etc…
But the sauté, pressure cook and keep warm are the basic functions that you will want to use often:
Sauté
This is used to brown meat, soften veggies, simmer/boil, or deglaze the pot. Once you press the sauté button the pot will heat up. When it is ready/fully heated the display screen will read "hot". There are 3 HEAT SETTINGS with the sauté function:
Less – for simmering and thickening sauces.
Normal – for regular browning or softening veggies (this is the default when you press sauté). Also great for a hard simmer.
More – for stir fry style cooking and blackening. Also great for boiling liquid.
Pressure Cooking
This will be your main cooking method in the Instant Pot. There are two things to set for cooking:
Pressure – Low or High. Most recipes call for high. You set this by pressing the PRESSURE COOK button multiple times and you can see it scroll through low and high on the display screen.
Time – Use the +/- button to change the time for your cooking. Once it is set just wait to hear a beep and it will start to build pressure. The time will not start counting down until the pressurizing is complete.
Keep Warm
This button will illuminate after the pressure cooking is done. However, you can also choose this function to keep your food warm after the cooking and pressure releasing is done.
This function is also great way to melt cheese or chocolate!
Getting Help
If you have further questions about converting a personal recipe to an instant pot recipe do not hesitate to reach out to Susie at susie@momsdinner.net!!
Time Guide
This guide is a great starting point for your Instant Pot cooking. You may find that you like your pasta cooked for 5 minutes instead of 6, or your hard boiled eggs cooked for 4 minutes instead of 5. With trial and error your will find your preferences. This guide will get you started. All cooking times are in minutes:
Vegetables & Fruit
Veggie & Fruit
Fresh
(time in mins.)
Frozen
(time in mins.)
Artichokes, whole
10
12
Asparagus
1
2
Beets, small whole
12
14
Broccoli, florets
1
2
Brussels Sprouts, whole
2-3
3-4
Cabbage, shredded
2
3
Carrots, 1 inch chunks
2
3
Cauliflower, florets
2
3
Celery, chunks
2
3
Collard greens
4
5
Corn, kernels
1
2
Corn, cob
2
3-4
Eggplant
2
3
Green Beans
2
3
Leeks
2
3
Mixed Veg
NA
3
Green Peas
2
3
Potatoes, cubed
5
6
Potatoes, whole large
15
NA
Spinach
1
1
Butternut Squash, slice
3
4
Sweet Potato, cubes
4
5
Sweet Potato, whole
10
NA
Peppers, slices
2
3
Apples, slices
2 (5 min for applesauce)
NA
Apples, whole
4
NA
Apples, halved
3
NA
Peaches
3
NA
Pears, whole
3
NA
Plums
3
NA
Rice & Grains
Rice & Grains
Grain : Water/Broth
(cups)
Time
(min.)
Barley, pearl
1:2.5
20-22
Couscous
1:2
2-3
Corn, dried
1:3
25-30
Millet
1:1.75
10-12
Oats, quick
1:2
2-3
Oats, steel cut
1:3
3-5
Porridge
1:6.5
5-7
Quinoa, quick cooking
1:1.25
1
Rice, Basmati
1:1
4
Rice, Brown
1:1
20-22
Rice, Jasmine
1:1
4
Rice, White
1:1
4
Rice, Wild
1:2
20-25
Risotto
1.5:4
7 (with a 10 min natural release)
Sorghum
1:3
20-25
Spelt Berries
1:1.5
25-30
Wheat Berries
1:3
20-25
Pasta
When you cook pasta in the Instant Pot it is a good rule to include 2 cups of liquid (water or broth) to every 8 oz. of pasta.
For more info on your pasta shapes and times this is a great post on tips for cooking pasta in the Instant Pot. They recommend that you find the lowest recommended cooking time written on your box of pasta. Then divide that in half and minus 2 minutes. At the end of that cook time do a 5 minute natural release.
If your math is coming to zero (0), that is ok! Zero is an actual time setting on your Instant Pot!
TIP: If you are following a pasta recipe that calls for different timing, like this Instant Pot Chicken Fettuccine Alfredo, follow the recipe! It is tested and timing may be set for other cooking purposes (ex: chicken).
Beans & Legumes
This list is for dried beans and legumes, not canned. Also the times are based on NOT soaking before cooking:
Dried Beans & Legumes
Time
(min)
Black Beans
20-25
Black Eyed Peas
6-7
Chickpeas, Garbanzo Beans
35-40
Cannellini Beans
25-30
Great Northern Beans
25-30
Kidney Beans, White
25-30
Kidney Beans, Red
15-20
Lentils, Green or Brown
4-6
Lentils, Red or Yellow
1-2
Lima Beans
12-14
Navy Beans
20-25
Pinto Beans
25-30
Peas
6-10
Soy Beans
35-45
Seafood & Fish
| Seafood & Fish | Fresh | Frozen |
| --- | --- | --- |
| Crab, whole | 2-3 | 4-5 |
| Fish, whole | 4-5 | 5-7 |
| Fish, fillet | 2-3 | 3-4 |
| Fish, Steak | 3-4 | 4-6 |
| Lobster | 2-3 | 3-4 |
| Mussels | 1-2 | 2-3 |
| Seafood soup or stock | 7-8 | 8-9 |
| Shrimp or Prawn | 1-3 | 2-4 |
Meat
This category will include poultry, beef, pork and lamb. The time is set per pound for large cuts of meat (ex. chuck roast or pork butt). If it is something smaller like chicken breasts or meatballs then it is set as a total time.
Pro Tip: If you choose to brown the meat before cooking make sure that you completely deglaze the bottom of the instant pot before moving on to pressure cooking. This will prevent getting a burn protection warning during cooking.
Pro Tip: For more tender and juicy meat it is recommended that you allow for a natural pressure release so the meat can "rest" a little before releasing all the pressure. However if you are following a tested Instant Pot recipe, follow the instructions written.
Cut
(beef, pork, poultry, lamb)
Time
(minutes)
Beef, Stew Meat cubes
25 total
Beef, Meatballs
5 total
Beef, cut into large 3 inch chunks (Pot Roast, rump, round, chuck, blade, brisket)
15/lb
Beef, whole (Pot Roast, rump, round, chuck, blade, brisket)
20/lb.
Beef, Flank Steak sliced thin
2 total
Beef, Ribs
20-25 total
Beef, Top Round Steak, sliced
20 total
Beef, shank
25-30 total
Beef, oxtail
40-50 total
Beef, KC Strip, Filet, Ribeye,
Not recommended for the Instant Pot
Chicken, breast boneless skinless
6-8 total
Chicken, breast 1 inch chunks
4-6 total
Chicken, whole
8/lb.
Chicken, cut bone-in
10-15 total
Chicken Bone Broth
20-22 total
Chicken, thigh boneless
6-8 total
Chicken, thigh bone-in
10-12 total
Duck, portions with bone
12-15 total
Duck, whole
10/lb.
Eggs, whole
5min high pressure-5 min natural release-5 min ice bath
Ham, slices, cooked
4-5 total
Lamb, cubed
10-15 total
Lamb, stew meat
12-15 total
Lamb, leg
15/lb.
Pork, loin roast
15/lb.
Pork, butt roast
15/lb.
Pork, ribs
15-20 total
Pork, boneless ribs, country ribs
15-18 total
Turkey, breast boneless
7-9 total
Turkey, breast whole
20-25 total
Turkey, leg
15-20 total
Veal, chops
5-8 total
Veal, roast
12/lb.
Cooking times included in the tables were taken from the Instant Pot Recipe Booklet and from Susie (Mom's Dinner) personal experience using a Duo Plus 6 quart Instant Pot.
If you have further questions about converting a personal recipe to an instant pot recipe do not hesitate to reach out to Susie at susie@momsdinner.net!!