Instant Pot Pulled Pork is tender and flavorful pork shoulder (or butt) cooked up quickly in your electric pressure cooker. The pork meat comes out fall-apart tender and makes amazing BBQ pulled pork sandwiches or tacos.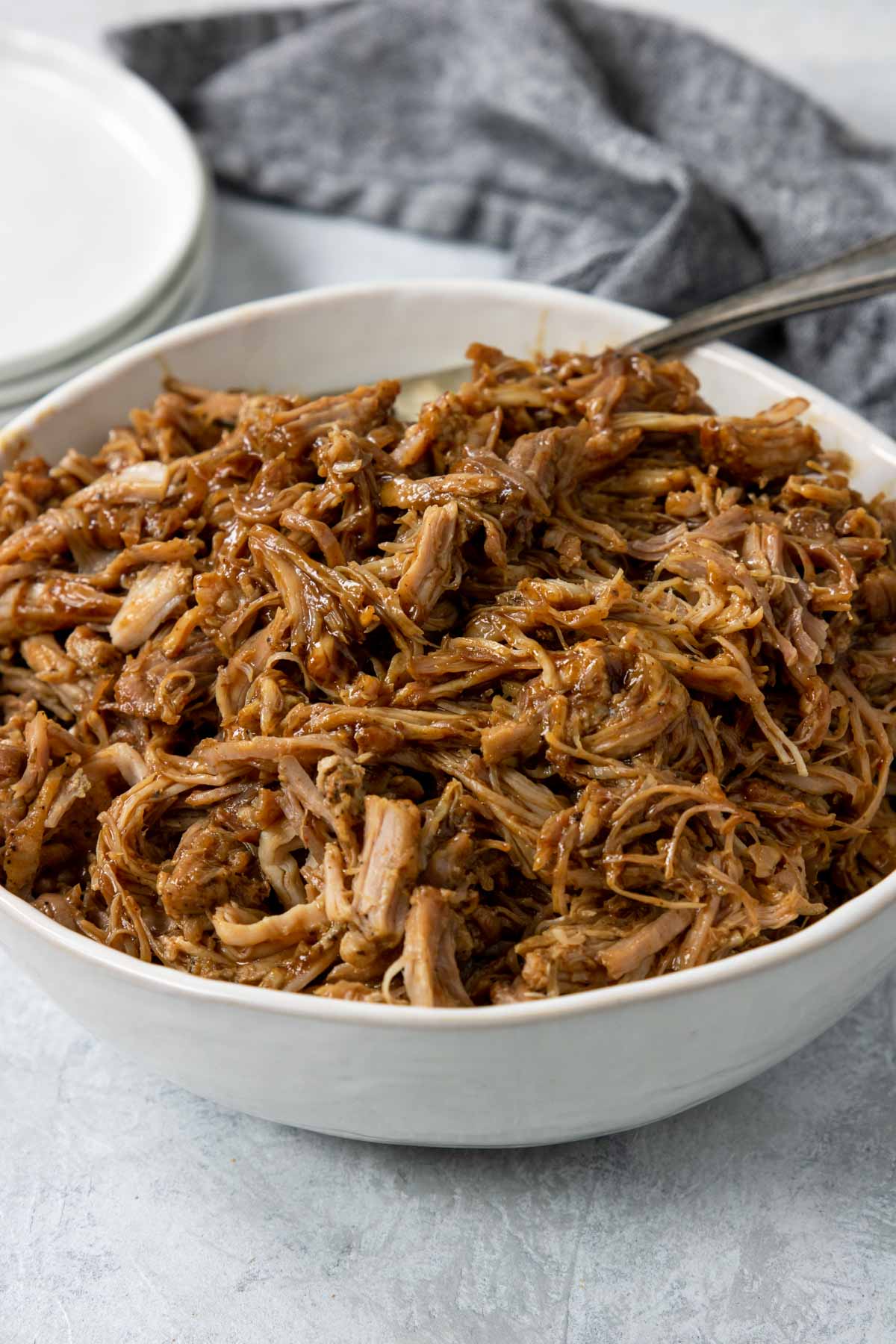 This is a complete guide to making pulled pork in your Instant Pot- everything from which cut of pork to buy, and how much to buy, to trimming, seasoning and cooking!
If you have a pork butt but want to use it in other ways, check out these two recipes: Instant Pot Carnitas or Instant Pot Pork Roast.
Also, if you love BBQ in your Instant Pot definitely make these Instant Pot Boneless Pork Ribs or Instant Pot Pulled BBQ Chicken!! You will not regret it!
Is it Pork Butt or Pork Shoulder
So what do your buy at the store to make pulled pork: pork butt, pork shoulder, or Boston butt? Bone-in or boneless?
Buying any of these options will result in the same flavorful pulled pork. Butt, shoulder and Boston butt are pretty much the same thing.. confusing, isn't it!?
All three are actually cut from the shoulder, hence "pork shoulder". The pork "butt", also known as Boston butt, comes from the same area but is a little higher on the foreleg.
Buying boneless or bone-in is up to you. Both will cook perfectly fine in your Instant Pot. Since you will be cutting the pork butt into cubes, you could cut the bone out if you prefer, but it is not totally necessary.
How Much Pork to Buy
If you are planning on feeding a crowd or just a couple people it is important to know how many pounds of pork to buy. They can vary anywhere from 3 lbs up to 18 lbs. The best way to calculate is 3 people (adults) per pound of pork.
How to Make Pulled Pork in the Instant Pot
We are going to start by trimming the pork butt. Since we are not cooking "low and slow", like in smoking, the fat will not render all the way down. The last thing you want in your pulled pork is a big chunk of jiggly fat. Gross.
Trim as much of the white fat that you can from the outside of the butt. Then cut the meat down into 3 inch chunks. If you come across more fat or connective tissue within the meat, cut that out as well.
In a small bowl mix together your dry rub seasoning. Coat the pork butt pieces completely with all of the seasoning.
Pour 1 cup water, 1 tablespoon Worcestershire sauce, and 1 tablespoon apple cider vinegar into the Instant Pot. Place the metal trivet over the liquid. Put the seasoned pork pieces on the trivet.
Close the pot and set to cook for 40 minutes.
Do a natural release for 10 minutes, then quick release the remaining pressure.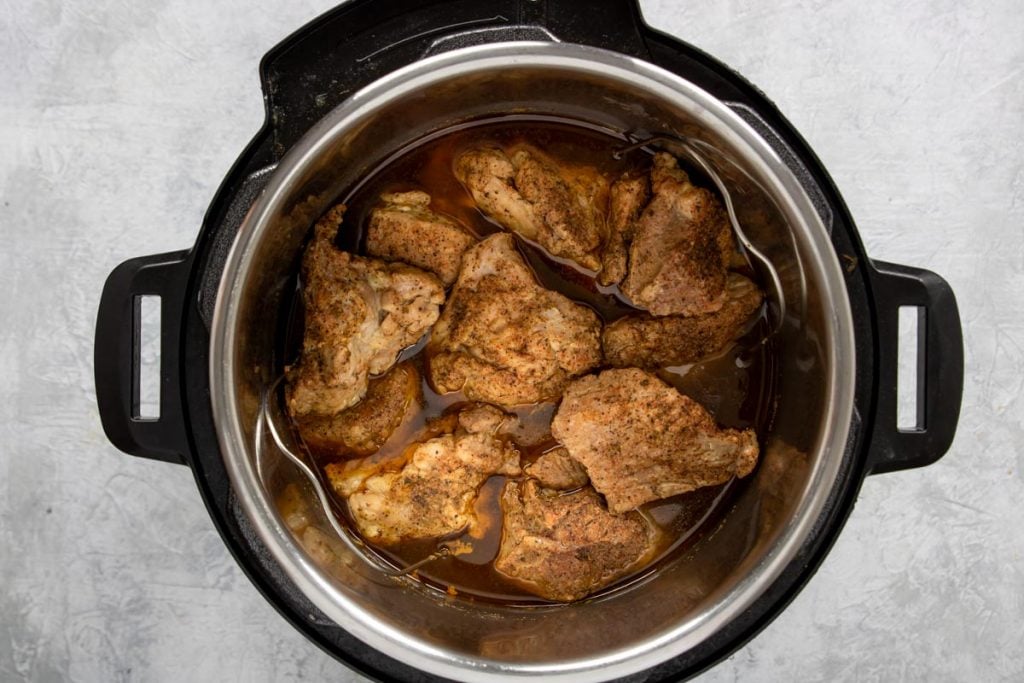 Pulling Your Pork
Now you will want to "pull" your pork, which is another way of saying shred the pork.
Since the meat will be so tender it is easy to do with two forks. Another easy way to shred meat (especially chicken) is by using a stand mixer with the paddle attachment. That makes really quick work of shredding!!
Serving Pulled Pork
We like to eat our Instant Pot Pulled Pork on buns with some KC Style BBQ sauce and coleslaw. It also makes amazing tacos or grilled cheeses.
BTW, this Instant Pot Potato Salad makes a killer side dish for pulled pork sandwiches!
Storing
Leftovers can be stored in the fridge, in an airtight container for up to 5 days.
You can freeze leftover pulled pork very easily!! Place the cooled pork in a freezer safe bag and keep frozen for up to 3 months.
Other Great Instant Pot Recipes
---
Did you make this recipe?!
If you make this recipe I would love to hear your review. Pop down to the comment section and connect with me.
Then sign up for our Weekly Newsletter so you never miss a new recipe!
Instant Pot Pulled Pork
Fall apart tender and flavorful pulled pork cooked in your Instant Pot or electric pressure cooker. Makes amazing pulled pork sandwiches.
Print
Pin
Rate
Ingredients
Pork and Cooking Liquid
3-5

lb.

fresh pork butt

(also called pork shoulder or boston butt)

1

cup

water

or chicken broth

1

tablespoon

worcestershire sauce

1

tablespoon

apple cider
Dry Rub Seasoning
2

tablespoon

brown sugar, packed

1 ½

tablespoon

kosher salt

1

teaspoon

onion powder

1

teaspoon

garlic powder

1

teaspoon

black pepper

½

teaspoon

chili powder

½

teaspoon

smoked paprika

¼

teaspoon

dry mustard
Instructions
Start by mixing the dry rub.

In a small bowl combine 2 tablespoon brown sugar, 1 ½ tablespoon kosher salt, 1 teaspoon onion powder, 1 teaspoon garlic powder, 1 teaspoon black pepper, ½ teaspoon smoked paprika, ½ teaspoon chili powder, ¼ teaspoon dry mustard. Stir it together so there are no clumps remaining. Set aside.

Trim and cut your pork butt.

With a sharp knife trim any fat or connective tissue from the pork butt. Cut the whole butt into 3 inch chunks. As you cut it open if you find more areas of fat, remove those too.

Season the pork.

Sprinkle and press the dry rub on all sides of the cut pork.

Pour the cooking liquid in the Instant Pot.

Add 1 cup water, 1 tablespoon Worcestershire sauce, and 1 tablespoon apple cider vinegar to the pot. Place the trivet over the liquid.

Add the seasoned pork to the Instant Pot.

Place all the seasoned pork pieces in the pot on the trivet.

Close the lid and set to cook Pop the lid on your IP and turn the pressure valve to seal. Set to cook for 40 minutes. Do a 10 minute natural release and then release any remaining pressure with a quick release.

Shred and serve!

Remove the pork from the pot, discard the liquid (or you can use some to pour over your pork if you like)

Take two forks and shred the pork. Mix with your favorite BBQ sauce and serve on buns or tacos or pizza or nachos!!
Notes:
SERVING: Plan 3- people (adults) per 1 pound of pulled pork.
STORING: Leftovers can be kept in the fridge for up to 5 days. You can also freeze leftovers in freezer baggies for up to 3 months.
If you have a pork butt (shoulder) and want to make Pork Roast, check out this post for Instant Pot Pork Roast with Veggies & Gravy
Did you try this recipe? Connect with me & let me know how it turned out by commenting below!
Jump to Comments
If nutrition facts are provided they are calculated as an estimate to the best of our knowledge.