When you want super creamy and flavorful Refried Beans this recipe for Instant Pot Refried Beans will be your go-to. You do not have to soak your dry pinto beans overnight for this refried bean recipe. Simply prep everything and cook in the instant pot for about 50 minutes. The cooked pinto beans blend up creamy and delicious. Just add some Mexican Rice and it is a perfect side dish for every Mexican Dinner!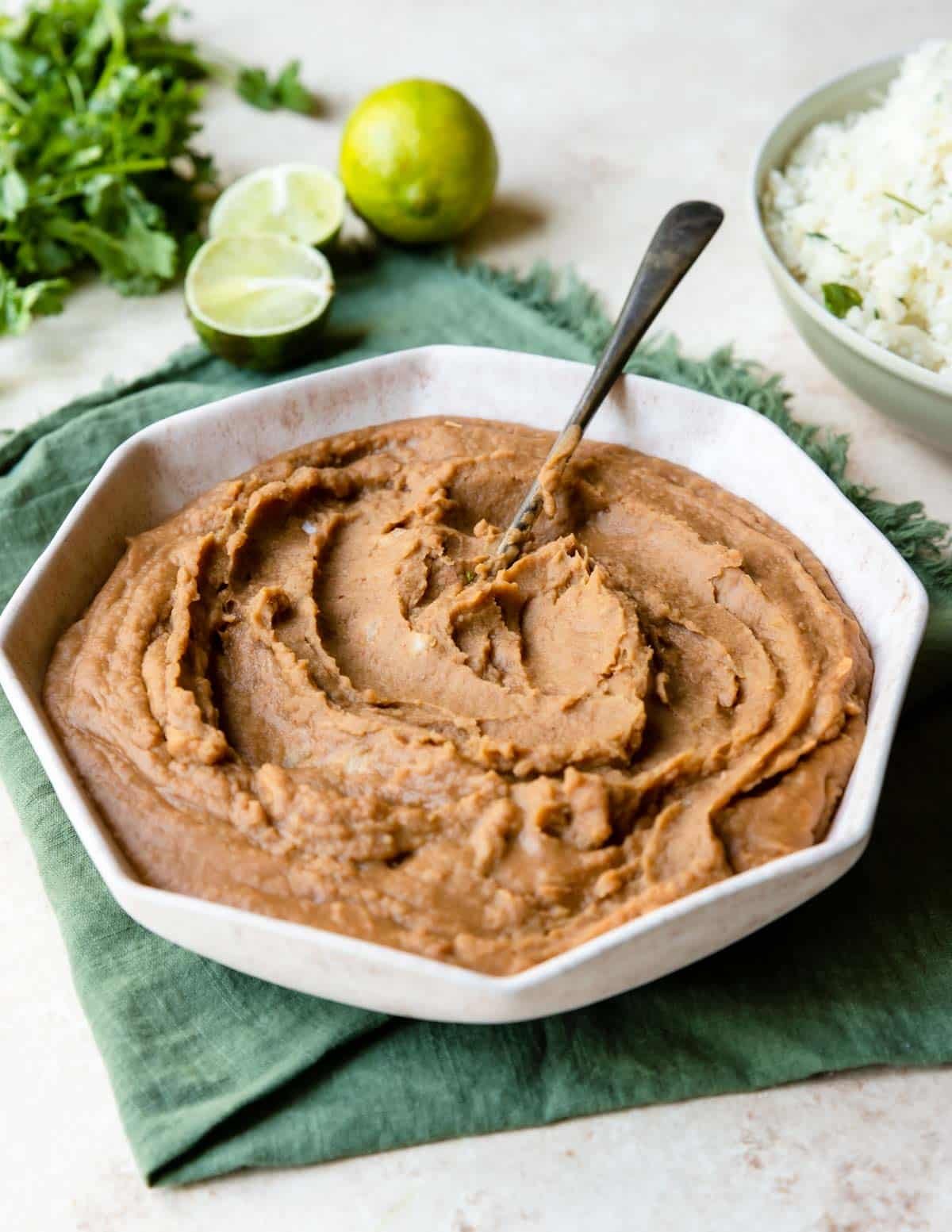 These beans make a great side dish… but the leftovers make an amazing bean burrito. We like to add some chopped white onion, cheese, and hot sauce, all wrapped in a flour tortilla.
RELATED: For a REALLY fast refried bean recipe when you are short on time, check out this 15 minute refried bean recipe.
Why These Are the Best
You do not have to soak the beans overnight…saving you time!
The Instant Pot does most of the work…no watching and stirring pots on the stove.
We use layers of flavor for this recipe… onions, garlic, jalapeno, chicken base and spices.
The recipe calls for olive oil and chicken base instead of lard.
They blend up super creamy.
You can use them as a side dish… and the leftovers make a killer bean burrito.
Ingredients
These Refried Beans are made with really simple ingredients, plus some spices from your spice cabinet.
Pinto Beans – You want to buy dry pinto beans for this recipe, not canned pinto beans. They are a light brown bean with slight spotting. See photo: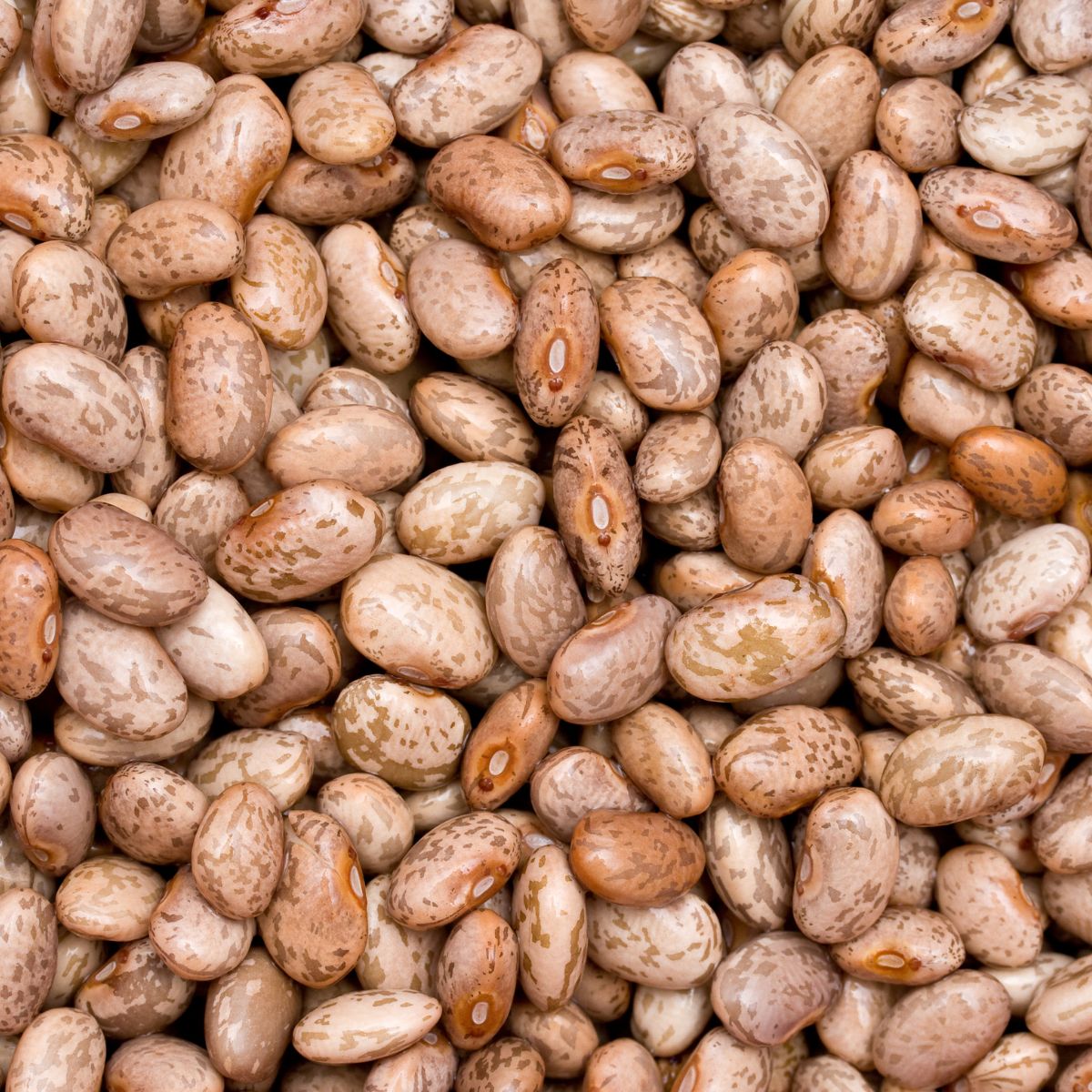 Chicken Broth or Stock – this is the cooking liquid you will use in the Instant Pot. It imparts really great flavor to your beans.
Chicken Base – this is the secret weapon of a lot of Mom's Dinner recipes. You will find chicken base in the soup aisle at the grocery store, near the bouillon. It generally comes in a jar or plastic tub. We love the Better Than Bouillon brand.
Jalapeno – you are not adding enough jalapeno to make your beans spicy (unless you want them spicy, you can up the amount of jalapeno you add). It is just enough to add a layer of flavor in the refried beans.
White Onion – we love the flavor of white onion in refried beans… so much so that a lot of time I add raw white onion at the end as a garnish. This is a flavor that you don't want to skip in your beans!
Lime Juice – the lime juice is added at the end and does two things; brightens and balances the flavor of your beans, it also enhances all the other flavors.
Spices – a mix of chili powder, onion powder, and cumin lend a perfect depth of flavor that matches well with the pinto beans.
Dry Pinto Beans
Refried beans are made with pinto beans, in this case dry pinto beans.
You can find dry pinto beans at any grocery store (even Aldi) with the dry beans or in the Mexican food aisle.
You will want to rinse the beans in a colander or fine mesh sieve. Pick out any stems or unwanted bits in the bunch.
Traditionally you soak the beans in water overnight before cooking. However the Instant Pot makes quick work of softening and cooking the beans, so you can eliminate this step.
Instant Pot
Instant Pot is actually the brand name for an electric pressure cooker. We exclusively use the Instant Pot in the Mom's Dinner kitchens. Here are the two models we use:
Any other brand of electric pressure cooker will work just as well!
Step By Step- How To
Prep Beans

Wash the dry pinto beans in a colander. Remove and discard and stems or unwarted bits. Set aside.

Sauté Onions, Garlic and Jalapeno

Turn the Instant Pot onto sauté mode and add the olive oil, onion, garlic, and jalapeno. Sauté for 4-5 minutes.

Add the chicken base and spices, stir to coat the onions and jalapeno.

Add Beans

Pour in the chicken broth, water and pinto beans, drop in the bay leaf. Give everything a stir.

Pressure Cook

Set the pressure cooker to cook on manual mode, high pressure, normal heat for 50 minutes.

At the end do a 15 minute natural release.

Puree

Remove the bay leaf and discard. No need to drain the liquid, it will all mix in with the beans.

Puree the beans to your desired texture. An immersion blender can help make this process super easy!

Stir in a little fresh lime juice, then taste for more seasoning.

Serve

Serve the beans right away. They will thicken as they sit.
Storing Your Refried Beans
For storing in the fridge:
Allow the beans to cool thoroughly.
Transfer beans to airtight containers, choosing your preferred size.
Store in the fridge for up to 4 days.
You may need to add some water or chicken broth when reheating.
For storing in the freezer:
Ensure the beans are fully cooled.
Portion them into dated ziptop freezer bags.
Press out as much air as possible from the bags, and spread the beans evenly so the bag lies flat.
Freeze in this flat position for a maximum of 3 months.
For reheating:
If frozen, thaw the beans overnight in the fridge.
Gently warm them on the stovetop or microwave. If they've thickened upon cooling and you'd like a thinner consistency, incorporate a splash of water or chicken broth.
Great Side Dish For…
Refried Beans make a great side dish for any Mexican Dinner. Just like in your favorite Mexican restaurant, everything is served with "refried beans and rice". Here are some of our favorite Mexican Dinners:
---
Did you make this recipe?!
If you make this recipe I would love to hear your review. Pop down to the comment section and connect with me.
Then sign up for our Weekly Newsletter so you never miss a new recipe!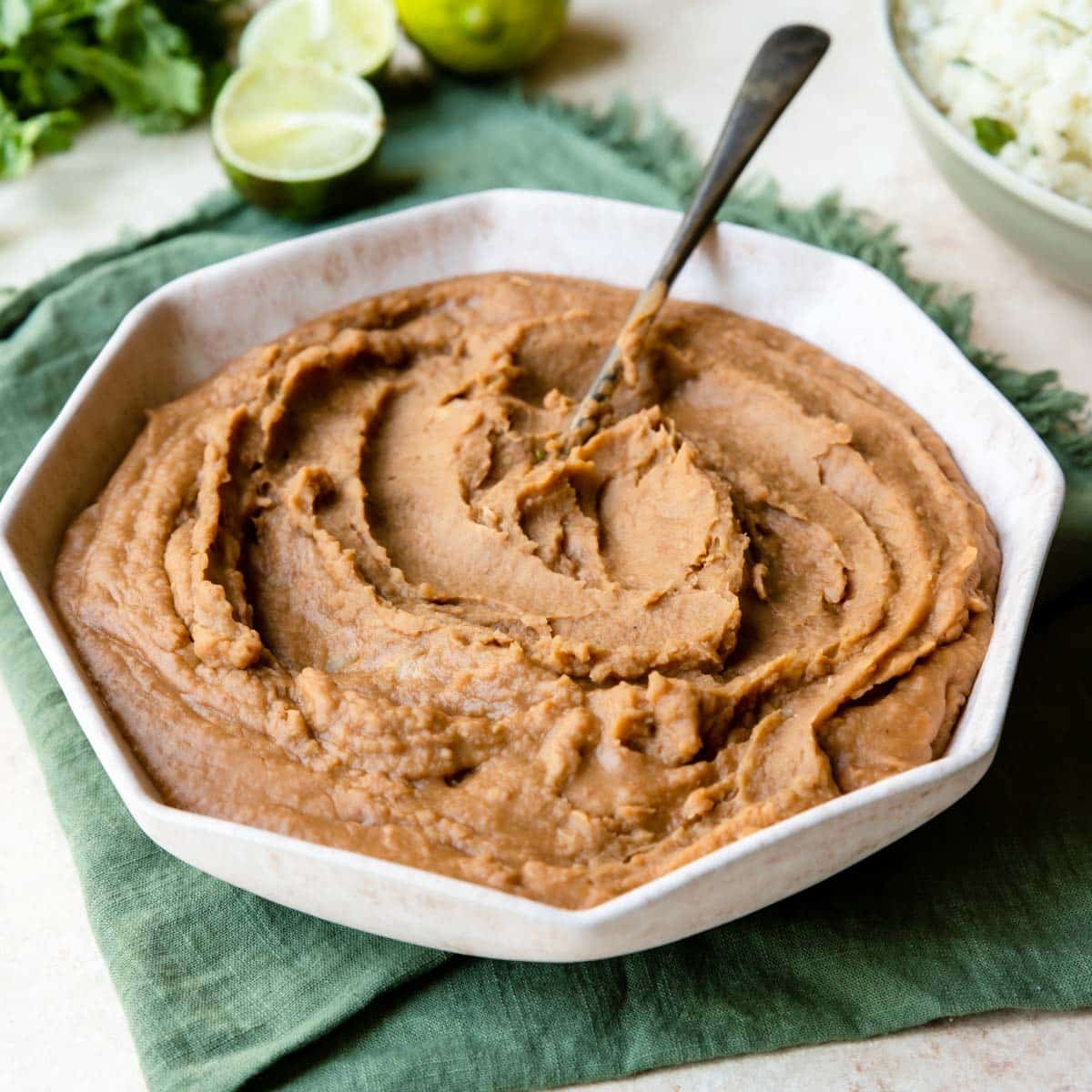 Instant Pot Refried Beans Recipe
Learn how to make super creamy and flavorful refried beans in your Instant Pot. No soaking required to make this recipe and no lard used.
Listen or cook along with the audio recipe using the player below.
Print
Pin
Rate
Save
Saved to Grow
Instructions
Rinse the dry pinto beans well. A fine mesh sieve or colander works well for this task. Set them aside.

Turn the instant Pot on to sauté mode. Add the olive oil, onion, garlic, and jalapeno. Saute for about 4-5 minutes.

3 tablespoon olive oil,

1 white onion,

4 garlic cloves,

1 jalapeno

Add in the chicken base and spices, stir to coat the onions/garlic/jalapeno.

1 tablespoon chicken base,

2 teaspoon chili powder,

2 teaspoon cumin,

1 teaspoon onion powder,

1 teaspoon kosher salt

Pour in the chicken broth and water, scrape up any bits that are stuck to the bottom of the pot.

(this is called deglazing and helps prevent the burn notice)

4 cups Chicken broth,

1 ½ cups water

Now add in the beans and bay leaf. Give everything a good stir.

1 Bay leaf,

1 lb. dry pinto beans

Close the lid on your Instant Pot. Set the pressure valve to seal and set to cook on manual pressure cook, high pressure, normal heat for 50 minutes.

At the end of 50 minutes do a 15 minute natural pressure release, then finish with a quick release of pressure.

Remove the bay leaf and discard.

(If there are a few beans on top that didn't stay in the liquid you can skim those off and discard, they may still be hard)

Leave the liquid in the beans. This will help puree the beans perfectly!

Puree the beans with an immersion blender or potato masher to your desired consistency.

You can also transfer the beans and liquid to a food processor, food mill or blender. Make sure they are slightly cooled if using a blender.

Squeeze a little fresh lime juice into the beans and give them a stir.

Taste for additional seasoning (salt or more lime juice).

Serve immediately. They will thicken upon standing.
Reheating
To reheat add a little chicken broth or water to reconstitute the beans. Reheat on the stovetop over low heat or in the microwave in a bowl covered with a damp paper towel.
Storing
Your refried beans will keep in the fridge for up to 4 days or in the freezer for up to 3 months.

When reheating from frozen let the beans thaw in the fridge overnight. You may need to add a little chicken broth or water if they have thickened while frozen.
Notes:
For an even faster refried bean pop over to this recipe for 15 minute Refried Beans (using canned refried beans and pinto beans),
Did you try this recipe? Connect with me & let me know how it turned out by commenting below!
Jump to Comments
Serving:
1
serving
|
Calories:
119
kcal
|
Carbohydrates:
14
g
|
Protein:
5
g
|
Fat:
5
g
|
Saturated Fat:
1
g
|
Polyunsaturated Fat:
1
g
|
Monounsaturated Fat:
3
g
|
Cholesterol:
2
mg
|
Sodium:
711
mg
|
Potassium:
258
mg
|
Fiber:
5
g
|
Sugar:
1
g
|
Vitamin A:
142
IU
|
Vitamin C:
3
mg
|
Calcium:
38
mg
|
Iron:
1
mg
If nutrition facts are provided they are calculated as an estimate to the best of our knowledge.