This post contains affiliate links. Thank you for supporting Mom's Dinner at no cost to you!
So my obsession with the Instant Pot continues. Everything cooks so dang fast and the recipes are so easy – it has changed everything. No more standing over the stove, stirring, and watching, and waiting (except for when I do).
This ease is one reason I love this recipe for Instant Pot Steak Soup so much. It is a hearty soup full of steak, potatoes, and veggies that should take hours to cook! But, in the Instant Pot you set it for 20 minutes and walk away. The potatoes come out cooked, the steak comes out tender and it is infused with "cooked all day flavor", in 20 minutes!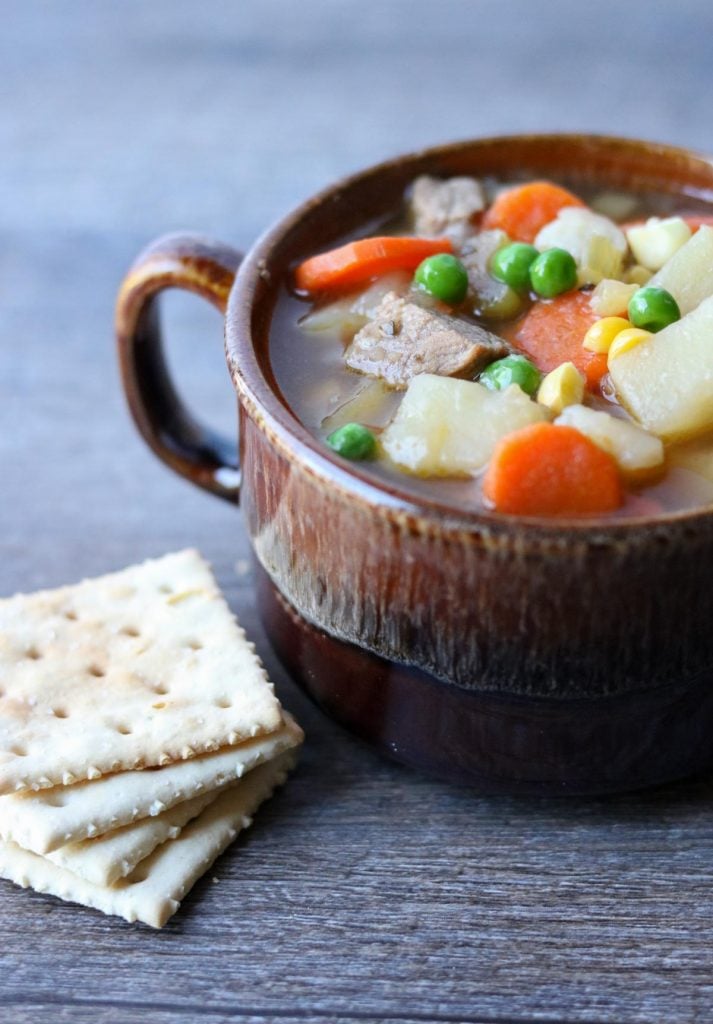 This soup recipe could not come at a better time. Temps are hitting all time lows and snow is piling up on the East coast. I think Northern Florida even got snow this winter! There is nothing better than a big bowl of hot Steak Soup to warm your bones on these freezing winter days.
PIN THE INSTANT POT STEAK SOUP RECIPE HERE
This is the perfect recipe to plan during the week. If it's an especially busy week you can make it ahead, over the weekend, and keep it in the fridge to eat later in the week. Or it cooks so fast you can throw all the ingredients in the IP when you get home from work, unwind for 20 minutes, and then curl up to a perfectly cooked bowl of Steak Soup.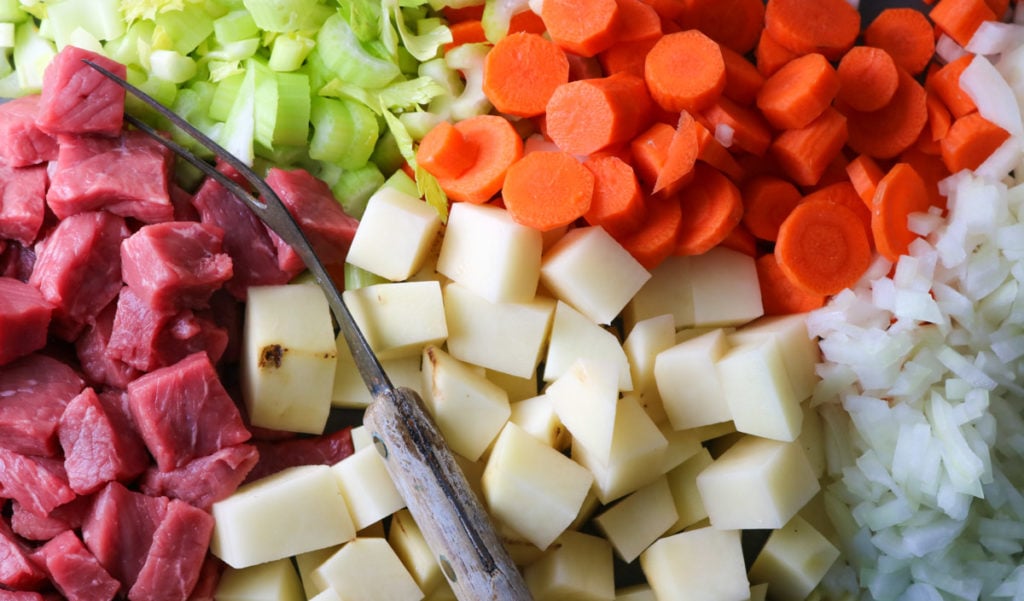 My Favorite Instant Pot
If you do not have an Instant Pot but are interested in buying one, I would highly recommend the 6 qt Duo Plus 9-in-1 or the 6 qt Duo Plus 7-in-1.
I personally have the 6 quart 9-in-1, to be honest I am not sure I will ever use all 9 features (like the sterilize or yogurt), but I guess they are there if I want them. The main features I use are the saute, meat/stew, soup/broth, rice, and pressure cook.
The main reason that I recommend these two Instant Pots is the size, 6 quarts. This gives you the space you need inside the pot to make just about any recipe, for two people or ten people!
Did you know that your Instant Pot can also double as a Slow Cooker!!! I plan to take advantage of that feature more this winter.
Buy the Instant Pot here, thru my affiliate link. It will NOT cost you any extra, it simply supports me and allows me to continue providing awesome recipes for free on Mom's Dinner! Thank you♥
The Secret is in the Sauce
One of the "secret" ingredients in this Steak Soup recipe is the beef base. It gives the broth that rich cooked-all-day deep flavor. You will not get the same flavor from beef broth or beef bouillon alone. Beef base is like beef bouillons older, wiser, well seasoned big brother. It packs a punch of flavor, even in small amounts.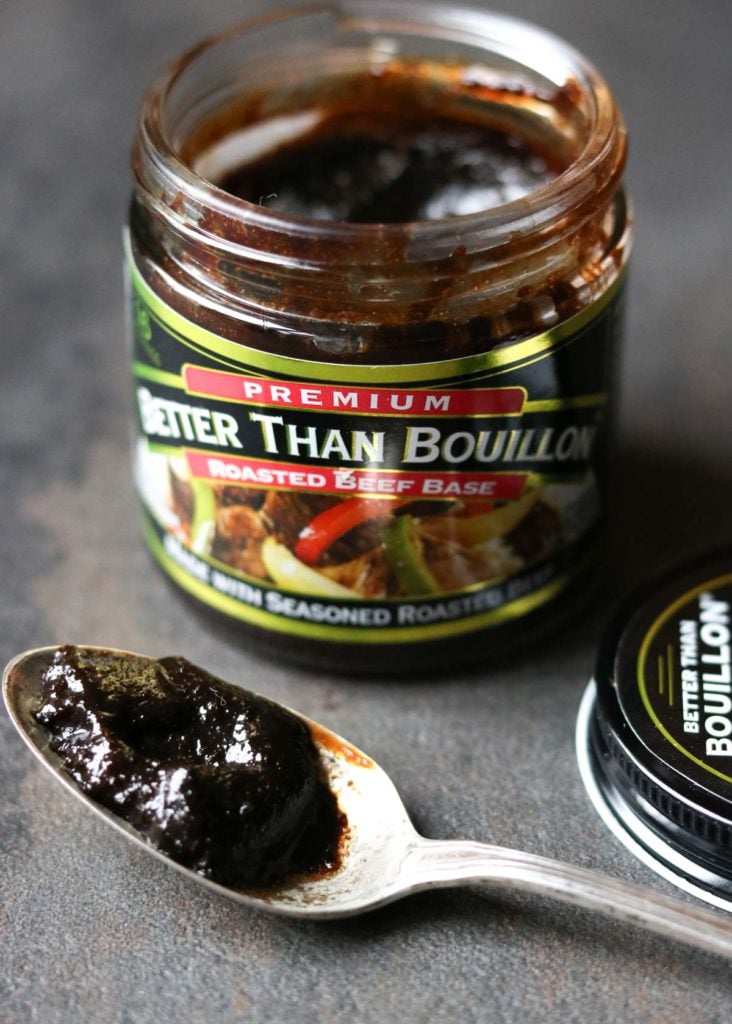 Unlike bouillon, which comes in crumbly cubes, beef base comes in a jar, has a thick paste consistency, and is a deep dark brown color. You can see the flavor in the color alone! I have not found a brand that I prefer 100% of the time…although I seem to buy Better Than Bouillon brand the most. You will find all your options near the soup and the bouillon in your grocery store.
Variations on This INSTANT POT Steak Soup Recipe
Most of the time I give you ideas to change up the recipe at hand. On this one I recommend keeping most of the ingredients pretty much the same. But, here are a few little things you could change to suit your taste buds:
Not a fan of rosemary? Try adding dried or fresh thyme or oregano in its place.
The peas and corn are negotiable. If you like corn more than peas, double up the corn and leave the peas out – and vice versa.
If you prefer a thicker stew-like consistency, add a little cornstarch slurry to thicken the broth AFTER the soup has completed cooking: Mix 1 tablespoon cornstarch with 1 tablespoon cool water, stir it well so there are no clumps remaining. Add the cornstarch slurry to the soup, stir, and wait 5 minutes. If you still want the soup a little thicker repeat the process again until it reaches your desired consistency.
INSTANT POT Steak Soup for Dinner
For me this dinner is pretty straight forward. It doesn't get much better than steak soup, saltine crackers, and a glass of ice cold milk.
Well, I guess there is one thing that could make it better…. a big glass of my Winter Sangria. Perfection!
Is it time for dinner yet!?
I hope that you will give INSTANT POT Steak Soup a try in your kitchen.
Love, Susie
Instant Pot Steak Soup Recipe
Instant Pot Steak Soup
A delicious recipe for Instant Pot Steak Soup! It will be ready for dinner in just over 30 minutes. Full of veggies, tender steak, and flavorful beef broth.
Print
Pin
Rate
Save
Saved to Grow
Ingredients
1

lb.

Top Round Steak, cut into 1″ cube

1

tablespoon

oil

1

yellow onion, chopped

about 1 cup

1½

cup

carrots, sliced

1

cup

celery, chopped

2

cups

russet potatoes, peeled, cut into 1″ cubes

4

garlic cloves, minced

1

teaspoon

fresh rosemary, finely chopped

1

teaspoon

salt

5

cups

beef broth

2

teaspoon

beef base

**see note

½

cup

frozen peas (heaping)

½

cup

frozen corn (heaping)

1½

teaspoon

worcestershire sauce
Instructions
Turn the Instant Pot to saute mode. Add the oil and steak, brown the beef, stirring occasionally, about 5 minutes.

Add the next 10 ingredients. Stir to combine, until the beef base has dissolved.

Turn the saute mode off.

Lock the lid in place. Turn the venting valve to seal. Set the Instant Pot to Stew/Meat OR Pressure mode, on high, for 20 minutes.

After the 20 minute timer goes off, carefully turn the top pressure valve to vent and do a quick release of the pressure.

Stir in the Worcestershire, frozen corn, and frozen peas. The heat from the soup will cook the frozen veggies.

Serve immediately or keep in the refrigerator for up to 5 days.
Notes:
You can find beef base in the soup aisle of your grocery store. It will be near the bouillon. However beef base will be in a jar or a tub and comes in a paste form. 
It has quite a bit more flavor than a bouillon, stock, or broth. It is worth the purchase, especially if you like to make my soup recipes!
Did you try this recipe? Connect with me & let me know how it turned out by commenting below!
Jump to Comments
If nutrition facts are provided they are calculated as an estimate to the best of our knowledge.