Instant Pot Boneless Pork Ribs are tender "fall-apart" ribs that are ready in under 45 minutes. They are full of flavor and make a quick and easy rib dinner any night of the week!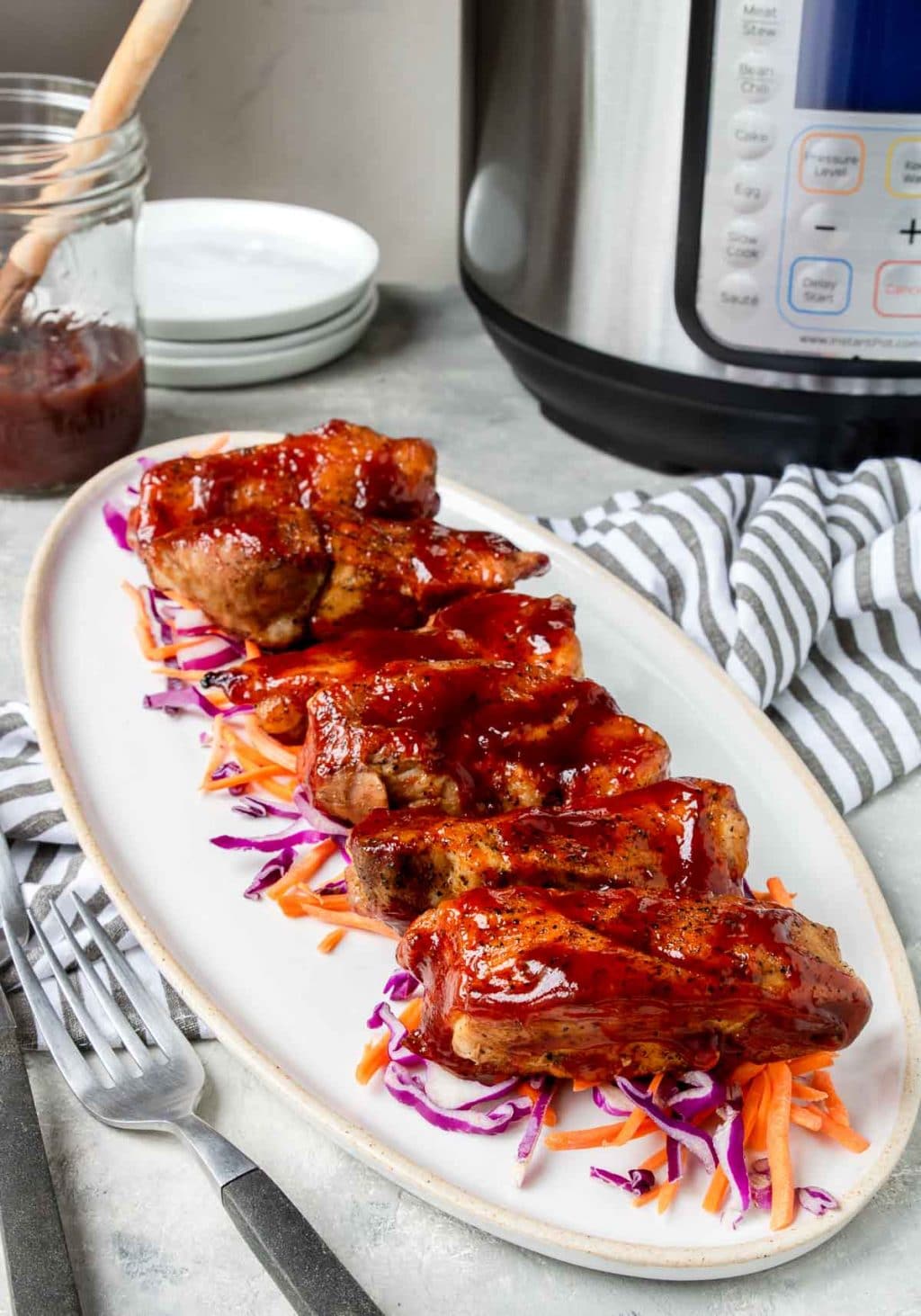 This is definitely an easy, short-cut way to make ribs. So if you are looking for a rib recipe that will sit on a smoker or grill all day, this is not it. But I will direct you to this Competition Style Smoked Rib recipe if that is what you are looking for.
With this recipe you will be using your Instant Pot (aka- electric pressure cooker), which is great if you do not want to turn on your oven and heat up the house during the summer.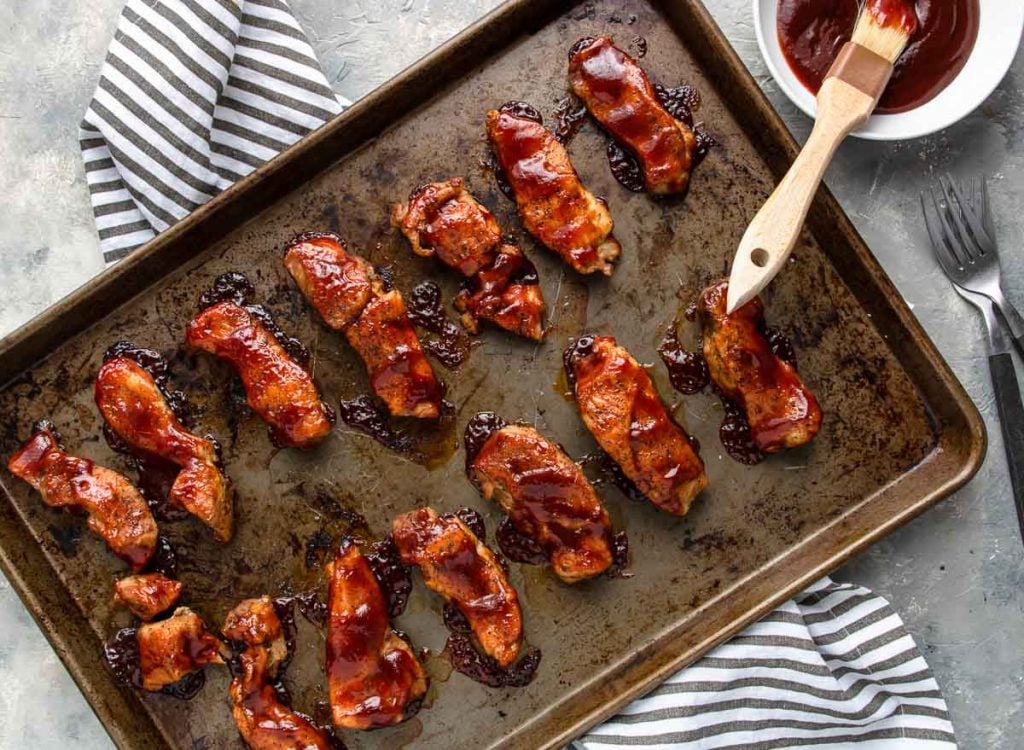 Country Style Ribs
Pork Ribs, spare ribs, baby back ribs, and beef ribs- all delish, but, here we are using boneless country style ribs. Which is basically a long strip on pork loin meat that can have a bone attached or not. For this recipe you will use the boneless version.
When you buy them in the store they may be called Boneless Country Style Ribs or Pork Loin Country Style Ribs. There is another "rib" called a Western Rib that is actually cut from the shoulder and is not a rib at all, I would not recommend buying this cut for this recipe.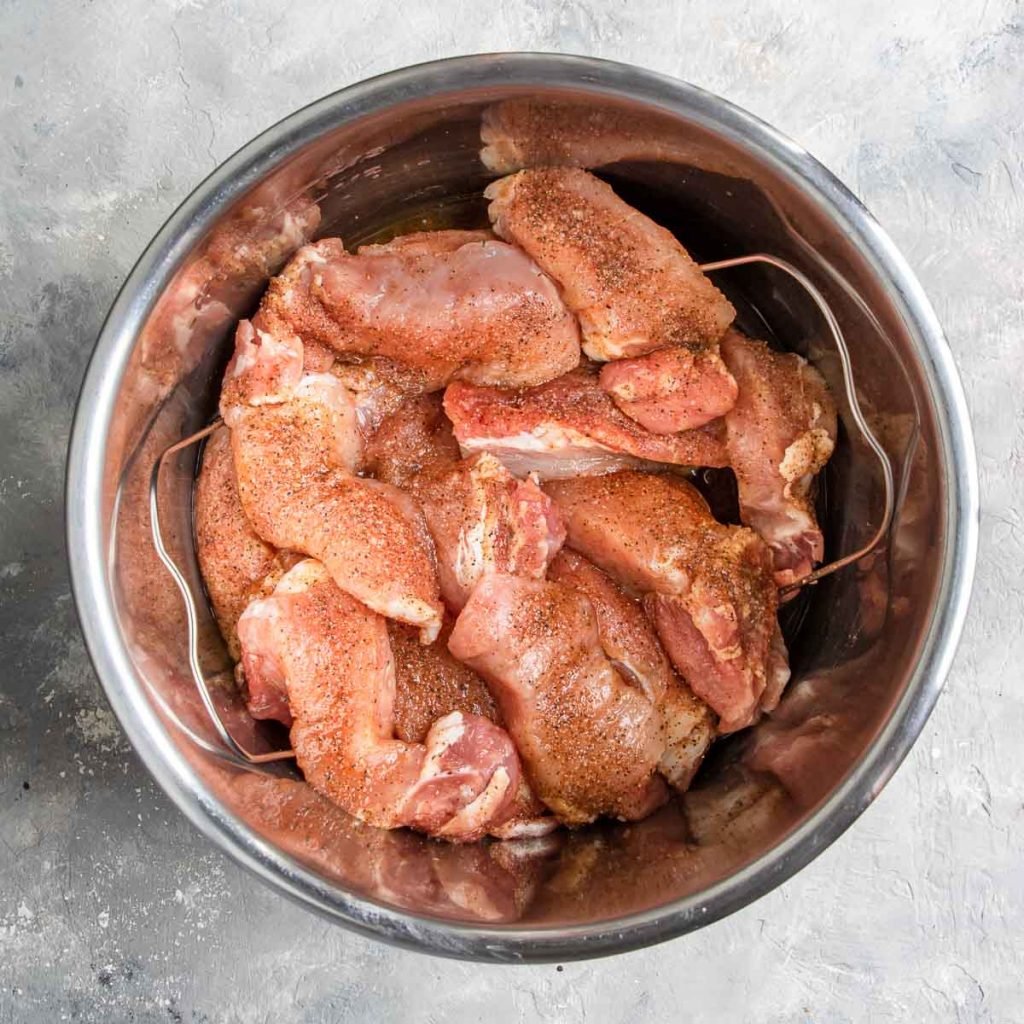 Usually when you buy Boneless Pork Ribs they are cut into strips. However, I have bought them where they are scored and still pull out of the package in one piece. If they are only scored, cut them all the way through so you have individual "ribs". You will want them to be roughly 5 inches long and 1 ½ inches wide.
Keeping Your Ribs Tender
You will want to make sure you look for boneless country style ribs that are slightly marbled or have some fat content. Those are the ones that will cook up "fall-apart tender". The ones that look light pink with no fat at all can tend to dry out no matter how you cook them.
Instant Pot Boneless Pork Ribs for Dinner
Of course these pork ribs are delicious as is- with a side of Homemade Mac & Cheese, Jiffy Corn Casserole, Best Ever Cornbread, potato salad, broccoli bacon salad, Raspberry Jello Salad, and/or Cheesy Potato Casserole . And if you are entertaining and need a BBQ worthy dessert check out these options: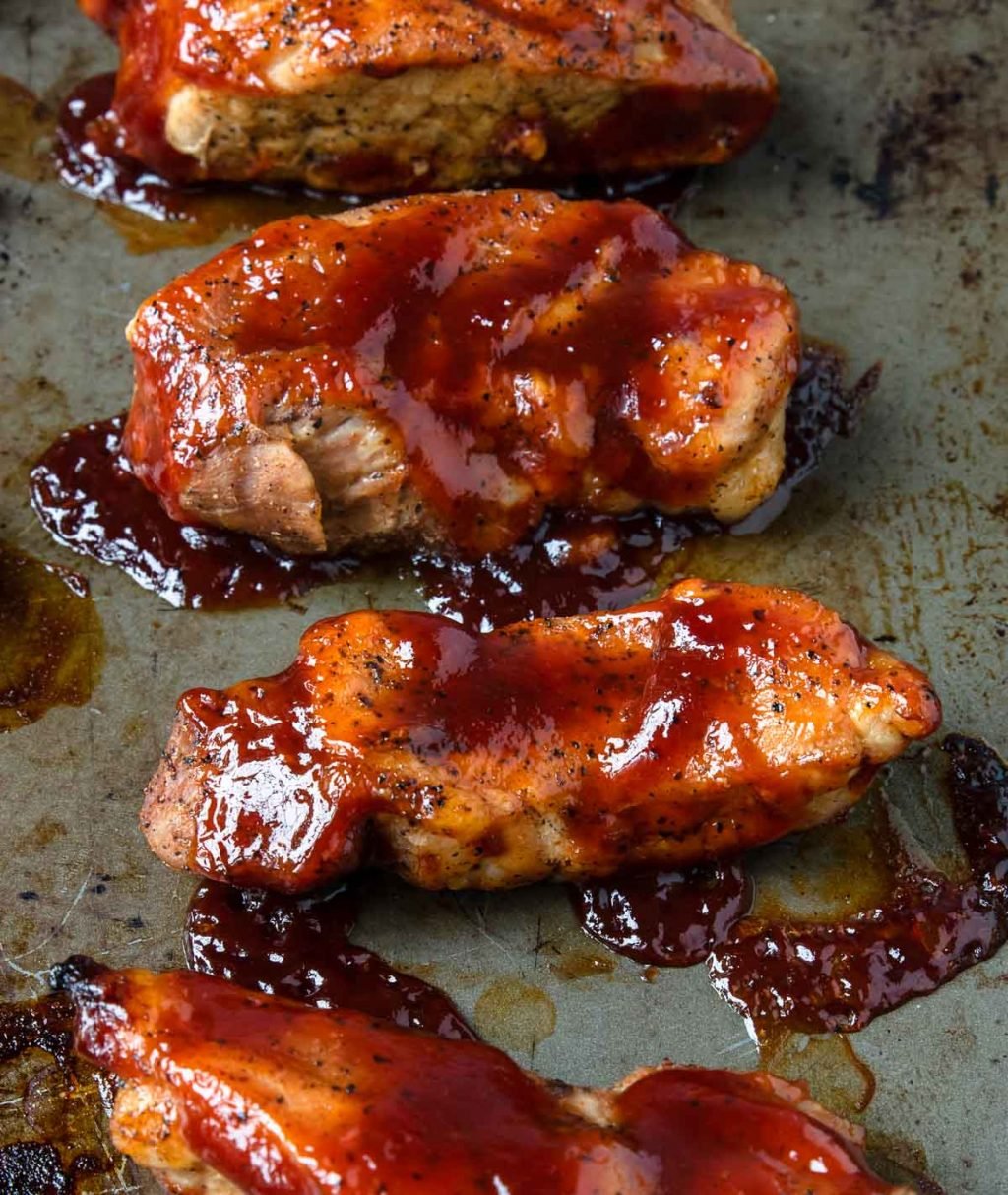 Since these Instant Pot ribs are boneless they also make an AMAZING Rib Sandwich. Put 2 or 3 ribs on a substantial bun, add some extra bbq sauce, pickles, and a pile of coleslaw. Mouth. Watering.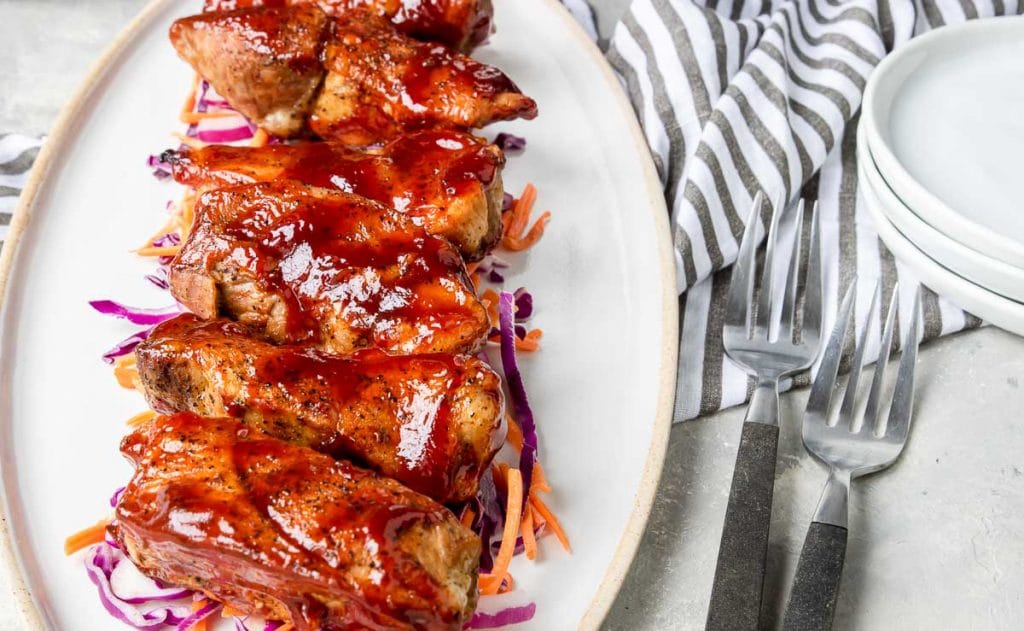 I hope you give this Boneless Pork Rib Recipe a try in your Instant Pot!
Love- Susie
Easy & Fast Instant Pot Boneless Pork Rib Recipe
Instant Pot Boneless Pork Ribs
Country Style Boneless Ribs are cooked to tender perfection in your electric pressure cooker. You then finish them in the oven to get the caramelized bbq sauce that is finger lickin' good!
Print
Pin
Rate
Save
Saved to Grow
Instructions
Lay the country style ribs out on a sheet pan.

In a small bowl mix together the brown sugar, kosher salt, black pepper, garlic powder, onion powder, smoked paprika (and optional cayenne pepper). Stir well until there are no large clumps remaining.

Sprinkle the salt & seasoning rub mixture on the ribs, coating both sides and pressing it in so it sticks.

Pour the water, Worcestershire, and cider vinegar into the Instant Pot. Crush the garlic cloves and pop them into the liquid in the pot.

Place the seasoned boneless ribs in the pot.

Put the lid on and lock it in place. Turn the pressure valve to seal. Set the Instant Pot to cook on high pressure Meat/Stew mode for 18 minutes.

At the end of 18 minutes do a natural release of pressure for 5 minutes, then finish with a quick release.

NOTE- While the pressure is releasing PREHEAT THE OVEN TO BROIL.

Place the cooked ribs on a sheet pan and coat one side with desired amount of your favorite BBQ sauce. Broil in the oven for 4-5 minutes.

Remove the ribs from the oven, flip them to the other side, coat with BBQ sauce. Place back in the oven for 3-4 minutes.

Enjoy your tender Instant Pot Boneless Country Style Ribs!!
Notes:
COUNTRY STYLE BONELESS RIBS:
when you are buying these types of "ribs" in the grocery store it is very important you purchase ones that look slightly marbled or have a little fat content. Ones that are completely light pink with no marbling are doomed to be dry no matter how you cook them.
These can be made ahead and reheated. I recommend cooking them in the Instant Pot, letting them cool, and refrigerating for up to 3 days. Then follow the broiling instructions with the BBQ sauce to reheat. However- they will not be as tender when made ahead!
I have made these Instant Pot Pork Ribs from frozen as well. Simply up the Instant Pot cooking time to 25 minutes with a 10 minute natural release. NOTE: they will not be as "fall apart" tender as they are from fresh.  
I have not tested this recipe with bone-in country style ribs, but the cooking time and method should be the same as the recipe is written.
Did you try this recipe? Connect with me & let me know how it turned out by commenting below!
Jump to Comments
If nutrition facts are provided they are calculated as an estimate to the best of our knowledge.