Risotto is notorious for being time consuming as you sit over the pot and add more and more hot liquid, all the while stirring, stirring and stirring. This Instant Pot Risotto recipe is the perfect way to make risotto without having to babysit a pot on the stove top. The best part is you still get extremely creamy and perfectly cooked arborio rice!! Promise!
If you love risotto for dinner then check out these other two Instant Pot Risotto Recipes:
Arborio Rice
Arborio rice is a short grain Italian rice that is used to make Risotto. It contains quite a bit of rice starch, which is why risotto is a famously creamy dish.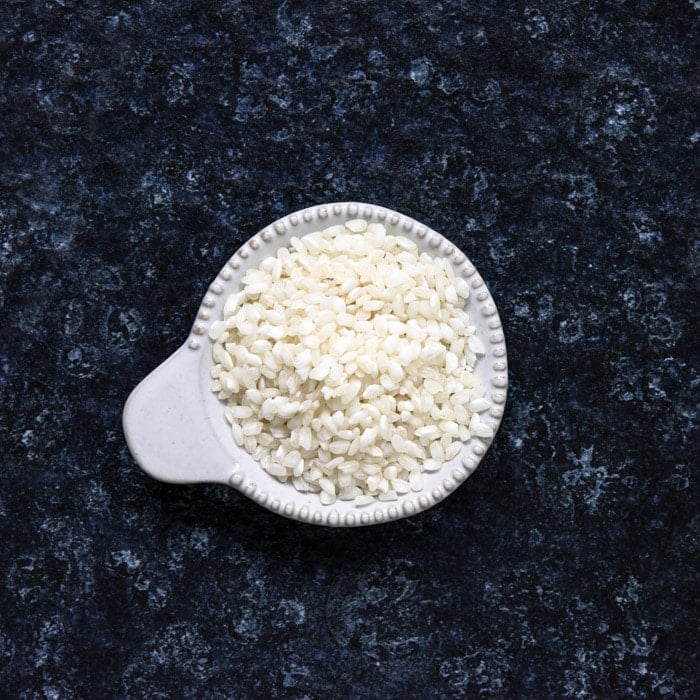 One tip for making risotto is to make sure you DO NOT RINSE your arborio rice! The extra rice starch that clings to the outside of the grains creates that creamy texture you love!
Steps for Making Risotto in Your Instant Pot
Start with your Instant Pot on saute mode. Melt the butter and oil together.
Lightly saute the garlic for 1-2 minutes until fragrant. Stir in the dry arborio rice and saute for another 2 minutes.
Stir in the salt and pour in the wine and broth, scraping up anything stuck to the bottom of the pot.
Turn off saute mode, pop the lid on and set to cook on high pressure for 7 minutes. Do a 10 minute natural release. Then quick release any remaining pressure.
Stir the risotto and then add your desired amount of parmesan.
Watch the full web story for how to make instant pot risotto!
Tips & Troubleshooting
If your risotto is just a smidge too thick you can add a couple tablespoons of milk or cream to loosen it up a touch.
If your risotto still has too much liquid after cooking, turn on the saute function (low) for a few minutes to simmer out some of the liquid. Make sure you stir a lot so it doesn't burn to the pot. However, note that the parmesan cheese will thicken up some of that liquid!
Add herbs for extra flavor, stir it in when you add the parmesan cheese.
Try different types of cheese for layers of flavor – romano, blue cheese, grana padano, gruyere.
If you don't want to use wine, just sub for all chicken broth.
Serving and Storing
You can serve this Instant Pot Risotto as a side dish or as a main dish. It goes great with Pork Milanese or Chicken Parmesan!
Store any leftovers in the fridge in an airtight container. Reheat in the microwave, you can add some milk, water, or broth to reconstitute before reheating.
Instant Pot Risotto Recipe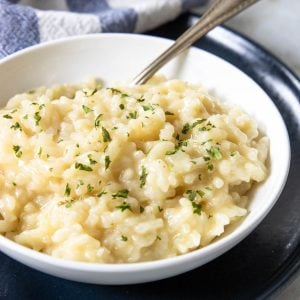 Ingredients
2

tablespoon

butter

1

tablespoon

olive oil

3

fresh garlic cloves, thinly sliced

1 ½

cups

arborio rice

do not rinse your rice!!!!

1

teaspoon

kosher salt

½

cup

white wine

something crisp like chardonnay or pinot grigio (make sure it is not sweet!!).

3 ½

cups

chicken broth

½

cup

grated parmesan cheese

more if you like it cheesy!
Instructions
With your Instant Pot on saute mode (normal), add the butter and olive oil. Add the chopped garlic and saute for 1-2 minutes.

Pour in the arborio rice and kosher salt let it saute for 2 minutes.

Pour in the wine and scrape up any browned bits on the bottom of the pot. Pour in the chicken broth and then turn the saute function off.

Pop the lid on and turn the pressure vent to seal. Set the Instant Pot to cook on high pressure mode for 7 minutes.

Do a 10 minute natural release, then release any remaining pressure with a quick release.

There will still be a little standing liquid in the pot, that is ok. Give the pot a stir and it should incorporate, and the cheese will thicken it even more.

Stir in the parmesan cheese.

Let the Risotto cool for a minute or two and then serve immediately!
Notes:
If you prefer not to use wine, you can increase the chicken broth to 4 cups and omit the wine. If your risotto is too thick you can add a little milk or cream to make the right consistency. If your risotto is too thin you can simmer it while stirring (on the saute function), and add cheese to thicken the liquid.
Did you try this recipe? Connect with me & let me know how it turned out by commenting below!
Jump to Comments
If nutrition facts are provided they are calculated as an estimate to the best of our knowledge.