Whether it is served as your side dish or main entree an Oven Baked Potato with soft and fluffy insides and crispy skin is always a good idea. This recipe for baking potatoes in the oven is foolproof and will yield soft and delicious potatoes every time. Plus you are going to LOVE how easy they are to make.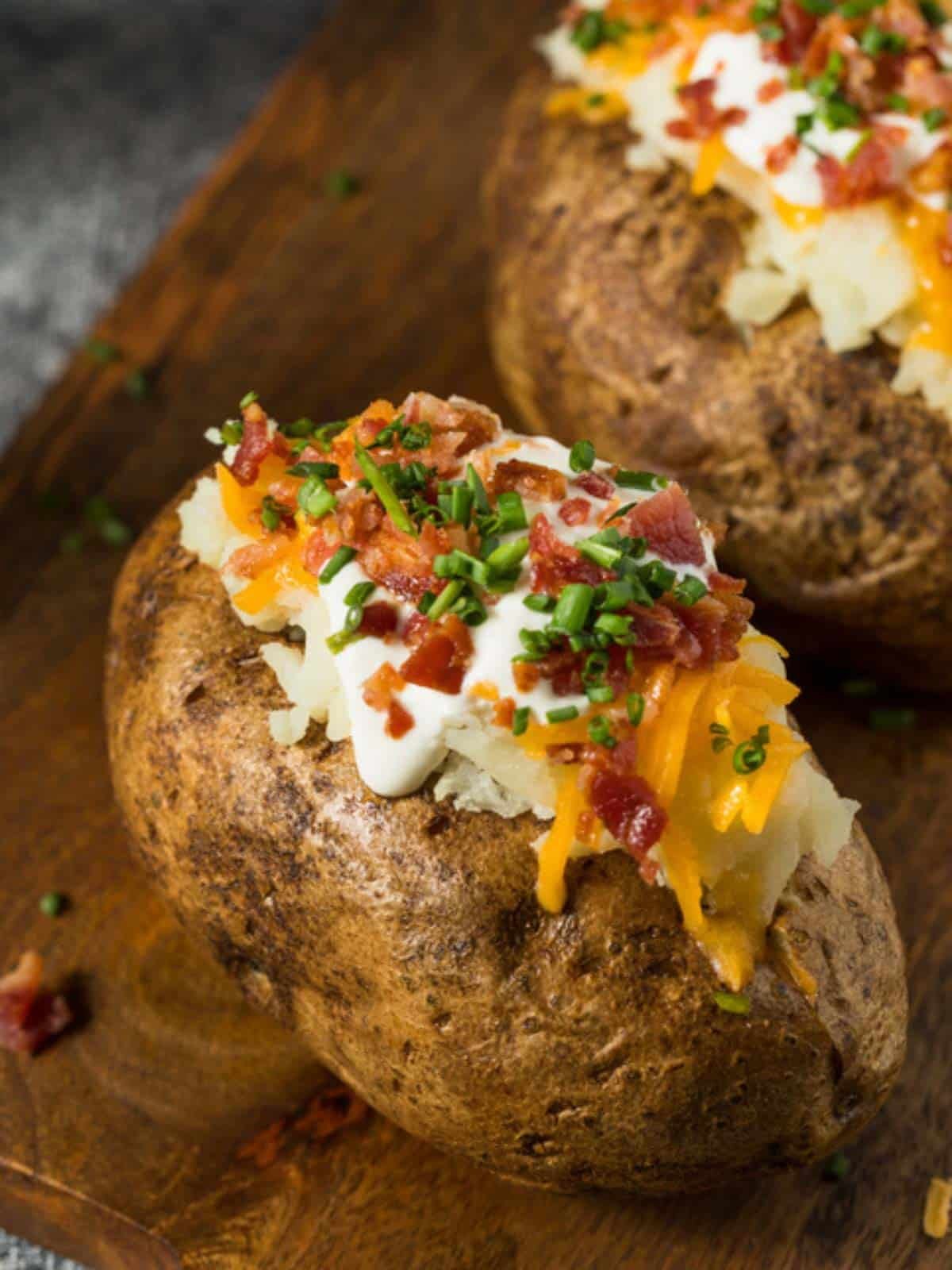 If you are short on time you can always make Baked Potatoes in the Instant Pot. They turn out fluffy and delicious, they are just missing that crispy skin.
I was raised in Iowa, heart of "meat and potato" country, so you know a good baked potato is a crucial part to a good dinner at my house. We love to load them up with all sorts of fillings… everything from sour cream and bacon to cheese and broccoli.
You can check out this Baked Potato Bar article for more topping ideas! Or check out this recipe for Twice Baked Potatoes for another way to use your baked potatoes.
…And tomorrow you can make this recipe with the leftover baked potatoes.
Ingredients
Just three simple ingredients are all you need to make a perfect Oven Baked Potato:
Russet Potatoes – traditionally used for making baked potatoes. You will also find them called baking potatoes, white potatoes, Idaho potatoes, or even "old" potatoes.
Extra Virgin Olive Oil – this is usually what I have in the kitchen. But a canola or olive oil will work too. It helps give the skin of the potato a nice crunch.
Kosher Salt – a little kosher salt sprinkled on the outside of the potato lends a ton of flavor, especially if you eat the skins!
How To Tell When Baked Potatoes Are Done
You can go the old school method by piercing your baked potatoes with a knife or fork. If it doesn't meet any hard resistance, chances are your potato is done.
But the foolproof method for making sure your potatoes are soft and fluffy and cooked through to the middle:
Using an instant read thermometer, check the temp of the thickest part of the potato. If it reads at least 210°F your oven baked potatoes are done!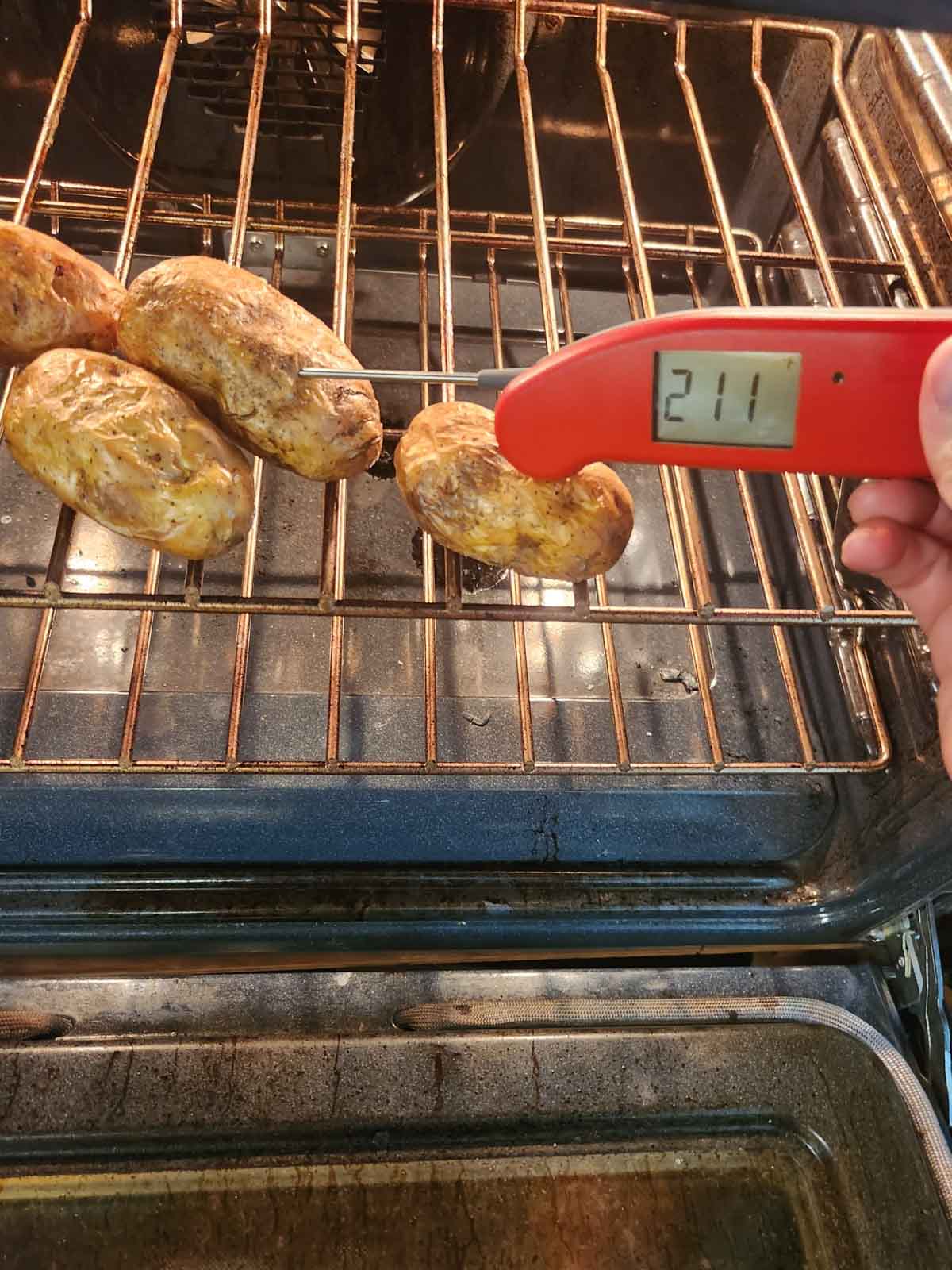 Step by Step
Wash Potatoes

Russet potatoes can be pretty dirty. Make sure you wash or even scrub your potatoes clean, especially if you plan on eating the skin too.

Dry them a little with a clean kitchen towel.

Pierce with Knife

With a sharp paring knife or fork tines pierce the potato on all sides. I usually do 6 per side.

This helps vent the steam in the potatoes while they cook.

Oil & Salt

Coat the potatoes very lightly in a little oil; extra virgin olive oil, regular olive oil or canola oil will all work. This helps get the skin kind of crispy while the potatoes bake!

Then sprinkle a little kosher salt (and pepper if you like) on all sides.

Bake

Bake your potato for 1 hour at 400°F directly on the oven rack. Then check the temp with an instant read thermometer.

Depending on the size of your potato they will be perfectly done or you may need up to 30 minutes longer for those huge russets!

Serve

Let the potatoes cool slightly and then serve them with all the optional toppings, starting with butter, sour cream, green onions and salt/pepper.
Serve With…
Baked Potatoes are super versatile, they go with everything from homestyle meatloaf to grilled steak. Here are some other dinners you will love to have with your Baked Potatoes:
If you have some potatoes leftover, pop them in the fridge and then you can make this recipe for leftover baked potatoes tomorrow.
Baked Potato Toppings
Oven Baked Potatoes are great as a side dish, but also as the main entree! You just need to make sure you offer some amazing toppers to load them up:
This post for putting together a Baked Potato Bar has some great potato topper ideas. Besides the usual suspects; butter, sour cream, green onions, bacon and cheese, I will share some of our favorites here:
Roasted Broccoli & cheese sauce
cottage cheese and Lawry's season salt
chili, cheese, and sour cream
bbq pulled pork, cheese, french fried onions
butter, vinaigrette dressing, and black olives **my favorite that is super bizarre, LOL
More Potato Recipes
Subscribe To Stay Connected
Sign up for Mom's Dinner Newsletter, delivered every Sunday morning, straight to your inbox. It includes all the new recipes, dinner ideas for the week, and kitchen tips and tricks.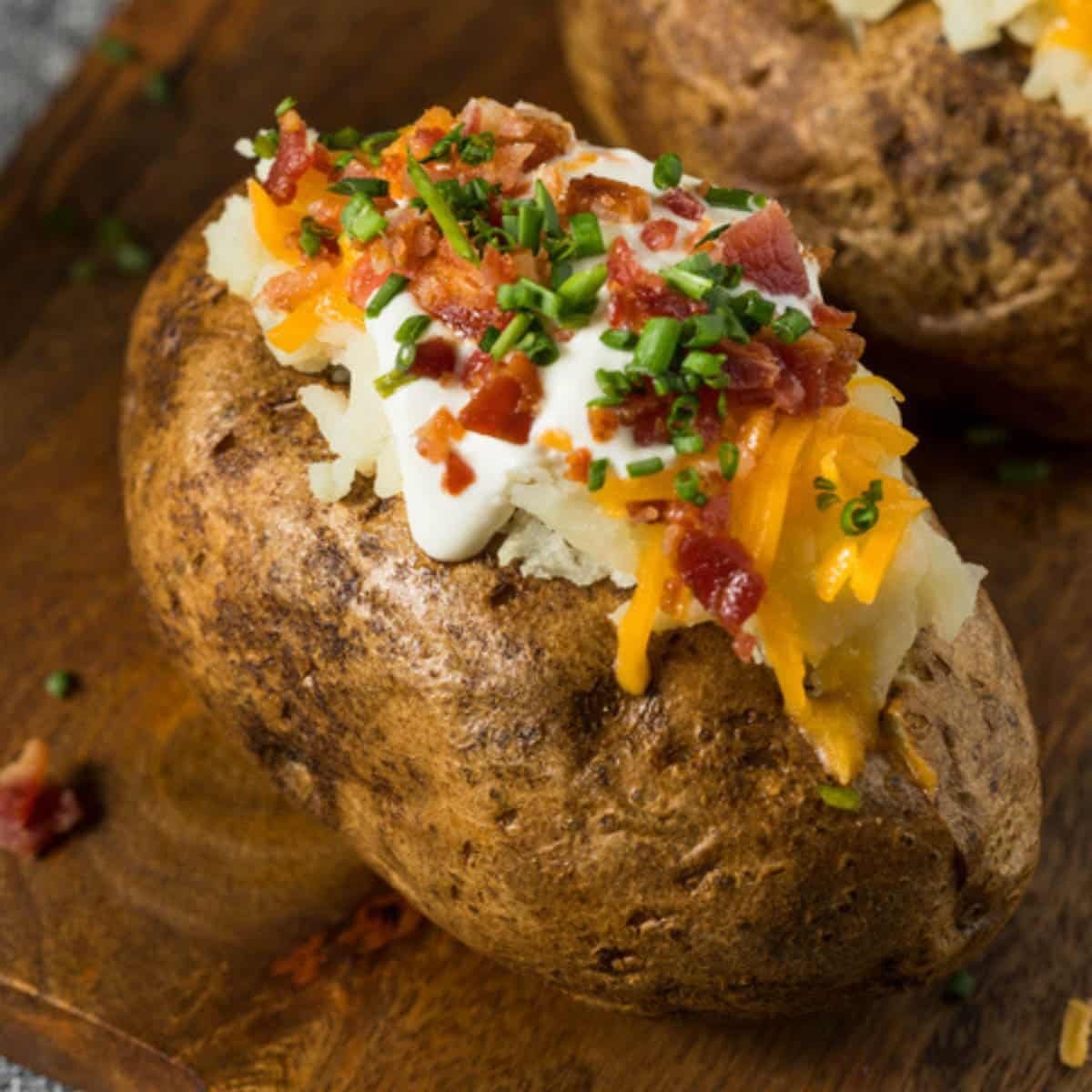 How To Make Perfect Oven Baked Potatoes
Learn how to make amazing Oven Baked Potatoes that are soft and fluffy on the inside and have nice crispy skin. Plus a foolproof way to tell if your potatoes are cooked through.
Serve your Baked Potatoes as a side dish or dinner entree!
Print
Pin
Rate
Save
Saved to Grow
Ingredients
Serving
optional toppings: butter, sour cream, cheese, green onions, bacon, etc…
Instructions
Make 2 or 10 baked potatoes with this method, whatever you need!
Wash your russet potatoes well, lightly dry them with a clean kitchen towel before moving on.

Prick the clean russet potatoes about 6 times on both sides with a fork or sharp paring knife.

Brush or rub each potato with a little extra virgin olive oil on all sides and then sprinkle with kosher salt.

extra virgin olive oil,

kosher salt

Place in the preheated oven directly on the oven rack.

Bake for 1 hour, then check for doneness. Cooking time will depend on how large your potatoes are. They could possibly take up to 1 hour 30 minutes for really large potatoes.

PRO TIP: The BEST way to tell if your potatoes are done is using an instant read thermometer, when they reach 210℉ in the center they are perfect. If you do not have an instant read thermometer you can check with a fork or knife by poking all the way to the center, you should not meet any hard resistance.

Let the potatoes cool and serve cut open with all the toppings for loaded baked potatoes.

sour cream, butter, green onions, cheese, bacon, salt, pepper, etc…
Leftovers
Keep leftover baked potatoes in the fridge, then you can make these skillet potatoes later in the week.
Did you try this recipe? Connect with me & let me know how it turned out by commenting below!
Jump to Comments
Serving:
1
potato
|
Calories:
188
kcal
|
Carbohydrates:
38
g
|
Protein:
5
g
|
Fat:
2
g
|
Saturated Fat:
0.4
g
|
Polyunsaturated Fat:
0.3
g
|
Monounsaturated Fat:
2
g
|
Sodium:
11
mg
|
Potassium:
888
mg
|
Fiber:
3
g
|
Sugar:
1
g
|
Vitamin A:
2
IU
|
Vitamin C:
12
mg
|
Calcium:
28
mg
|
Iron:
2
mg
If nutrition facts are provided they are calculated as an estimate to the best of our knowledge.