Grilled BBQ Pork Tenderloin is a delicious dinner, perfect for when you are ready to get the grill fired up! This recipe includes DOUBLE BBQ flavor. First the pork tenderloins are slathered in a barbecue wet rub and "marinated" for 4 hours, up to 48 hours. Then it is grilled and basted with a homemade BBQ sauce that is full of flavor! The recipe below will walk you through everything you need to know from ingredients to grilling and side dishes.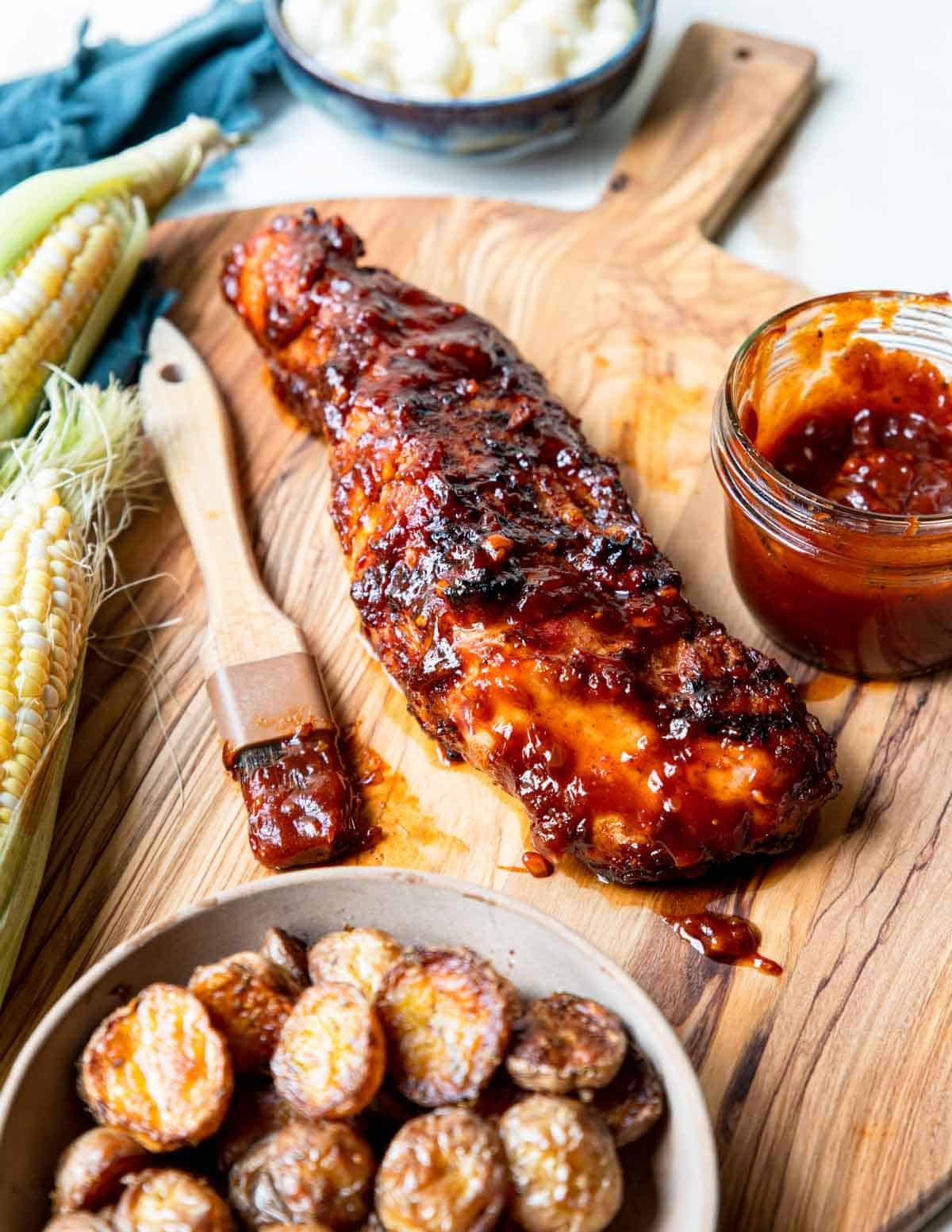 Pork tenderloin is a great option when you want to grill something other than a steak. It is super tender like a good steak, but won't break the bank. It is an extremely affordable cut for the grill. ((you can also check out this Grilled Tri Tip, if you do want "steak"))
RELATED: Rosemary Pork Tenderloin, Instant Pot Pork Roast
Pork Tenderloin, Not Pork Loin
We are making pork tenderloin, not pork loin. A pork tenderloin is much smaller in size (circumference) than a pork loin. A pork tenderloin is also SUPER tender when cooked and a pork loin can tend to be a drier cut of pork.
A pork tenderloin will always be call "pork tenderloin" on packaging. You have to be careful not to accidentally buy a pork loin which can also be called a pork tender… tricky!! I have made this mistake before at Trader Joe's, they had thin pork loin that they called pork tenders and once I took it out of the package I knew it was pork loin.
This recipe calls for 2 pork tenderloins. Most times you find them 2 to a package in the grocery store.
Ingredients
All you need are 2 pork tenderloins and some spices from your spice cabinet and you can get this BBQ Pork Tenderloin ready for the grill:
Grilling Tips
You can grill your pork tenderloin on a charcoal or gas grill. Remember these things to help you get the perfect grill marks and cook to the right temperature.
Cook to Temp, Not Time: Since not all pork tenderloins are the same thickness it is more important to grill to the correct temperature, not a specific time. We use an instant read thermometer to make sure we are hitting a temp of 140 degrees Fahrenheit in a thick area before pulling the tenderloins.
Use Direct & Indirect Heat: Let the grill heat up (high heat if on gas) using direct and indirect heat. Cooking the pork tenderloins over indirect heat ensures that the outside doesn't burn before the inside comes to temp.
Mind The Tail: Pork tenderloins usually taper off on one side and have a skinny end. When laying the pork on the grill place that tail end furthest away from the direct heat side of the grill. Some will even double that end over and tie it up, making it evenly thick all the way down, so it doesn't over cook.
Add BBQ Sauce At The End: Do not start basting the pork tenderloins with BBQ sauce until you flip for the first time, only basting the side facing up. The sugars in the BBQ sauce will char if cooked on the grill grates, and not in a good way!
Resting: After grilling let your pork tenderloins rest for 5-10 minutes before cutting and serving. This allows the juices to redistribute and for the pork to relax and become nice and tender.
Homemade BBQ Sauce
For this Grilled Pork Tenderloin you can make this delicious BBQ sauce, or you can use a store bought BBQ sauce that you family will love.
You just need a few simple ingredients to make Homemade BBQ Sauce:
butter
finely diced onion
ketchup
brown sugar
Worcestershire sauce and hot sauce
garlic clove – minced
chili powder and smoked paprika
black pepper
Make sure you divide the BBQ sauce in half to avoid cross contamination. You will want to have some to baste the pork tenderloins with and some extra for serving and dipping at dinner time.
Step By Step
Marinate the Pork Tenderloin

Make the BBQ wet rub for the pork tenderloin. Slather it on all sides of both tenderloins. Wrap tightly in plastic wrap and then place in a zip lock baggie or rimmed baking dish.

Refrigerate for 4 hours, up to 48 hours.

Get Grill Ready

Pull the pork tenderloins out of the fridge to rest for about 20 minutes, this is called tempering and helps the meat cook evenly on the grill.

Set the grill up for direct and indirect heat grilling.

Make BBQ Sauce

Make the BBQ sauce while the pork tenderloins are resting at room temp and the grill is heating up.

Grill

Grill the pork tenderloins over indirect heat for about 12 minutes, flip the tenderloin and baste the cooked side generously with BBQ sauce. Then cook for an additional 12 minutes.

The internal temp should reach between 140-145 degrees Fahrenheit before removing from the grill.

Pro Tip: Pork can safely be grilled to a Medium (140F). This will be slightly pink in the center and will be juicy and tender! It's best not to cook pork tenderloin to well done (165F)

When it has reached the correct temp, remove the pork from the grill and baste the other side with BBQ sauce.

Slice and Serve

Let the pork rest for about 5-10 minutes before slicing.

Slice into 1.5 inch slices and serve 2-3 slices per person with additional BBQ sauce on the side.
Storing and Reheating
Store any leftover BBQ Pork Tenderloin and BBQ sauce in an airtight container for up to 4 days.
This reheats really well in the microwave for 30 seconds. I have found that it doesn't get overcooked!
Side Dishes
Our very favorite dinner with this BBQ Pork Tenderloin is to add some Cast Iron Skillet Potatoes and Roasted Broccoli or Roasted Asparagus! A big glass of homemade lemonade or an Arnold Palmer are great too!
Here are some other veggie side dishes to consider:
Here are some other starches to consider:
More Pork Recipes To Try
---