These Yukon Gold Mashed Potatoes are the ULTIMATE, CREAMIEST and MOST FLAVORFUL mashed potato recipe you will find!!! They are the mashed potato side dish you want on your table, promise. They are so delicious you don't even need gravy (although add the gravy if you want!).
You can also makes this recipe in your electric pressure cooker with this Instant Pot Mashed Potatoes Recipe. Or if you are looking more for a potato casserole recipe, check out this Twice Baked Potato Casserole or Cheesy Potato Casserole.
Ingredients and Supplies
If you were to just boil potatoes and mash them up with a little butter and milk they would be ok, but not great, and definitely not perfect! The combo of ingredients in this Yukon Gold Mashed Potato recipe are what make them the BEST:
large pot
hand held mixer, potato masher, food mill, or potato ricer
3 lbs Yukon Gold potatoes, peeled, cut (2-3 inch chunks) and rinsed
cool water
kosher salt
full fat cream cheese, softened
salted butter
full fat sour cream
2% or whole milk or half & half
1 garlic clove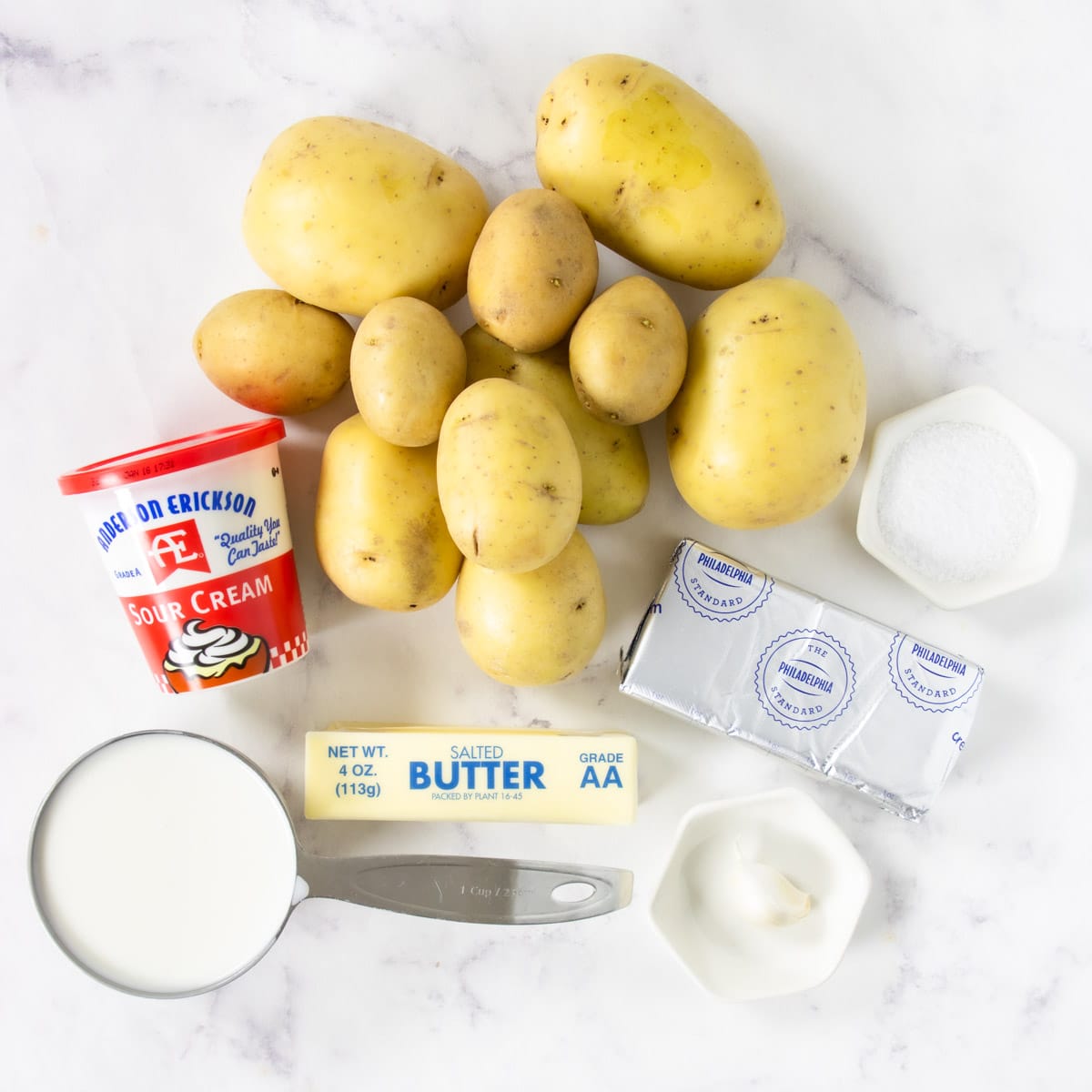 Cool Water
You specifically want to start your peeled, cut and rinsed Yukon Gold potatoes in COOL tap water.
By starting them in cool tap water you allow the water and the potato to rise together in temperature, ensuring an even cook all the way to the center of the potato.
If you bring the water to a boil first it will result in a potato that has the first layer boiled to death and falling apart by the time the middle is done!
Yukon Gold
Yukon Gold potatoes are delicious potatoes that have thin skin and a yellow tinted flesh. This hybrid was developed in Canada in 1960.
They are great for mashed potatoes because they hold their shape which can make them a great option for potato salad. But it also means they won't disintegrate in the simmering water and they won't absorb all the water and become flavorless!
Simmer Not Boil
When you make these mashed potatoes I recommend that you simmer instead of boil. This way you get an even cook on the potatoes without destroying the outside layer!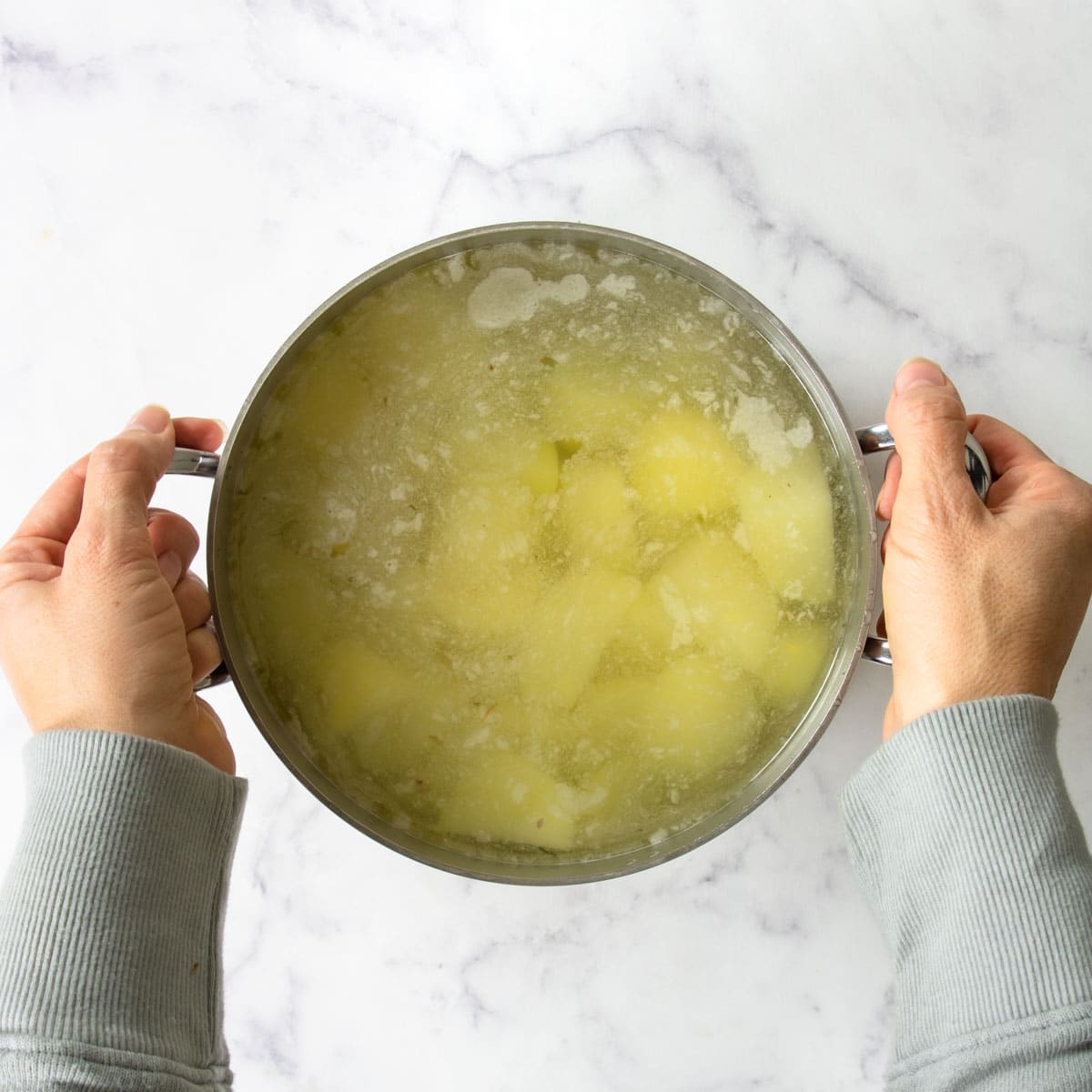 Gravy Recipes
These mashed potatoes are flavorful enough that you don't really need gravy. But sometimes you need it, like on holidays, to also pair with the turkey!
Here are a couple gravy recipes to accompany your potatoes:
How Much To Make
Imagine if you ran out of mashed potatoes…(insert gasp!).
Figuring out how many potatoes can be tricky, because the initial ingredient (raw potatoes) don't really give you a visual on how many mashed potatoes it will make. If you stick to making ½ lb of potatoes per person then you will always have enough!
Freezing Mashed Potatoes
Yep! You can totally freeze your mashed potatoes. So if you have a lot of leftovers, freeze them. If you are trying to prep for a big occasion, make your mashed potatoes ahead and freeze them!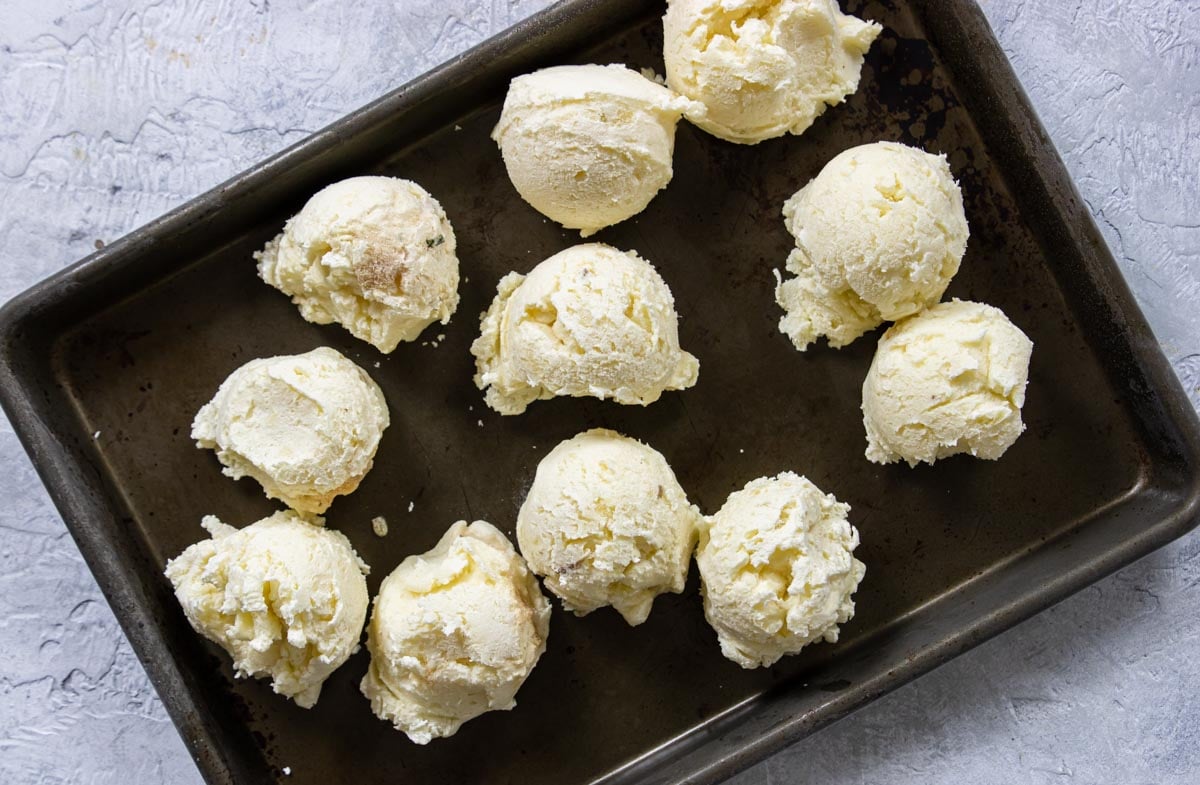 After your prepared mashed potatoes have cooled, scoop them into little dollops on a baking sheet (that will fit in the freezer). Pop it in the freezer for a couple hours until they are frozen solid, then place them in a freezer safe baggie.
They will be good in there for about 3 months!
Reheating Frozen Mashed Potatoes
When it is time to serve your frozen mashed potatoes simply place them in a skillet over medium-low heat with a little water or broth and stir them as they melt right in the pan!
Tips & Troubleshooting
Here are a couple tips to ensure your mashed potatoes are the BEST, and some troubleshooting ideas if something went awry:
Cut your potatoes in 2-3 inch cubes. Cutting them too small will result in watery flavorless potatoes.
Simmer instead of boiling for an even cook all the way through without destroying the outer layer.
Start your potatoes in cool water so the outer layer doesn't boil off before the inside is done.
Rinse away the extra potato starch which will prevent your potatoes from becoming gluey. Rinse them after peeling and cutting, and rinse them after draining.
Warm the milk and butter together until the butter is melted but the milk is not simmering, just warmed through. This will not only help keep your potatoes stay nice and warm, it helps the liquids blend better with the potatoes making it nice and creamy!
Do not over process! This will make your potatoes resemble melted cheese more than fluffy mashed potatoes! Never process your potatoes in a blender or food processor.
If your potatoes got too thin, if you have time boil some additional potatoes, mash them up and add them to the mix. If you are short on time add some dried instant potato flakes a tablespoon or two at a time.
If your potatoes are too thick, warm a little milk (or broth) in the microwave and then stir it in a tablespoon or two at a time.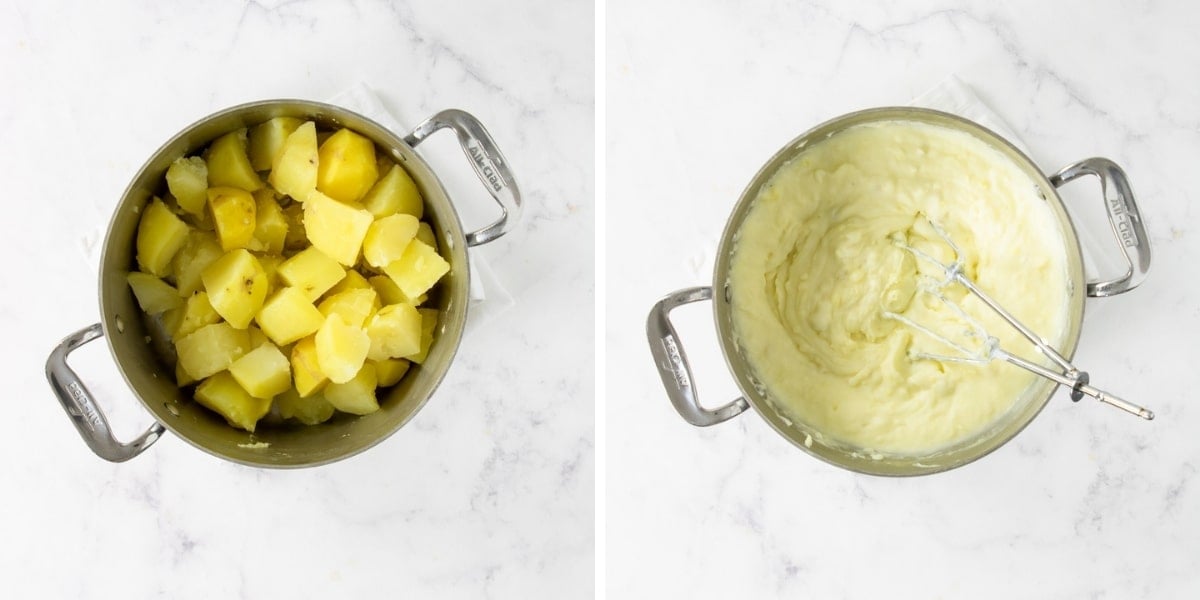 Mashed Potato Side Dish
These mashed potatoes make a great side dish to just about anything. But if you are trying to plan a dinner, here are a couple recipes to check out:
The BEST Yukon Gold Mashed Potato Recipe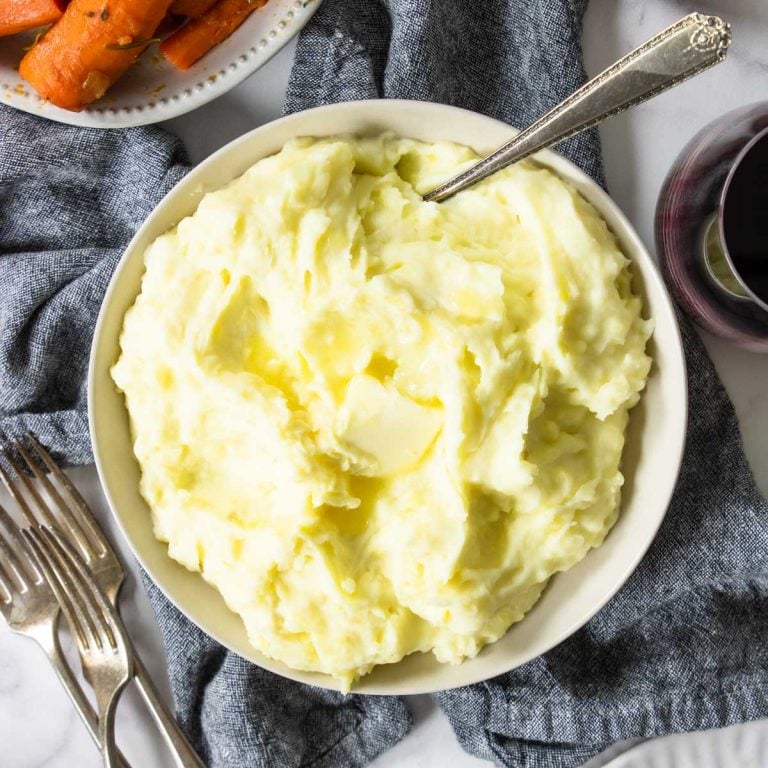 The BEST Yukon Gold Mashed Potatoes
The creamiest and MOST FLAVORFUL mashed potato recipe you will find!!! These are the mashed potatoes you want on your table! So delicious you don't even need gravy.
Print
Pin
Rate
Save
Saved to Grow
Instructions
In a large pot add all your diced potatoes. Pour enough cool water over the potatoes until it covers them by about 2 inches. (this will be roughly between 7-9 cups.) Add in 1 ½ teaspoon of the kosher salt.

Place the pot on the stove over medium heat. Let it simmer for about 40 minutes until the potatoes are completely fork tender, but not falling apart.

While the potatoes simmer….

In a separate smaller pot (or in the microwave) melt the butter into the milk, warming the milk through, but not boiling.

Drain the potatoes through a colander, give them a quick light rinse with warm water, and then place them back in the pot.

Tip: Rinsing your potatoes (before and after cooking) with warm water washes away some of the potato starch that can make your potatoes "gluey".

Add in the sour cream, cream cheese, the milk/butter mixture, minced garlic, and the remaining 1 ½ teaspoon kosher salt. Using a hand held mixer blend the potatoes until you have a creamy mash.

For no lumps whatsoever use a potato ricer.

Serve warm/hot as an amazing side dish!

Top with a pat of butter that will melt and run all over the top for extra deliciousness!
Notes:
INSTANT POT: You can also make these in the Instant Pot by following the instructions over at this recipe for The BEST Instant Pot Mashed Potatoes.
FREEZING MASHED POTATOES: If you have leftovers or you want to prep these in advance, here is how to freeze and reheat:
Scoop into dollops on a baking sheet that will fit in the freezer.
Pop in the freezer for a couple hours. Once solid move them to a freezer baggie.
They will be good for 3 months.
To reheat place them in a skillet over medium-low heat with a little water or broth. Stir them around as they melt right in the pan!
TIPS & TROUBLESHOOTING: Mashed potatoes too thick,too thin? Check out this list of tips and troubleshooting help above.
GRAVY: If you need a little gravy for your mashed potatoes, follow one of these recipes. No drippings needed!
Gravy without Drippings
Instant Pot Gravy
Did you try this recipe? Connect with me & let me know how it turned out by commenting below!
Jump to Comments
Serving:
1
serving
|
Calories:
363
kcal
|
Carbohydrates:
43
g
|
Protein:
7
g
|
Fat:
19
g
|
Saturated Fat:
11
g
|
Cholesterol:
54
mg
|
Sodium:
1332
mg
|
Potassium:
1048
mg
|
Fiber:
5
g
|
Sugar:
4
g
|
Vitamin A:
656
IU
|
Vitamin C:
45
mg
|
Calcium:
104
mg
|
Iron:
2
mg
If nutrition facts are provided they are calculated as an estimate to the best of our knowledge.