This Beer Bread recipe is easy to make and only requires 4 ingredients! It comes out of the oven with the most beautiful textured golden crust. By covering the dough in butter before you pop in in the oven you create a crispy, buttery top. When you bite into a fresh slice you can literally hear the crunch of the crust, followed by the soft bread inside.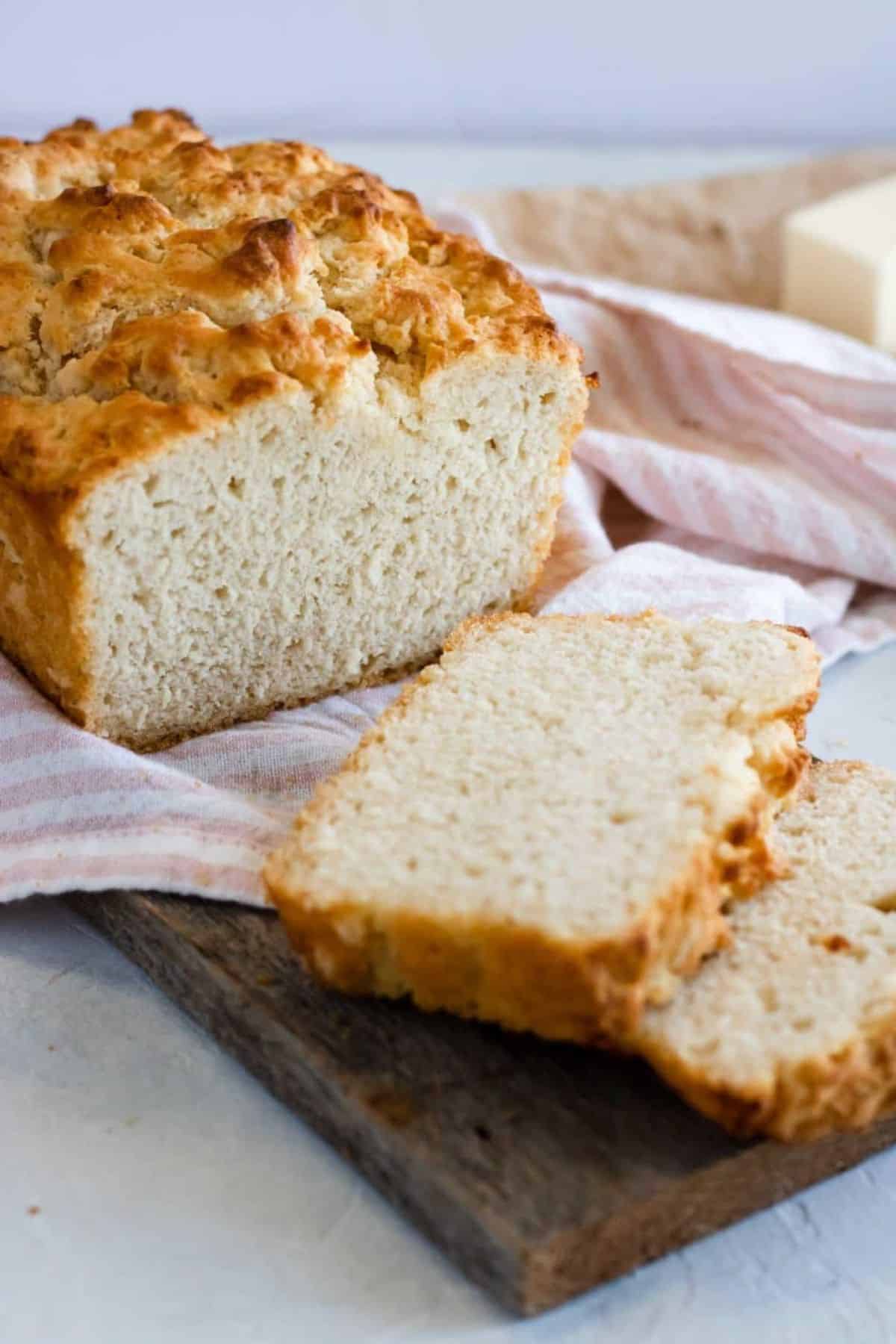 The flavor is truly unique. It reminds me of a mellow sourdough with a hint of beer in the background. In a subtle, can't place the flavor, kind of way.
Easy Beer Bread Recipe
Is there a smell better that baking bread? I'm going to answer that for you, NO! Or how about the taste of a freshly sliced piece of homemade bread with (real, salted) butter melting over the top. My mouth is watering!
But let me quickly break you out of this carb trance with the the thought of kneading, proofing, kneading, proofing, waiting….exhausting….boring! I do not have time for all that. Do you??
That is why I was thrilled when my sister gave me this recipe a few years ago!! It requires no kneading, no proofing, no waiting! You just sift flour, open a beer, pour, and mix. Anyone can do that. Even my husband can do that, maybe.
How to Make 4 Ingredients for Beer Bread
Yep, only 4 simple ingredients for this beer bread recipe. If you happen to have self rising flour (that is not expired) in your pantry then you can make this now! All you need is:
12 oz beer
3 cups self rising flour
2 tablespoon sugar
3 tablespoon butter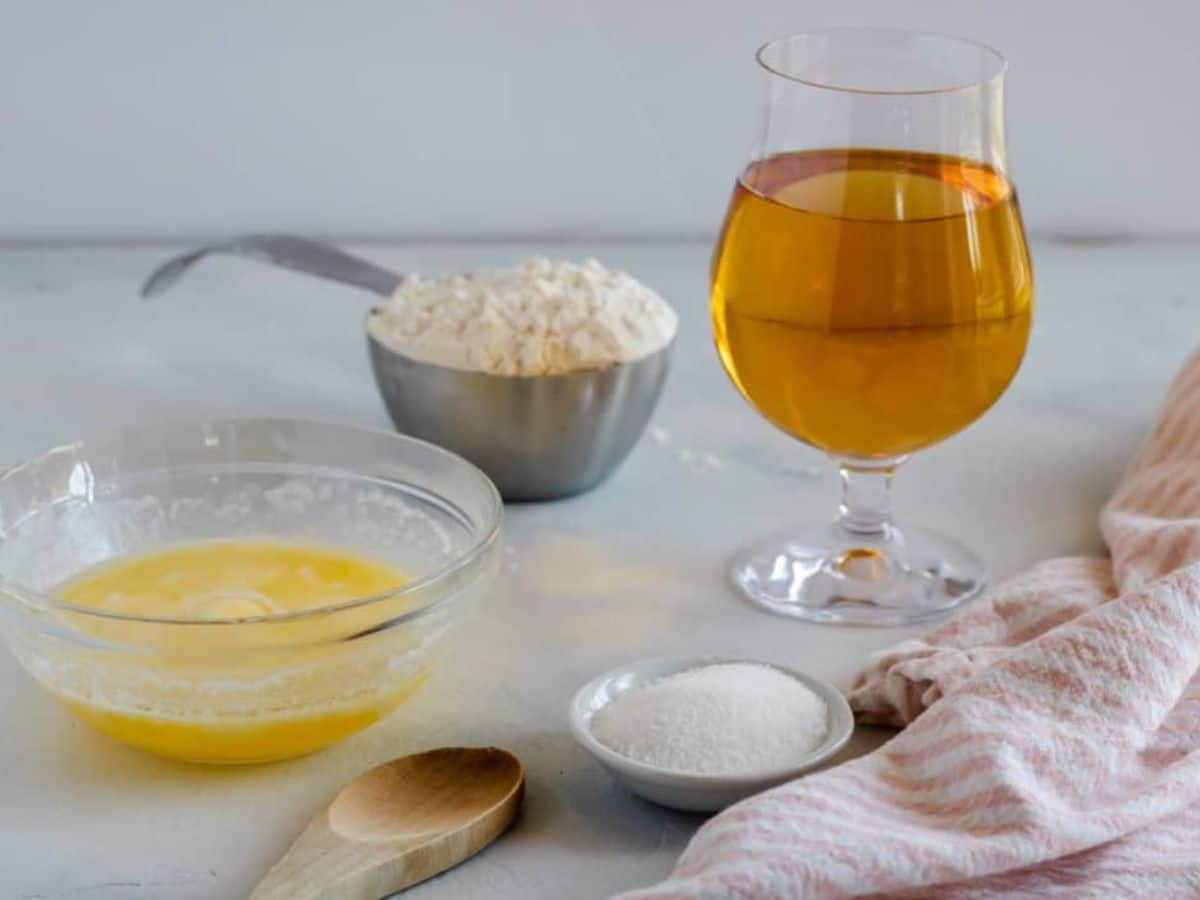 Beer

Start by pouring a 12 oz beer into a large bowl. Pour it down the side of the bowl so it doesn't get too fizzy!

Self Rising Flour + Sugar

Then in a separate bowl whisk together 3 cups of self rising flour and 2 tablespoon of sugar.

Combine

Pour the flour mixture into the beer. Stir lightly JUST UNTIL IT comes together. Over mixing will cause your beer bread to be tough.

Pour Into Loaf Pan + Bake

Pour the bread dough into a greased loaf pan. Then melt the 3 tablespoon of butter and pour over top of the dough. That is what will give you a golden crispy crust! YUM

Now bake the beer bread on 375 degrees for 40-45 minutes. Let the butter cool for about 5 minutes before digging in.
Variations on Beer Bread
This bread can be spiced up, literally, to go with the menu you are serving or to use up herbs you have in your fridge. Here are some ideas for adding flavors to your bread:
chopped fresh rosemary
italian herb mixture
fresh minced garlic
dill
shredded cheddar cheese and garlic
chopped chives
kalamata olives
Beer for Beer Bread
From the research I have done online it looks like you can use just about any beer you would like, pilsner, light beer, stout, IPA. Just like using wine in food, use a beer that you would like to drink. Although I would recommend staying away from some of the new flavored beers, like lime and orange.
I have used Miller Light, Bud Light, Michelob Ultra Light and Boulevard Pale Ale and they have all worked perfectly!
Let me know in the comments what type of beer you choose to use in the recipe!
Serving Beer Bread
4 Ingredient Beer Bread makes an amazing table bread, especially if you are able to serve it straight out of the oven when it is crispiest! If you choose to make this bread ahead follow these steps to make the most delicious golden toasty table bread:
Cut bread into thick slices

Butter both sides and place them on a sheet pan. Add any seasoning you would like (garlic).

Place in a 400 degree oven for 5-8 minutes, flipping the slices half way thru.
More Great Bread Recipes
---
Did you make this recipe?!
If you make this recipe I would love to hear your review. Pop down to the comment section and connect with me.
Then sign up for our Weekly Newsletter so you never miss a new recipe!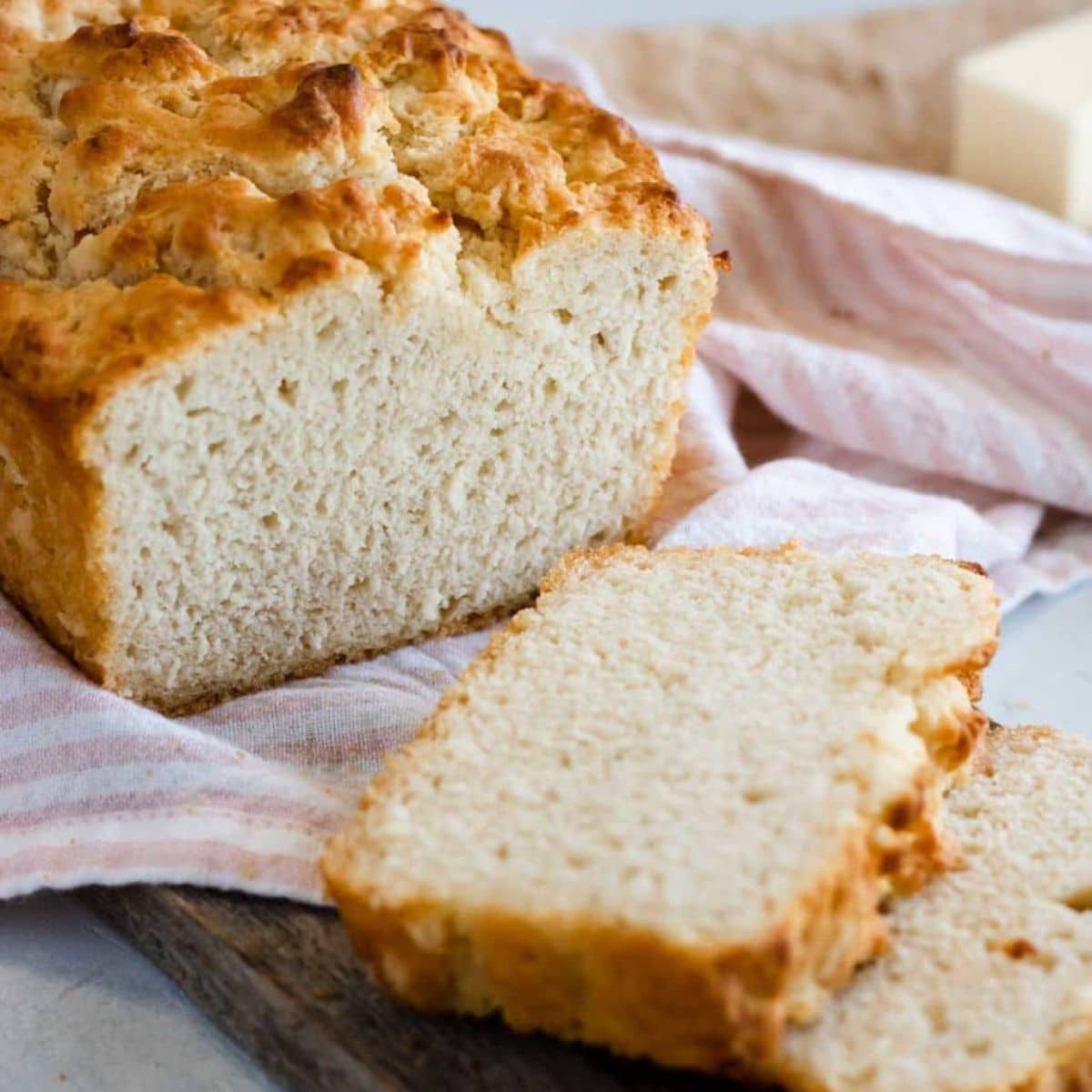 4 Ingredient Beer Bread Recipe
A super easy beer bread recipe made with only 4 ingredients. No kneading, proofing or waiting. Simply mix the 4 ingredients together and pop it in the oven. Customize the flavor with any herbs you would like.
Print
Pin
Rate
Save
Saved to Grow
Ingredients
Instructions
Preheat the oven to 375. Prepare your loaf pan with baking spray.
Pour beer into a large bowl, and set aside.

12 oz can of beer (or bottle)

Measure 3 cups of self rising flour into a separate bowl. Add the sugar to the flour and stir to mix. (add herbs/mix-ins here, if using)

3 cups self rising flour,

2 Tbsp. sugar

Pour the flour mixture into the beer and mix JUST UNTIL MOIST & COMBINED. Overmixing will cause your loaf to be tough.

Pour dough into prepared loaf pan.

Top with melted butter.

Bake for 40-45 minutes, until golden and crisp on the top.
Notes:
BEER- just about any beer will work. I have tried Bud light, Miller lite, Michelob Ultra, and even a Boulevard Pale Ale. I would just avoid some fruity flavored beers like lime or orange.
Did you try this recipe? Connect with me & let me know how it turned out by commenting below!
Jump to Comments
Serving:
1
loaf
|
Calories:
1932
kcal
|
Carbohydrates:
314
g
|
Protein:
47
g
|
Fat:
42
g
|
Saturated Fat:
24
g
|
Polyunsaturated Fat:
4
g
|
Monounsaturated Fat:
10
g
|
Trans Fat:
1
g
|
Cholesterol:
95
mg
|
Sodium:
307
mg
|
Potassium:
478
mg
|
Fiber:
9
g
|
Sugar:
31
g
|
Vitamin A:
1116
IU
|
Calcium:
81
mg
|
Iron:
3
mg
If nutrition facts are provided they are calculated as an estimate to the best of our knowledge.