Bloody Shirley Temples are a kid-friendly, but super spooky way to serve drinks (mocktails) on Halloween. Sprite is mixed with cherry grenadine, BUT the grenadine is added to the cocktail through a gruesome bloody syringe! It's the perfect Halloween version of a classic Shirley Temple.
This is a great mocktail, perfect for kids, but if you want an adult cocktail perfect for October 31st, check out this Devil's Margarita, El Diablo, Apple Cider Margarita or Halloween Margarita.
RELATED: Bloody Guts Cinnamon Rolls
Ingredients
Just three two ingredients to make Bloody Shirley Temples: Sprite and Grenadine.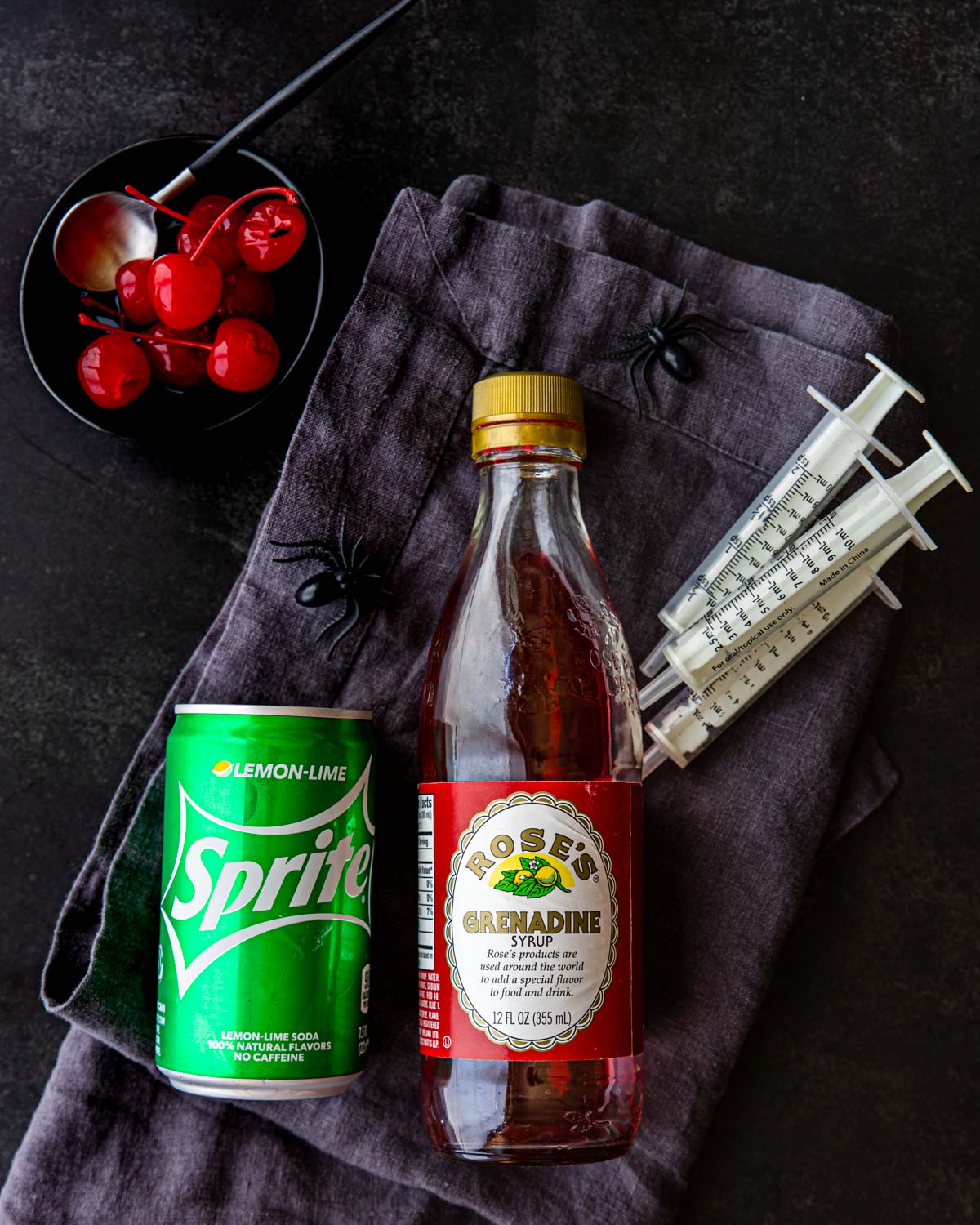 Grenadine: You can usually find grenadine in the drink aisle or liquor aisle at your grocery store. It is a non-alcoholic cherry flavored sugar syrup. It is traditionally used in Shirley Temples and Roy Rogers.
Sprite: You do not have to use Sprite, any lemon-lime flavored soda will work.
Supplies
The most important part of your Bloody Shirley Temples are the syringes for the BLOOD (aka. grenadine)!!! If you are like me then you have 5000 in your medicine cabinet from years of kid's meds.
But if you don't have a back stash – you can grab a pack of 10ml plastic medicine syringes on Amazon for under $15.
Another fun supply to serve these mocktails are science lab beakers used as glasses.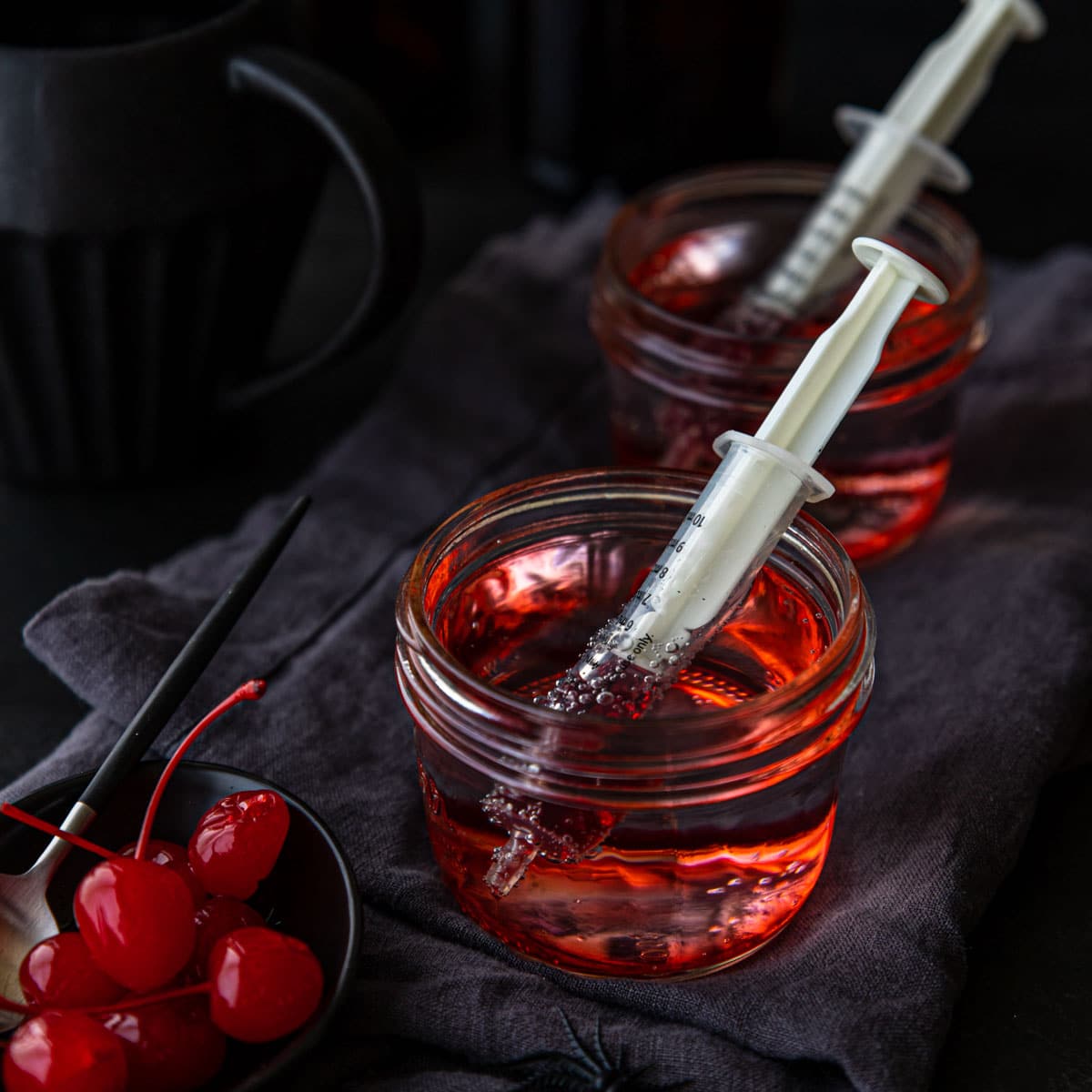 Serving The Mocktail
If you will be serving a few of these then I recommend filling the syringes before guests arrive or the party starts.
Then to make each mocktail, fill a glass with ice and pour in the sprite. Once it stops fizzing slide the bloody syringe (grenadine) into the glass and shoot out just a smidge so it colors the bottom of the glass.
Let the kids shoot the rest into their drink!
Optionally you can garnish the cocktail with a maraschino cherry, gummy worms, gummy eyeballs, or spiders!
Other Spooky Recipes
Bloody Shirley Temple Recipe
A spooky drink perfect for kids on Halloween. Sprite is mixed with cherry grenadine, but served up with a syringe.
Print
Pin
Rate
Save
Saved to Grow
Ingredients
8

oz

Sprite

or similar lemon/lime soda

1.5

oz.

Cherry Grenadine Syrup

optional garnish – maraschino cherry, gummy eyeball, gummy spider or other spooky Halloween treats.
Instructions
Pour Sprite in a small clear glass with ice.

(short mason jars or beakers are fun to use in place of glasses)

Fill a syringe with grenadine syrup.

1.5 oz. Cherry Grenadine Syrup

Squirt just a little of the grenadine in the bottom of the glass, then lay the syringe in the glass leaving the rest of the grenadine for the kids (or adults) to squirt into their glass.

Optional – top with a cherry or other spooky Halloween garnishes.

(gummy eyeballs, witches finger, gummy spider, etc…)
Did you try this recipe? Connect with me & let me know how it turned out by commenting below!
Jump to Comments
If nutrition facts are provided they are calculated as an estimate to the best of our knowledge.