Making a Halloween Breakfast is a fun way to celebrate Halloween all day long! Or if you are really in the spirit, all month long. These spooky Bloody Gut Cinnamon Rolls are easy to make by using store bought cinnamon rolls. It makes an excellent kids Halloween treat!!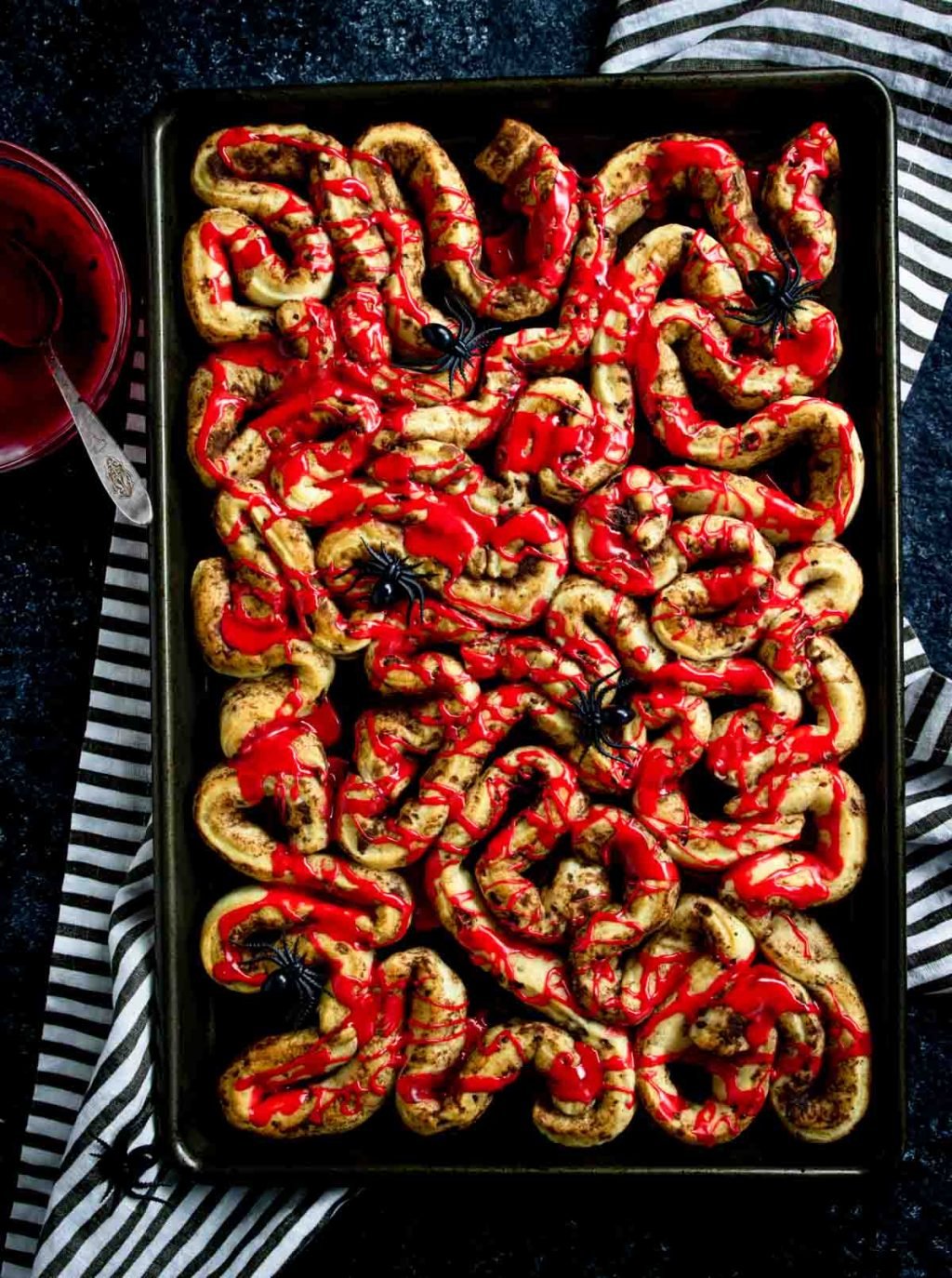 Halloween Themed Breakfast
Don't let all the Halloween fun only be at night! You can start the kids day with this spooky breakfast. They will for sure think you are the coolest Mom (or Dad) around!
Another fun idea would be to add some grenadine or red food dye to their milk and serve it with a syringe in the glass (by syringe I mean a kids medicine syringe, if you are like me then you have like 500 of them!)
These Chocolate Hand Pies from Howe We Live would be cute too. I would think you could even sub in jelly for more of a pop tart feel.
If your kids like eggs in the morning you could dye them green and put some plastic spiders or eyeballs on top.
How to make Bloody Guts Cinnamon Rolls
This is not difficult at all! You will not be making homemade cinnamon rolls for this recipe. We keep our baking super easy around here.
First make sure you buy the kind of cinnamon rolls that come in the tube. It needs to be the kind that you can unravel. I have found that Pilsbury is NOT the unraveling kind. They are more of a stamped cinnamon roll. The store brand or great value brand will usually unravel for you. I believe the Aldi ones do too.
Preheat your oven to 400 degrees. Pop open your cinnamon rolls. Now unravel all the cinnamon rolls so you have long strips.
On a quarter baking sheet (about 9×13 size) start to coil, twist, and turn the cinnamon rolls so they look like intestines. It is ok if there are some spaces because they will expand as they cook.
Now put them in the oven to bake for 10 mins. The package instructions will say to cook for longer, but since they are not cooking in a full roll that time would be too long. Do not follow the package!
As they cook you can dye the frosting (aka- blood). Mix 1 cup of powdered sugar with 1 Tablespoon plus 2 teaspoons milk and then mix in the red food coloring. The gel food coloring that you buy at a bakery shop or Michael's will be more powerful than the standard liquid food coloring. If you are in a pinch and are using the liquid food coloring, lessen the amount of milk added to just 1 Tablespoon.
Once the cinnamon rolls come out of the oven drizzle them with the blood (aka- red frosting), and then place some spooky decorations on the Bloody Guts Cinnamon Rolls, ie. plastic eyeballs or spiders.
Fun Fact…. My birthday is on Halloween ♥
Recipe for a Halloween Breakfast – Bloody Guts Cinnamon Rolls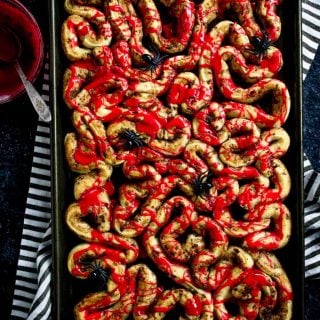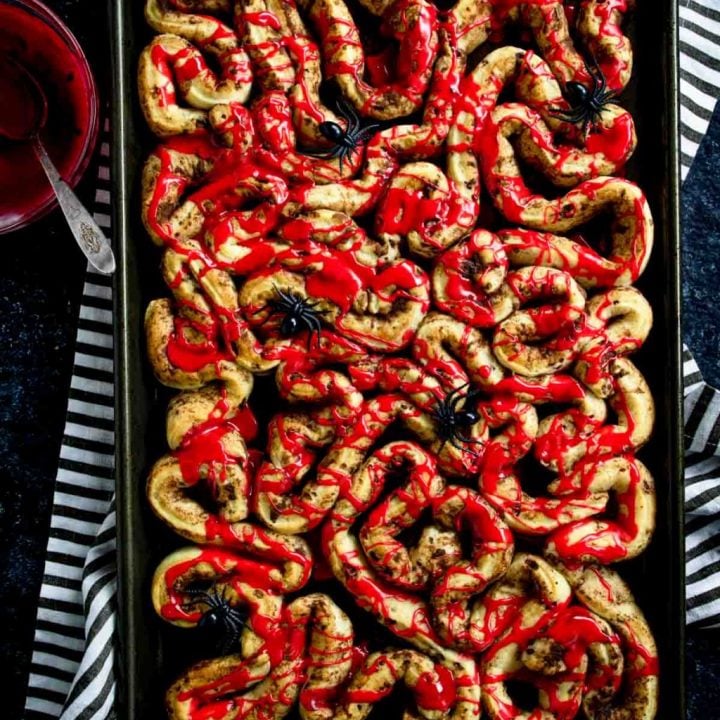 Halloween Breakfast – Bloody Guts Cinnamon Rolls
The perfect Halloween Breakfast!! Bloody Guts Cinnamon Rolls are made with store bought cinnamon rolls and placed on the baking sheet to look like guts, then drizzled with a red (bloody) frosting.
Print
Pin
Rate
Ingredients
2

8 count package store-bought cinnamon rolls

make sure to buy the kind that unravel, I found that the store brands or best choice usually unravel (Pilsbury does not unravel, it is more of a stamped cinnamon roll). I believe Aldi's cinnamon rolls unravel as well.

1

cup

powdered sugar

2

tablespoon

plus 2 teaspoon milk

red gel food coloring

SEE NOTE ABOUT FOOD COLORING
Instructions
Preheat your oven to 400 degrees

Open your cinnamon roll packages and unravel all the cinnamon rolls.

On a quarter baking sheet, or a baking dish around 9 x 13 in size, start to twist, turn, and coil your unraveled cinnamon rolls. You want them to look intestine-y

Bake the cinnamon rolls for 10 minutes.

Meanwhile make the red frosting (aka – blood) by mixing together the powdered sugar, milk, and enough food coloring to get the red you are going for.

Drizzle the frosting over the baked cinnamon rolls.

Time to eat your Halloween Treat!
Notes:
Food Coloring Note: If you only have the liquid food coloring, that will work too. However you will want to lessen the amount of milk added to frosting to just 1 tablespoon. 
Did you try this recipe? Connect with me & let me know how it turned out by commenting below!
Jump to Comments
If nutrition facts are provided they are calculated as an estimate to the best of our knowledge.
Halloween Dinner
It is tradition around here that we get together with all our friends and have chili before we go out trick or treating with the kids on Halloween. It is a great way to get in the spirit and have some fun in a large group.
If you need some great Halloween dinner recipes, here are a few that we like to use:
Of course… bloody gut cinnamon rolls to go with the chili! (It's a Midwest thing)
Originally Posted September 8, 2019 – Republished September 19, 2020