A Shirley Temple is a bubbly pink drink that is made with just 2 simple ingredients- grenadine syrup and lemon-lime soda. It is a popular drink ordered in restaurants but can be easily made at home. This is a great non-alcoholic drink (mocktail) that kids can enjoy at parties!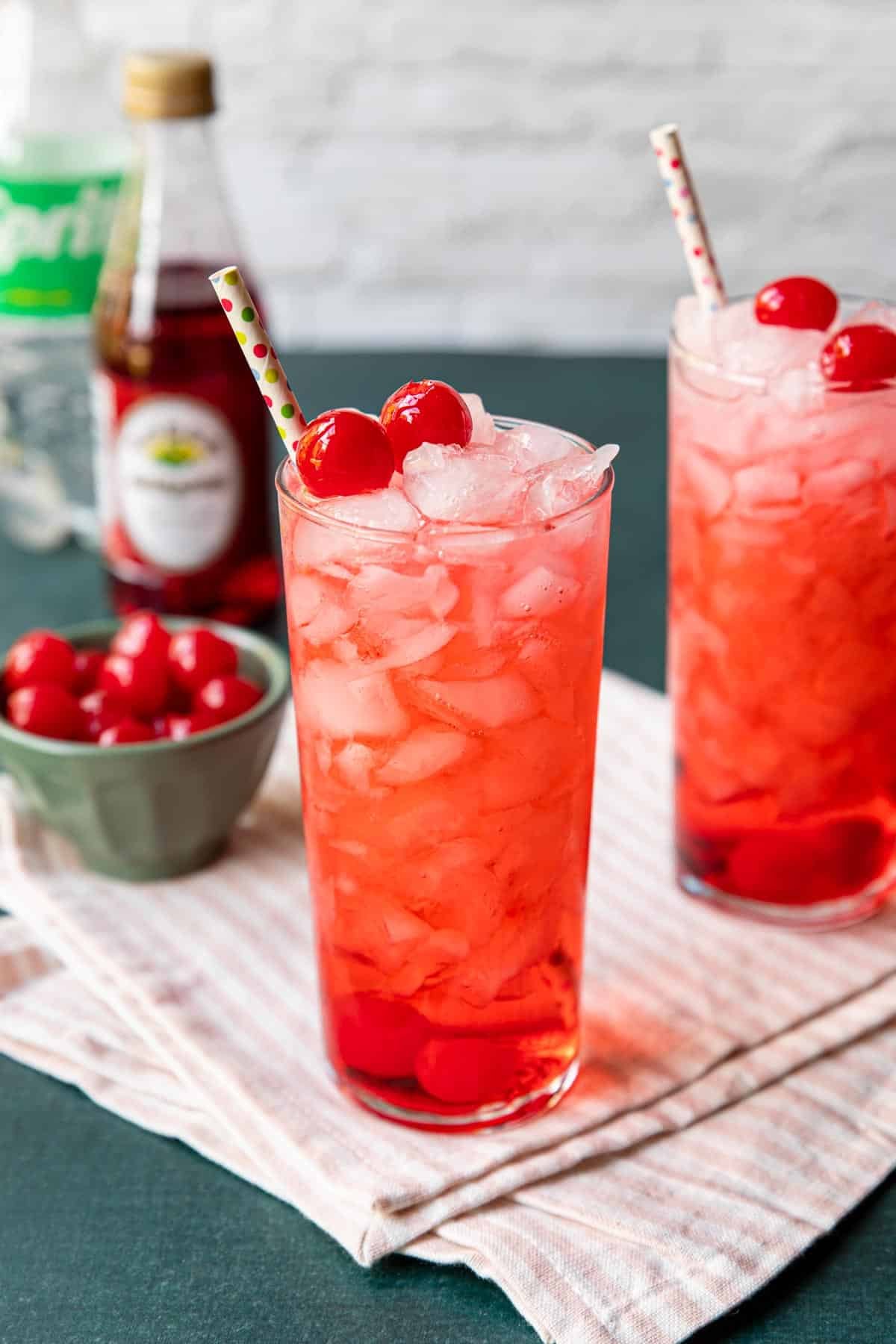 This drink has kind of a fruity flavor of lemon, lime and most of all cherry. It is a pretty sweet drink, but it is also super delicious. It is akin to another popular kiddie cocktail called the Roy Rogers Mocktail, but that one is made with cola.
Sure, you could just have Cherry 7 up or Cherry Sprite, but I promise you this will be SO much better!! It is especially perfect for special occasions. 
Another popular non-alcoholic drink, great for kids and adults, is the Arnold Palmer. It is a non-carbonated mix of iced tea and lemonade.
RELATED: At Halloween time check out the Bloody Shirley Temple!
Shirley Temple
This kiddie drink actually gets it's namesake from the famous actress Shirley Temple. She was a VERY famous actress in the 1930's. Curly hair, bright eyes, and she could dance, sing and act!
Some movies you might recognize are Little Princess and Bright Eyes. When I was little I LOVED to sing "On The Good Ship Lollipop"!
She would regularly attend adult parties and could not enjoy the drinks at the bar, so the bartenders would make her a drink with the grenadine syrup and soda… and so this drink became known as the Shirley Temple.
Soda
You definitely want to use a carbonated beverage in your Shirley Temple Drink. Most commonly used are Sprite or 7-Up, or a similar lemon-lime soda.
You could also opt for a ginger ale. Or for less sugar you can use a sparkling water.
Grenadine Syrup
Grenadine Syrup is a cherry flavored sweet liquid that is added to soda, giving your Shirley Temple a nice pink/red hue.
The most common brand you will find at the grocery store is Rose's Grenadine Syrup. It is made by Mott's and consists of high fructose corn syrup and all sorts of terribly delicious ingredients LOL!
You can absolutely make your own syrup, follow this recipe for Homemade Grenadine. You just need pomegranate juice, sugar and lemon.
Maraschino Cherries
Maraschino Cherries are not a necessary ingredient to make this Shirley Temple Recipe… but in my opinion it is one of the most delicious parts!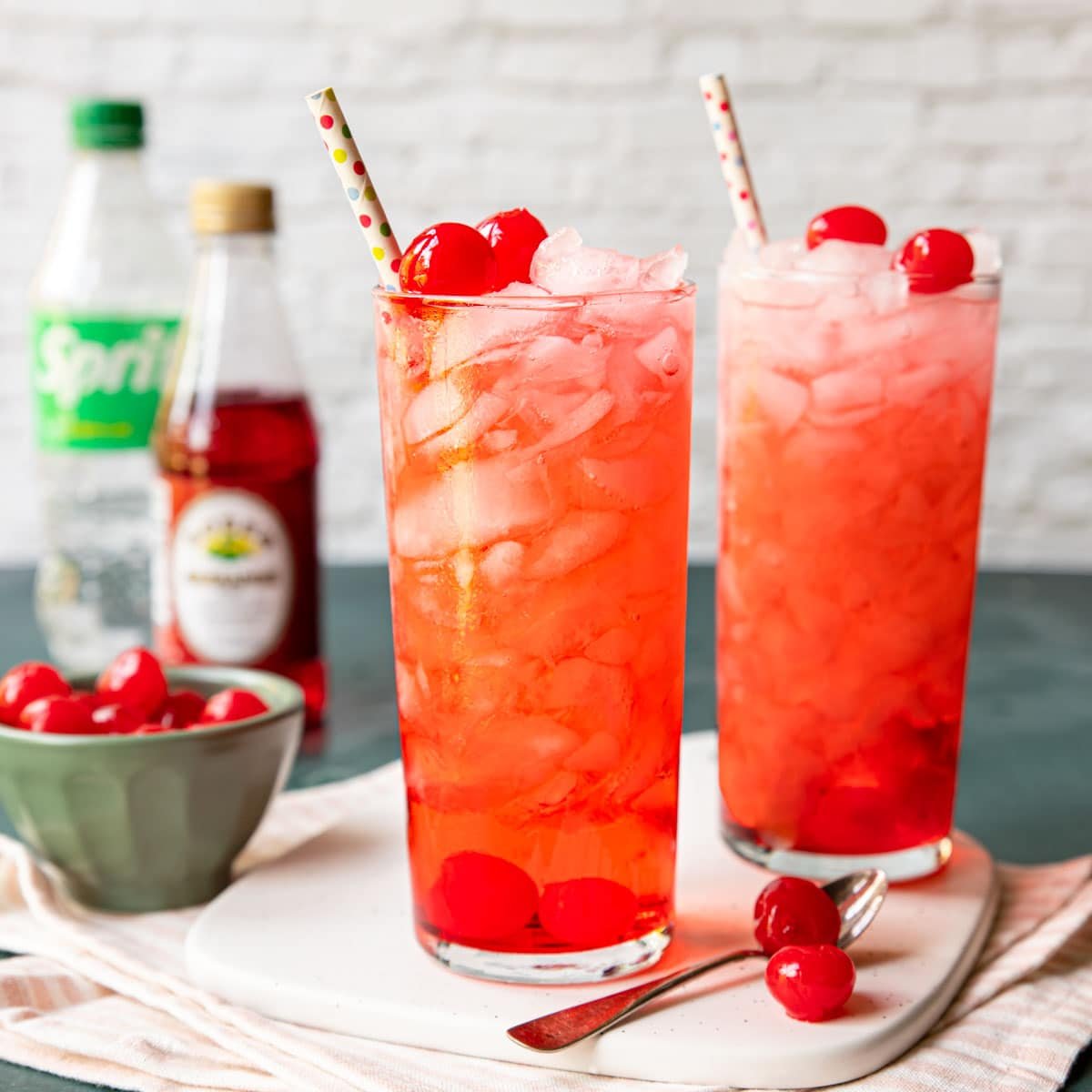 A maraschino cherry is a preserved, sweetened cherry, typically made from light-colored sweet cherries such as the Royal Ann, Rainier, or Gold varieties. (sited from Wikipedia)
You should really include 2-4 maraschino cherries per glass, just sayin'.
Adult Shirley Temple
There is an adult version of this kiddie cocktail called a Dirty Shirley Temple or a Dirty Shirley Cocktail! If you like a sweet cocktail this one is for you:
1 oz grenadine syrup
2 oz vodka (or rum)
4 oz lemon lime soda or ginger ale
Garnish with lime wedges and orange slice and/or maraschino cherries!
A Halloween Spin!
If you love celebrating Halloween you can make a Bloody Shirley Temple, which is basically a normal Shirley Temple but served in a science beaker and the grenadine get's delivered in a bloody syringe (a medicine dropper). FUN!
More Mocktail Recipes
---
Did you make this recipe?!
If you make this recipe I would love to hear your review. Pop down to the comment section and connect with me.
Then sign up for our Weekly Newsletter so you never miss a new recipe!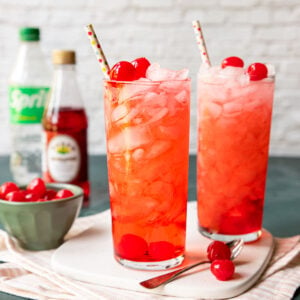 Shirley Temple Drink Recipe
A delicious and bubbly pink drink that is made with just 2 ingredients- grenadine syrup and lemon-lime soda. This is a non-alcoholic drink perfect for a kiddie cocktail!
Named after the 1930's actress Shirley Temple.
Print
Pin
Rate
Save
Saved to Grow
Ingredients
1.5

oz

grenadine syrup

8

oz

lemon-lime soda

(Sprite or 7-Up) can also use ginger ale

ice and maraschino cherries
Instructions
Fill a tall glass with ice.

Pour the grenadine syrup over the ice.

Fill the glass with the soda. Give it a light stir to mix the syrup into the soda.

Give it a taste and add more grenadine per your tastebuds!

Garnish with 2-4 maraschino cherries.
Did you try this recipe? Connect with me & let me know how it turned out by commenting below!
Jump to Comments
Serving:
1
drink
|
Calories:
245
kcal
|
Carbohydrates:
62
g
|
Protein:
0.2
g
|
Sodium:
38
mg
|
Potassium:
18
mg
|
Sugar:
50
g
|
Calcium:
8
mg
|
Iron:
0.1
mg
If nutrition facts are provided they are calculated as an estimate to the best of our knowledge.