Anejo Sidecar is a great cocktail for tequila lovers! It is like the classic Sidecar cocktail but it is made with Anejo tequila instead of cognac. It makes a really impressive party drink or after dinner drink.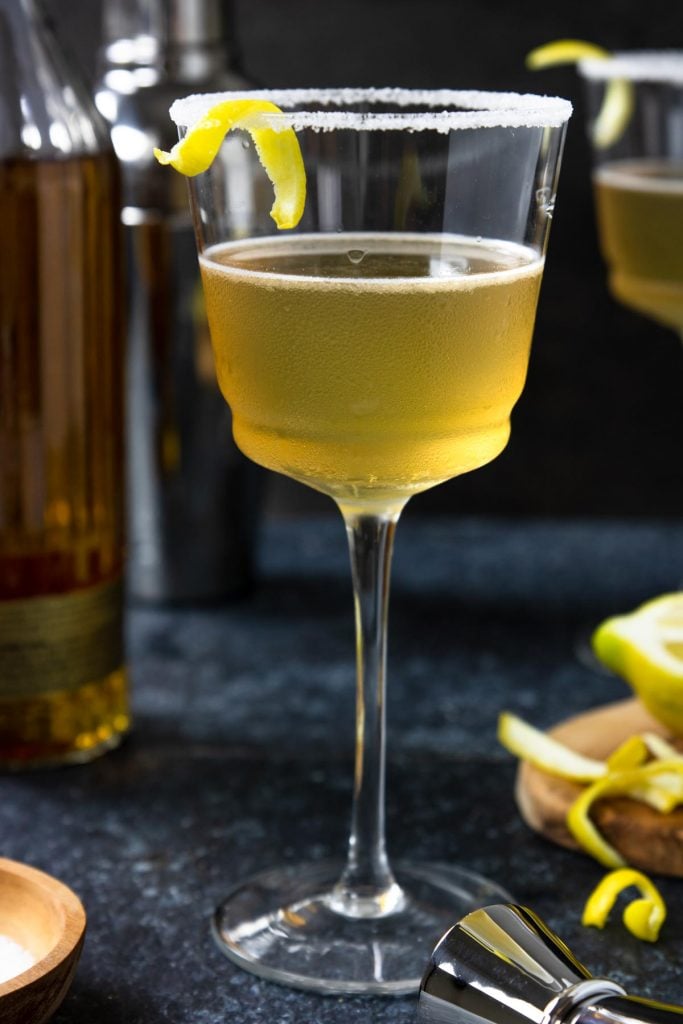 Another great Anejo Tequila drink to check out is my Blackberry Tequila Smash! If you prefer Silver Tequila, my go-to is the Tequila Soda.
What is a Sidecar
A Sidecar is an old fashioned drink that was popular in the early 1900's & 1920's, around the time of the end of World War 1. It was a drink served in hotels in London and Paris, after guests had traveled far. Especially if they were traveling in the sidecar of a motorcycle, which was popular at the time. The cocktail is appropriately named after the sidecar of a motorcycle!
A traditional sidecar is made with cognac, triple sec, and lemon juice, served in a stemmed glass with a sugared rim.
Anejo Tequila
Anejo tequila is a darker colored tequila that has been aged in oak barrels for 1 year. It has a light smokey flavor on the front and the finish is sweet and caramely.
Traditionally it is sipped neat or on ice, but we LOVE it in this Sidecar cocktail!
Glassware
A Sidecar is traditionally served in a coupe glass or a smaller stemmed cocktail glass. You could also serve this in a champagne flute or martini glass.
Anejo Sidecar Recipe
Anejo Sidecar
A classic sidecar cocktail but made with anejo tequila. It is the perfect cocktail for tequila lovers!
This is a delicious drink that is impressive at parties or after dinner.
Print
Pin
Rate
Save
Saved to Grow
Instructions
Place the sugar on a flat plate. Run a lemon wedge around the rim of your glass. Dip the rim of the glass into the sugar.

Fill your cocktail shaker half way with ice. Pour in 2 oz Anejo Tequila, 1 oz Triple Sec, 1 oz fresh squeezed lemon juice, and .5 oz agave syrup. Pop the lid on the shaker.

Vigorously shake the cocktail for 20 seconds. This will break little shards of ice into your cocktail making it extra cold and delish!!

Pop the strainer cap off the cocktail shaker and pour the drink into the sugar rimmed glass. Garnish with a lemon twist (which is lemon peel without the white pith)
Notes:
A sidecar is traditionally served in a coupe glass but you can serve it in a smaller stemmed glass or martini glass.
Did you try this recipe? Connect with me & let me know how it turned out by commenting below!
Jump to Comments
If nutrition facts are provided they are calculated as an estimate to the best of our knowledge.