Summer Berry Cobbler is a mixed berry dessert that is full of fresh strawberries, blueberries, and raspberries. The warm berries are so delicious and the sweet syrupy juice they render during cooking is so rich in flavor. The topping is not a traditional "oat crumble" instead it has a lighter topping of sweet vanilla cake which makes it a great summer dessert. When you add a little ice cream or fresh whipped cream this Mixed Berry Cobbler is perfection. It is definitely a company worthy dessert!
One of the best things about summertime is the abundance of all the fresh fruits, berries, and veggies. I live in the midwest so this bounty only lasts about 4 months – and I take advantage of every last minute!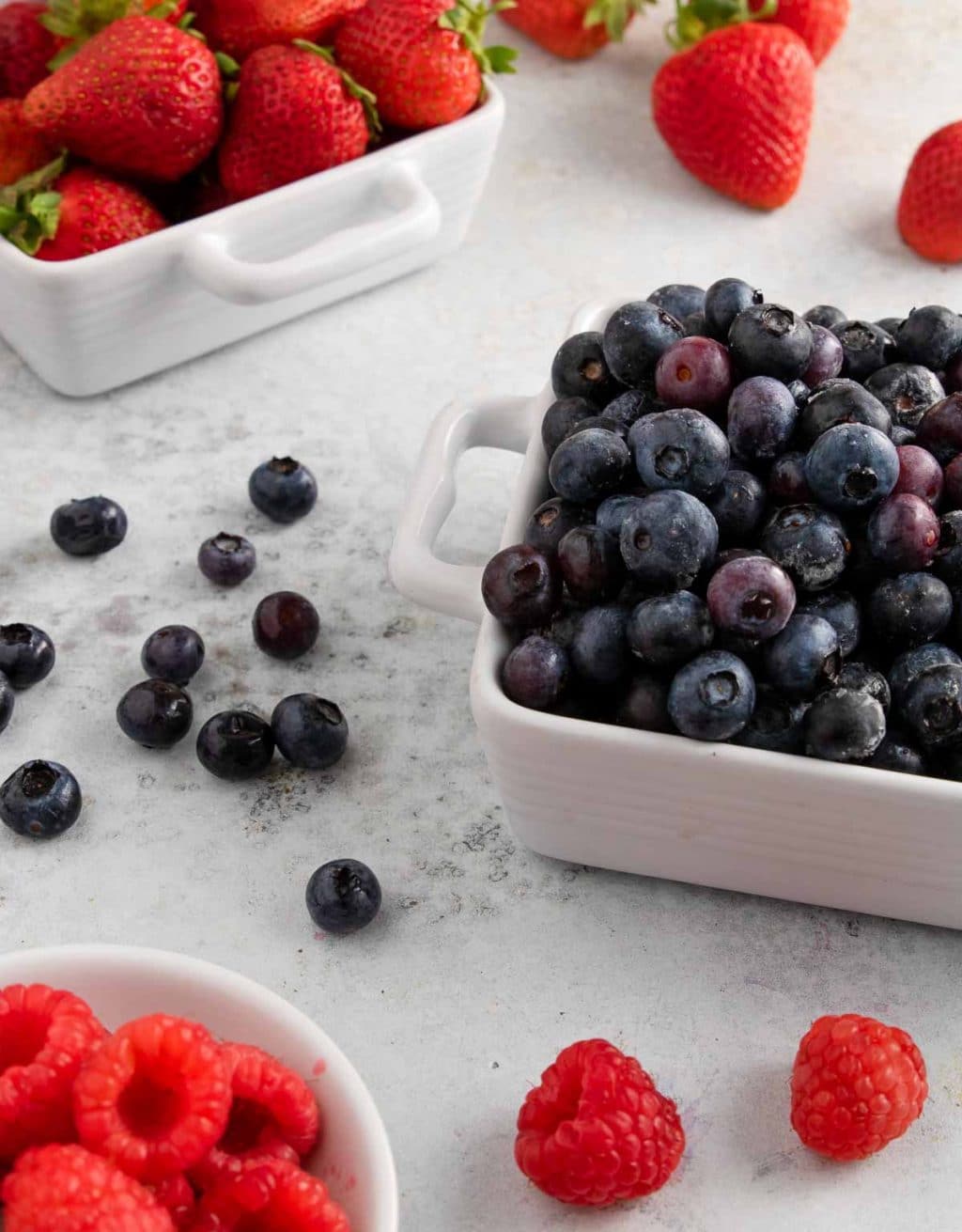 This recipe for Summer Berry Cobbler is a great way to celebrate all those summer berries when they are at their ripest and most flavorful. Not to mention they are also super inexpensive during these summer months!
Cobbler Dessert Recipe
I am sure that when you have made cobbler or crumbles in the past you have placed the fruit filling on the bottom and then topped it with the oat crumble or the biscuit topping. Me too!
However, in the clever recipe the batter goes on the bottom and the fruit is placed on top, then during the cooking the batter rises above the fruit and bakes into the most delicious vanilla cake topping.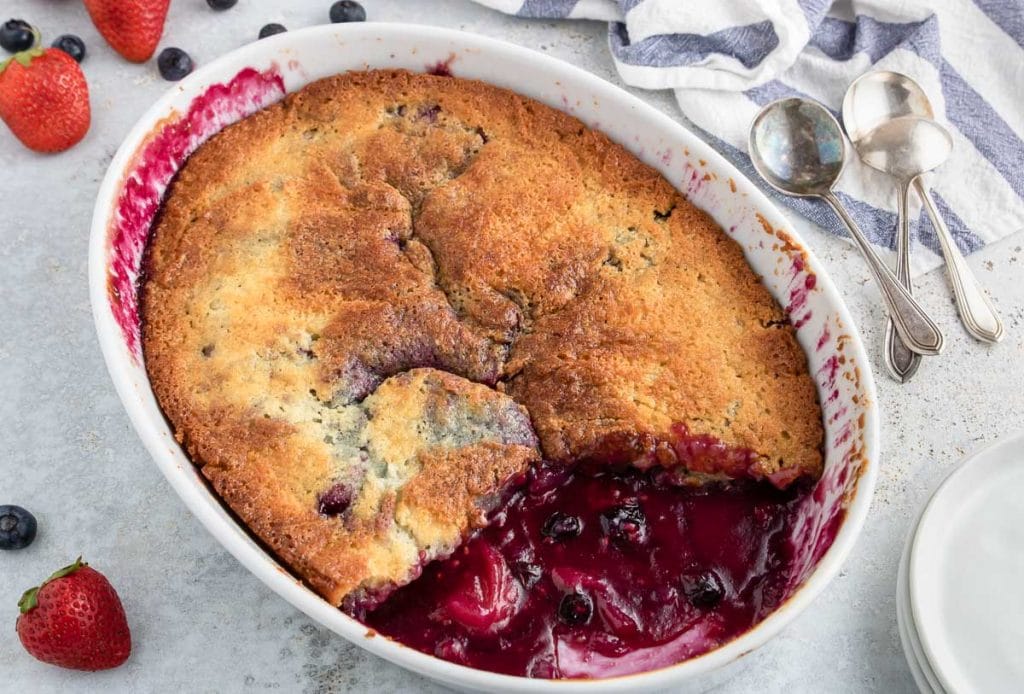 I found this dessert recipe (originally peach cobbler) in a magazine about 15 years ago… cut it out and saved it in my recipe box. I wish I knew what magazine it was from so I could give a shout out to whoever came up with this method of putting the batter on the bottom and the filling on top. It is completely counterintuitive, but it works every single time!
Don't be tempted to stir the mixture together in the pan. Leave all the ingredients separate (butter, batter, and fruit)- it works – I promise! The batter rises to the top during cooking and gets all sorts of buttery, sugary sweet, and delicious!
How to Make Summer Berry Cobbler
Preheat your oven to 375 degrees
Wash all the berries and prep the strawberries by cutting them into quarters.
In a saucepan simmer all the berries, ½ cup sugar, and 1 tablespoon of lemon juice over medium heat for 5 minutes. Delicately stir them once in awhile so the sugar does not burn. Set them aside.
Melt 1 stick of butter.
In a mixing bowl, whisk together 1 cup flour, 1 cup sugar, 1 cup milk, and 1 tablespoon baking soda, just until it comes together.
Baking Pan: you can make this dessert in a 9x13x2 baking pan, or I like to use one of my casserole dishes that is just slightly smaller (around 8x12x2), this yields a thicker berry and cake layer. However, if you go any smaller than 8×12, the dish will boil over the edge of the pan in the oven!
Now it is time to assemble! Follow this exactly:
Pour the melted butter into the bottom of your pan.
Pour the mixed batter on top of the butter- DO NOT STIR.
Carefully pour the berries on top of the batter- DO NOT STIR.
Step 1
Step 2
Step 3
Bake for 30-35 minutes until the berries are warm, bubbly, and syrupy, and the cake has risen to the top and is golden.
I recommend letting the berry cobbler sit at room temp for 20-30 minutes to cool and to let the berries thicken slightly. Then serve with ice cream of whipped cream.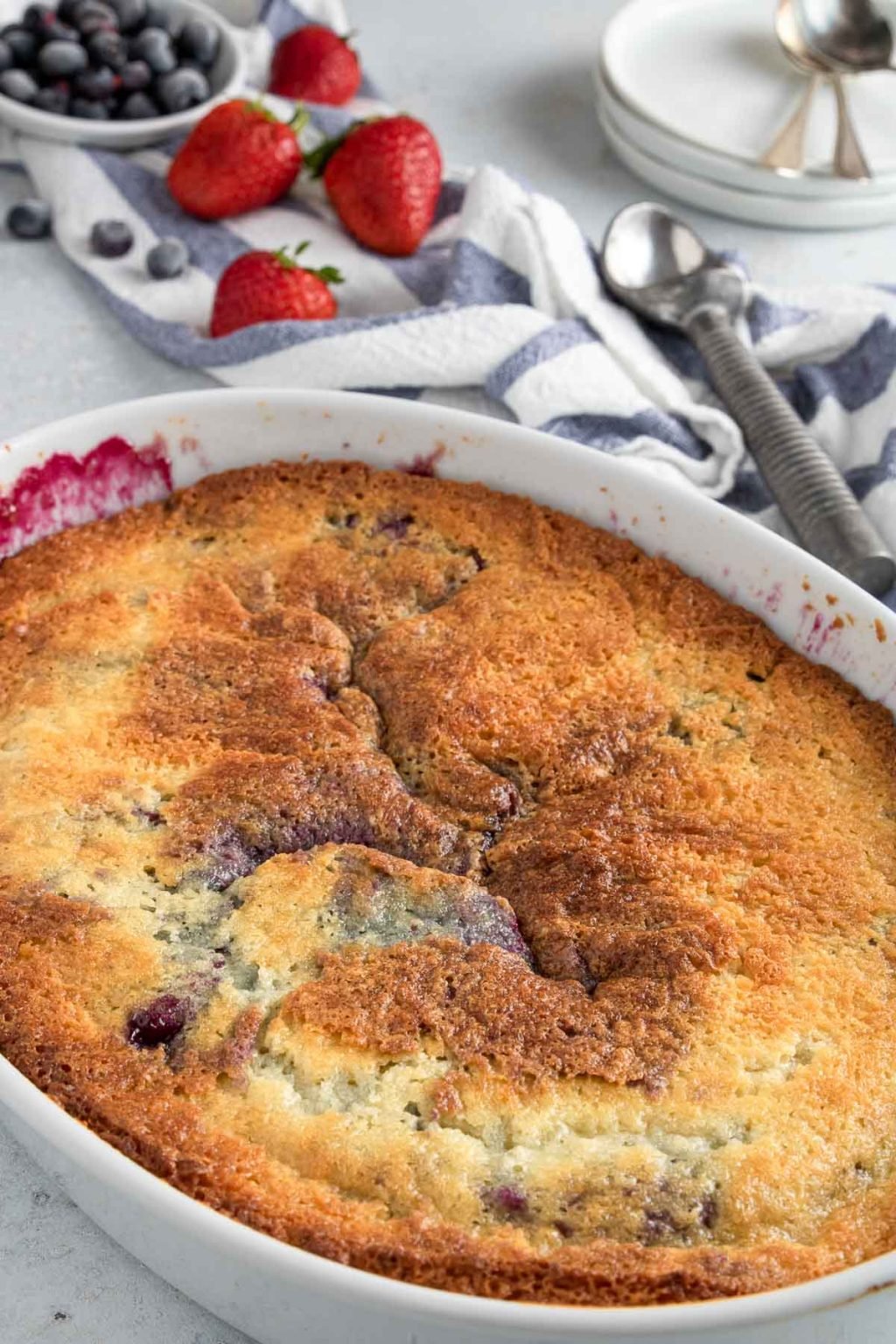 STORING YOUR COBBLER: It is likely that you will not have any leftover and you will not have to worry about storing your cobbler! I have stored mine, covered, at room temp for a day (no longer than that), like you would a pie. However, if it is going to be longer than that, I recommend storing your cobbler, covered, in the fridge for up to 4 days.
Make This Cobbler Your Own
In this mixed berry dessert I like to use the combo of strawberries, blueberries and raspberries. However, you can always change it up to fit your taste. Blackberries and blueberries could be a super delicious combo. Strawberry and rhubarb would be another combo I think I would love. I have also had this cobbler using peaches (the original recipe) and it is wonderful!
Really, you can try any fruit that sounds good and is in season.
Whatever combo you choose don't forget the ice cream or whipped cream and enjoy every last bite!
Love, Susie
Summer Berry Cobbler Recipe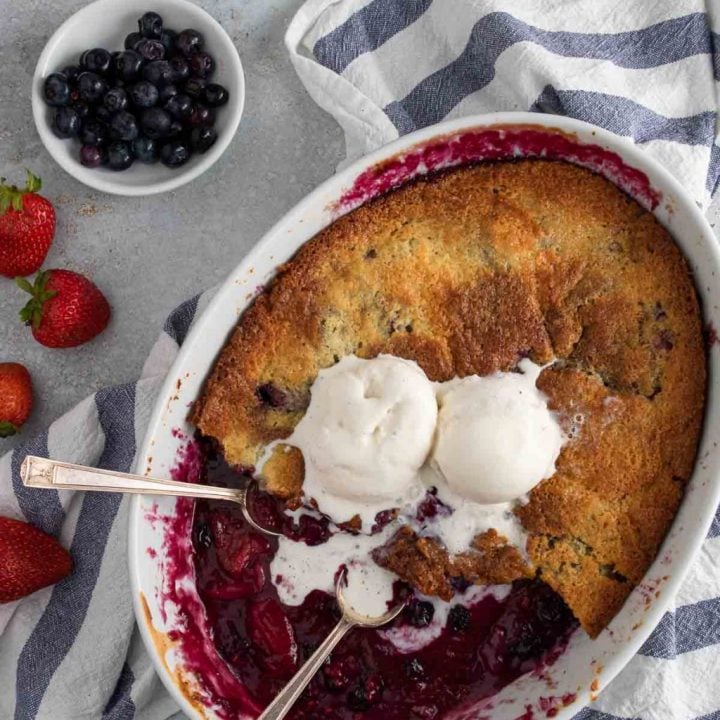 Summer Berry Cobbler
A delicious Mixed Berry Cobbler full of: blueberries, raspberries and strawberries. This cobbler dessert is topped with a delicate vanilla cake. Just add some vanilla ice cream of whipped cream for an amazing dessert!
Follow Along on YouTube!
Check out all my videos and Subscribe!
Print
Pin
Rate
Ingredients
2

cups

fresh strawberries

quartered

1 ½

cups

fresh blueberries

1

cup

raspberries

1

T

fresh squeezed lemon juice

1 ½

cup

sugar

divided

½

cup

butter

melted

1

cup

flour

1

T

baking powder

¼

t

salt

1

cup

milk
Instructions
Preheat the oven to 375.

In a large pot, over medium heat, combine the strawberries, blueberries, raspberries, lemon juice and ½ cup sugar. Simmer for 5 minutes, stirring occasionally and delicately. Set aside.

In a mixing bowl add the flour, 1 cup sugar, baking powder and salt- whisk until combined. Add the milk and whisk just until it comes together- do not over whisk. Set aside.

In a separate bowl, melt the butter.

Time to assemble: Pour the melted butter into your baking pan . Pour the batter on top of the butter – DO NOT STIR! Carefully pour the berry mixture on top of the batter- DO NOT STIR!

Bake for 30-35 minutes until the batter has risen to the top and is golden brown and the berries are bubbling and are thick and syrupy.

Let the berry cobbler sit at room temp. for 30 minutes to cool before serving, this will also allow the berry mixture to thicken slightly.

Enjoy with some vanilla ice cream or whipped cream.
Notes:
BAKING PAN: You can make this cobbler dessert in a 9x13x2 baking dish. 
I like to make mine in a slightly smaller oval casserole baking dish. It is around 8x12x2. This yields a thicker layer of berries and cake.
Warning: If you go any smaller than an 8x12x2 the cake and berries will spill over the edge of your baking pan, unless it is deeper than 2 inches.  
Did you try this recipe? Connect with me & let me know how it turned out by commenting below!
Jump to Comments
If nutrition facts are provided they are calculated as an estimate to the best of our knowledge.
Originally posted 7-19-17 , photos updated on 7-8-19
More Dessert Recipes
If you like this dessert recipe, here are a few more you might like!