"Restaurant Style" Salsa is a quick and easy salsa recipe to make right at home! It has the perfect mix of restaurant salsa flavors like tomatoes, fresh cilantro, white onion, garlic, fresh lime juice, salt and a pinch of sugar. It comes together right in your blender or food processor in about 5 minutes!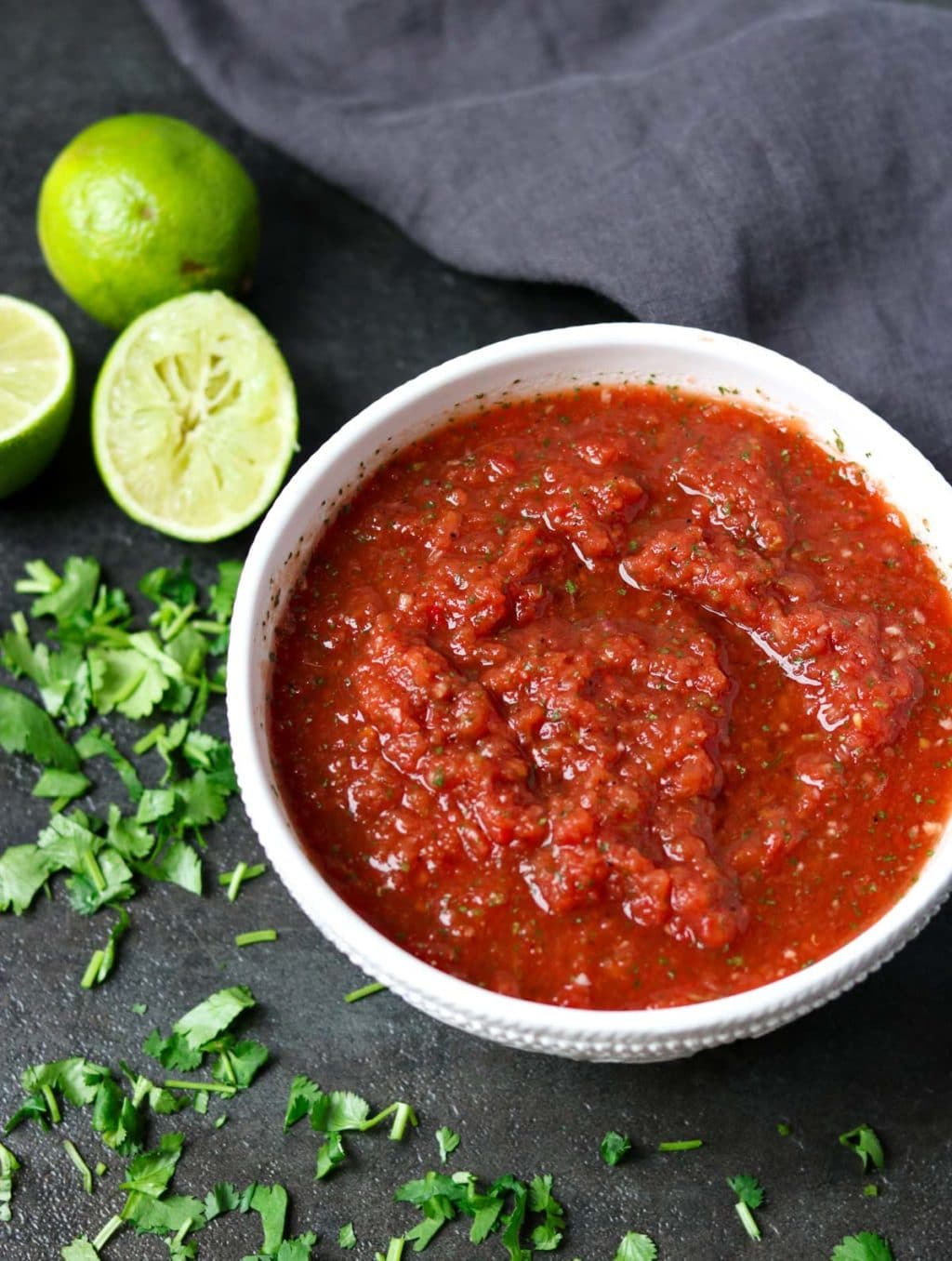 If it is a party then add some guacamole, queso, and margaritas, or a pitcher of margaritas!
Now, if you want more of a chunky style fresh salsa then check out this Pico de Gallo recipe! Or for a verde salsa pop over to this Fresh Tomatillo Salsa recipe or grilled tomatillo salsa.
Why This Recipe is Perfect!
It uses canned tomatoes, which is what restaurants use! Giving you the perfect consistency.
Using canned tomatoes also ensures the flavor will always be the same, unlike with fresh tomatoes which can vary in flavor during seasons.
Cilantro is the key ingredient that make this salsa taste like it came straight from your favorite Mexican restaurant.
A little sugar balances the acidity of the tomatoes, without adding sweetness.
Step By Step Instructions
If you love to watch cooking shows you can also watch Susie make this Restaurant Style Salsa Recipe in a 30 minute Pin TV Episode!
Add the cilantro, lime juice, onion, chopped garlic, black pepper, sugar, salt, and a ½ cup of the tomatoes to a powerful blender or food processor. Pulse until there are no big chunks of onion or garlic remaining, about 20-30 pulses.
You may need to scrape the bowl or blender sides down to make sure all the pieces get processed.
Now add the remaining tomatoes to the mixture. If you are using a food processor, pulse the mixture 4-6 times, so that some small chunks still remain in the salsa. If you are using a blender just do a very quick blend, about 4 seconds, so you retain some of the tomato texture.
Serve the salsa right away or store it in the fridge, in an airtight container, for up to 5 days.
The salsa does get better with time, like a lot of tomato recipes do (ie. chili). If you have time to make it ahead and let it sit in the fridge overnight, do. If not, do not worry, it will still be delish!
Making it Spicy
If you like your salsa super spicy add a little chipotle in adobo, fresh jalapeno, or cayenne pepper to the first blending.
If you want it CRAZY HOT add all 3! Note that the chipotle in adobo will also add a very smoky flavor.
A Few Pro Tips for Making Homemade Salsa
Tomatoes are the star in this recipe. Now is not the time to save $0.75 at the grocery store. Get the canned tomatoes you think are the very best. I would steer clear of value brand tomatoes at your store. San Marzano tomatoes are usually an excellent choice!!
Raw onion flavor can lingering up to 4 hours later!! One way to alleviate this is to rinse your onion after they are sliced. I slightly separate the rings and run them under cool water for about 30 seconds . This rinses away the enzyme that makes the onion flavor linger.
Blend the salsa to the texture you like! If you prefer your salsa a little chunkier, save a few tomatoes until the end and only pulse the food processor or blender once or twice. I like my salsa right in the middle- a few small chunks mixed in a thicker tomato liquid (see the photo below).
Taste as you go. I like my salsa with a little extra cilantro, but if you prefer more onion- go for it! This homemade restaurant style salsa is a GREAT starting point, but feel free to add a little extra of this or that to suit your taste buds!
Make it a Meal
Having Mexican food for dinner is one of our favorites at Mom's Dinner! Here are a couple of my recipes that are on heavy rotation here:
Recipe FAQ's
What does restaurant style salsa mean?
Restaurant style salsa is usually referring to a type of salsa that would be served in a Mexican Restaurant. They usually have a fresher flavor that the store-bought salsas. Including flavors like fresh cilantro, fresh onion, and lime. It will have a low to medium chunky texture. Generally restaurant style salsas are made with good quality canned tomatoes.
Is salsa cooked or raw?
Salsa is definitely a raw food. There is no need to cook any of the ingredients, unless you want a "roasted style salsa", then you will charr the veggies before blending.
Why is my salsa pink and foamy?
If you decide to use fresh tomatoes for your salsa they can turn pink instead of red when they are blended, they may also foam around the edges. That is why I actually recommend that you use good quality canned tomatoes for your salsa! Leave the fresh tomatoes for making Pico de Gallo.
Related Recipes
---
Did you make this recipe?!
If you make this recipe I would love to hear your review. Pop down to the comment section and connect with me.
Then sign up for our Weekly Newsletter so you never miss a new recipe!
---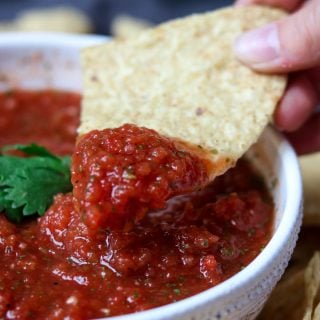 Instructions
In a food processor or powerful blender add the cilantro, lime juice, onion, garlic, salt, pepper and sugar, PLUS only ½ cup of the canned tomatoes. Pulse about 20-30 times, until there are no large chunks of onion or garlic remaining.

(add a jalapeno if you like it spicy!!)

Pro Tip: You may need to scrape the sides down to make sure all the bits get blended.

Add the remaining canned tomatoes.

If you are using a food processor pulse 5-6 times, to get the perfect texture.

If you are using a blender only blend for an additional 4-5 seconds, to retain some of the tomato texture.

Use your taster… Do you want more salt, more lime, more cilantro?!

Serve immediately or store in an airtight container for up to 5 days.

Pro Tip: The salsa does get more flavorful after a day in the fridge.
Notes:
Salsa Making Tips
Tomatoes are the star of this recipe, so make sure you buy the very best canned tomatoes. This is not the time for a value brand.
Rinsing your sliced onions will help the onion flavor to not linger in your mouth long after you have eaten the salsa.
If you can make the salsa a day in advance the flavor is even better after a day in the fridge.
For spicier salsa add some fresh jalapeno or cayenne pepper in the first blending, with the onions and cilantro. 
To add a smoky flavor AND extra heat put 1 chile in adobo in the first blending, with the onions and cilantro.
Fresh Tomato Salsa – if you want to use fresh tomatoes, you may want to use the Pico De Gallo recipe instead.
Did you try this recipe? Connect with me & let me know how it turned out by commenting below!
Jump to Comments
Serving:
1
recipe
|
Calories:
47
kcal
|
Carbohydrates:
11
g
|
Protein:
2
g
|
Fat:
1
g
|
Saturated Fat:
1
g
|
Sodium:
721
mg
|
Potassium:
418
mg
|
Fiber:
2
g
|
Sugar:
6
g
|
Vitamin A:
306
IU
|
Vitamin C:
23
mg
|
Calcium:
71
mg
|
Iron:
2
mg
If nutrition facts are provided they are calculated as an estimate to the best of our knowledge.