This is a super easy recipe for fresh Pico de Gallo, perfect to be devoured with tortilla chips or added to your tacos or burritos. It comes together in minutes with fresh ingredients like tomatoes, onion, jalapeno, cilantro and garlic.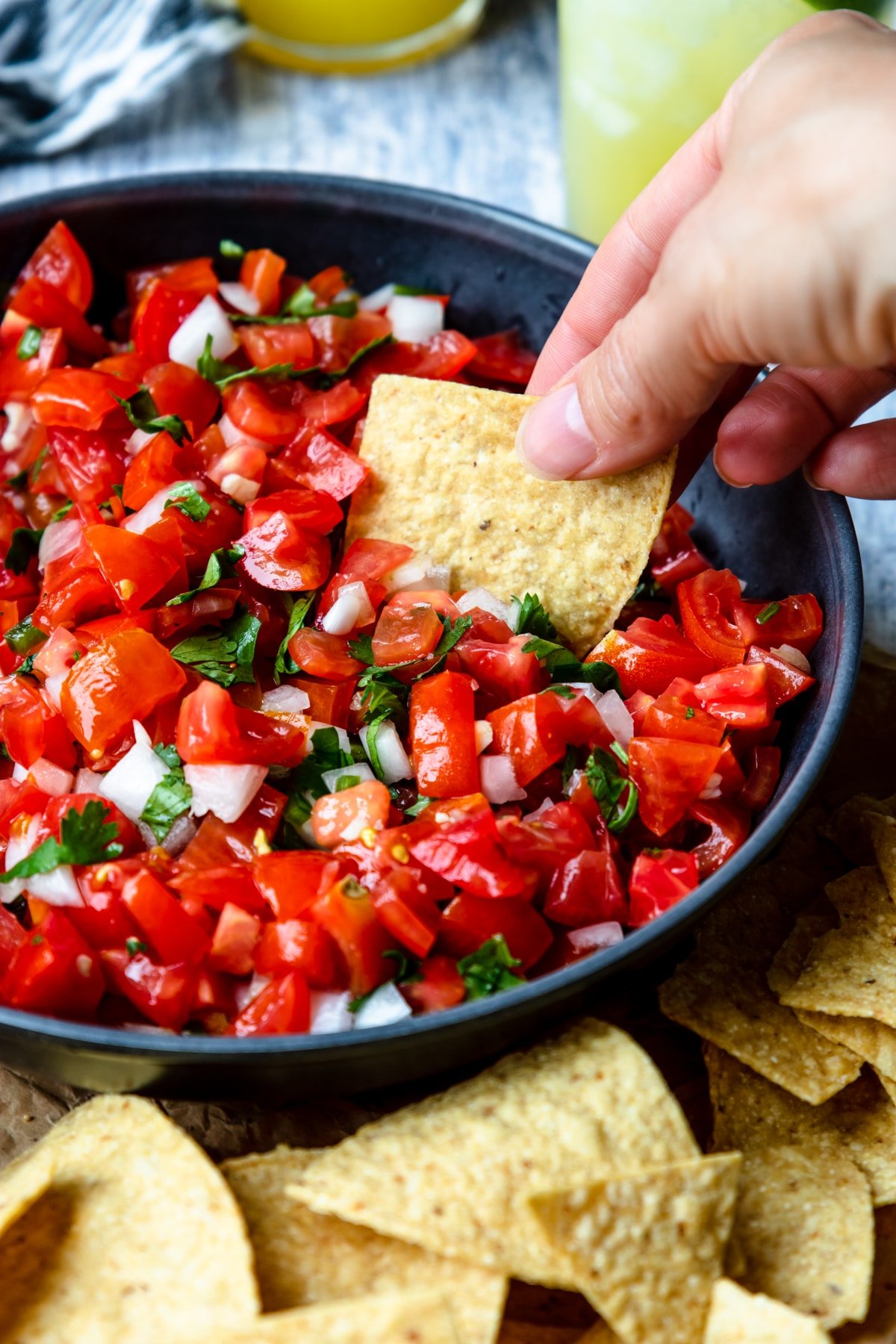 If you are looking for a more traditional style salsa, check out this recipe for Restaurant Style Salsa. Or for a fun twist on salsa, add this Corn Salsa Recipe to your chips and dip.
Why Make This Recipe
This is a perfectly balanced recipe- fresh, tangy, salty, spicy and herbaceous.
It makes a great alternative to traditional or store-bought salsa.
It is the perfect condiment for any Mexican Dinner – tacos, barbacoa burritos, garnish your refried beans or Mexican Rice…!
Perfect summer time recipe when you might have an abundance of ripe garden tomatoes.
What is Pico de Gallo
Pico de Gallo, also known as salsa fresca or salsa cruda, is pronounced "peeko-duh-gaiyo", is a traditional Mexican condiment made with fresh tomatoes, salt, cilantro and peppers.
The direct translation in English is "beak of the rooster"… which is a funny name for salsa! But, it is believed that it was originally eaten by pinching two fingers together making a "beak".
Ingredients
Here are the ingredients you need to make fresh Pico de Gallo, and some tips on a few important ingredients.
Tomatoes
Since tomato is one of the main ingredients in Pico De Gallo it is important that you use a quality tomato. You will want to use fresh tomatoes, not canned.
Look for a tomato that is bright red in color from stem to tip and has nice firm flesh. A Roma tomato will work well or any vine ripened tomato.
Onions
I recommend using a white or red onion. However, onions can quickly take over a dish when they are served raw as in this Pico De Gallo.
Pro tip: Slice the onion into large rounds, then giving them a rinse under cool water, about 30 seconds to 1 min.
This will wash away the enzyme that makes onions so powerful and will help eliminate you tasting the onion hours later!
Jalapeno
The heat of the jalapeno is held in the capsaicin of the pepper, which is mainly found in the seeds and ribs (or white pith).
To just add the nice pepper flavor and not the heat to your Pico just use the green flesh.
If you like a little heat add the white pith and some seeds.
Step by Step Picture Instructions
If you love to watch cooking shows you can also watch Susie make this Pico De Gallo Recipe in a 30 minute Pin TV Episode!
Start by slicing your tomatoes in half. Give them a very light squeeze (just enough to make the seeds pop out) over a bowl or sink and with a small spoon lightly scoop out some of the seeds and juice.
You do not need to get all the seeds. It should look like the tomatoes below:
Dice the tomatoes into about ¼ inch pieces. Place in a bowl
Add the diced jalapenos, onions, cilantro, garlic, and kosher salt.
Give everything a good stir to combine.
Serving
Bust out the tortilla chips, it is ready to eat now!
BUT if you can wait 30 minutes, let it sit at room temp. Or if you have longer – 1 hour up to 12 hours – let it marinate in the fridge.
You can absolutely eat all the juice that releases from the tomatoes and onions.
However, if you want a drier Pico de Gallo use a slotted spoon to transfer the tomato mixture to a serving bowl, leaving the juice behind to be discarded.
Recipe Tips
Here are a few pro tips before you make this recipe:
Choose quality, ripe tomatoes that have a nice bright red color. Lightly deseed them for a better Pico de Gallo consistency.
Rinse your raw onion slices before dicing and adding to the Pico.
For a lot of heat include the jalapeno ribs (white pith) and seeds. For less heat only use the green flesh.
If you have time, let it marinate on the counter for 30 minutes, or if you have longer, in the fridge for 1 hour to 12 hours for added flavor.
Transfer to a serving dish with a slotted spoon to remove some of the juice that collects from the tomatoes.
Recipe FAQ's
What is the difference between salsa and Pico de Gallo?
Pico de Gallo is a type of salsa, also known as salsa fresca. It is made with fresh chopped tomatoes and has a chunky consistency. Traditional salsa has a thinner liquid consistency and can be made with fresh or canned tomatoes.
How can you tell if your Pico de Gallo is still good?
Pico de Gallo will be good in the fridge for 2-3 days. After that the tomatoes will start to soften and turn into mush from the acid of the lime juice. The salsa will also start to seem "carbonated" on your tongue or have a "beer smell", you definitely know it is bad then!
Related Recipes
---
Did you make this recipe?!
If you make this recipe I would love to hear your review. Pop down to the comment section and connect with me.
Then sign up for our Weekly Newsletter so you never miss a new recipe!
Instructions
Slice the tomatoes in half and then give them a very light squeeze, just popping the seeds out, but not enough to bruise the tomato.

Lightly scrape the seeds out with a small spoon. Discard the seeds and juice.

Dice the remaining tomato flesh into ¼ inch dice. Place in a bowl.

Slice the onion and then rinse under cool water for 30 seconds – 1 minute, then dice. Add to the tomatoes

PRO TIP- rinsing the onion will help the onions not take over the flavor of the Pico.

Add in the chopped cilantro, fresh lime juice, diced jalapeno, minced garlic and kosher salt.

Give everything a good stir.
Serving
It is ready to eat, just grab some tortilla chips.

If you have time you can let it marinate at room temp for 30 minutes.

If you have longer, let in marinate in the fridge for 1 hour up to 12 hours.

The longer it sits the more juice will release from the tomatoes and onions.

You can transfer the Pico de Gallo to a serving bowl with a slotted spoon, leaving the liquid behind to discard.
Storing
The Pico de Gallo will be good in an airtight container in the fridge for 2-3 days.

After that the lime juice will soften the tomatoes too much and will become mushy.
Notes:
Jalapeno: You can choose how much heat you add! Most of the spice/heat of a jalapeno is found in the seeds and ribs (white pith). 
No Heat – omit the jalapeno
Low Heat – use only the green parts of the jalapeno
Medium Heat – use the green and ribs (white pith) parts of the jalapeno
Most Heat – use more than one jalapeno and use the entire pepper, except the stem.
Tomatoes: find a ripe tomato that is bright red and has a nice firm flesh. A roma or vine ripened tomato works nicely in this recipe.
Did you try this recipe? Connect with me & let me know how it turned out by commenting below!
Jump to Comments
Serving:
1
recipe
|
Calories:
68
kcal
|
Carbohydrates:
16
g
|
Protein:
3
g
|
Fat:
1
g
|
Saturated Fat:
1
g
|
Sodium:
1178
mg
|
Potassium:
681
mg
|
Fiber:
4
g
|
Sugar:
9
g
|
Vitamin A:
2235
IU
|
Vitamin C:
54
mg
|
Calcium:
41
mg
|
Iron:
1
mg
If nutrition facts are provided they are calculated as an estimate to the best of our knowledge.