Did you know that you don't actually have to roast tomatillos to make Tomatillo Salsa!!
That is why this is the BEST Tomatillo Salsa Recipe available, no boiling, no roasting, no baking. Just give the raw ingredients a blend in a food processor or blender. That's it. The whole recipe takes about 10 minutes!
Now if you want more of a charred flavor you can pop over to this recipe for Grilled Tomatillo Salsa, perfect for the summer grilling months!
This tomatillo salsa (sometimes called salsa verde) is a great addition to chips and salsa, pico de gallo or guacamole (oh yay, and a margarita!).
Why It's The Best
I said it before, but I'll say it again, no boiling, no roasting, no baking, just blend and eat.
The whole recipe takes about 10 minutes, that includes prep.
The flavor of blended, raw tomatillos is SO REFRESHING!!!! I actually like it better than roasted.
The raw onion and garlic add amazing allium flavors.
You can make this tomatillo salsa super spicy or not spicy at all, totally customizable!
Ingredients
Only fresh ingredients are required for this amazing Tomatillo Salsa! Grab some green tomatillos, white onion, cilantro, lime, garlic, jalapeno, and kosher salt.
What Are Tomatillos
Pronounced "tow-muh-tee-yo" and translated as "little tomato", they are not tomatoes at all!
A tomatillo is a round, green fruit that is covered in a paper-like husk, it turns yellow or purplish when ripe. It originated in Mexico and is also known as a Mexican Husk Tomato.
The fruit is mainly found in grocery stores and farmer's markets as a green fruit. Most commonly used in salsas and preserves.
Using Tomatillos
A lot of recipes call for you to roast your tomatillos before using. Those are unnecessary steps, your tomatillos are delicious raw. They just need a little processing:
Prepping
You will first remove the husk of the tomatillo. Peel it back from the green flesh, then twist it at the stem, it should pull right off.
Washing
When you take the husk off there will be a sticky film over the flesh. That is the tomatillos natural defense against bugs. Obviously bugs and dirt can get stuck to that stickiness.
You will want to give them a good rinse, and they are ready to use, it's ok if they are still a little tacky.
I like to quarter them before adding to the blender.
Step by Step Picture Instructions
If you love to watch cooking shows you can also watch Susie make this Tomatillo Salsa Recipe in a 30 minute Pin TV Episode!
Start by removing the husks from your tomatillos and giving them a good rinse. Slice them into quarters.
Roughly chop your onions and garlic. Squeeze the lime, and slice the jalapeno.
Pop everything into a food processor or powerful blender.
Blend for about 30 seconds. You may need to scrape the sides half way through.
Taste for additional salt or lime.
Serving
Serve up your salsa with some tortilla chips (you can even make your own tortilla chips!). It is also great on top of Tacos, Burritos, Quesadillas or Tostadas.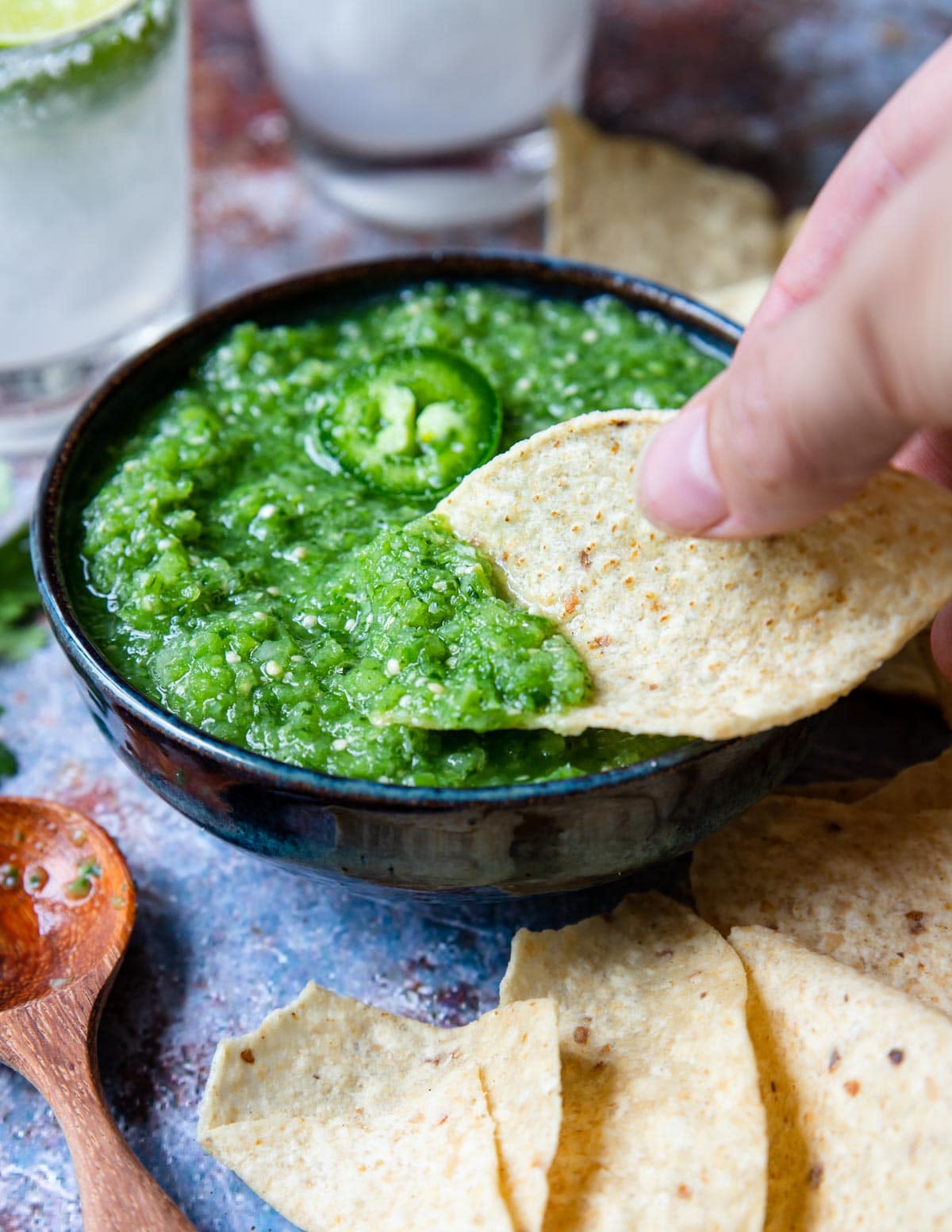 Choosing Your Spice Level
This recipe calls for a jalapeno, which if you pop the whole thing in it will be pretty spicy (IMO). Most of the jalapeno's spice (capsaicin) is held in the white pith/ribs and the seeds.
You can absolutely choose your spice levels by how your cut your pepper. Here's how:

No Spice – omit the jalapeno.
Low Spice – only use the green flesh of the jalapeno. You could also choose a less spicy pepper, like the Anaheim or Poblano.
Medium Spice – use the green flesh as well as some of the white pith/ribs. Omit the seeds/
Spicy – put every part of the pepper in the salsa, except the stem. You could also choose a spicier pepper.
As always, remember to not touch your face after you handle a spicy pepper!
Goes Great With…
---
Did you make this recipe?!
If you make this recipe I would love to hear your review. Pop down to the comment section and connect with me.
Then sign up for our Weekly Newsletter so you never miss a new recipe!
Ingredients
1

lb

fresh tomatillos

husk removed, washed, quartered

½

cup

white onion

roughly chopped

⅓

cup

fresh cilantro

1

fresh garlic clove

1

jalapeno

– see notes for spice levels

2

tablespoon

fresh lime juice

½

teaspoon

kosher salt

– more if desired, after tasting
Instructions
Prep
Start by removing the paper husks from your tomatillos, then give the green tomatillos a rinse (you will notice a tackiness on the flesh, that is ok, most of it will rinse away).

Quarter the tomatillos.

Roughly chop your onion and garlic.

Squeeze and measure the lime juice

Cut your jalapeno depending on spice level preference:

Low Heat- Green parts only. Or use a Poblano or Anaheim pepper which are less spicy.Medium Heat – no seeds, keep the with pith/ribsSpicy – put everything but the stem in the salsa! Or grab a pepper hotter than a jalapeno ( if you do, you are stronger than me!).
Blend
Add all the ingredients to a powerful blender or food processor.

Blend for about 30 seconds. You may need to scrape the sides down to make sure all the bits are in the salsa.
Serve
Serve with tortilla chips or as a topper for tacos, burritos, quesadillas and tostadas!
Storing
Keep in an airtight container, in the fridge for up to a week.
Did you try this recipe? Connect with me & let me know how it turned out by commenting below!
Jump to Comments
If nutrition facts are provided they are calculated as an estimate to the best of our knowledge.