Jalapeno Tequila is absolutely my new obsession. I love how, in a cocktail, it gives you just the right amount of tingle and heat in your throat. In restaurants you can enjoy the best spicy margaritas, or jalapeno palomas. But when it comes to making those drinks at home, it is surprisingly hard to find a good jalapeno infused tequila in the store! So, I got to making my own, and you should too.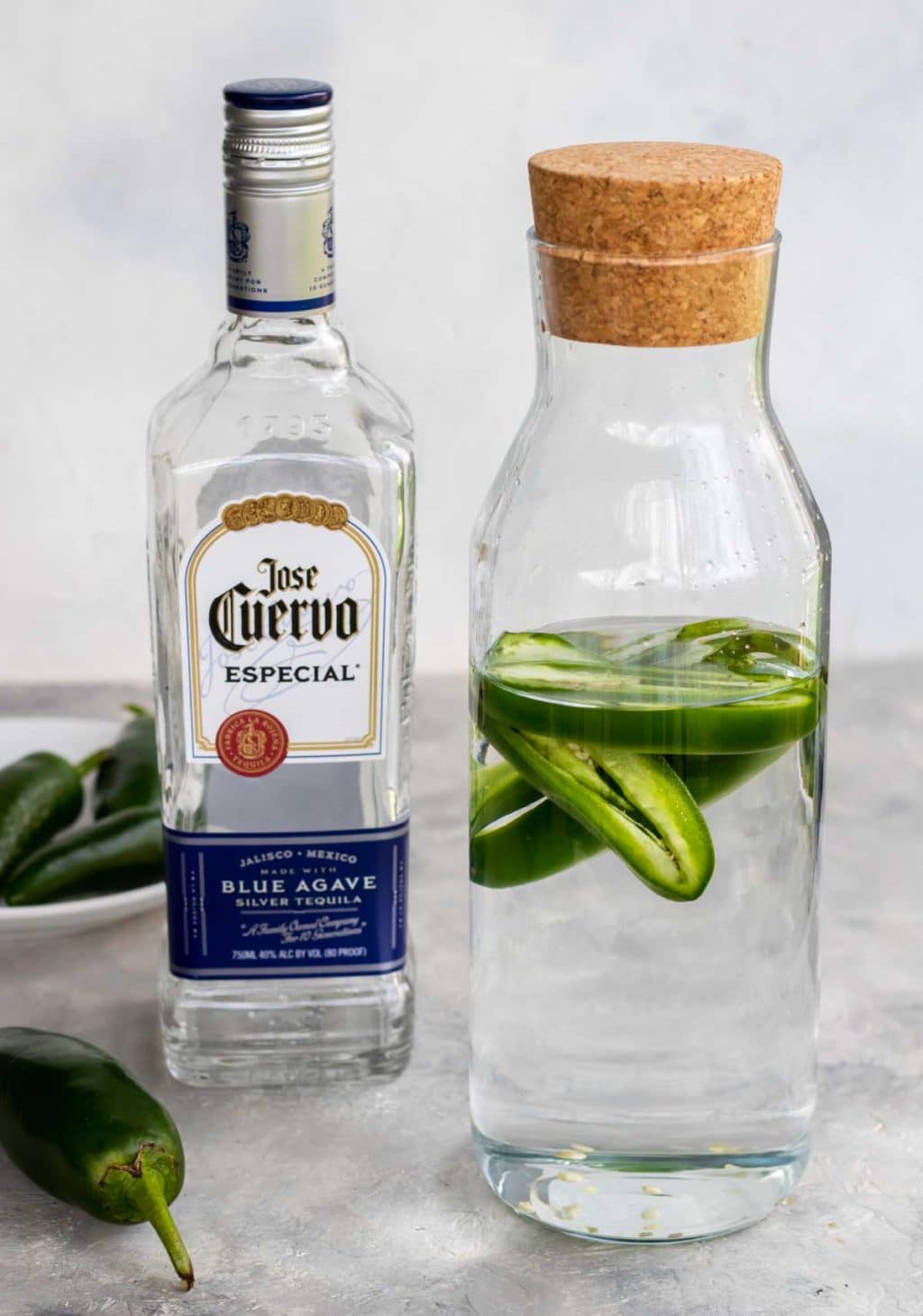 This recipe for jalapeno infused tequila has the perfect balance of salty tequila flavor, spice from the jalapenos, mixed with a hint of the verdant/herby jalapeno flavor. Not to mention it is unbelievably easy to make! You just need a little time and these two ingredients:
2 Fresh Jalapenos
Your favorite, quality Silver Tequila
Then you will be making the BEST tequila cocktails at home that will give you just a hint of tingley spice in the back of your throat. Perfection!!
How to Make Jalapeno Infused Tequila
After you learn how to make jalapeno tequila at home you will be wondering why you have been paying $12 for each cocktail at a restaurant, when you can have an entire bottle for under $20 at home.
Jalapenos
For this recipe you can choose to use 1 or 2 jalapenos. I actually do not like a TON of spice, I like my spicy drinks to give just a little tingle, not an all out fire.
I use 2 medium sized jalapenos.
If you choose to use just 1 jalapeno you will have just a slight warmth and verdant/herby flavor in your tequila.
Slice the fresh jalapenos lengthwise, leaving all the seeds and ribs in the jalapeno. Place them in a glass jar or pitcher that is large enough to hold an entire 750ml bottle of tequila.
Tequila
For this recipe I use Jose Cuervo Especial Blue Agave Tequila or Jose Cuervo Tradicional. However, feel free to use whatever silver or blanco tequila you prefer.
Pour the entire 750ml bottle of silver tequila into the glass container, with the jalapeno. Cover with a lid or plastic wrap of some kind.
Steeping
Let the mixture sit on the counter, at room temp, for 10-12 hours. I find that is the perfect amount of time to allow some heat and flavor to steep into the tequila.
Straining
After 10-12 hours it is time to strain the jalapenos and seeds from the tequila. I like to do this with a small strainer that is held over a funnel placed into either the empty tequila bottle or another glass bottle with a lid.
Discard the used jalapenos. However, if you are making cocktails right away you can slice them for cocktail garnishes.
Storing Infused Tequila
Store your jalapeno tequila just as you would store normal tequila. I keep mine at room temp in a cabinet. It does not need to be refrigerated and should last up to 6 months.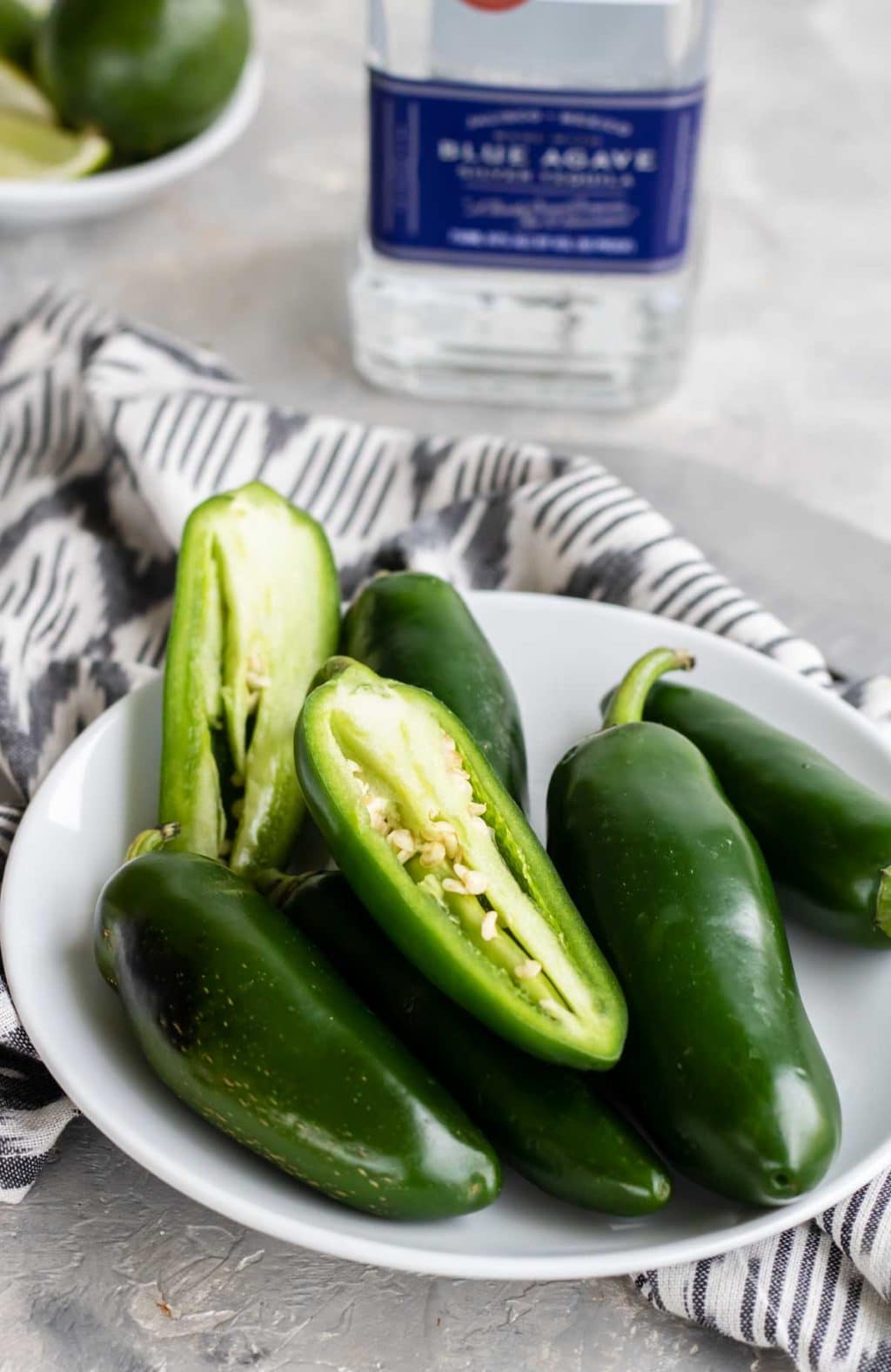 Drinks to Make with Jalapeno Tequila
Any tequila drink that you want to add a little spice to will work well. Here are some of my faves, and of course there will be more recipes to come!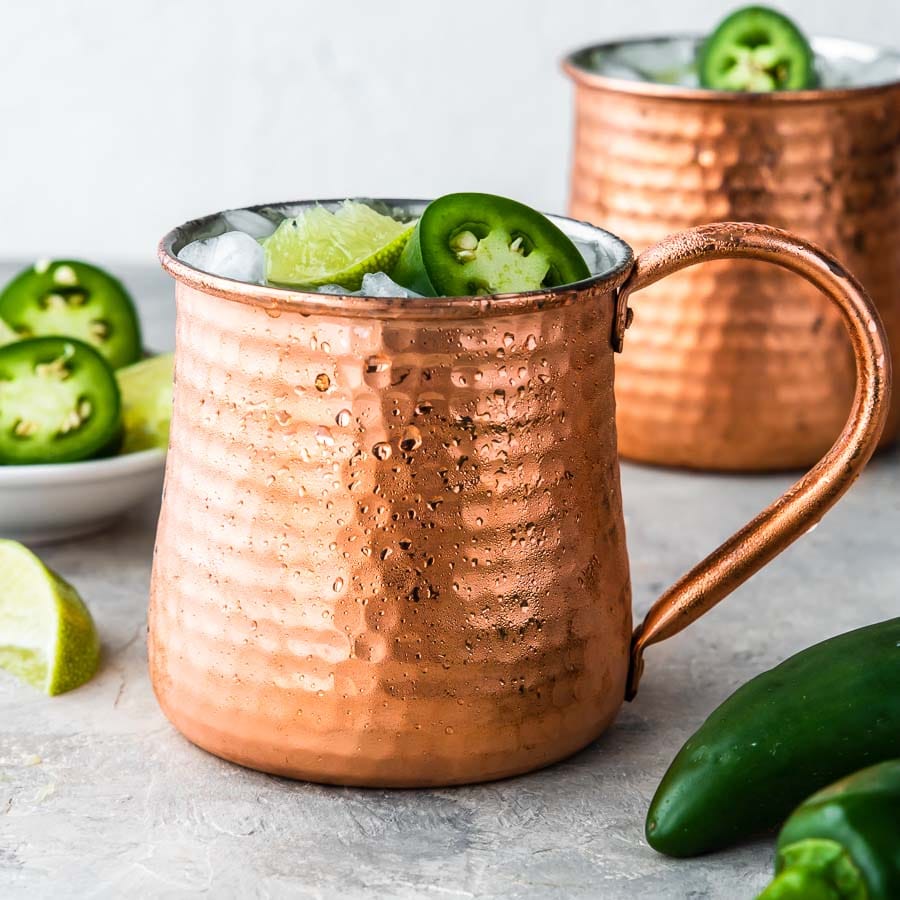 Jalapeno Tequila Recipe
---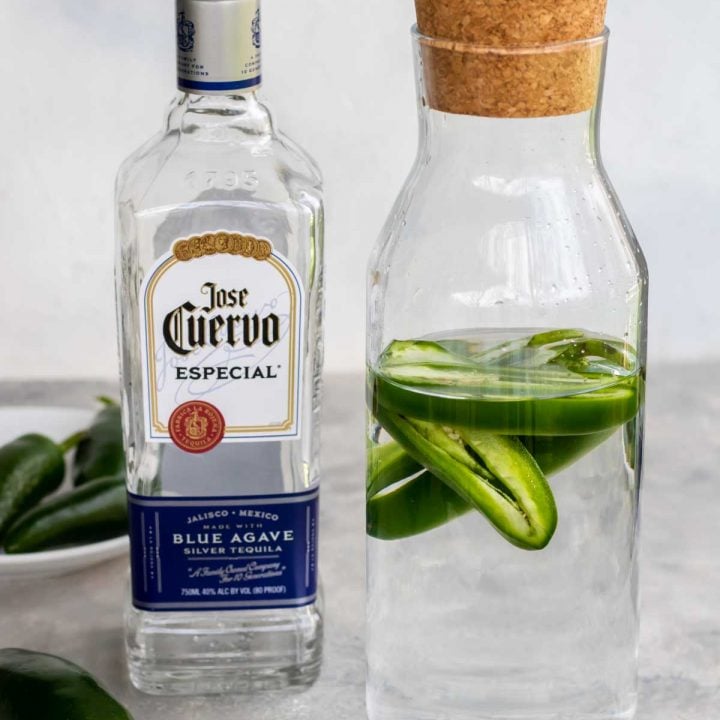 Jalapeno Tequila
The best recipe for homemade jalapeno tequila that has just the right amount of spiciness to give you a little warmth in your cocktail.
Print
Pin
Rate
Save
Saved to Grow
Ingredients
2

fresh jalapenos, cut in half lengthwise, keep the ribs and seeds

for less heat, use 1 jalapeno

1

750 ml

bottle of silver or blanco tequila

I use Jose Cuervo Especial Blue Agave Silver Tequila
Instructions
Combine the entire bottle of tequila and the cut jalapenos in a glass container or pitcher.

Let it sit at room temp, covered, for 10-12 hours.

Strain the jalapenos and seeds from the tequila using a fine mesh strainer (make sure there is a container under the strainer, don't pour your tequila down the drain).

Store in a glass container with a lid (can use the tequila bottle) for up to 6 months.
Serving
Use in your favorite tequila drinks to give it a little heat!

I do not recommend the tequila for shots (LOL)
Did you try this recipe? Connect with me & let me know how it turned out by commenting below!
Jump to Comments
If nutrition facts are provided they are calculated as an estimate to the best of our knowledge.