This is the ultimate recipe for Cucumber Margaritas. It is easy to mix up at home with just 6 ingredients. You simply blend up some fresh cucumbers to make juice; then shake the tequila, lime juice, Cointreau, agave, a pinch of kosher salt and cucumber juice together for an amazing margarita. It has a super refreshing cucumber and lime flavor that is not too sweet.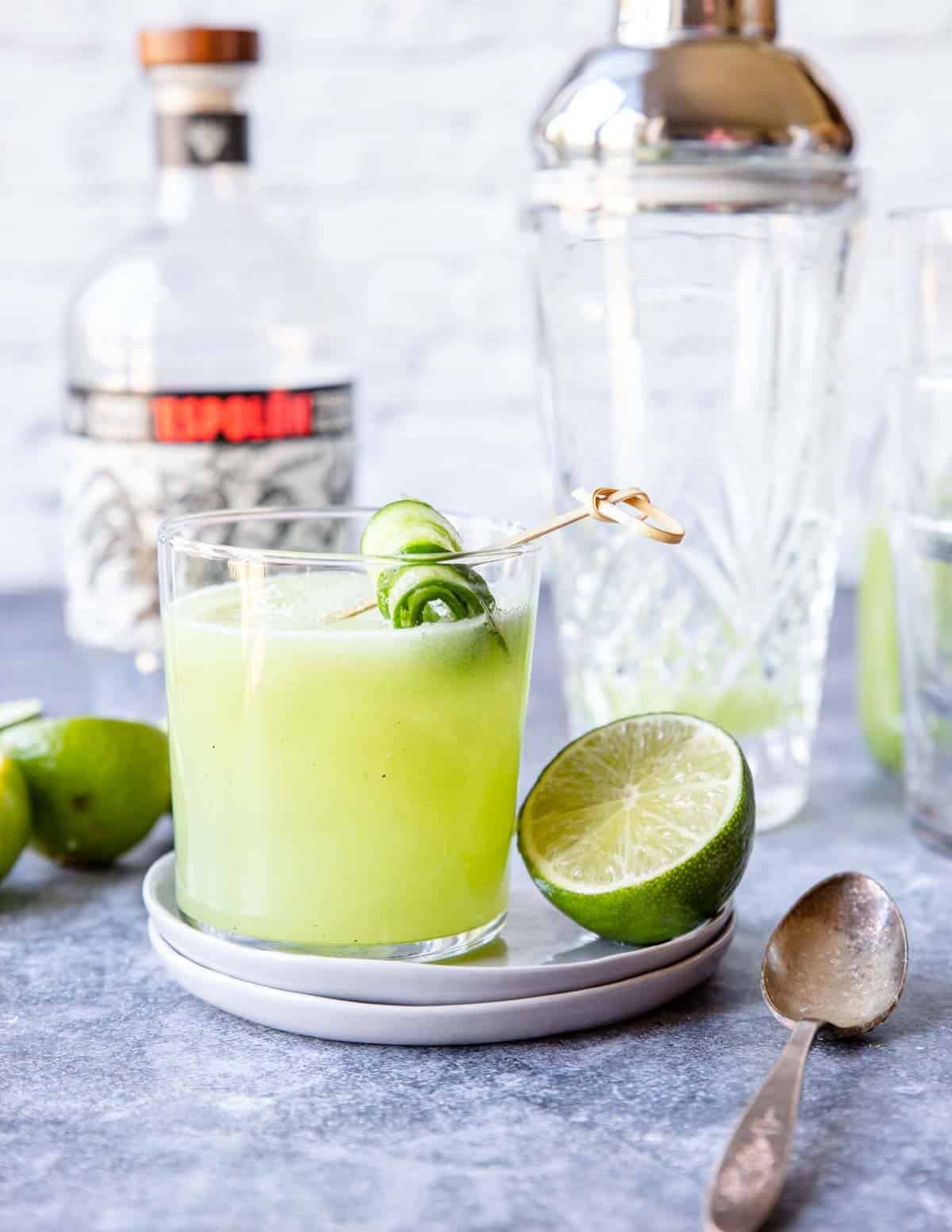 This Cucumber Margarita will be your go-to when you are craving a margarita with a new flavor. Or if you are just looking for a kick ass tequila cocktail. Perfect to pair with any Mexican dinner!
All About The Ingredients
To make these Refreshing Cucumber Margaritas you need 6 main ingredients, pictured below.
Tequila
For this Cucumber Marg you will use silver tequila, also called blanco tequila. Since you will be adding so many other flavors it is not necessary to use super expensive Tequila. Something mid-ranged in price will do.
For a mid level mixing tequila we like Espolon, Cazadores, Jose Cuervo Traditional.
Fresh Lime Juice
When you are making a margarita it is not the time to use the pre-squeezed juice that comes in a bottle! You want fresh squeezed lime juice.
I highly recommend using either a hand held citrus press or reamer to extract the juice from the limes!
Cucumber
To make the cucumber juice you obviously need fresh cucumbers. I have tested this recipe with both regular cucumbers and hot house or English cucumbers. Both work perfectly!
Regular Cucumbers- you will want to peel these, cut them in half lengthwise and then scoop our some of the seeds/pulp, then blend them up.
English or Hot House Cucumbers- these will also need to be peeled, then you can just chop them in pieces that will fit into your blender.
Cointreau
Cointreau is a brand of Triple Sec, which is orange liqueur. It adds a nice flavor note and mild sweetness to the cocktail.
Cointreau is quite a bit more expensive than just plain Triple Sec, but I highly recommend using the Cointreau. Something like DeKuypers Triple Sec is SUPER sugary.
You can also use Grand Mariner, as it is a triple sec. But I find that it doesn't have quite as pure of an orange flavor as Cointreau.
Agave
There may be a few options when buying agave for your Cucumber Margarita; Light, Dark, Amber and Raw.
We recommend using the light Agave. It has a lighter flavor that doesn't get in the way of the cucumber and lime flavors. It is lightly sweetens the cocktail.
This is also where you can adjust the sweetness of your drink by adding more or less agave.
Kosher Salt
Traditionally Kosher Salt is used to rim a margarita glass. In this cocktail we are adding it right into the shaker.
Kosher salt and Iodized table salt are not the same thing! If you don't have kosher salt or margarita salt I would omit it altogether.
Cucumber Juice
You can also watch Susie make this Cucumber Margarita (plus a frozen mango margarita and a pineapple jalapeno margarita) on a 30 minute Pin TV Episode!
To make your cucumber juice you will need a regular cucumber or am English cucumber. You will need to peel it no matter which you choose.
If you have the regular cucumber I also recommend splitting it in half and scooping our some of the seeds/pulp.
Then grab a strong blender or food processor. Add the cucumber pieces and 2 tablespoon up to ¼ cup water. Blend it for about 30 seconds until it is nice and smooth.
Pour through a fine mesh sieve into a bowl or cup to separate the pulp and the juice.
Pro Tip: I also like to stir the pulp to let a little through. It gives your Cucumber Margaritas a nice texture!
This can be made a couple hours ahead and stored in the fridge. You may need to give it a stir before mixing up your drinks.
Garnish Options
There are a few fun ways to garnish your Cucumber Margarita Cocktail.
Pictured below you will see a piece of cucumber shaved with a vegetable peeler. It is then rolled into a rosette and skewered with a cocktail pick.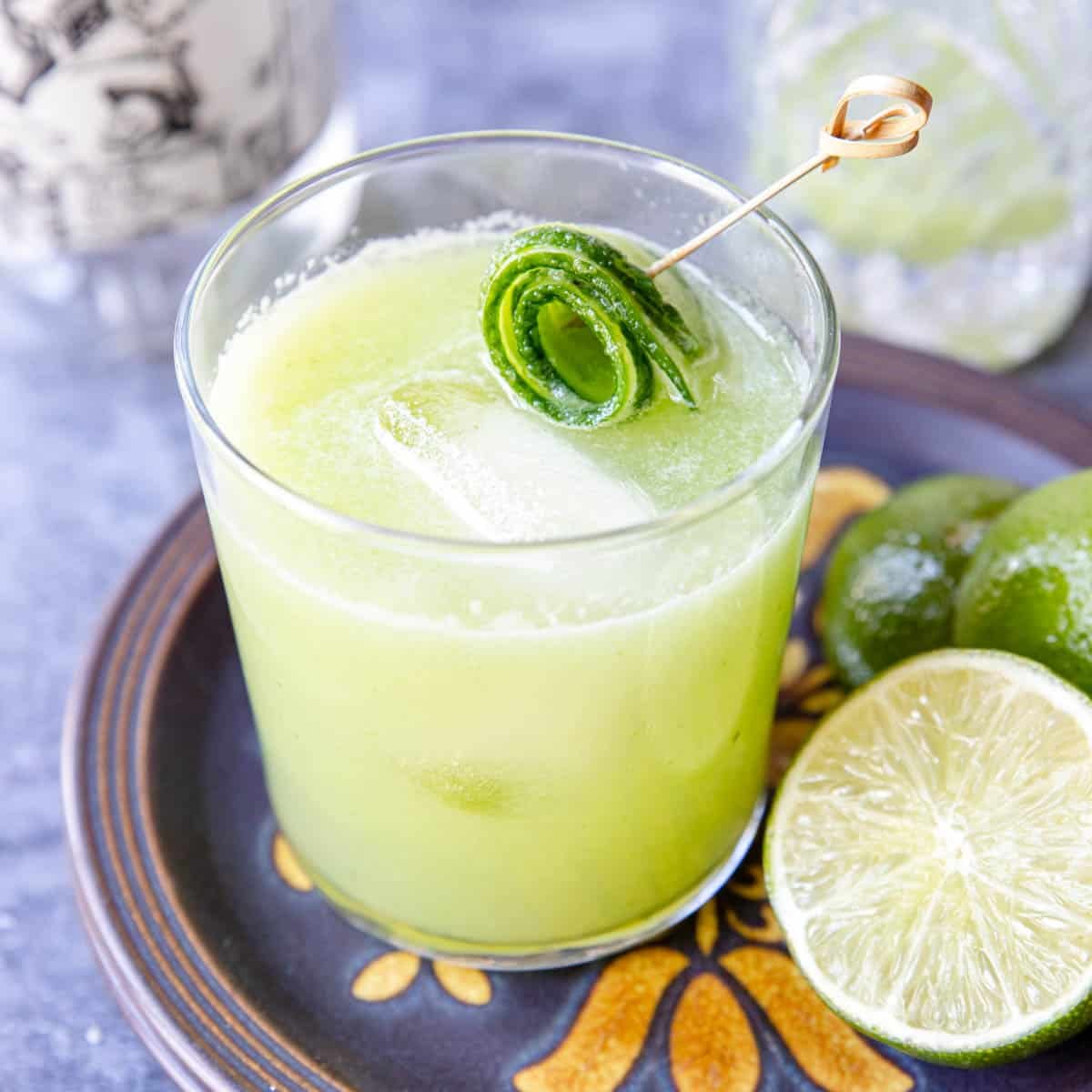 You can also cut up cucumber rounds or spears and add to the drink. Or stick with a traditional lime wedge or wheel.
Spice It Up
If you like a little spice in your cocktail, this Cucumber Margarita Recipe pairs really nicely with either Jalapeno Infused Tequila or adding a jalapeno to your shaker!
For a super spicy cocktail you can muddle the jalapeno in the bottom of the shaker before adding the other ingredients.
Too Long; Didn't Read. Recipe Tips
A hot house (English) or regular cucumber will work for the cucumber juice.
Use a mid ranged tequila for your mixed tequila drink.
Use fresh squeezed lime juice, not bottled!
Choose a light agave for best flavor.
Cointreau will have the cleanest orange flavor for your drink (not Grand Mariner or "Triple Sec")
Shake the margarita for optimal flavor.
Add a jalapeno if you like it spicy!
More Margarita Recipes
If you love a tequila cocktail then you are in the right spot! Tequila is our spirit of choice we love a Classic Margarita, Tequila Sunrise, and even an Anejo Old Fashioned.
Here are some other yummy margaritas to serve at your next party or happy hour:
---
Did you make this recipe?!
If you make this recipe I would love to hear your review. Pop down to the comment section and connect with me.
Then sign up for our Weekly Newsletter so you never miss a new recipe!
Ingredients
Cucumber Juice
1

large cucumber (regular or hot house)

peeled

2

tablespoon

up to ¼ cup water
Instructions
Cucumber Juice – can be made a few hours head and stored in the fridge
Peel the cucumber. Cut into pieces and place in a blender or food processor. Add 2 tablespoon of water (up to ¼ cup if the blender won't get going).

**If you have a regular cucumber, cut it in half lengthwise and scoop out some of the seeds and pulp and discard.

1 large cucumber (regular or hot house),

2 tablespoon up to ¼ cup water

Blend for about 30 seconds until completely smooth.

Pour the puree through a fine mesh sieve into a bowl or cup.

**We like a little bit of the pulp in our cucumber margaritas. You can do that by stirring the pulp with a spoon to let some fall through the sieve.
Cucumber Margarita
Add a few ice cubes to a cocktail shaker (use a mason jar with a lid in a pinch).

Measuring in the tequila, cucumber juice, fresh squeezed lime juice, Cointreau, light agave and kosher salt.

1.5 oz Silver Tequila,

2 oz cucumber juice,

1 oz fresh lime juice,

.5 oz Cointreau,

.25 oz light agave syrup,

pinch kosher salt

Shake vigorously for 20 seconds.

Strain into a rocks sized glass filled with ice or with 1 large ice cube.

Garnish with a lime wedge or wheel, a cucumber slice or a cucumber rosette.

**To make a cucumber rosette peel a long strip of cucumber with a vegetable peeler, roll it up, then skewer with a cocktail pick.
Notes:
TEQUILA: We recommend using a mid-ranged tequila for your cucumber margarita recipe. Something like an Espolon, Cazadores or Jose Cuervo Traditional are great.
FOR A SWEETER CUCMBER MARGARITA: If you prefer a sweeter margarita increase the agave to .5 ounce.
FOR A SPICY MARGARITA: Add a slice or two of jalapeno to the shaker or muddle it in the shaker before adding the ice. You can also use jalapeno infused tequila! 
Did you try this recipe? Connect with me & let me know how it turned out by commenting below!
Jump to Comments
Serving:
1
cucumber margarita
|
Calories:
179
kcal
|
Carbohydrates:
14
g
|
Protein:
1
g
|
Fat:
0.1
g
|
Saturated Fat:
0.04
g
|
Polyunsaturated Fat:
0.04
g
|
Sodium:
4
mg
|
Potassium:
122
mg
|
Fiber:
0.4
g
|
Sugar:
11
g
|
Vitamin A:
74
IU
|
Vitamin C:
11
mg
|
Calcium:
13
mg
|
Iron:
0.2
mg
If nutrition facts are provided they are calculated as an estimate to the best of our knowledge.