This is a Turkey Chili recipe that is thick and hearty, not to mention FULL of flavor! Lean ground turkey is mixed with chili spices and simmered in a seasoned tomato sauce full of kidney beans, northern beans, onions, and garlic.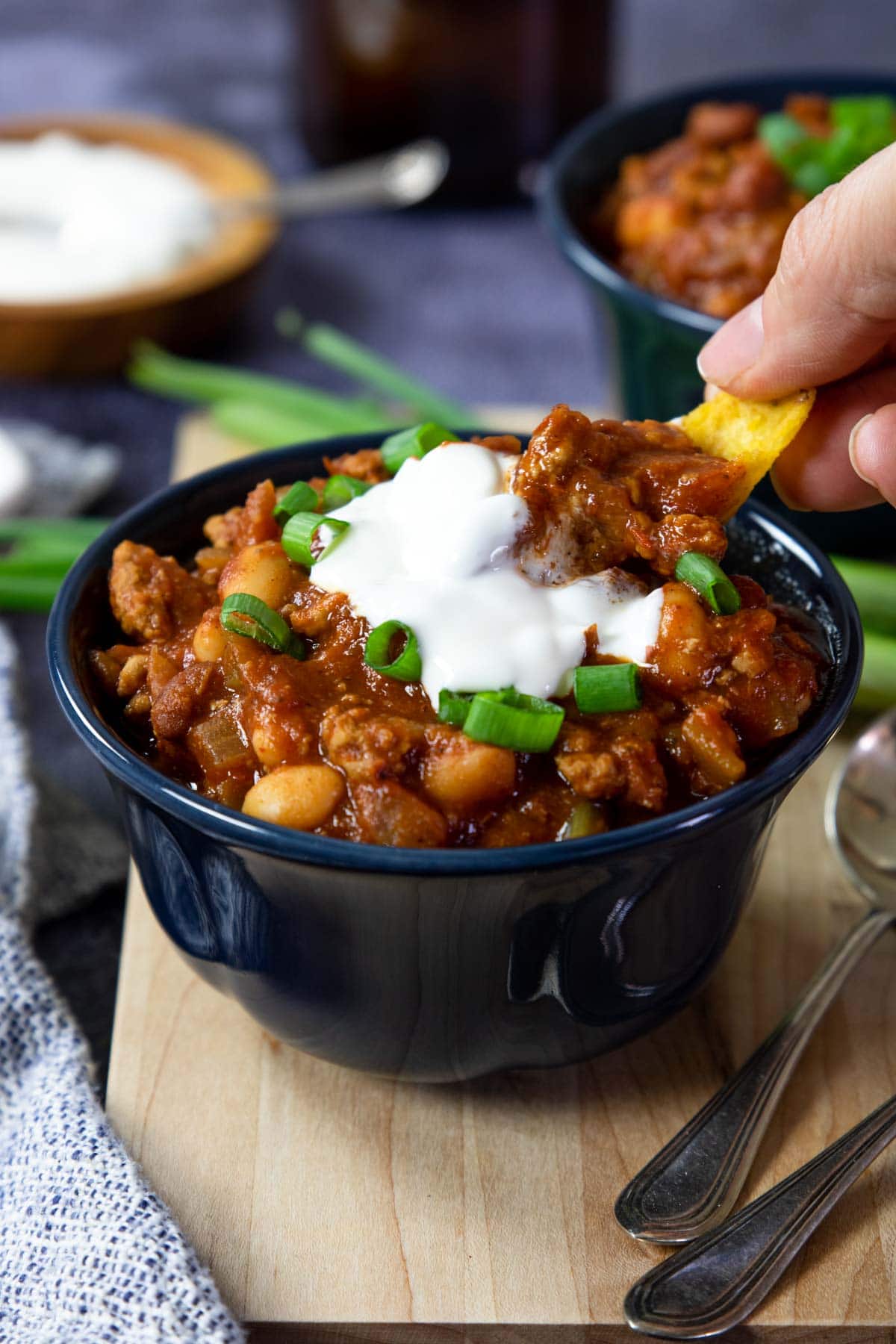 Serve this up with some Sweet Cornbread Muffins or Buttermilk Cornbread for an amazing dinner! If you are in the Midwest you might prefer cinnamon rolls with your chili.
This is a great recipe for chili with turkey, but if you want something different check out the Classic Beef Chili or White Chicken Chili. If you cook with an Instant Pot then you will love this Instant Pot Chili Recipe, Sweet Potato Quinoa Chili, or Buffalo Chicken Chili.
Ingredients & Supplies
Here are the ingredients that you need to make this Turkey Chili recipe:
Large pot or Dutch oven
93% lean ground turkey
olive oil
onion
garlic
celery
canned green chilies
canned crushed tomatoes
chili beans in chili sauce
northern beans
sugar
bay leaf
chili powder, oregano, cumin, all spice, onion powder, red pepper flakes
salt and pepper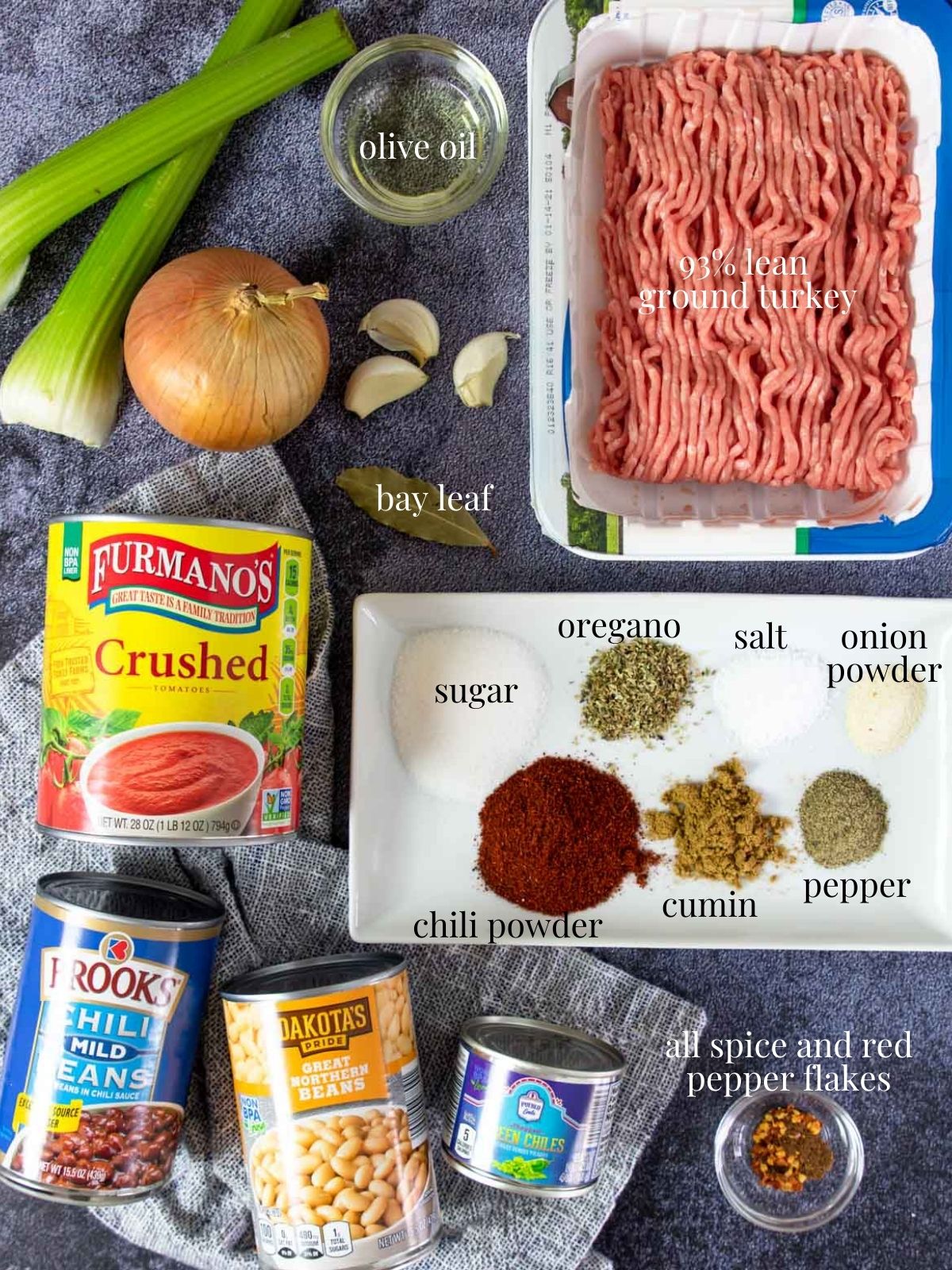 Ground Turkey
There are a few options when buying ground turkey, just like ground beef. Some of the options are – 99% lean, 93% lean, or 85% lean. Stick with the 93% lean ground turkey!!! It has enough fat to be flavorful and juicy but not too much fat to be greasy.
Beans?
Yep, this recipe is a Turkey Chili with Beans. You can absolutely make it without beans but I have not tested that. I am team bean. You could also follow along with this Turkey Chili without Beans recipe from The Whole Cook.
How to Make Turkey Chili
Start by sautéing your onions, celery and garlic for about 5 minutes to start softening. (if you like a lot of spice add a sliced jalapeno here!)
Add the ground turkey and crumble it while it cooks through. You shouldn't need to drain the grease.
Add all the spices and seasonings and stir to coat the turkey/onion mixture.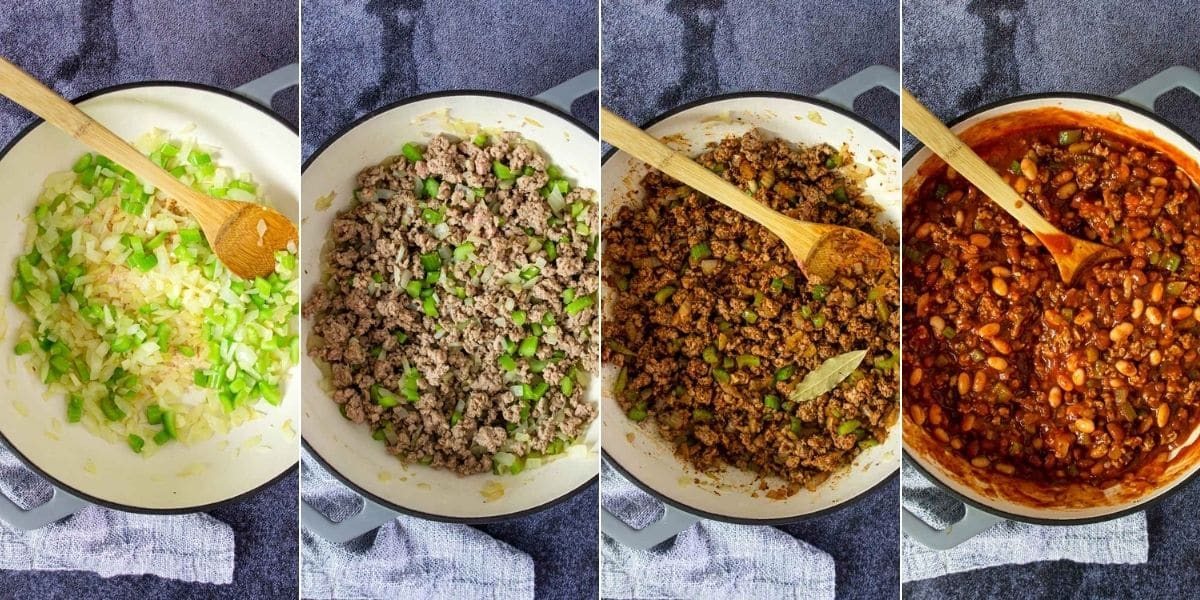 Now pour in the green chilies, crushed tomatoes, both beans (drain the northern beans, do not drain the chili beans), and the water/broth. Give it a good stir and then turn the heat to medium-low and simmer for 30-40 minutes.
(tip make sure your celery gets cooked through)
Serve hot with your favorite toppings.
Chili Toppings
Load your Turkey Chili up with all your favorite chili toppings:
green onions
jalapenos
avocado
Fritos
sour cream/ plain Greek yogurt
cheese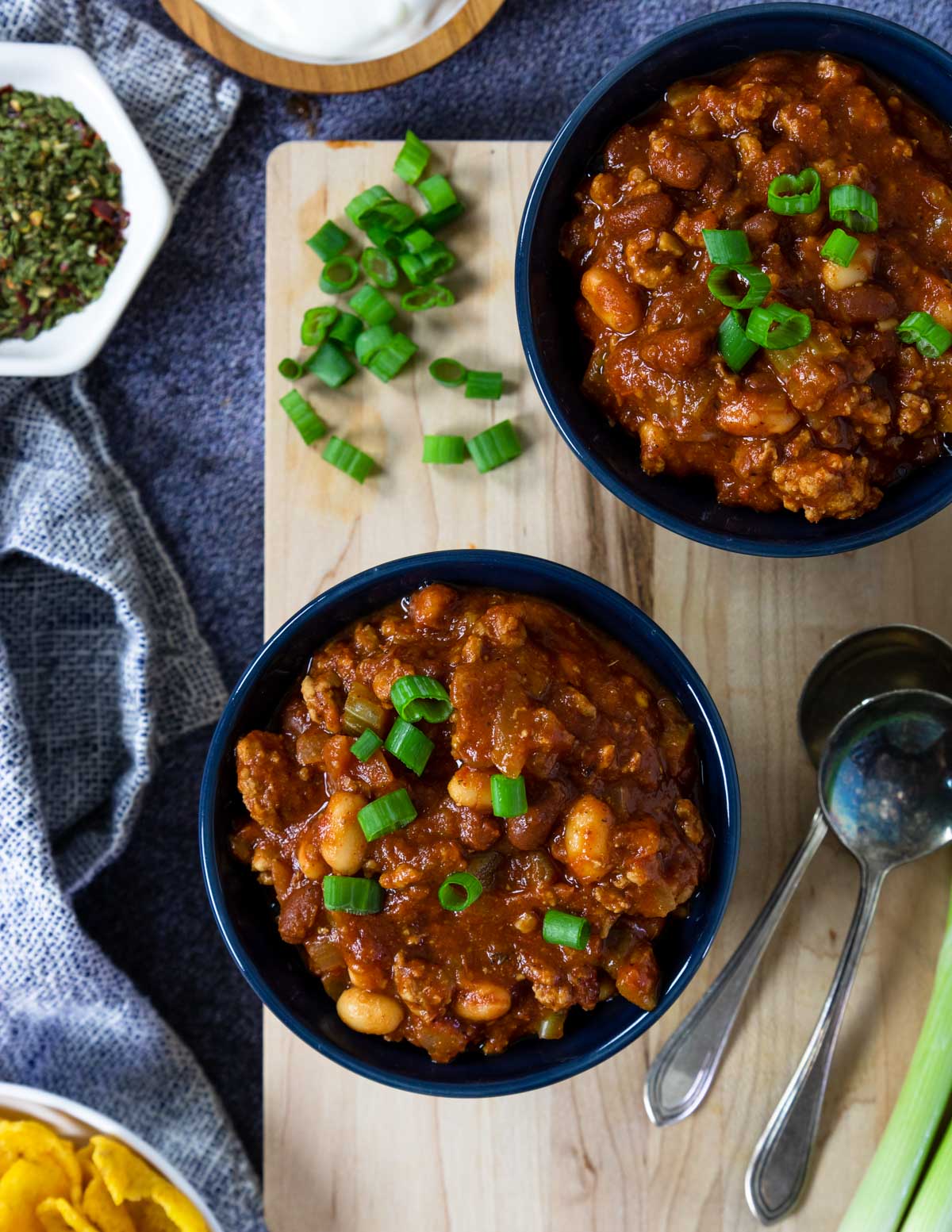 Troubleshooting your Chili
If there is one thing I know it is that people get very particular about their chili! IMO this recipe is perfect. However, I want to make sure this recipe turns out exactly how YOU like it:
Too thin? Simmer for another 10 minutes, uncovered.
Too thick? Add ½ cup of chicken broth or water at a time, until it is your desired consistency.
Too sweet? Add 1 tbsp. white vinegar.
Too spicy? Add 2 tsp. sugar, ½ cup broth or water, and a can of diced tomatoes. Then taste for additional seasonings.
Too tangy? Add 2 tsp. sugar.
More spice/heat? Add additional red pepper flakes and ¼ teaspoon cayenne pepper. You can also add a chopped jalapeno with the onions/celery/garlic.
For a smokier chili add ¼-1/2 teaspoon smoked paprika. To add a smoky spice add 1 chopped chili pepper in adobo sauce (2-3 for more spice).
Related Recipes
---
Did you make this recipe?!
If you make this recipe I would love to hear your review. Pop down to the comment section and connect with me.
Then sign up for our Weekly Newsletter so you never miss a new recipe!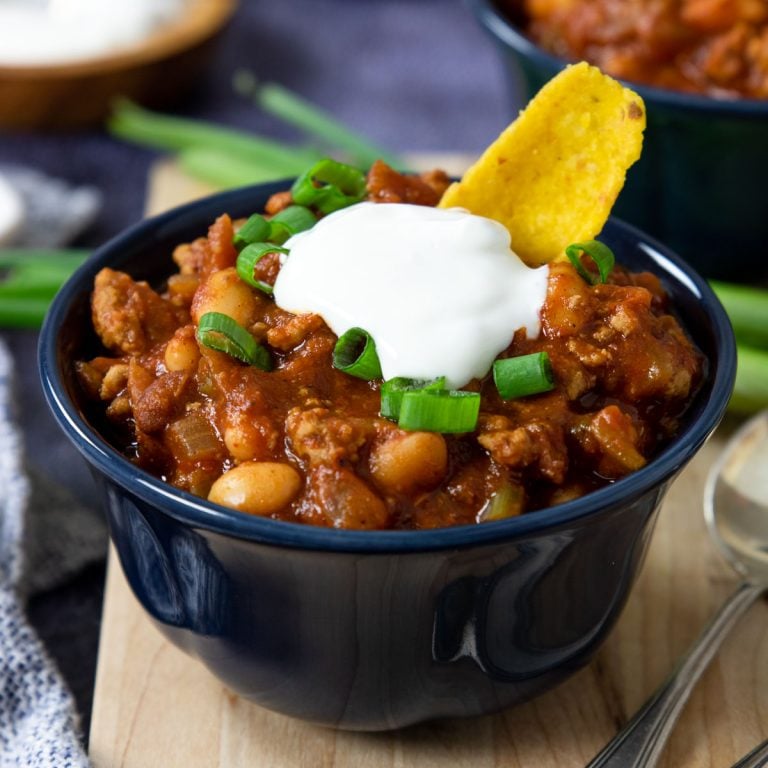 Thick & Hearty Turkey Chili
A truly flavorful turkey chili recipe that is full of lean ground turkey, beans, onions, and garlic in a chili spiced tomato sauce.
Print
Pin
Rate
Save
Saved to Grow
Instructions
In a large pot over medium heat sauté the garlic, celery, and onions in the olive oil for 5 minutes, stirring often.

(if you like a lot of spice add a chopped jalapeno too)

Add the ground turkey and cook, crumbling, for about 6 minutes until cooked thru.

You shouldn't need to drain any grease.

Turn the heat to medium low and add all the spices and seasonings (sugar, bay leaf, chili powder, oregano, cumin, salt, pepper, onion powder, all spice, red pepper flakes). Stir to coat the turkey mixture.

Add the green chilies, crushed tomatoes, water/broth, and both beans. Stir to combine.

Simmer over low heat for 30-40 minutes, stirring occasionally.

Remove the bay leaf before serving.
Make Ahead
This recipe is just like Classic Chili, it gets even better with time! It can be made 1-3 days ahead and reheated on the stove top. You may need to add a little water or broth to loosen it up.
Serving
Serve this turkey chili with any of your favorite toppings: Fritos, sour cream, green onions, jalapenos, shredded cheese, tabasco, fresh avocado, saltine crackers, buttermilk cornbread or cornbread muffins.
Notes:
Troubleshooting: Are you looking for your chili to be spicier or smokier? Did your chili turn out too thin or thick for your liking? Pop back up to this troubleshooting your turkey chili section for all the answers!
Storing: Leftover Turkey Chili can be stored in the fridge for up to 4 days. 
Freezing: You can freeze this Turkey Chili recipe!! Make it completely and then cool. Place in a freezer safe container, leaving room for expansion, and freeze for up to 3 months.
To thaw pop in the fridge for 2 days. Or thaw on the defrost function on your microwave.
Other Chili Recipes : Looking for a beef chili recipe? Check out this recipe for Classic Chili.
If you have an Instant Pot and want to make quick work of this Chili, check out this Instant Pot Chili Recipe.
Looking for chicken chili? Check out this recipe for White Chicken Chili.
Did you try this recipe? Connect with me & let me know how it turned out by commenting below!
Jump to Comments
Serving:
1
serving
|
Calories:
405
kcal
|
Carbohydrates:
55
g
|
Protein:
36
g
|
Fat:
7
g
|
Saturated Fat:
1
g
|
Cholesterol:
50
mg
|
Sodium:
1573
mg
|
Potassium:
1594
mg
|
Fiber:
14
g
|
Sugar:
17
g
|
Vitamin A:
1414
IU
|
Vitamin C:
24
mg
|
Calcium:
165
mg
|
Iron:
7
mg
If nutrition facts are provided they are calculated as an estimate to the best of our knowledge.