This Frozen Mango Margarita recipe is perfect for anyone who love a sweet and tangy margarita cocktail that's also completely refreshing! It couldn't be easier to blend together. You just need some frozen mango, silver tequila, fresh lime, fresh orange, agave syrup and triple sec. The right portions create such a delicious frozen cocktail!
The secret to this being the BEST Frozen Mango Margarita is instead of using ice to make it frosty (like a traditional Frozen Margarita), we use only frozen mango. That keeps your drink super flavorful and frosty for much longer.
Tequila cocktails are our very favorite here at Mom's Dinner! Some other tropical drinks to try are the Perfect Pineapple Margarita and the Jalapeno Pineapple Margarita.
RELATED: Frozen Strawberry Margarita
Ingredients
Just a couple ingredients from the bar and one from the freezer for this Frozen Mango Margarita Recipe:
Silver Tequila: You will just want to use a silver tequila for this cocktail. Since it has very strong flavor of mango I recommend using a mid range priced tequila. Like an Espolon, Cazadores, or Jose Cuervo Traditional.
For a spicy frozen mango margarita, use a jalapeño infused silver tequila!
Triple Sec: Usually in a margarita I recommend using a higher grade of triple sec, like Cointreau. But in this frozen margarita with strong flavors of mango you can absolutely use a less expensive brand of triple sec, like DeKuyper.
Agave: There will be a few options for agave syrup at the store. I recommend using a light agave syrup. It will be lighter in color and lighter in flavor, so it won't change the flavor of your drink. It just adds a little sweetness.
Frozen Mango: No need to cut and freeze your own mango! That would take forever. Just buy a bag or two of frozen mango chunks at the store. Trader Joe's has a very affordable option for this!
Lime: As always with a margarita, use fresh squeezed lime juice. This citrus press is a great tool to have in your kitchen!
Orange Juice: Just a little orange juice added to this margarita enhances the mango flavor perfectly!
Kosher Salt/Sugar: You can choose if you want your rim to be salty, sweet or a combo of the two. With a frozen mango margarita I usually choose a 50/50 mix of kosher salt and sugar. Just make sure you use kosher salt and not iodized table salt!
No Ice!?
Nope! We are not adding ice to this Frozen Mango Margarita. The frozen mango is enough to keep this cocktail frosty.
When you add ice to a frozen drink the ice melts quickly and you end up with a watery drink. By NOT adding ice the drink stays frozen for a long time, to the last sip!
Also, by not adding ice the flavor of the mango is more pronounced and it is more of a creamy frozen drink. Yum!
Quick How To
You can also watch a 30 minute Pin TV episode where Susie makes this Mango Margarita as well as a Cucumber Margarita and a Pineapple Jalapeno Margarita.
Just a couple super simple steps to make your Frozen Mango Margarita:
Rim the glass with kosher salt and/or sugar.

In a blender add the frozen mango, tequila, triple sec, lime juice, orange juice, agave and a pinch of kosher salt.
Blend for about 30 seconds until it is all pureed.

Pour into your glass and garnish with a lime wedge or a piece of fresh mango.
Recipe Tips
Make sure you blend it long enough, around 30 seconds, to puree all the mango chunks.
Keep your mango frozen until it's time to blend the margarita
Triple sec is totally fine here. No need to spend the big bucks on Cointreau for this mango cocktial.
Add a pinch of kosher salt to the blender, it will bring out the sweetness of the mango and enhance the tequila flavors.
Use a blend of kosher salt and sugar on the rim for a sweet and salty balance.
Don't add ice! The frozen mango is enough to make this a "frozen" drink. Adding ice will just dilute the mango margarita.
More Margaritas
---
Did you make this recipe?!
If you make this recipe I would love to hear your review. Pop down to the comment section and connect with me.
Then sign up for our Weekly Newsletter so you never miss a new recipe!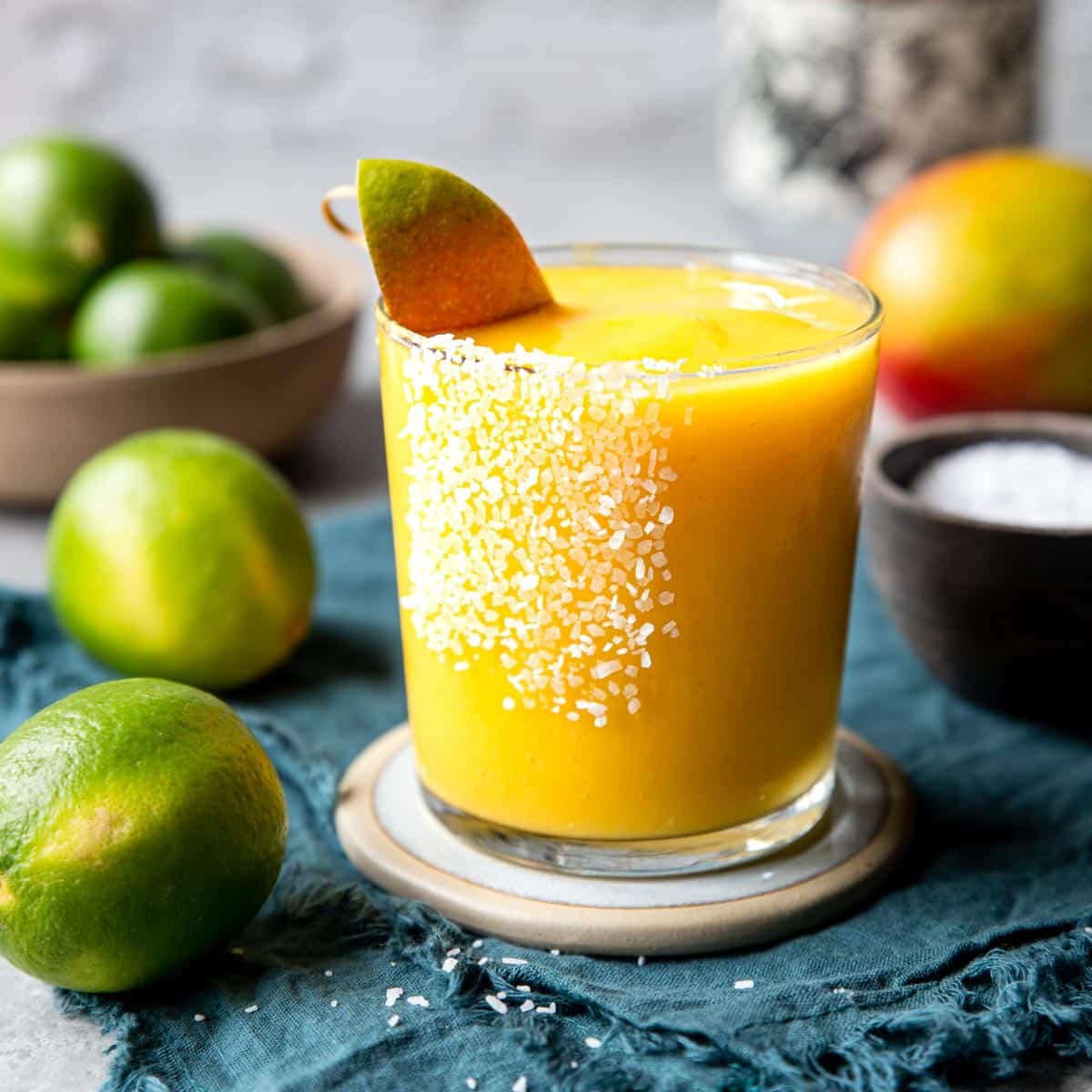 Frozen Mango Margarita Recipe
A perfectly balanced recipe for a Frozen Mango Margarita. Frozen mango pieces are blended with the usual suspects of a margarita: silver tequila, triple sec, lime juice, orange juice and agave syrup.
TO MAKE MORE THAN ONE DRINK: hover over the serving and +/- the amount you would like to make. It will change the ingredients for you!
Print
Pin
Rate
Save
Saved to Grow
Instructions
Optional Glass Rim
Optionally you can rim your serving glass with kosher salt, sugar or a 50/50 mixture of the two.

Put your preferred rim salt/sugar on a flat plate.

Run a lime around the edge of your glass, or you can dip the rim of the glass lightly in agave syrup.

Dip the rim of the glass in the salt/sugar so it adheres to the rim.
Frozen Mango Margarita
Add all the ingredients to a blender.

1 cup frozen mango chunks,

1.5 oz silver tequila,

1 oz triple sec,

½ oz fresh lime juice,

½ oz light agave syrup,

½ oz fresh orange juice

Blend for about 30 seconds to make sure everything is pureed.

Serve in the prepared 8 oz glass. Garnish with a lime wedge or a fresh piece of mango.
Did you try this recipe? Connect with me & let me know how it turned out by commenting below!
Jump to Comments
Serving:
1
drink
|
Calories:
338
kcal
|
Carbohydrates:
47
g
|
Protein:
2
g
|
Fat:
1
g
|
Saturated Fat:
0.2
g
|
Polyunsaturated Fat:
0.2
g
|
Monounsaturated Fat:
0.3
g
|
Sodium:
5
mg
|
Potassium:
332
mg
|
Fiber:
3
g
|
Sugar:
43
g
|
Vitamin A:
1821
IU
|
Vitamin C:
74
mg
|
Calcium:
22
mg
|
Iron:
0.4
mg
If nutrition facts are provided they are calculated as an estimate to the best of our knowledge.