Oven Roasted Asparagus is one of my favorite side dishes. It goes with just about any dinner. I love the earthy flavor of fresh asparagus. When you roast asparagus in the oven it enhances that flavor in the best way possible.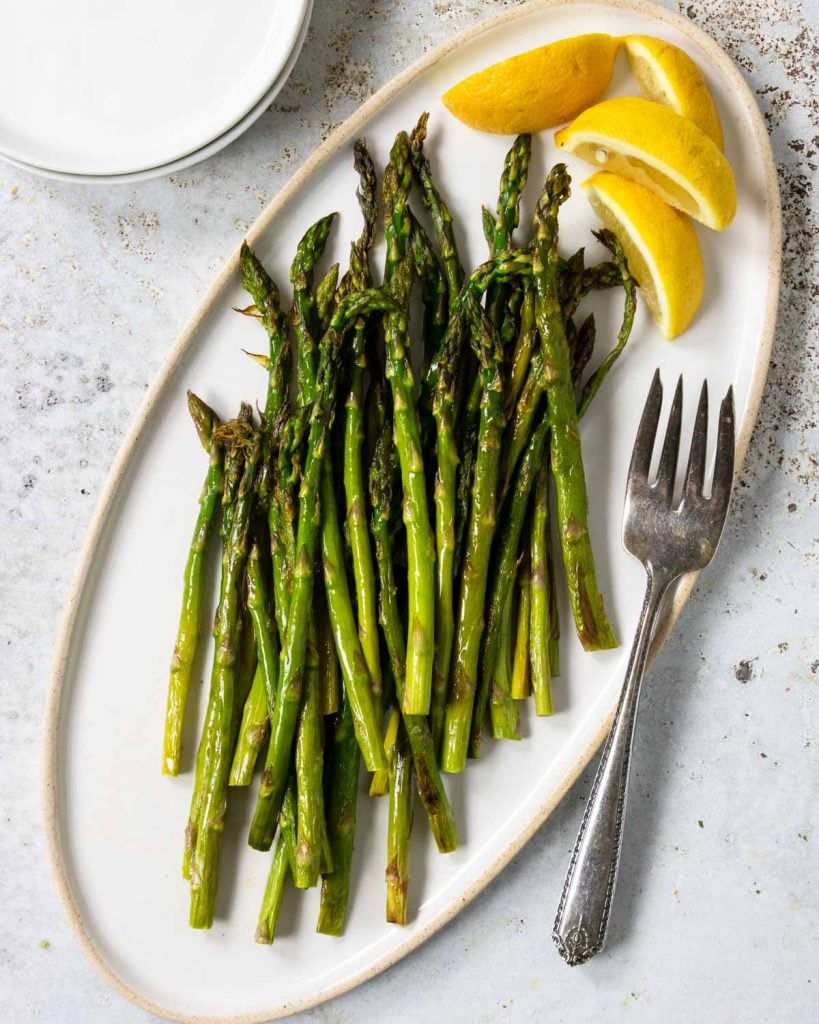 Oven roasting is the perfect method for cooking fresh asparagus. It is so easy, only requiring 3 ingredients, a sheet pan, and 10 minutes. It also leaves the spears crisp-tender, which is the perfect texture, exactly how it should be.
Sprinkle a little parmesan cheese or lemon over the top and you have a stand-out side dish.
If you love fresh asparagus you should also check out my Instant Pot Shrimp Risotto with Asparagus, and Asparagus Egg Cups Recipe.
How to Roast Asparagus in the Oven
Start by preheating your oven to 400 degrees.
Grab a large sheet pan that will allow your asparagus enough room to roast. If you overcrowd the pan the asparagus will steam instead of roast.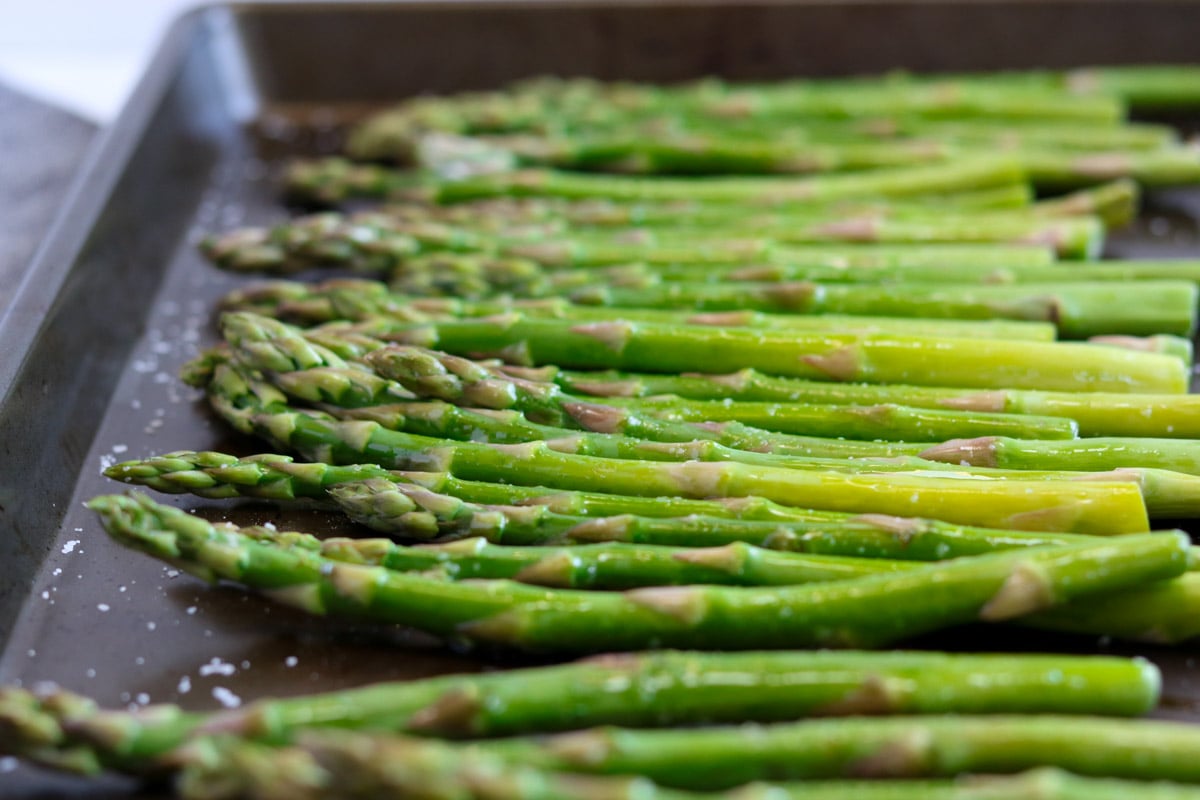 How to Trim Asparagus
You always want to make sure you trim the woody hard stem end from your fresh asparagus. You will never be able to chew thru it and you don't want your guests politely chewing for 10 minutes!
I learned the best way to accomplish this by watching an episode of Rachel Ray, years ago!
Grab one spear by the larger stem end with one hand, and a little below the frans end with the other hand. Gently bend the asparagus until it snaps. Right where it snaps is the point between the tender portion we eat and the woody portion you toss.
Now line that piece up with the rest of the bundle (at the frans end).  Then cut the rest of the asparagus at the point where the pre trimmed piece ends. Voila- you're left with tender, yummy asparagus, ready to cook!
Roast the Asparagus
Place all your trimmed asparagus on the baking sheet and drizzle with olive oil and sprinkle with salt. With clean hands toss the asparagus so it is coated in the oil.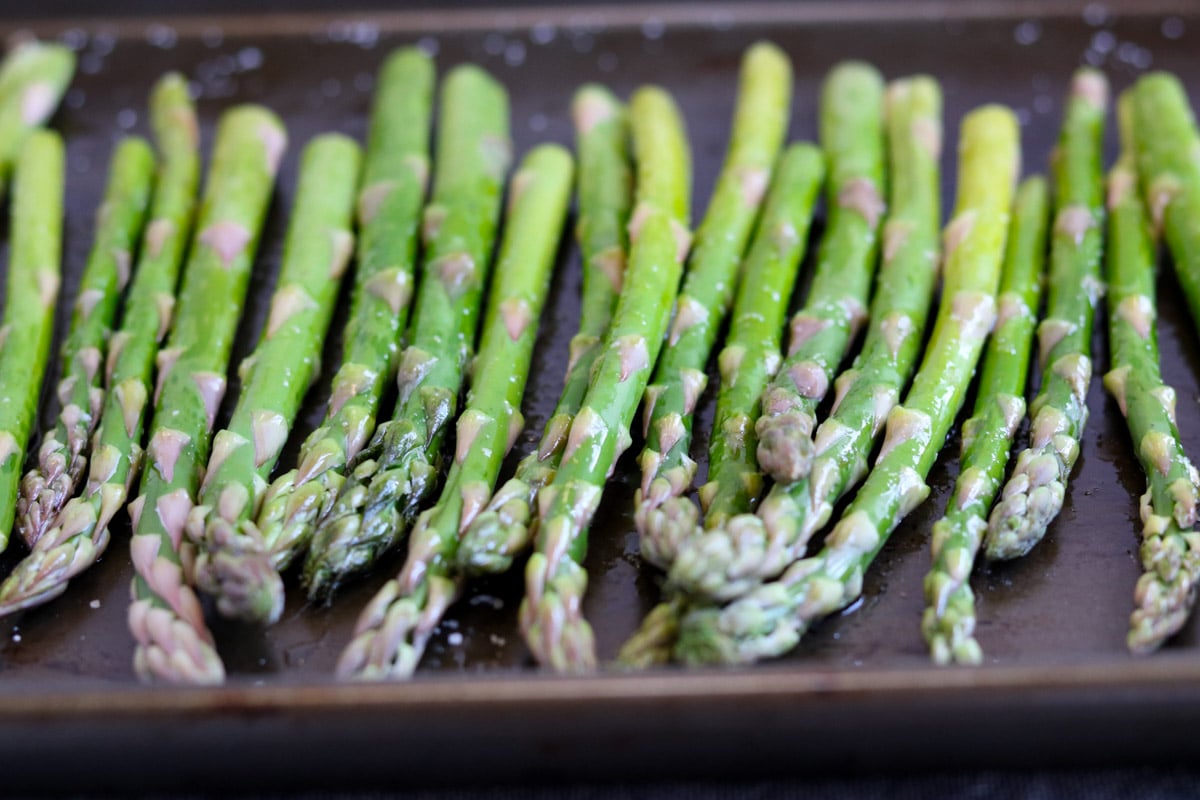 Place in the oven for 10 minutes.
At the end you can zest a little lemon over top or sprinkle with fresh grated parmesan.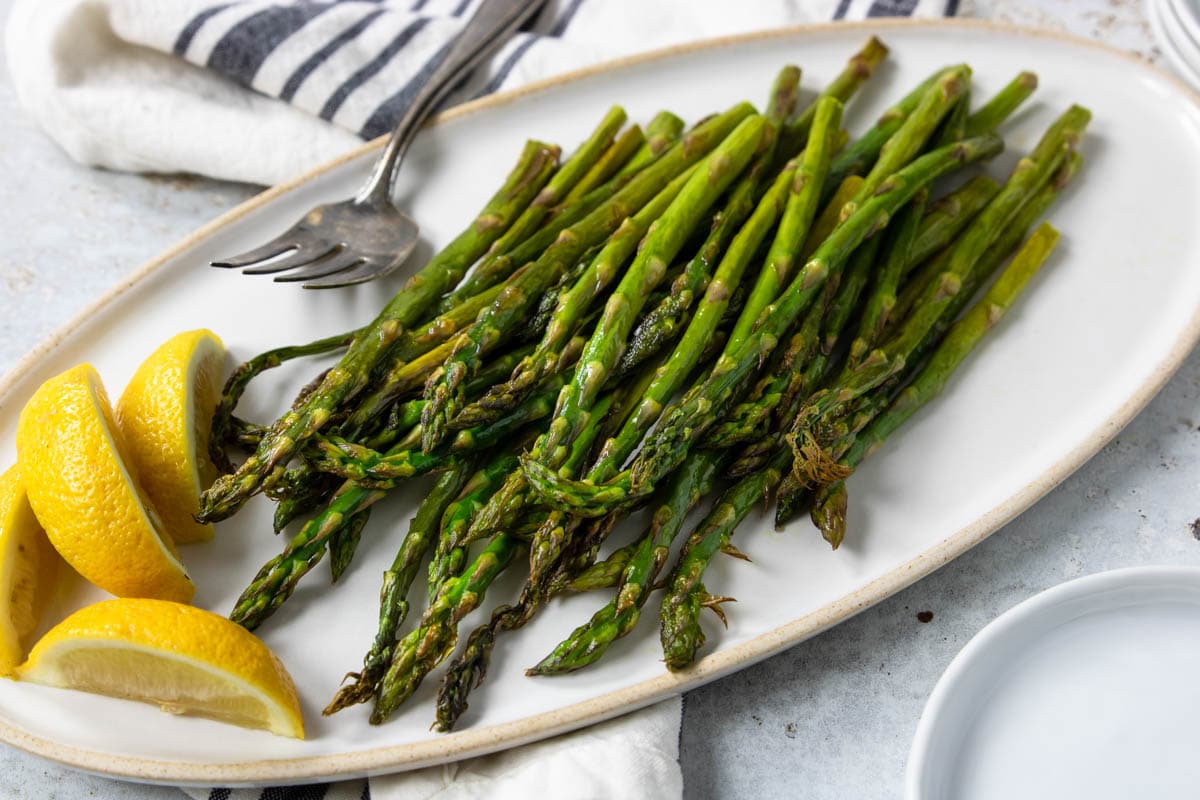 Oven Roasted Asparagus for Dinner
This beautiful side dish can really sit alongside almost any dinner menu. Here are some of my favorites:
Grilled Filet Mignon, Oven Roasted Asparagus, and Rosemary Cauliflower Puree
Oven Roasted Pork Tenderloin, Oven Roasted Asparagus, and Oven Roasted Red Potatoes (all made in the oven, too easy!)
Ham Balls, Baked Potatoes, and Roasted Asparagus
Bacon Jam Burgers, Oven Roasted Asparagus, and Parmesan Fries
Don't forget dessert : Homemade Chocolate Sheet Cake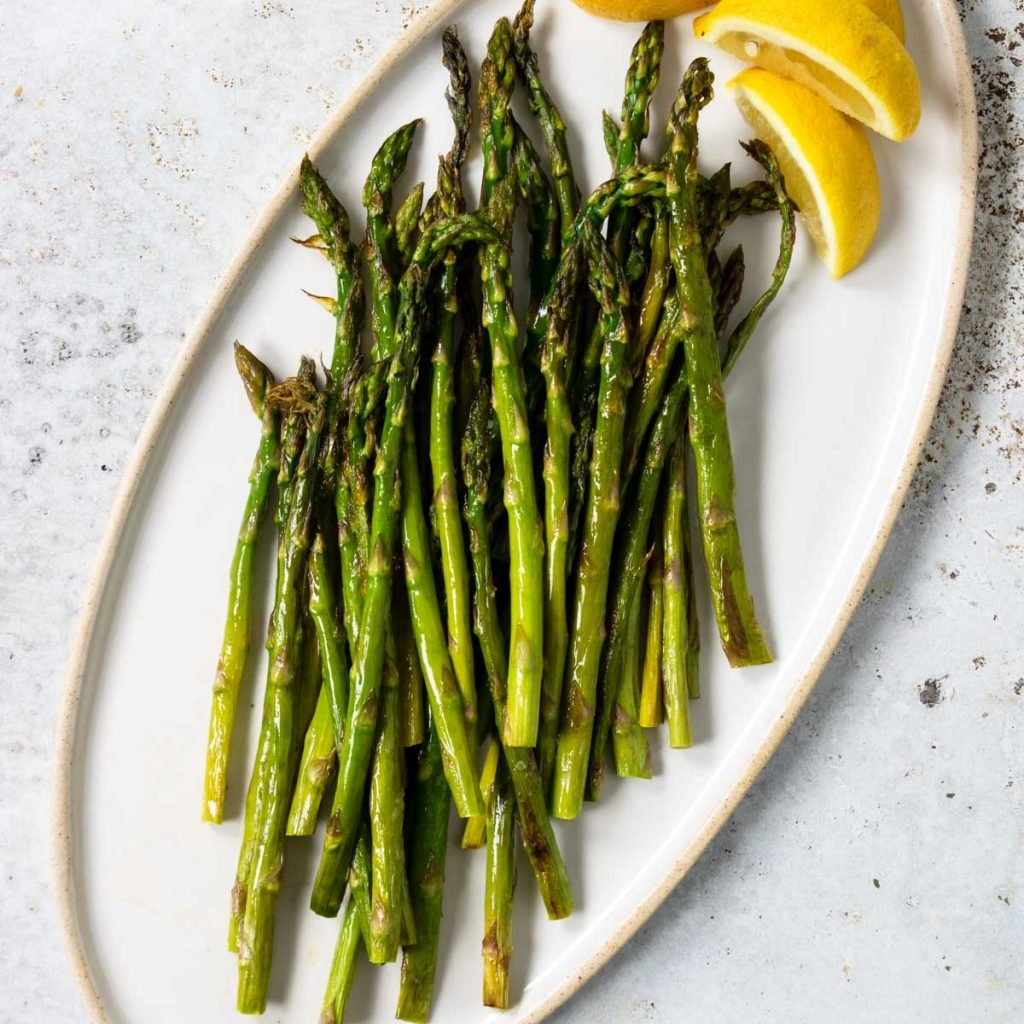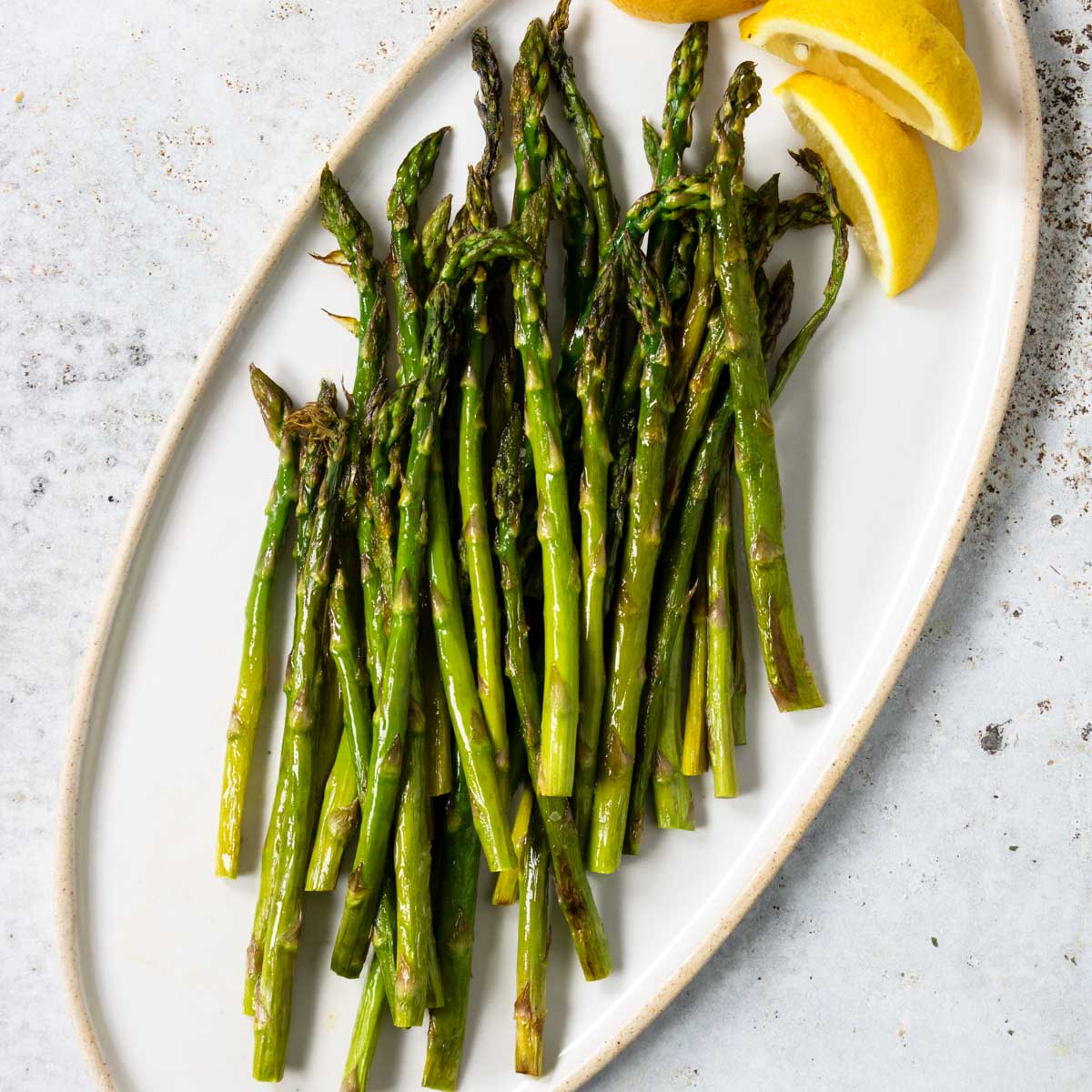 This recipe is also a staple on our Easter dinner menu. It just screams SPRING and adds beautiful color to the menu!
Oven Roasted Asparagus Recipe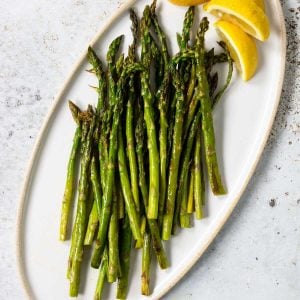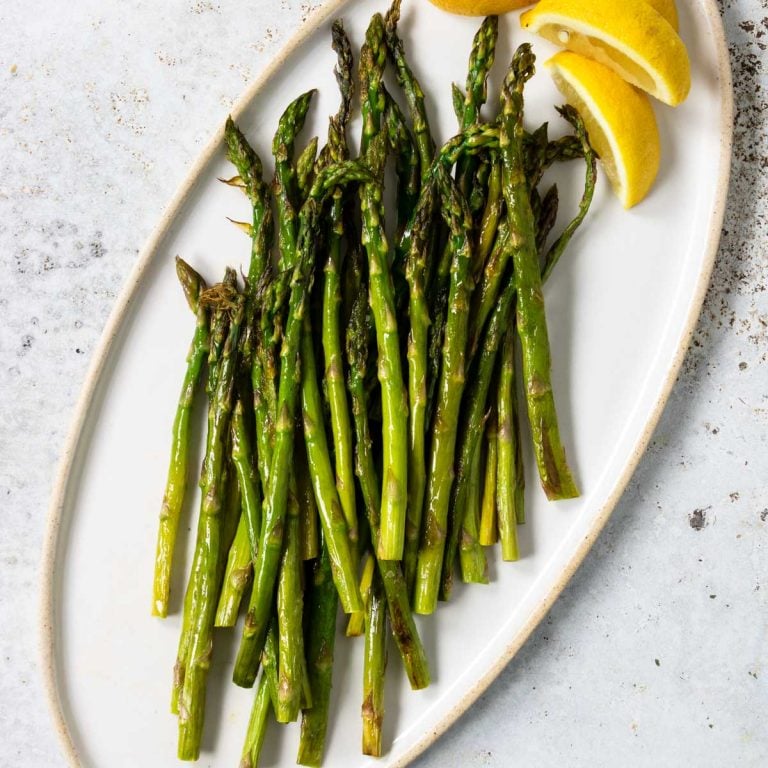 Oven Roasted Asparagus
Oven Roasted Asparagus is perfectly cooked fresh asparagus. By roasting the asparagus in the oven you end up with crisp tender spears. Exactly what you want! Add a little parmesan cheese or lemon zest to dress up your Oven Roasted Asparagus.
Print
Rate
Save
Saved to Grow
Ingredients
1

bunch fresh asparagus

1

tablespoon

olive oil

*Optional- parmesan cheese or lemon zest
Instructions
Preheat the oven to 400.

Trim the hard ends from the asparagus and discard.

Place the asparagus on a large sheet pan and drizzle with olive oil. Using clean hands, toss the asparagus to coat with the oil.

Sprinkle with salt.

Bake for 10 minutes, shaking the pan half way thru to rotate the asparagus.

Remove from the oven and serve immediately.

Optional– sprinkle with lemon zest or parmesan cheese.
Notes:
This is a recipe for fresh asparagus – do not use frozen asparagus in this recipe.
Did you try this recipe? Connect with me & let me know how it turned out by commenting below!
Jump to Comments
If nutrition facts are provided they are calculated as an estimate to the best of our knowledge.
Originally Posted March 2018 – Copy & Photos Updated March 2020
Asparagus Memories
Asparagus grows wild in the midwest, where I grew up. When I was little, in the spring, my entire family would gather at my grandparents house and we would have an asparagus hunting day.
Everyone would put on their grubby clothes, tie their hair up in bandanas and pack a pocket knife to cut down the wild spears. We would spend the afternoon trekking thru the ditches of Iowa looking for asparagus to harvest. At the end of the day we would be loaded with more asparagus than one family could possibly eat in a week!
After coming home we would do a quick tick check and then move on to preparing our feast from the afternoon spoils. My grandpa would grill farm fresh T-Bone steaks and my grandma would prepare all the asparagus you could ever want to eat. After the weekend everyone would be sent home with their own bundle of wild asparagus.
I still think about those days every time I eat asparagus… or a T-Bone steak!