Yes, you can make Amazing Italian Style Meatballs right in your Instant Pot! It is a quick way to get perfectly cooked homemade meatballs in under 30 minutes. No browning or sautéing required! Just pop the uncooked meatballs right in the sauce and cook on high pressure.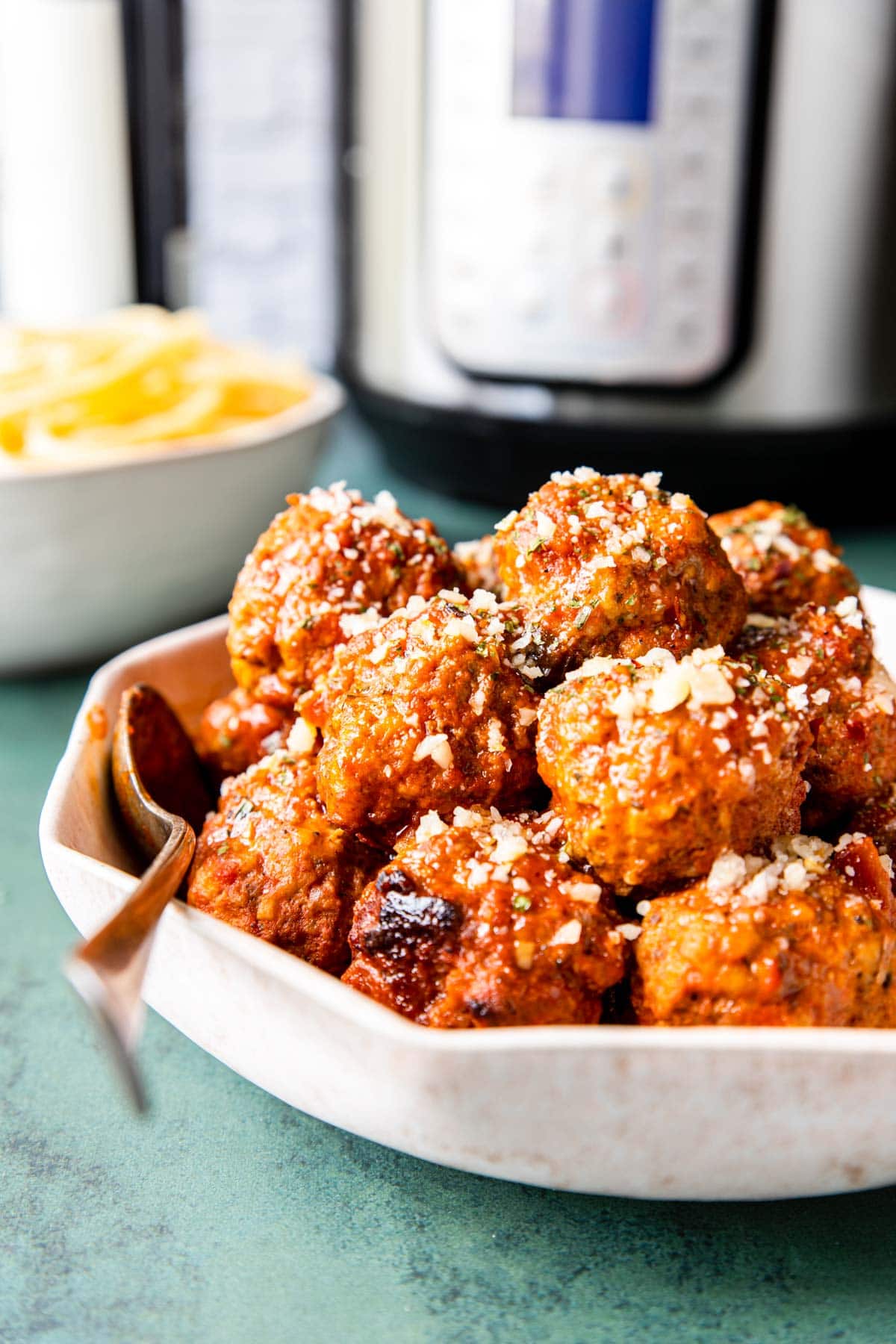 Don't worry all the flavors of Traditional Italian Meatballs are included. Just add some spaghetti or polenta and you have an amazing family dinner that everyone will love! It will surely become a heavy contender for your dinner rotation.
Some other Instant Pot Meatball recipes to love are Instant Pot BBQ Meatballs and the Instant Pot Turkey Meatballs! Now if you just want spaghetti without the meatballs we love this Instant Pot Spaghetti using your favorite Store Bought Jar Sauce!
Why These Are The Best Instant Pot Meatballs
No sautéing onions and garlic before you make the meatballs!
No browning the meatballs before they cook.
The panade of panko, extra virgin olive oil, and milk keep your meatballs tender and juicy.
The RIGHT amount of panade and egg in this meatball ensures they will not fall apart under the pressure of the Instant Pot.
Using coarse grated parmesan makes delicious little pockets of cheese.
Putting down a layer of oil or non stick spray on the bottom of the Instant Pot helps reduce the chance of getting the dreaded burn notice.
Ingredients
Pictured below are the ingredients you need to make Instant Pot Meatballs, plus some tips on a few crucial ingredients.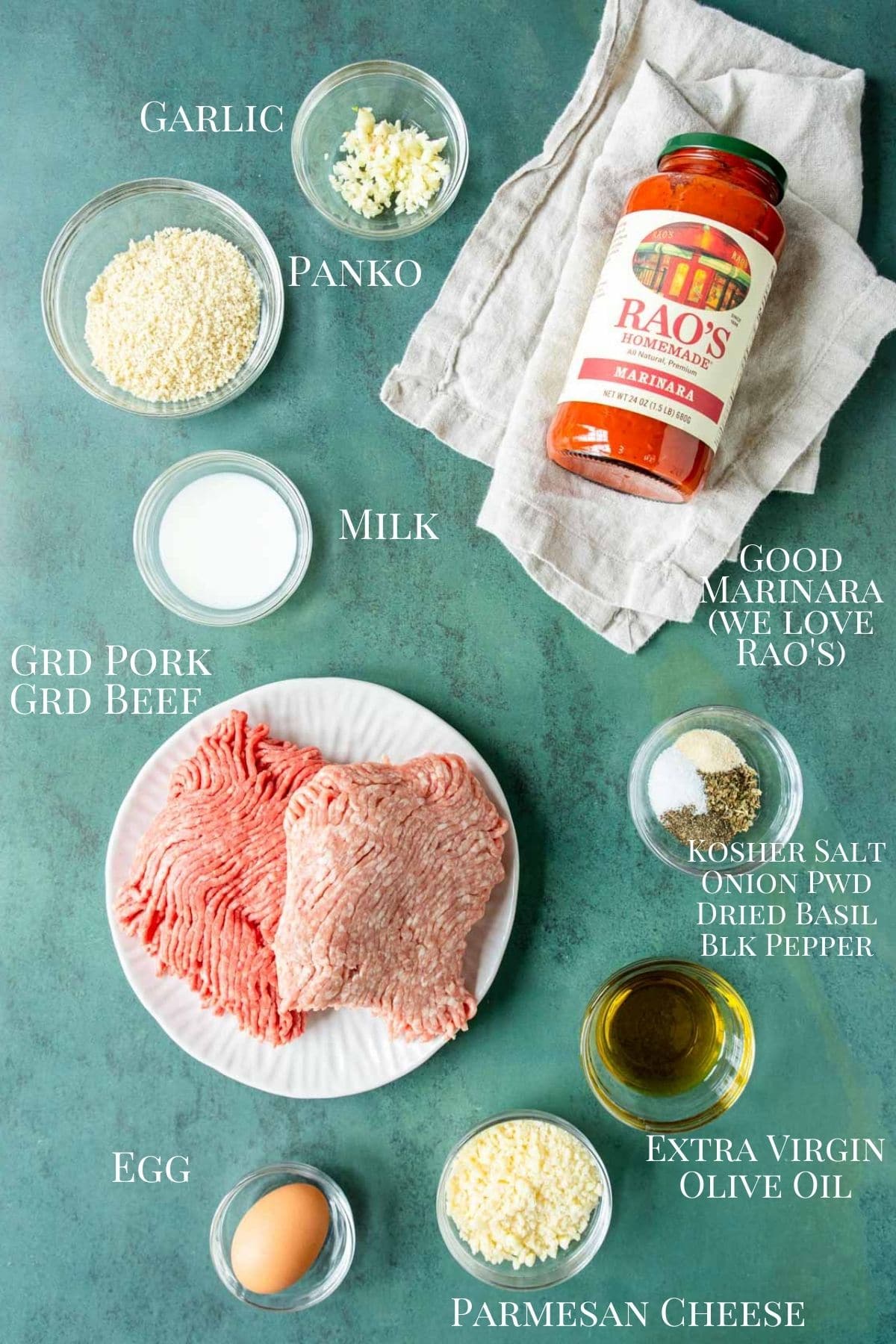 Ground Beef
Since the meatballs cook right in the sauce I recommend that you use a lean beef. Something like a 90/10 or 93/7 ratio ground beef will work great. You will still have a little grease in your sauce but it will add flavor without making it greasy.
Pork
We are talking ground pork here, not sausage. Ground pork is a great combo with the ground beef. It is also incredibly inexpensive.
If you find you love it, definitely try these Pork Burgers with Garlic Cream Sauce next!
Parmesan Cheese
One of the Italian secrets to great meatballs is using a coarse grated parmesan. It should look like small pea gravel. See the photo below.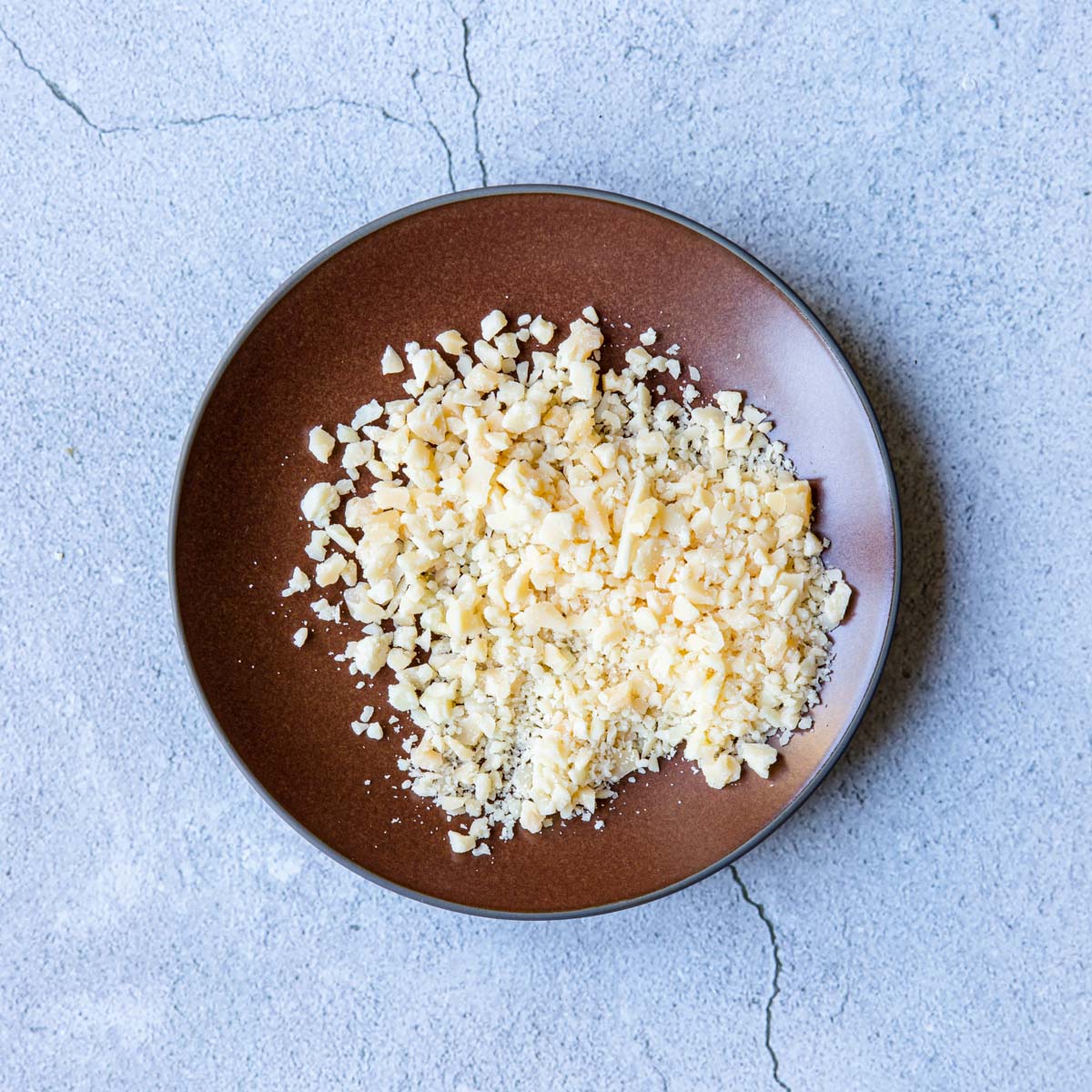 I like to achieve this by pulsing parmesan in a food processor or blender.
Panko
Panko bread crumbs are not the same as traditional or Italian breadcrumbs. They are pretty coarse and soak up the milk and olive oil like a torn bread would. It makes the perfect panade for these meatballs.
You should be able to find Panko in any grocery store (including Aldi), near the other traditional breadcrumbs.
Extra Virgin Olive Oil
Extra Virgin and Regular Olive Oil are not the same thing. Make sure you use "Extra Virgin Olive Oil", the stronger the flavor the better! Regular Olive Oil generally does not have any flavor. Extra Virgin has a buttery, peppery flavor that adds a nice layer to your meatballs.
Garlic
I say 2-3 plump garlic cloves… but you measure that garlic with your heart! If you want 5 cloves, go for it!!
What is a Panade
Traditionally a panade is a combination of a starch and liquid, like bread and milk or broth. It is used to keep ground meat recipes tender and juicy.
I use this panade method in a lot of my recipes, like these Chicken Meatballs, Next Level Swedish Meatballs, Italian Meatloaf, and Italian Meatballs.
Burn Warning
"In my own opinion" I truly think that some of the newer Instant Pots (2019 to present) have a more sensitive burn warning. My pot is a few years older (circa 2017) and I have yet to get a "burn warning".
One feature of this recipe that will help reduce the chances of the burn notice is adding a layer of oil under the meatballs.
However if you have a very sensitive Instant Pot you might want to use the metal trivet that came with your Pot. See the notes section of the recipe below for details.
Step by Step Picture Instructions
This is a great Pro Tip for making meatballs of all kinds….
The order of things is very important when making meatballs. You will want to complete the panade and flavor base before adding the meat. That way you can do less mixing, which ensures a more tender meatball.
Follow these steps:
In a large bowl mix together the panko breadcrumbs, lightly beaten egg, milk, and extra virgin olive oil. This is your panade, let it rest and soak for about 5 minutes.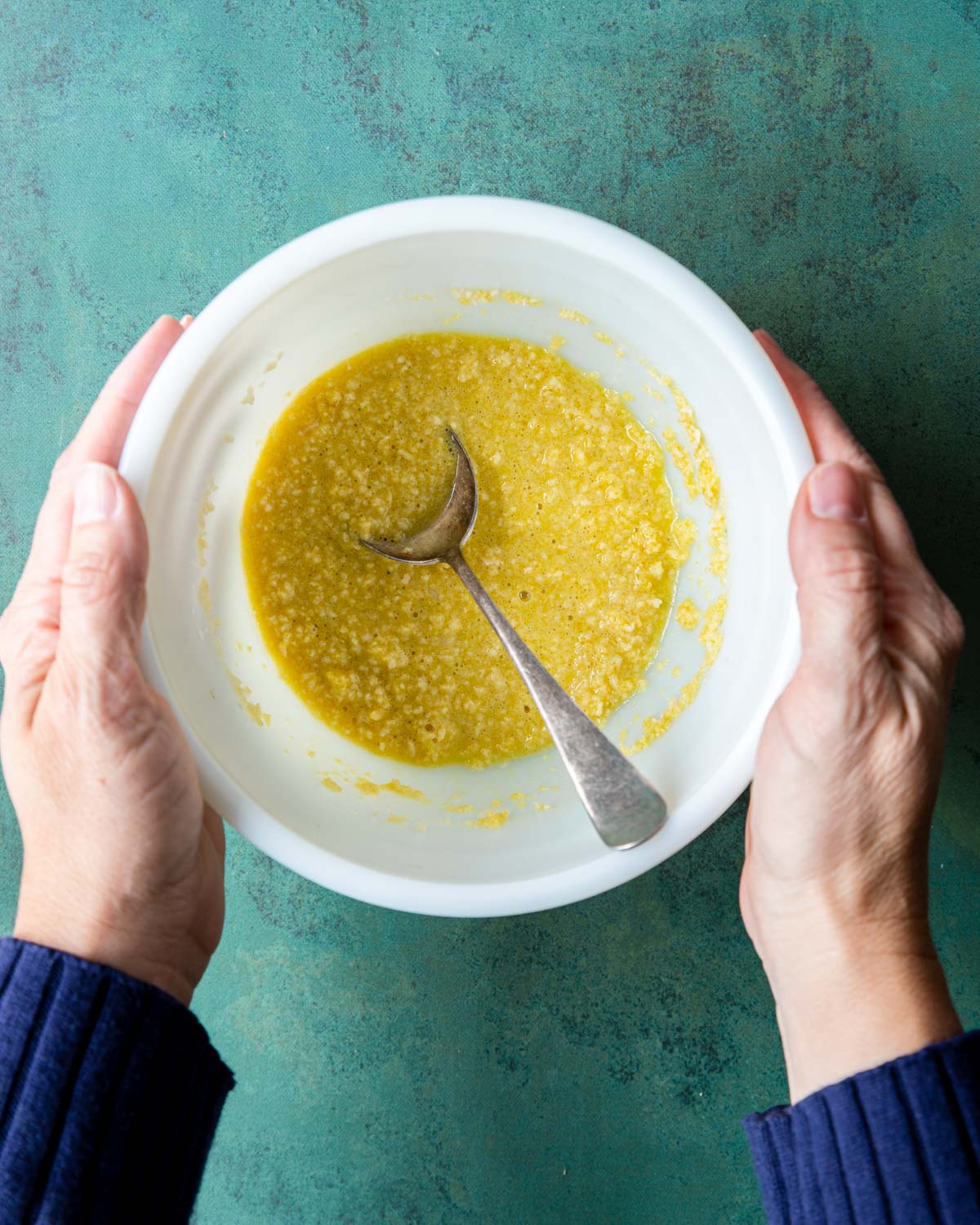 Add in the kosher salt, black pepper, onion powder, dried basil, minced garlic, and coarsely grated parmesan. Stir to combine.
Now add the ground pork and ground beef and lightly mix everything together, either with a fork or clean hands. (I always prefer using my hands)
**SMELL the meatballs mixture at this point…I know it's raw meat but you can tell these are going to be delicious meatballs!
Time to form the meatballs. I will usually use a cookie scoop to make sure the meatballs are somewhat uniform size.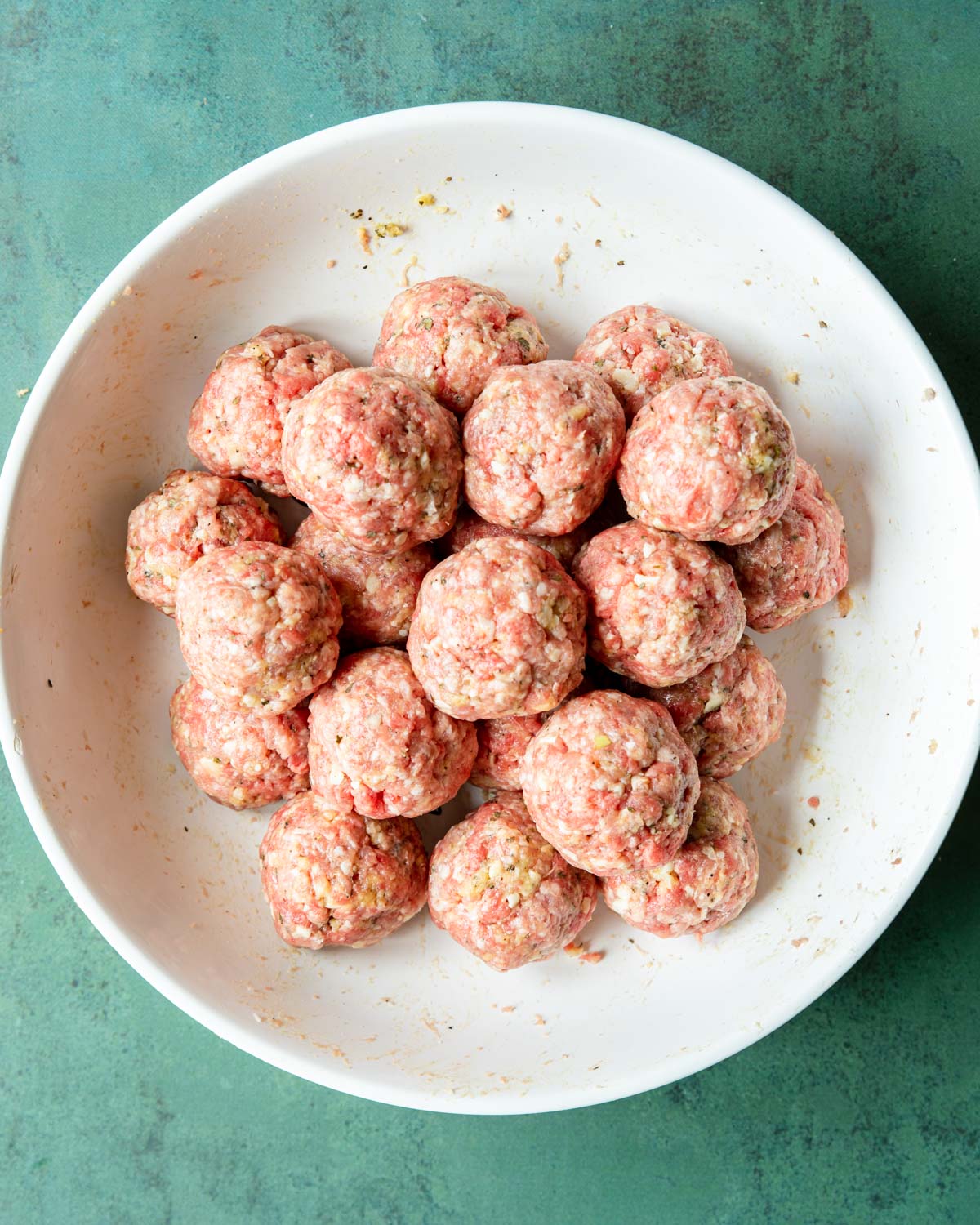 Prep the Instant Pot by spraying the bottom of the pot with nonstick spray or pouring in a little olive oil.
Pour in half a 24 oz jar of marinara sauce. Then layer in the meatballs. Finally pour the remaining marinara sauce over the meatballs.
Use your family's favorite store bought marinara sauce… we love Rao's Tomato Basil.
Close the lid and set to cook for 8 minutes on high pressure, then do a 5 minute natural release. Finish by releasing remaining pressure with a quick release.
When you open the pot I recommend using a spoon and lightly moving the meatballs around. If some are stuck together lightly separate them.
Pro Tip: For serving I personally like to remove all the meatballs to a separate plate. See if there is excess grease to skim off the top of the sauce. Then give the sauce a stir. Serve the sauce over spaghetti and then top with the meatballs.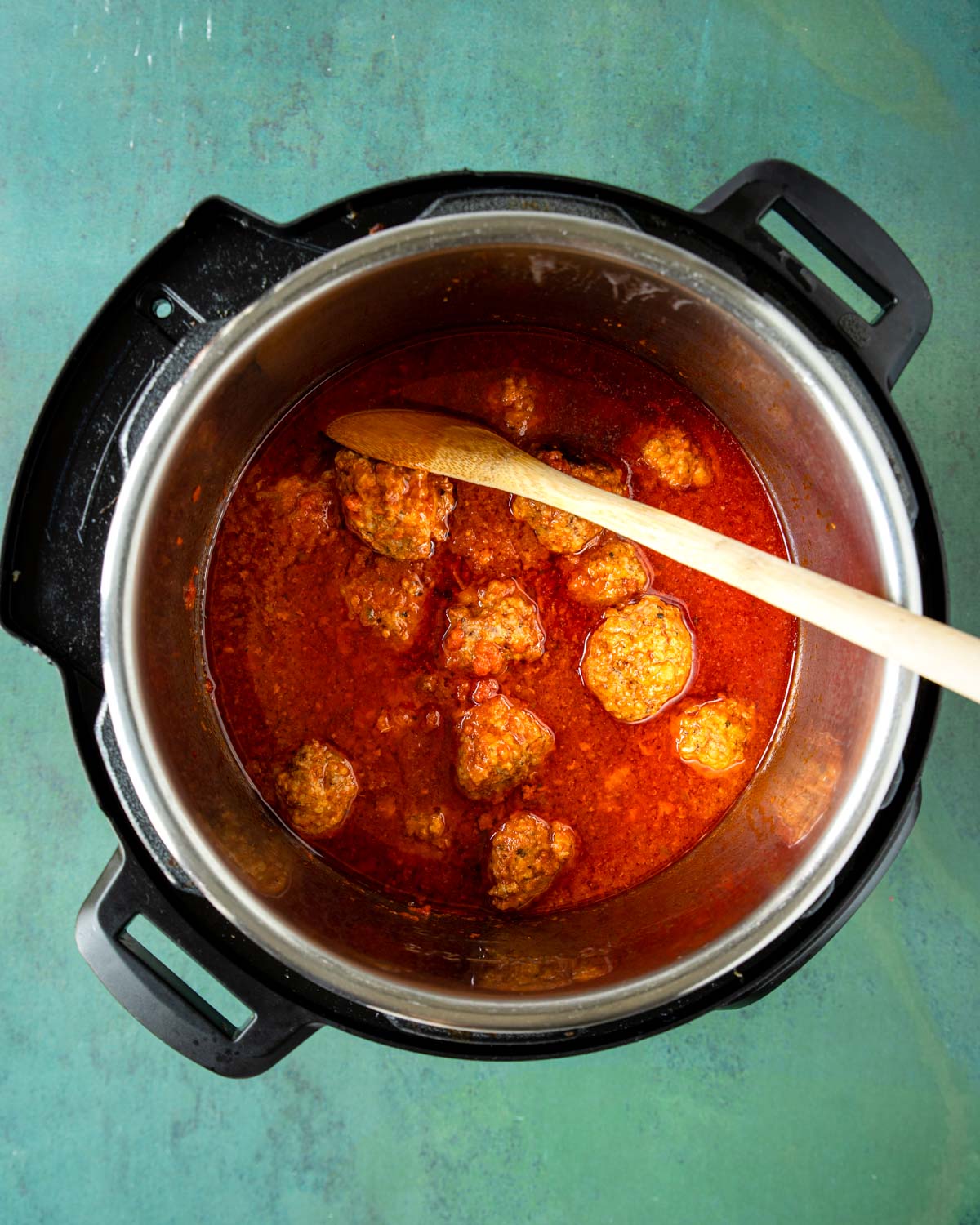 Serving
Hello spaghetti and meatballs! It's a classic. Just sprinkle on some parmesan cheese!
Here are some other ideas on ways to eat your Instant Pot Meatballs:
Meatballs over creamy polenta with warm crusty bread.
For a lower carb option serve them over zucchini noodles (or the hearts of palm noodles from Trader Joes!!)
Meatball Sliders, you can make them similar to these Meatloaf Sliders.
Roll the meatballs a little smaller and serve as an appetizer.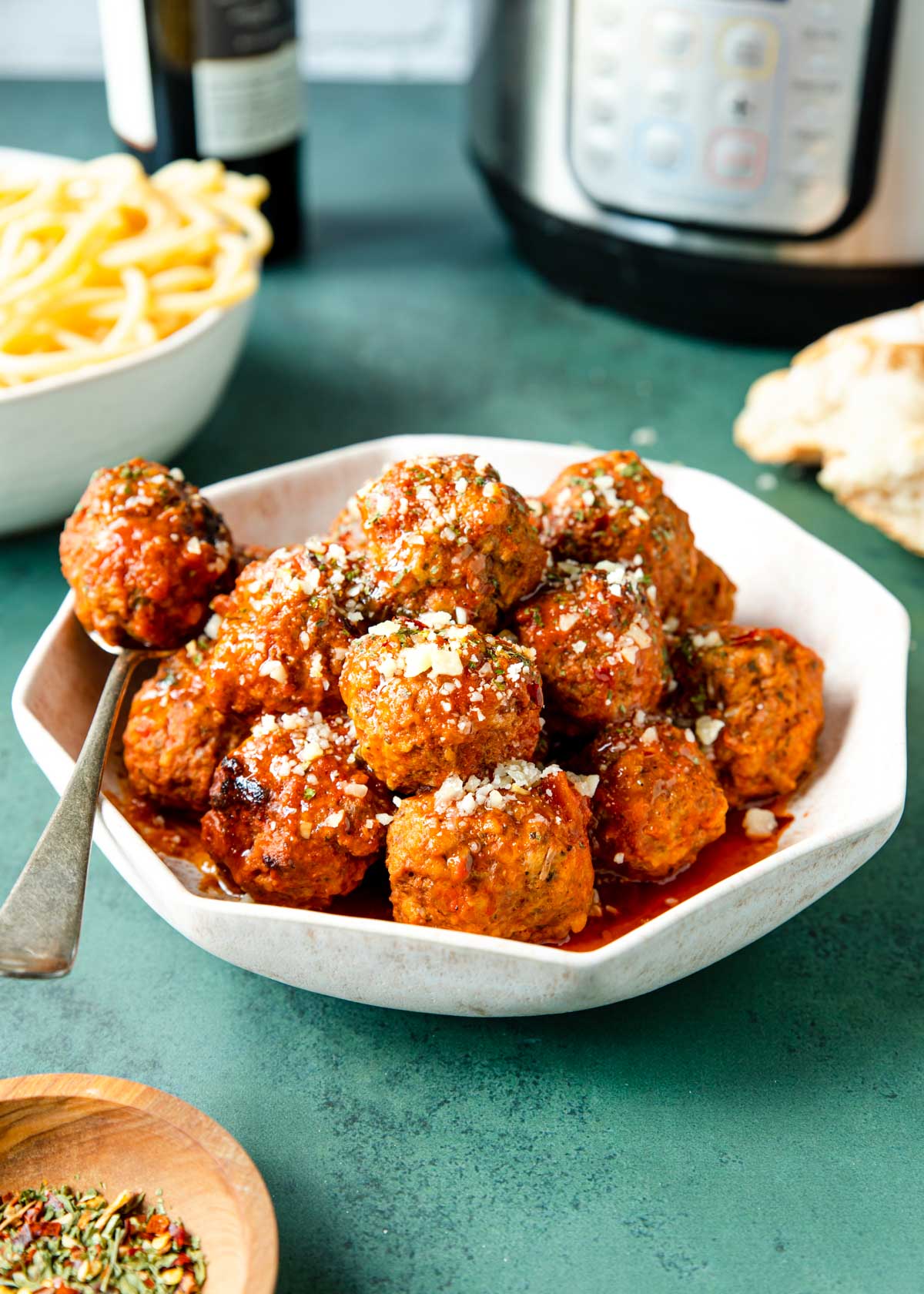 Storing & Freezing
Store your leftover Meatballs in the fridge, in an airtight container, for up to 5 days.
You can absolutely pop your meatballs and sauce in the freezer too! They will keep for 3 months.
Pro Tip: Divide the meatballs and sauce out into smaller portions in freezer baggies. That way you can use them as you need, instead of using the whole recipe at once!
Other Delicious Italian Instant Pot Recipes To Try
---
Did you make this recipe?!
If you make this recipe I would love to hear your review. Pop down to the comment section and connect with me.
Then sign up for our Weekly Newsletter so you never miss a new recipe!
Amazing Instant Pot Italian Meatball Recipe
Tender, juicy and super flavorful Italian Meatballs made right in your Instant Pot. No browning or sautéing required! You will have authentic Italian Meatballs in under 30 minutes!
Print
Pin
Rate
Ingredients
1

lb

ground beef

1

lb

ground pork

½

cup

panko bread crumbs

2

tablespoon

milk

1

large egg

lightly beaten

2

tablespoon

extra virgin olive oil

½

cup

parmesan cheese

coarsely ground

2-3

plump garlic cloves

minced (but also, use as much garlic as you like!!)

1 ½

teaspoon

dried basil

¾

teaspoon

onion powder

1

teaspoon

kosher salt

½

teaspoon

black pepper

24

oz

jarred marinara

(we like Rao's Marinara)

non stick spray

or can use oil (vegetable, canola or olive)
Serving
Dinner- on top of cooked pasta or creamy polenta. Also great in a meatball sub

For a lower carb option serve over zucchini noodles.

Our favorite is serving these meatballs with a 50/50 combo of spaghetti and the Trader Joe's Heart of Palm pasta.

Appetizer – with warm crostini
Instructions
Preparing The Meatballs
Start by combining the panko breadcrumbs, lightly beaten egg, milk and extra virgin olive oil in a small bowl. Give it all a good stir and let sit for 5 minutes to soften.

(while it sets measure out all your seasonings, coarsely grind the parmesan and mince your garlic)

Add the minced garlic, parmesan, dried basil, onion powder, kosher salt and black pepper to the breadcrumb mixture. Give it a good stir.

Now add the ground beef and ground pork. Lightly mix everything together so it is evenly distributed.

(I like to do this with clean hands)

Form the meatballs. You should have between 20-24 meatballs.

PRO TIP: use a cookie scoop to measure out the meatball mixture. It will ensure more uniform meatballs.
Cooking in the Instant Pot
Prepare your Instant Pot by spraying the bottom with nonstick spray, or you can coat it with a tablespoon or two of oil.

PRO TIP – The oil/spray will help prevent the burn warning. But if you feel you have a sensitive pot that gives you the burn warning often, see the notes below!

Pour in half the jar of marinara sauce.

Layer in the meatballs and then pour the remaining sauce over top.

Close the lid, turn the pressure valve to "seal". Set to cook on high pressure for 8 minutes.

When the time is up do a 5 minute natural release, letting the pot count back up to 5. Then release the remaining pressure with a quick release.

Very lightly stir the meatballs breaking apart any that are stuck together.
Serving
I personally like to remove all the meatballs from the Instant Pot. Then I check to see if there is extra grease on top of the sauce, skim off any excess. Give the sauce a good stir.

Serve with cooked pasta (hello spaghetti and meatballs), over creamy polenta, or on a meatball sub.

Or as an appetizer serve with crostini or chunks of warm ciabatta… burrata would be great with it too!
Storing
These meatballs will keep perfectly in the fridge for up to 4 days.

You can also freeze them for up to 3 months.
Notes:
Parmesan Cheese Pro Tip – pulse parmesan cheese in a food processor or blender until it is coarsely ground, like pea gravel. This will give you nice pockets of parmesan cheese in your meatballs! 
Burn Warning – This is my own opinion but I truly believe that some of the newer Instant Pots have a more sensitive burn warning. If you think your pot might be a little more sensitive consider using your trivet. Spray the nonstick spray and pour in half the sauce, then use the trivet and layer the meatballs on top of the trivet. 
In The Oven – If you would rather make these meatballs in the oven, pop over to The Best Baked Italian Meatball Recipe!
Did you try this recipe? Connect with me & let me know how it turned out by commenting below!
Jump to Comments
Serving:
1
meatball
|
Calories:
144
kcal
|
Carbohydrates:
3
g
|
Protein:
9
g
|
Fat:
11
g
|
Saturated Fat:
4
g
|
Polyunsaturated Fat:
1
g
|
Monounsaturated Fat:
5
g
|
Trans Fat:
1
g
|
Cholesterol:
39
mg
|
Sodium:
343
mg
|
Potassium:
230
mg
|
Fiber:
1
g
|
Sugar:
1
g
|
Vitamin A:
165
IU
|
Vitamin C:
2
mg
|
Calcium:
44
mg
|
Iron:
1
mg
If nutrition facts are provided they are calculated as an estimate to the best of our knowledge.