This post contains affiliate links. This is also a sponsored post with Instant Pot. All thoughts and opinions are my own (because you KNOW I love my Instant Pot!!).
The giveaway has ended, but enjoy this awesome free recipe!
These Ground Turkey Meatballs are super simple to make and cook in a flash in the Instant Pot. They are full of Italian seasonings and spices. But no onions and no fresh garlic, making it a super easy and kid-friendly dinner.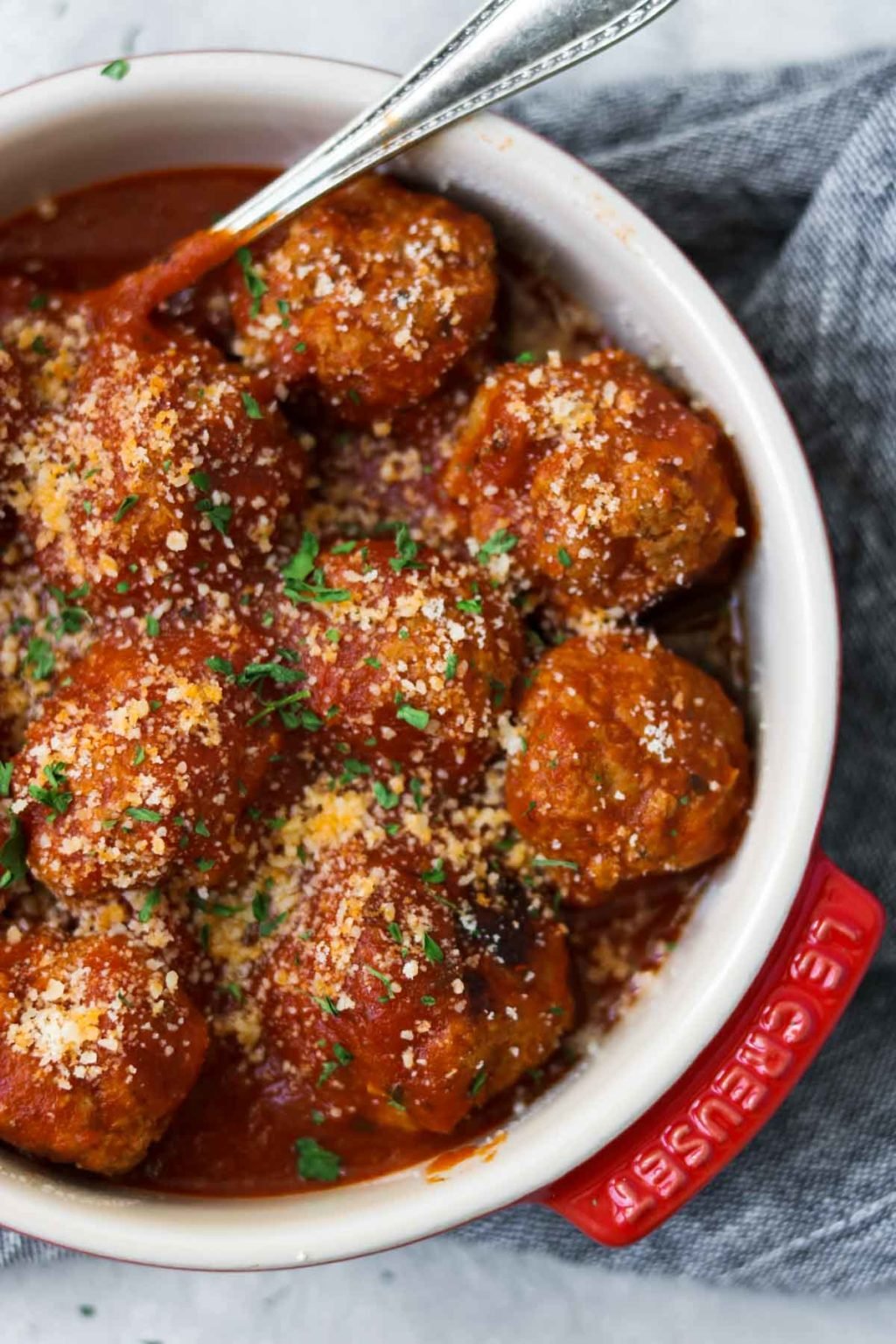 When my kids say "what's for dinner, Mom?" and I say "turkey meatballs", they actually say "YES", with a fist pump!
It definitely gets a 5 star vote from my kids.
You can also try making these Instant Pot Italian Meatballs or Instant Pot BBQ Meatballs. Both are AMAZING!
And if meatballs are one of your favorite dinners, check out all the Meatball Recipes on Mom's Dinner!
Winning with the Instant Pot
I LOVE using my Instant Pot! I am telling you it has changed our my dinner routine completely. I am able to set it and forget it. No standing in the kitchen, stirring, and waiting. Once it is set I can walk away, get things done, and listen for the beep.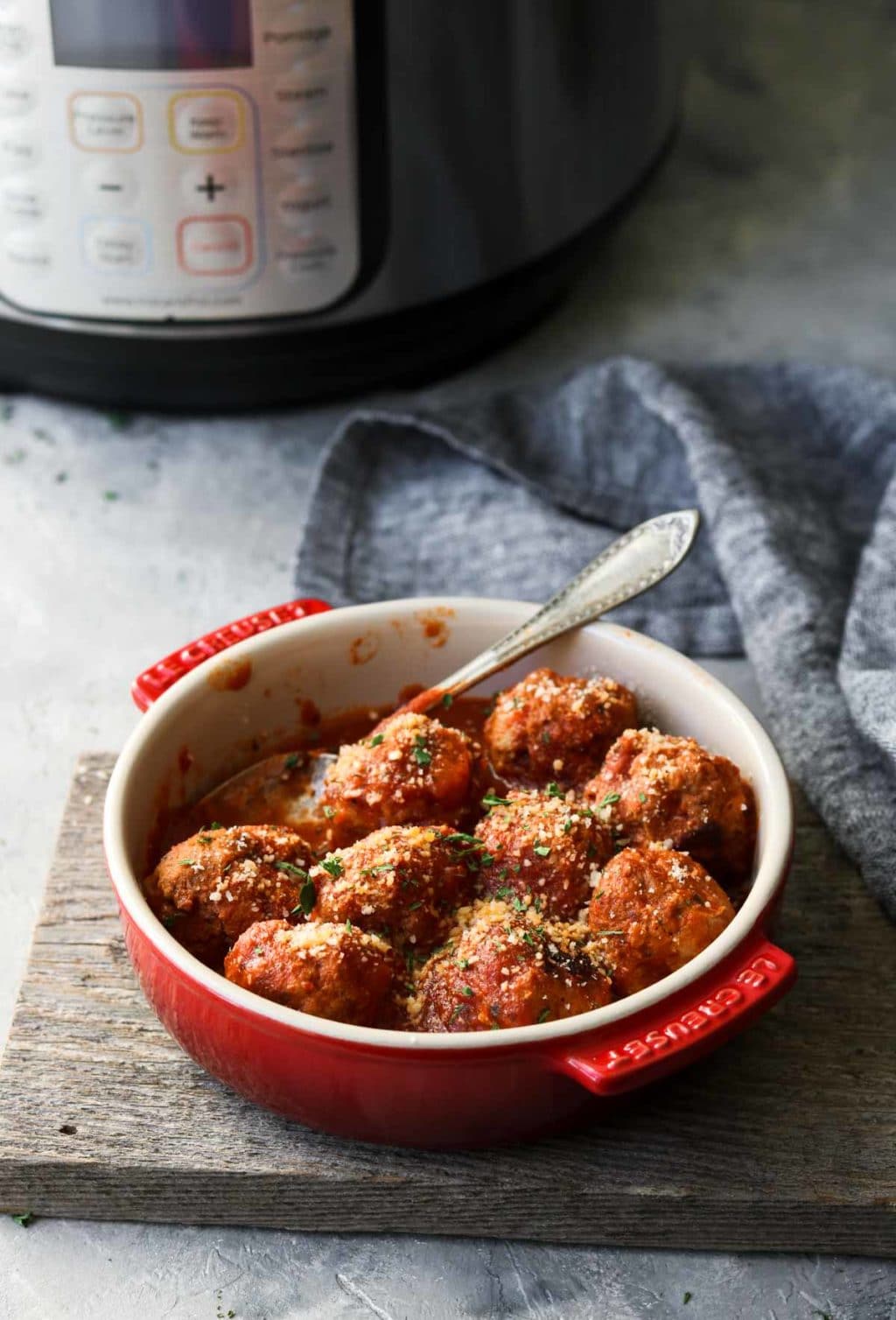 Even if I completely forget to thaw chicken for dinner, I still know I can get dinner on the table in 30 minutes, using my Instant Pot (for example my Instant Pot Chicken & Rice Soup , which is made with frozen chicken!!!).
The other thing I love about my Instant Pot is that it is takes the place of another bulky kitchen appliance, the slow cooker. To use the IP as a slow cooker simply set it to the slow cook function, set your time, and keep the pressure valve open on the top. So easy!
One thing to consider, that not a lot of people mention, is that a recipe may say it takes 10 minutes to cook, however that does not include the time that it takes the pot to come to pressure. That can be anywhere from 5 minutes to 10 minutes depending on how much food/liquid you have in the pot. But, the actual cooking time is SO much shorter than traditional oven or stove cooking that it makes up for that time.
The Instant Pot I Use & Recommend
The model I use and recommend is the Instant Pot Duo Plus 60 6 quart 9-in-1, which I absolutely love. To be honest I will probably never know how to use all 9 functions, like the yogurt or sterilize functions. But, they are there if I need them!
The main reason I love this pot is because of the size, 6 quarts. It is large enough for just about any recipe and is a great size for a family of 2 up to 8.
I would also recommend the Instant Pot Duo 60 6 quart 7-in-1, same size, just less functionality, which is probably just fine!
Instant Pot Giveaway
This giveaway has ended.
Which Ground Turkey to Use for Homemade Meatballs
This is not the time to save on calories! Ground turkey is already considered a lean protein, so go ahead and get the 93% lean turkey. The 99% lean turkey will not give you the correct flavor or texture that you want in a meatball.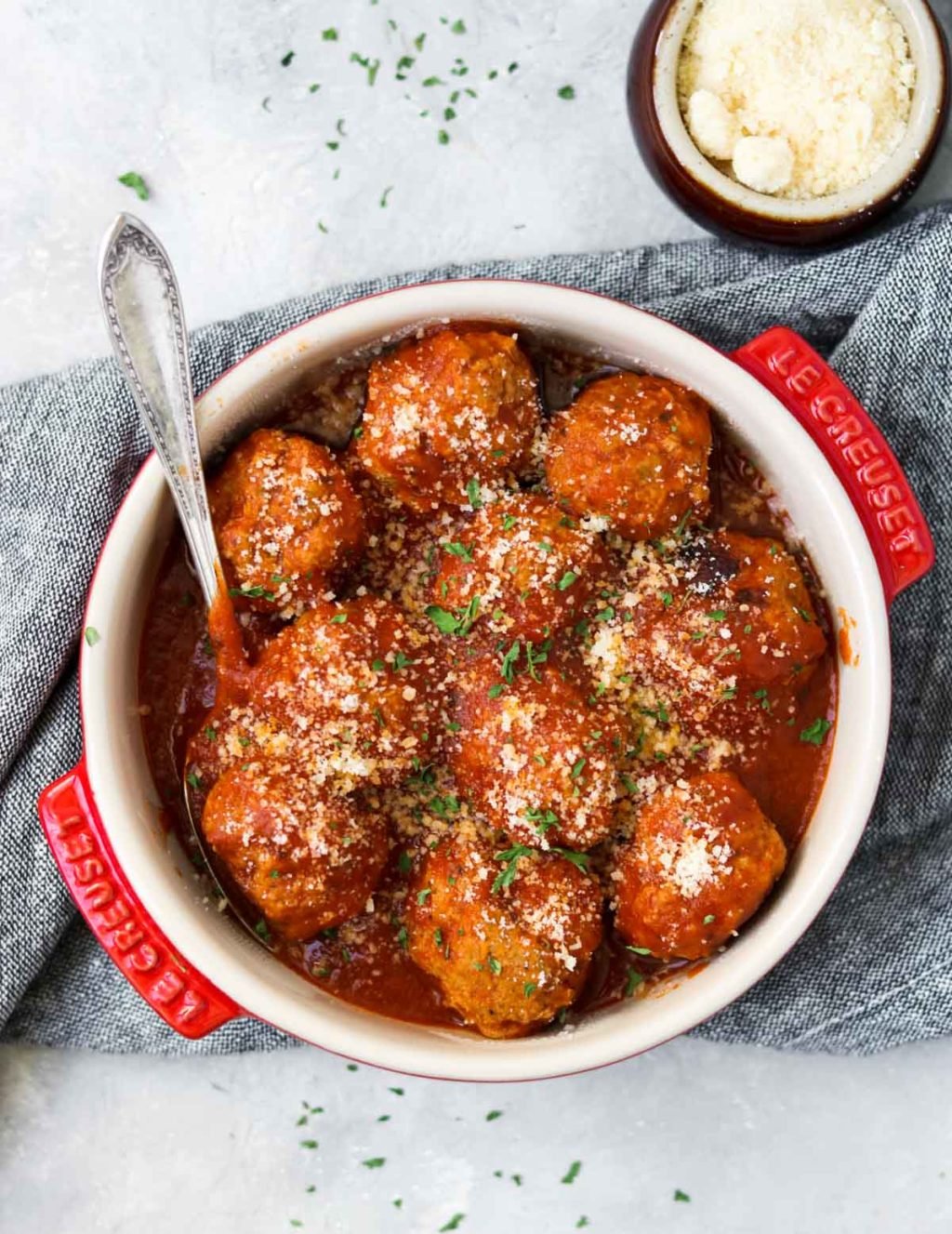 When the 99% lean turkey is cooked it can tend to resemble the texture of plastic, ewwww. Not what I am looking for in a meatball. Unless you are on a strict diet I would steer clear of the 99% lean ground turkey.
How to Make Homemade Turkey Meatballs
This is truly a super simple meatball recipe.
Put all the ingredients (except the oil and marinara sauce) in a mixing bowl. With clean hands, lightly mix the ingredients together just until they are combined.
I like to have slightly wet hands when I form the meatballs. This is a great kitchen tip to keep the turkey from sticking to your hands.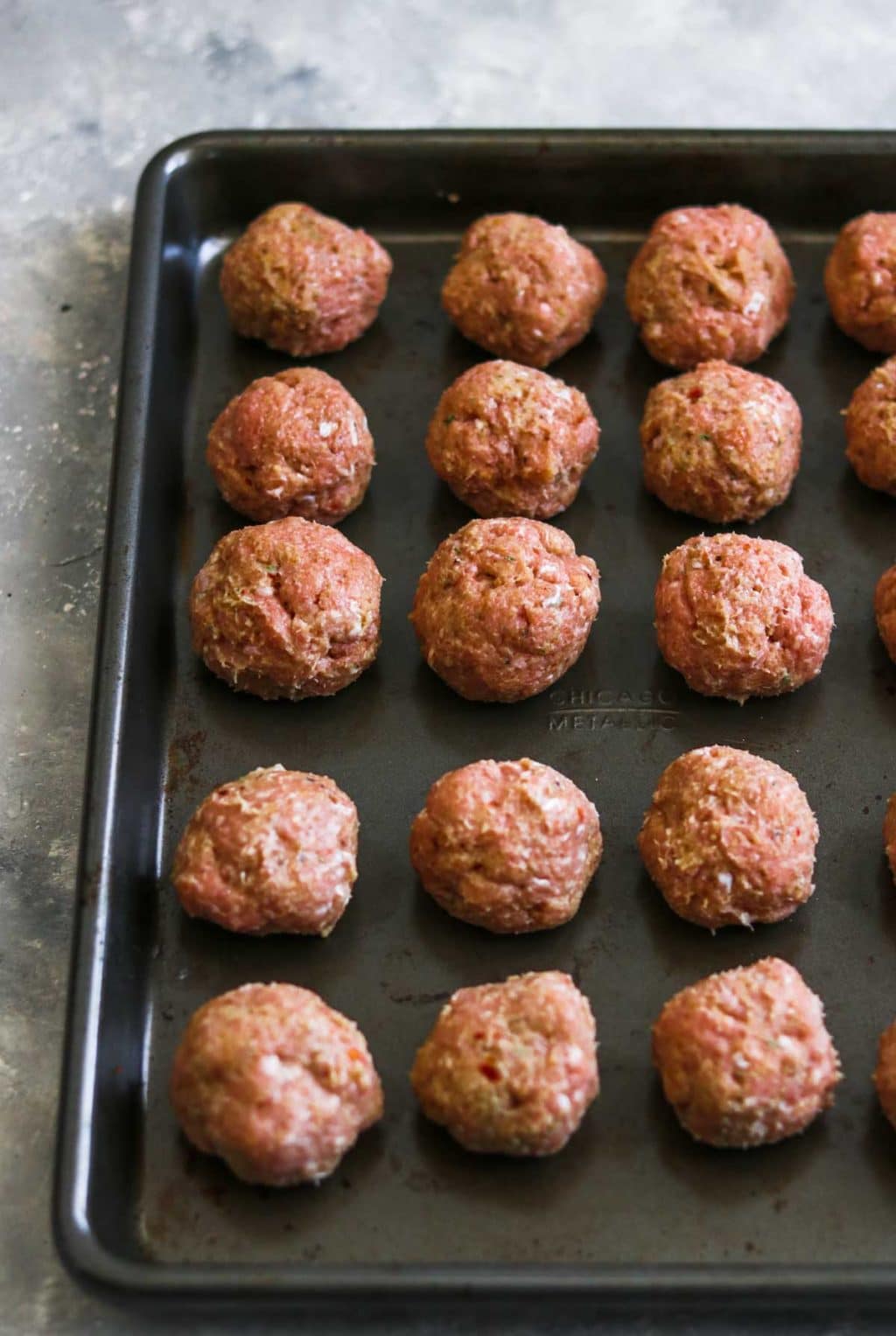 Grab about 1 ½ to 2 tablespoons of turkey mixture and roll it around in between the palms of your hands to form a ball, about the size of a ping-pong ball.
Pour about 2 teaspoons of olive oil in the bottom of the Instant Pot. Place all the meatballs in the prepared Instant Pot.
I am able to get 1 layer of meatballs in my 6 quart Instant Pot. If you have to layer the meatballs, that is okay… just lay the top layer in lightly.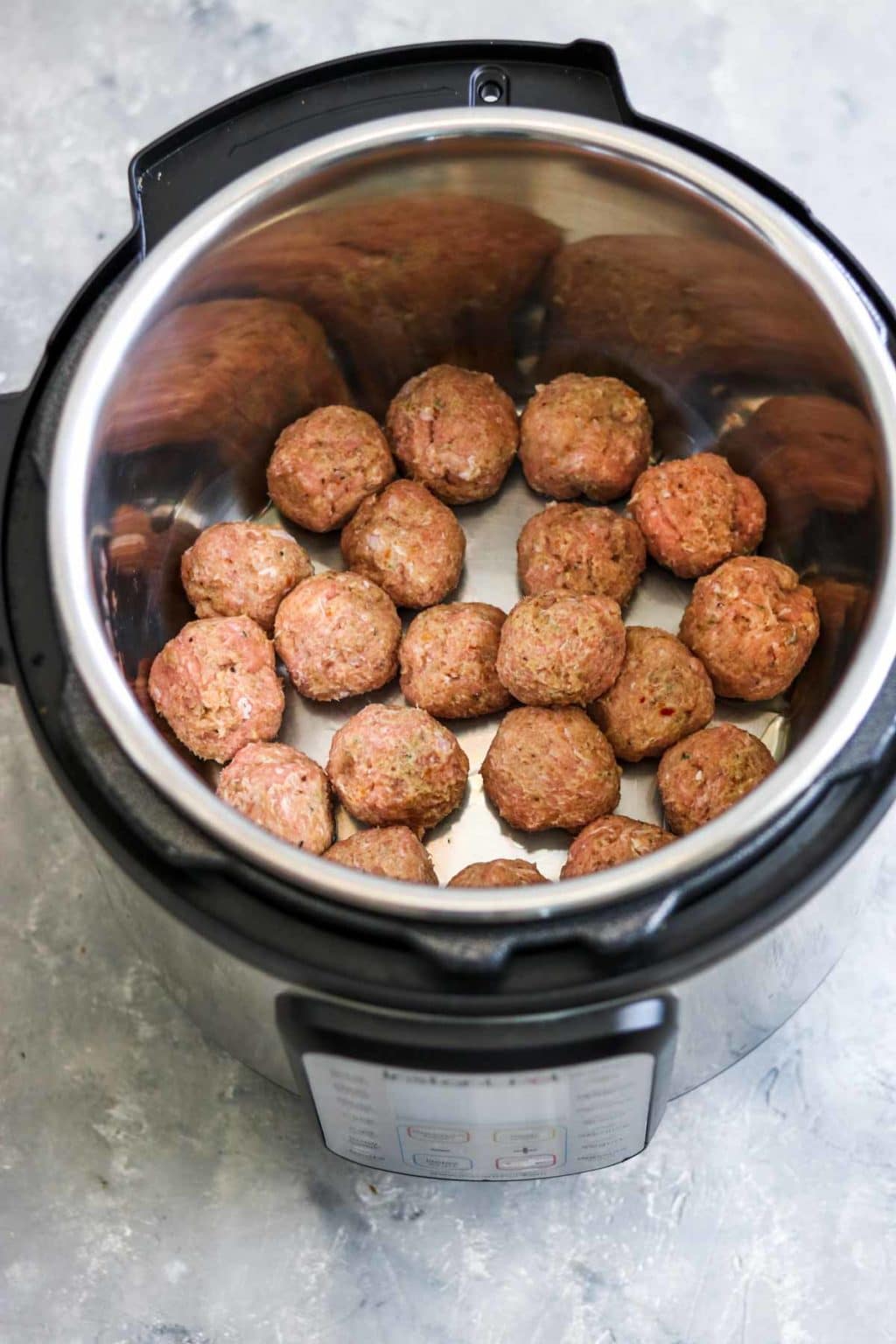 Pour a 24 oz jar of your favorite, store-bought marinara sauce over the meatballs. Pop the lid on, seal the vent, and set the pot to meat/stew or manual mode on high pressure for 10 minutes.
If you plan to have the meatballs with pasta, you can cook the pasta while the meatballs cook in the Instant Pot.
When the pot beeps at the end of 10 minutes (plus pressure time), do a quick release.
Lightly stir the meatballs in the marinara sauce. There may be some light browning on the bottom of the pan, that is just extra flavor!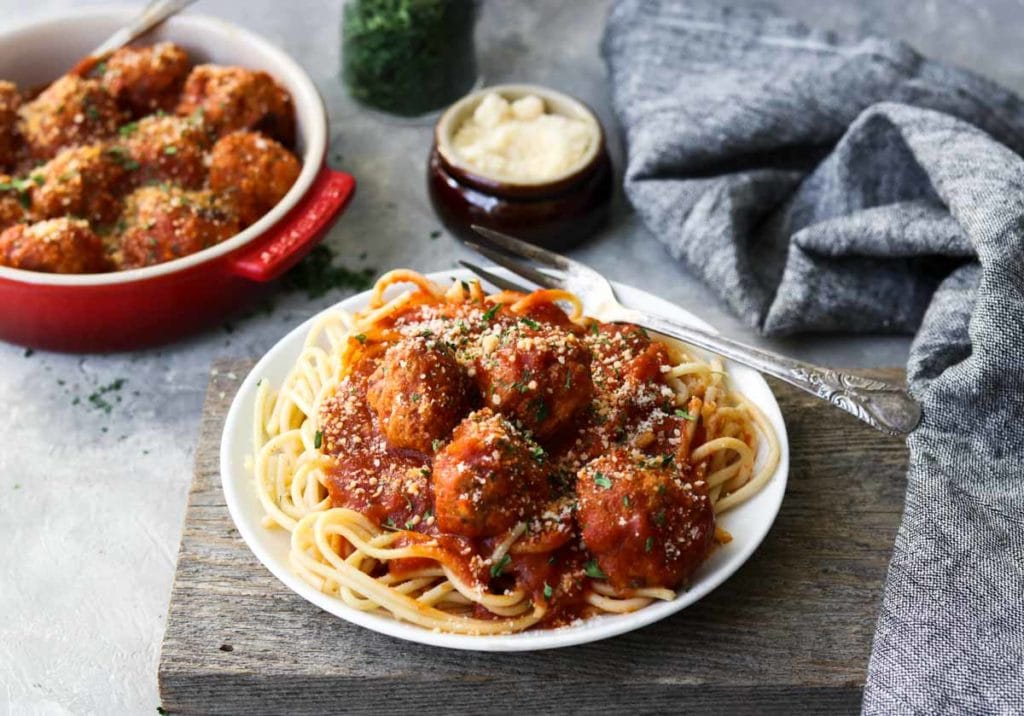 Serving Easy Instant Pot Turkey Meatballs
This is a super versatile recipe. It can be an appetizer, sandwich, or entree.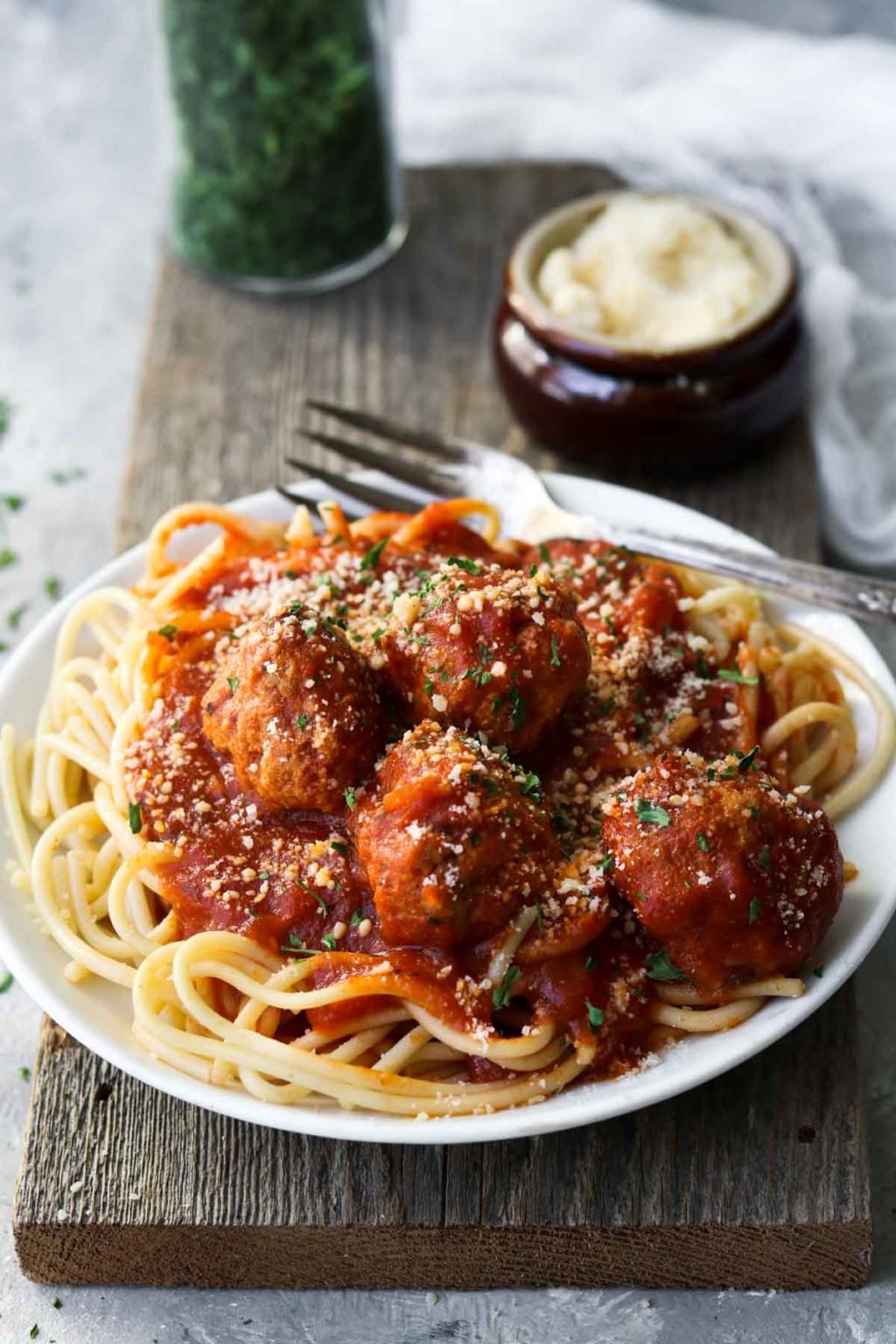 At our house you will most likely find these meatballs on top of a pile of spaghetti. But here are a few ideas for serving Instant Pot Turkey Meatballs:
Appetizer with grilled or warm garlic bread
Serve over your favorite pasta
Serve over zoodles (zucchini noodles) for a low carb option
Or over a mixture of spaghetti & zoodles for a lower carb option
On a hoagie bun for a great Meatball Sub
I hope you give this recipe for Easy Instant Pot Turkey Meatballs a try in your kitchen.
More Delicious Meatballs & Related Recipes
---
Did you make this recipe?!
If you make this recipe I would love to hear your review. Pop down to the comment section and connect with me.
Then sign up for our Weekly Newsletter so you never miss a new recipe!
Easy Instant Pot Turkey Meatballs
These easy-to-make Turkey Meatballs are cooked in the Instant Pot in just 10 minutes! No chopping or sauteing required.
They are perfect served as an appetizer or over pasta for dinner.
This is also a kid friendly recipe, approved by my two super picky kiddos.
Print
Pin
Rate
Save
Saved to Grow
Instructions
In a mixing bowl, using clean and slightly wet hands (which helps the turkey not stick to your hands), lightly mix the turkey with the Italian dressing packet, bread crumbs, Greek yogurt, Dijon mustard, and Worcestershire. Do Not add extra salt, there is plenty of salt in the dressing packet.

Grab about 1 ½-2 tablespoon of meat mixture at a time and form 20 meatballs.

Pour the olive oil in the bottom of the Instant Pot. Add all the meatballs to the pot. It is ok if you need to make two layers, just lay the second layer of meatballs in lightly.

Pour the jar of marinara and water over the meatballs.

Close the lid and turn the pressure vent to seal.

Cook the meatballs on meat/stew or pressure/manual mode, on high pressure, for 10 minutes.

Do a quick release.

Lightly stir the meatballs and serve.

(there may be some browning on the bottom of the pan, that is okay, it's just extra flavor)
Notes:
Ground Turkey – definitely use a 93/7 ground turkey. The 99% lean ground turkey will not turn out the same. It does not contain enough fat.
Beef/Pork – for an Italian Meatball that uses a beef and pork combo, pop over to this recipe for Instant Pot Meatballs.
Did you try this recipe? Connect with me & let me know how it turned out by commenting below!
Jump to Comments
Serving:
1
meatball
|
Calories:
51
kcal
|
Carbohydrates:
3
g
|
Protein:
5
g
|
Fat:
2
g
|
Saturated Fat:
1
g
|
Polyunsaturated Fat:
1
g
|
Monounsaturated Fat:
1
g
|
Trans Fat:
1
g
|
Cholesterol:
17
mg
|
Sodium:
213
mg
|
Potassium:
166
mg
|
Fiber:
1
g
|
Sugar:
2
g
|
Vitamin A:
165
IU
|
Vitamin C:
2
mg
|
Calcium:
13
mg
|
Iron:
1
mg
If nutrition facts are provided they are calculated as an estimate to the best of our knowledge.