These sweet and tender Cornbread Muffins are so delicious and make a great side dish, especially for ribs or chili! Serve them up with some delicious Honey Butter. They are as easy as mixing a yellow cake mix and two boxes of Jiffy corn muffin mix together.
These are not like southern style cornbread, which can be a bit dry and crumbly. These are sweet and moist corn muffins with just the right amount of crumb. I have been told they are more akin to Disney cornbread.
For more of a traditional cornbread recipe pop over to this recipe for Buttermilk Cornbread.
If you are looking for a sweet cornbread, check out my recipe for Best Ever Cornbread!
How to Make Sweet Cornbread Muffins
Start by preheating the oven to 350 degrees and lining a muffin tin with paper cupcake liners. This recipe will make about 24 muffins.
In a large mixing bowl combine 1 yellow cake mix and 2 boxes of Jiffy corn muffin mix. Add in 5 eggs, ⅓ cup vegetable oil, 1 cup water, and ⅔ cup milk. Whisk everything together.
Let your batter sit on the countertop for 15 minutes. This will maximize the crown that you get on your muffins.
Portion out the batter into your muffin tin. Fill each cup about ¾ full.
Bake in the oven for 13-15 minutes. They are done when a toothpick inserted in the middle comes out clean, with no batter.
Let the muffins cool for about 5 minutes and the serve.
Serving
We love to serve these cornbread muffins with honey and butter. Or for an extra special treat you can make this Dreamy Honey Butter!
Storing
You can store your cornbread muffins at room temp in an airtight container for about 5 days.
You can also freeze your muffins in a freezer proof container for up to 3 months.
Great Dinner Menu with Cornbread Muffins
These cornbread muffins are so good you just might want to build a menu around this recipe! Here are two great menus:
Menu 1
Cornbread Muffins
Raw veggie tray with ranch or blue cheese
Menu 2
Cornbread Muffins
Coleslaw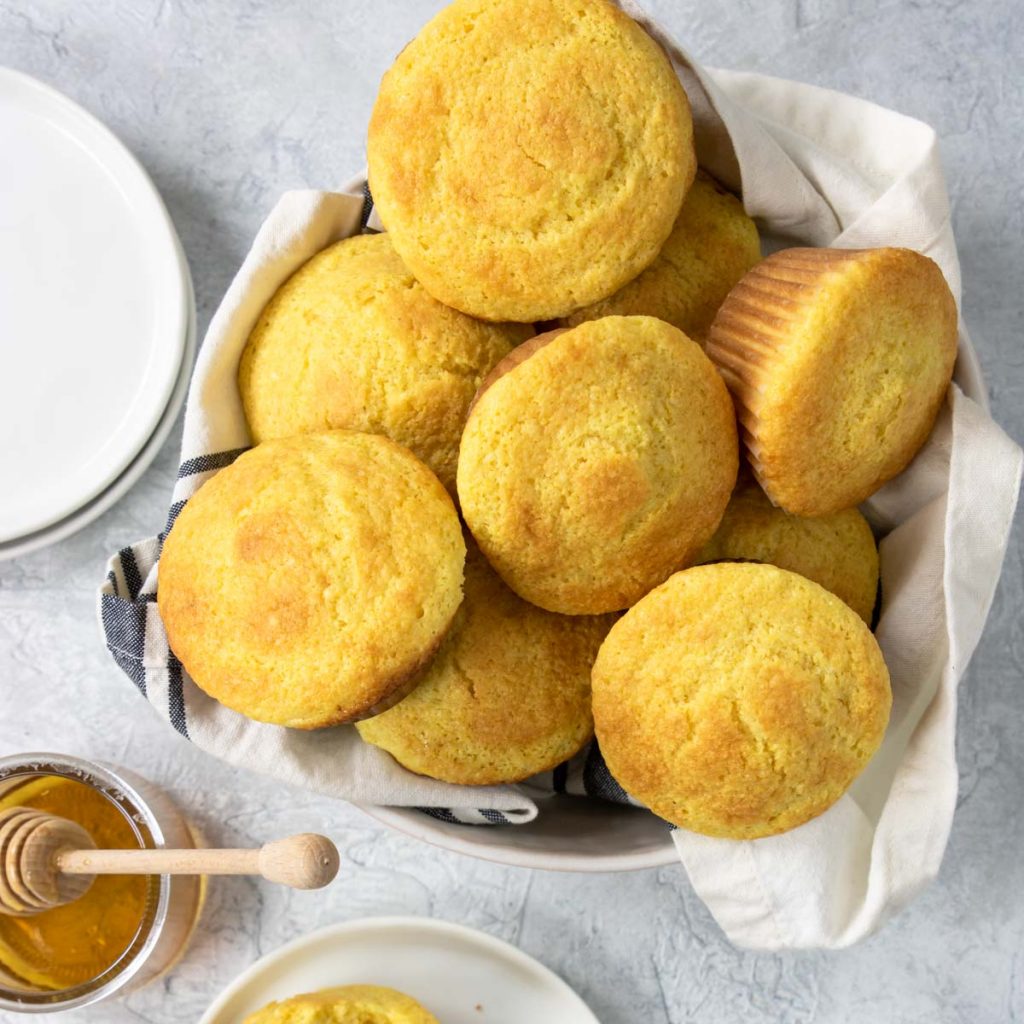 Disclaimer
I know that these are not true "southern style" cornbread muffins, so please do not come at me in the comments about not knowing how to make REAL cornbread. This is definitely meant to be a sweet cornbread muffin, more in line with Disney cornbread : )
Related Recipes
---
Did you make this recipe?!
If you make this recipe I would love to hear your review. Pop down to the comment section and connect with me.
Then sign up for our Weekly Newsletter so you never miss a new recipe!
Sweet Cornbread Muffins
A sweet and tender recipe for cornbread muffins. This is an easy recipe that comes together in minutes and just bakes for about 15 minutes.
Print
Pin
Rate
Save
Saved to Grow
Ingredients
1

box

yellow cake mix

2

boxes

Jiffy corn muffin mixes

5

eggs

1

cup

water

⅔

cup

milk

⅓

cup

vegetable oil
Instructions
Preheat the oven to 350° and line muffin tins with paper cupcake liners, the recipe makes about 24 corn muffins.

In a large bowl whisk together all the ingredients.

Let the batter sit at room temp for about 15 minutes. This step can be skipped if you are in a hurry.

Fill each muffin cup about ¾ full.

Bake for 13-15 minutes until cooked through. Insert a toothpick into the center of a muffin and if it comes out clean they are done.

Cool for about 5 minutes then serve!
Notes:
If you want to make sweet cornbread check out my recipe for Best Ever Cornbread.
For a traditional cornbread pop over to this Buttermilk Cornbread Recipe.
Storing
Keep at room temp in an airtight container for up to 5 days.
You can freeze your corn muffins in a freezer safe container for up to 3 months.
Did you try this recipe? Connect with me & let me know how it turned out by commenting below!
Jump to Comments
If nutrition facts are provided they are calculated as an estimate to the best of our knowledge.