Thin Mint Cookies do not last long at our house. Even with good intentions these mint chocolate cookies only seem to last a week, at most.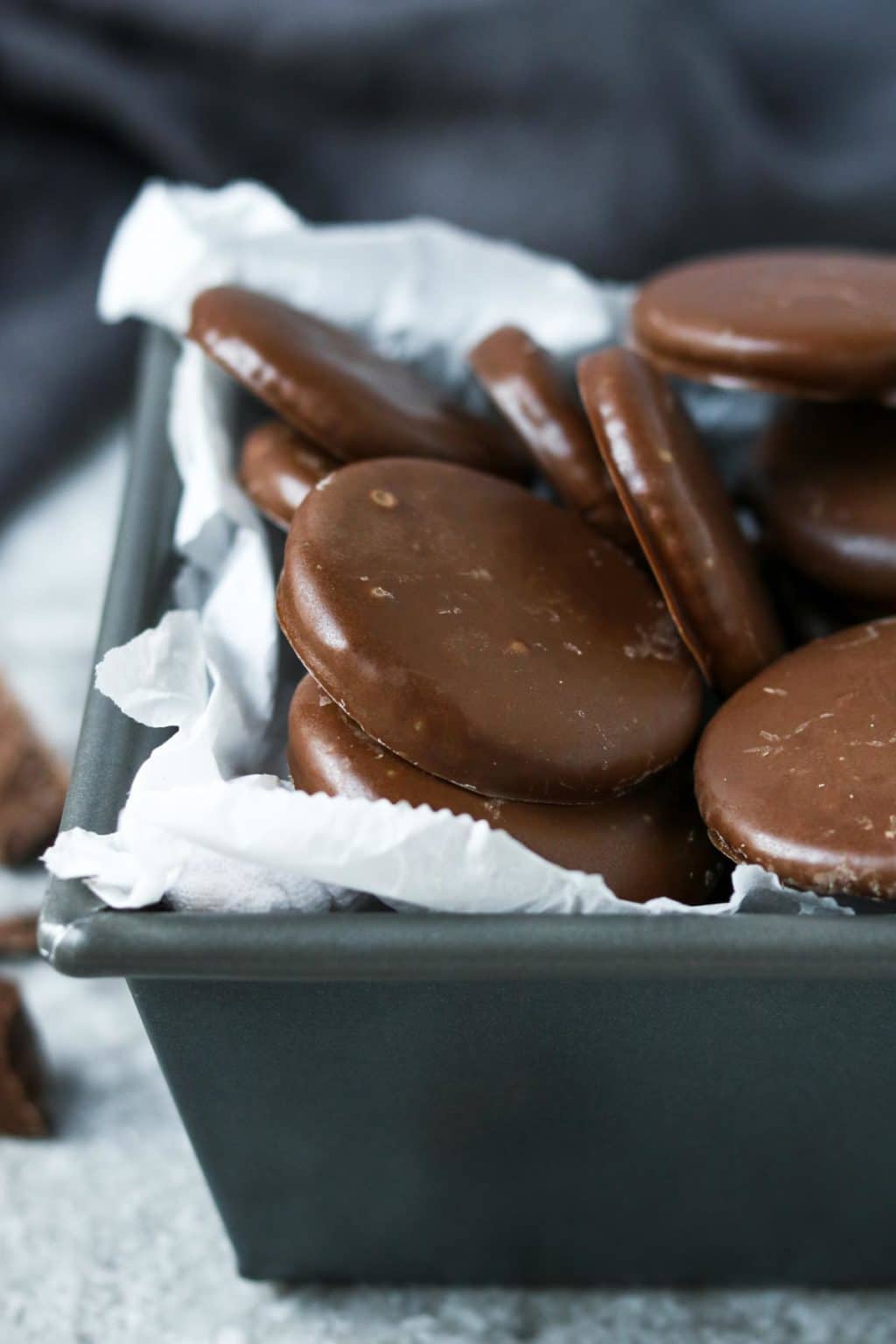 One cookie at a time they disappear quickly. That is why we really love these copycat thin mints. We can have them anytime, anywhere, without having to wait on the girl scouts!
Another amazing no-bake cookie to check out are these Peppermint Bark Oreos! Easy and delicious!
How to Make Copycat Thin Mint Cookies with Ritz Crackers
These cookies could not be easier to make. You don't even have to turn on the oven which makes them a great no-bake dessert.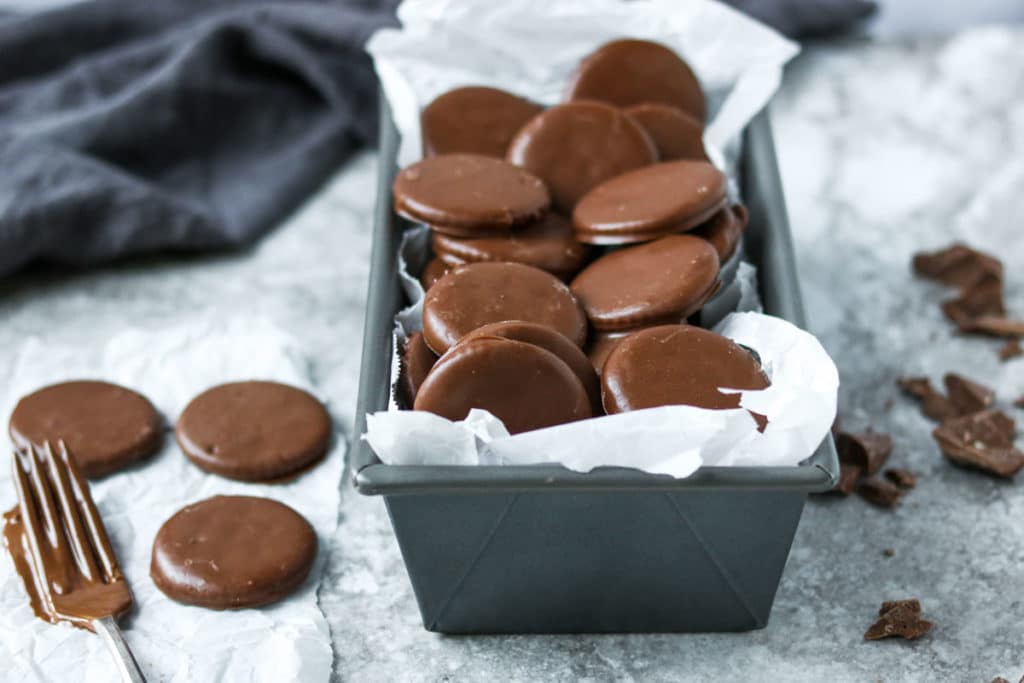 Melt the Chocolate
Using a double boiler (which is a pot of simmering water with a glass, heat proof, bowl fitted over top. Making sure the water does not touch the bowl). Melt the chocolate and peppermint extract together. Use your choice of chocolate- either dark chocolate melting wafers or chocolate almond bark, chopped.
We really like the Ghirardelli Dark Chocolate Melting Wafers!
Dip the Ritz Crackers
Take the chocolate off the heat. Using a fork, dip the crackers in the chocolate making sure to coat both sides. Slightly shake the cracker on the fork to level the chocolate and get rid of the extra.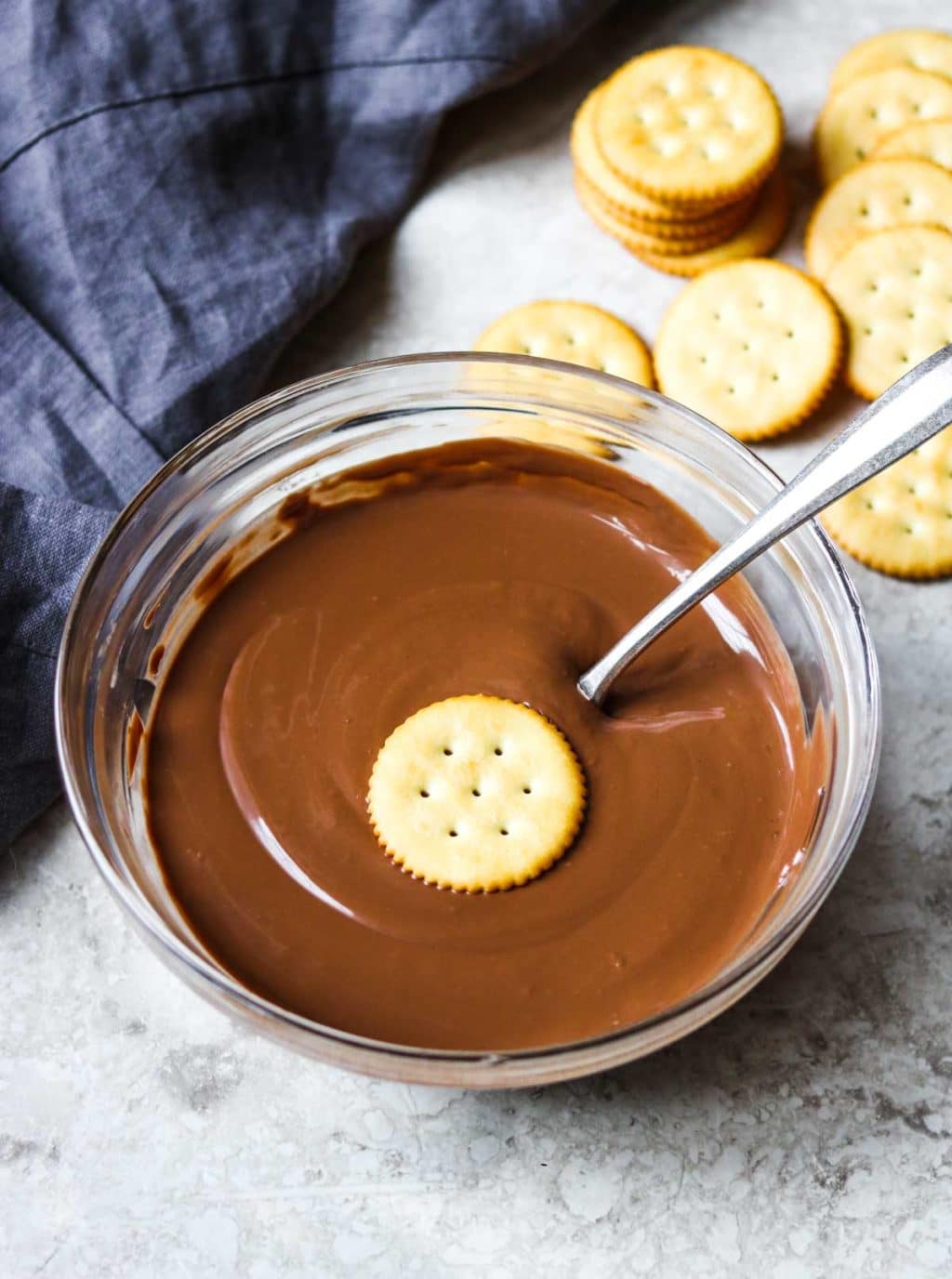 Dry the Thin Mints on Parchment Paper
Lay the chocolate covered Ritz Crackers on Parchment paper or wax paper. They should set up in about 15-30 minutes.
They are ready to eat!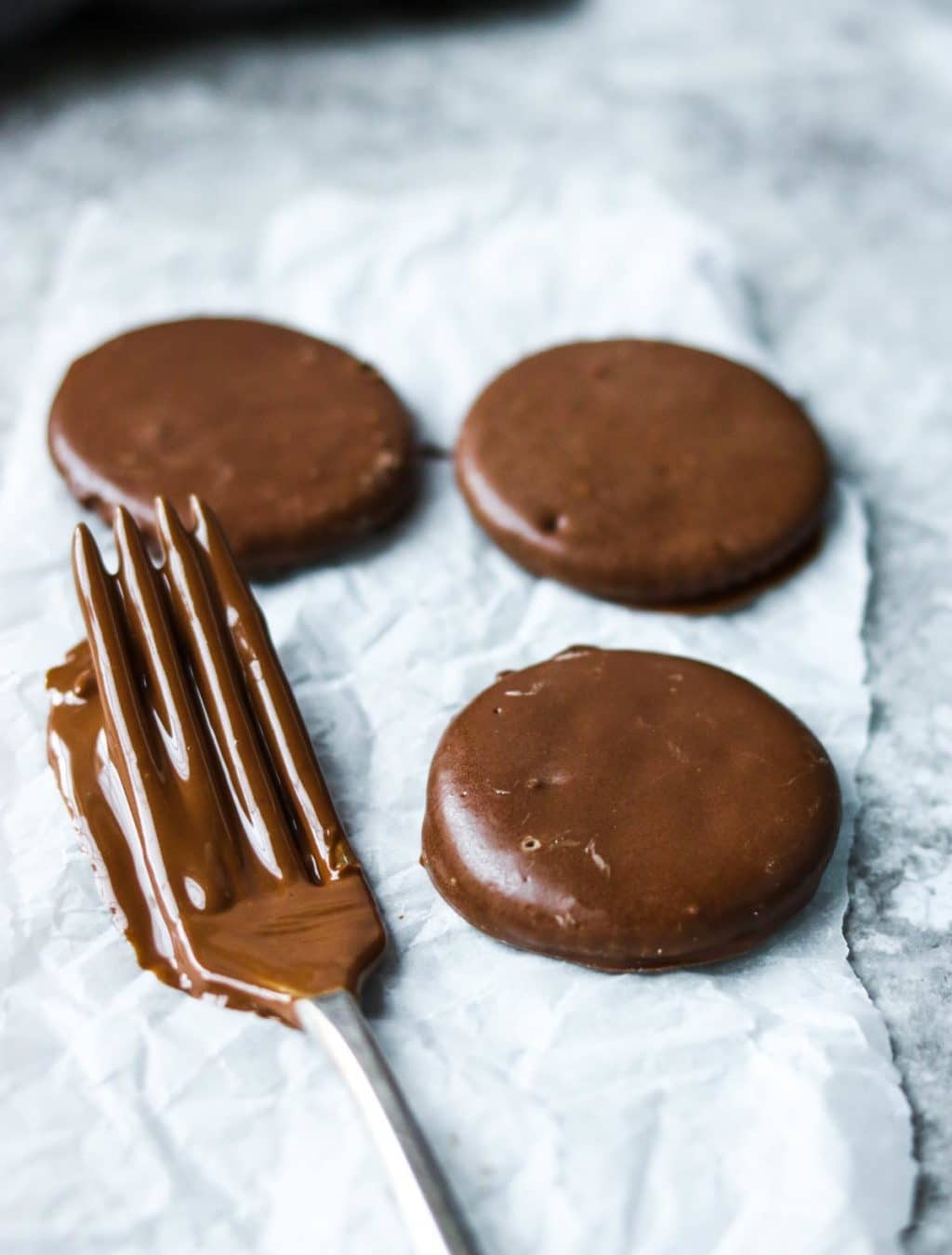 What Chocolate to Use
I use Ghirardelli dark chocolate melting wafers or chocolate almond bark to make my thin mints. Whatever you are using just make sure that you use a chocolate that will firm up as it sits. 
I would not recommend using chocolate morsels/chips, your cookies will not set up the way you want them to.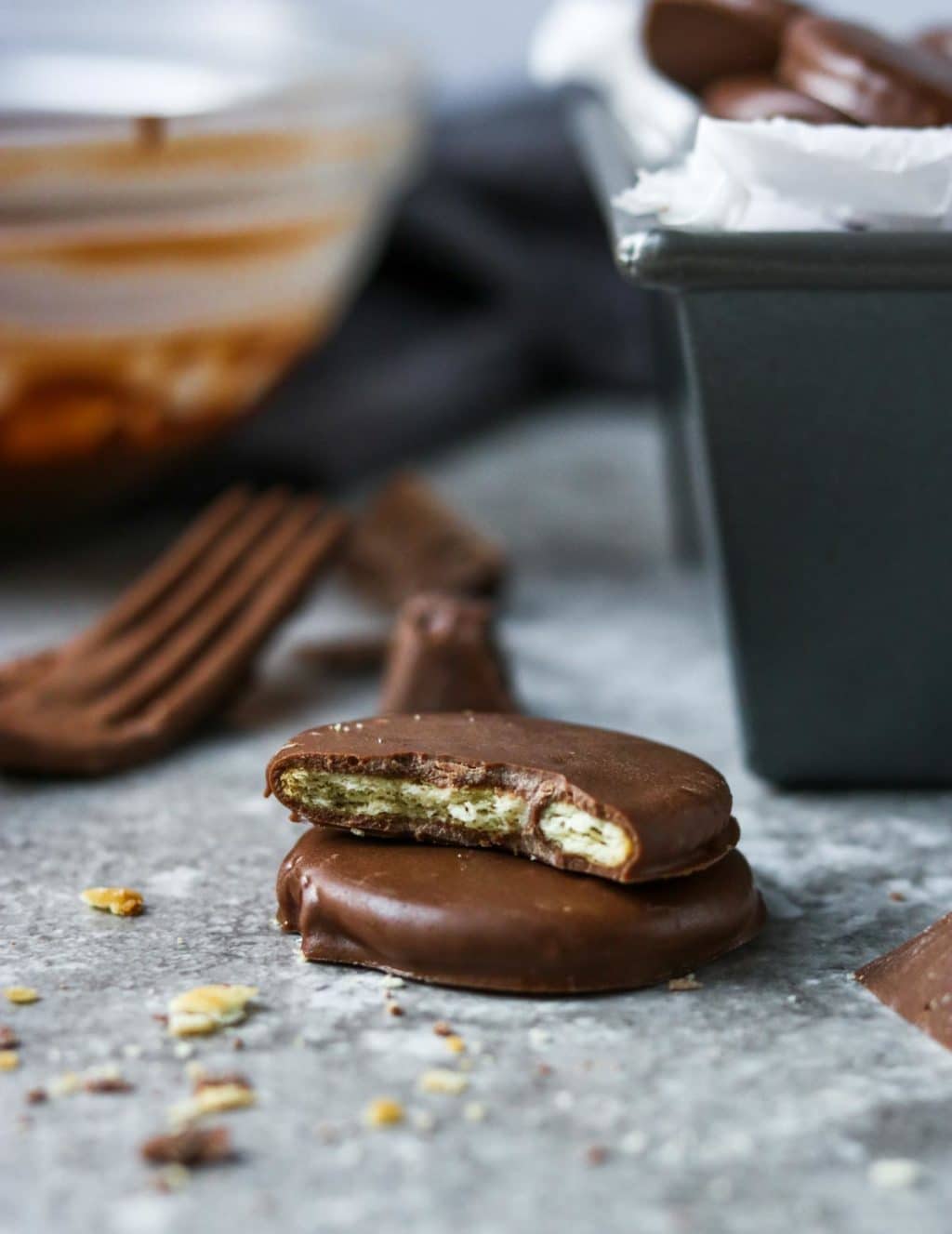 Storing
Sometimes we like to put a sleeve of our girl scout thin mints in the freezer. This copycat version would be great in the freezer too. But, if you are not into frozen cookies just keep them in an airtight container on your counter for up to a week.
However, one by one they won't last long!
Perfect Edible Gift
These Ritz Cracker Cookies also make a wonderful edible gift.
At Christmas we like to give these out in little holiday tins.
Great addition to a food basket gift. They would go great in a coffee, tea, or chocolate themed basket.
May Day (May 1st), does anyone remember handing out may baskets when you were little? These would make a great May Day treat!
Add to a new mom basket.
Wonderful dessert if you are taking a meal to a family.
Perfect new neighbor treat.
I hope you try these copycat thin mint cookies in your kitchen!
More Chocolate Cookies…
Copycat Thin Mint Cookies
A homemade version of Girl Scout's Thin Mint cookies. Ritz Crackers are covered with a chocolate spiked with peppermint extract. These are almost better than the original thin mint!
Print
Pin
Rate
Save
Saved to Grow
Ingredients
10

oz

Chocolate Melting Wafers (10-12 oz)

or chocolate almond bark

¼

teaspoon

peppermint extract

1

sleeve Ritz Crackers

about 30 crackers
Parchment paper lined sheet pan
Instructions
Line a baking sheet with parchment paper (you can also just lay some parchment paper on the counter).

Melt the chocolate wafers and peppermint extract over a double boiler.

Bring a small pot of water to a boil. Fit a glass or metal bowl snuggly in the top of the pot, making sure the boiling water does not touch the bowl. Place the chocolate & extract in the bowl and stir while the chocolate melts.

Remove from the heat

One at a time, place the Ritz Crackers into the chocolate. Using a fork turn it around in the chocolate to coat completely.

Pro Tip: If your chocolate starts to get tacky while you are dipping the crackers place it back on the double boiler for a minute or two until the chocolate is smooth again.

Remove the cookie from the chocolate by laying it on the fork. Let the excess chocolate drip from the cookie.

You can also lightly shake the cookie bac and forth, this will also level the chocolate on top.

Place on a parchment lined sheet pan to dry/harden. This will take about 15-30 minutes.
Did you try this recipe? Connect with me & let me know how it turned out by commenting below!
Jump to Comments
If nutrition facts are provided they are calculated as an estimate to the best of our knowledge.