If there every is a situation where you have to eat strictly from your pantry and the current staples that are in your fridge – like eggs and milk – wouldn't it be helpful to have a meal plan to make the most of your ingredients.
This is the resource that you need! A 7 day meal plan with recipes from your pantry and staple items. Plus a grocery list to help you prepare for a week at home.
Pantry, Frozen & Staple Item Meal Plan
Normally my meal plans are for 4 dinners at home, a leftover night, a kid's choice night, and then one night out. In this case we are assuming that you cannot go out for dinner.
Instead this meal plan will include:
6 easy dinner menus that include items from your pantry and staple items from your fridge.
1 leftover night
5 Minute Tomato Basil Pantry Soup
This is a super easy recipe that only takes 5 minutes to make. The ingredients are completely from your pantry and the croutons are optional. In fact you can even make the croutons from hot dog buns if that is all you have (been there!). Tomato Basil Pantry Soup
Skillet Mac and Cheese & Frozen Broccoli
This is a creamy and dreamy mac and cheese recipe that is made with Velveeta cheese – which you can also use shredded cheese if that is what you prefer (or have!). If you are out of milk you can even sub canned evaporated milk. Serve this mac and cheese with frozen broccoli florets. Skillet Mac and Cheese
Skillet Dirty Rice and Beans
In an emergency rice and beans are great staples to keep in the pantry. The two together provide enough calories and protein to keep you full and healthy. Plus they both keep for a long time!
This recipe does call for sausage, however you could use whatever protein you have on hand (even hot dogs in a pinch!). Or keep it vegetarian with just the rice and beans. Skillet Dirty Rice and Beans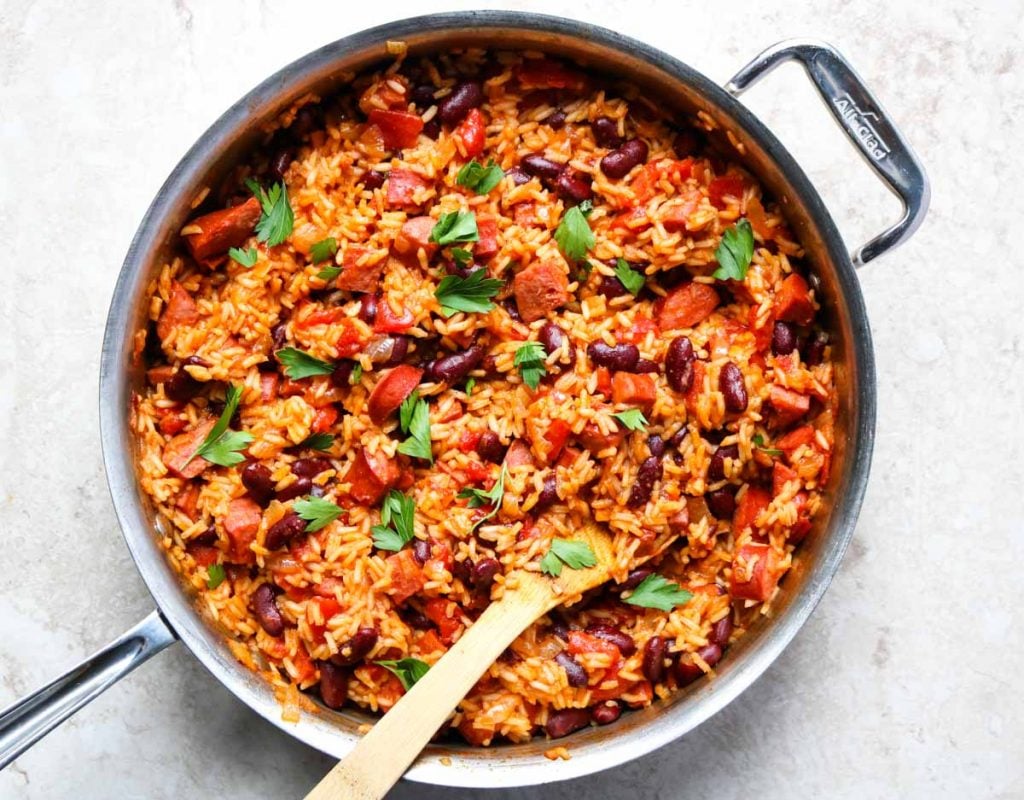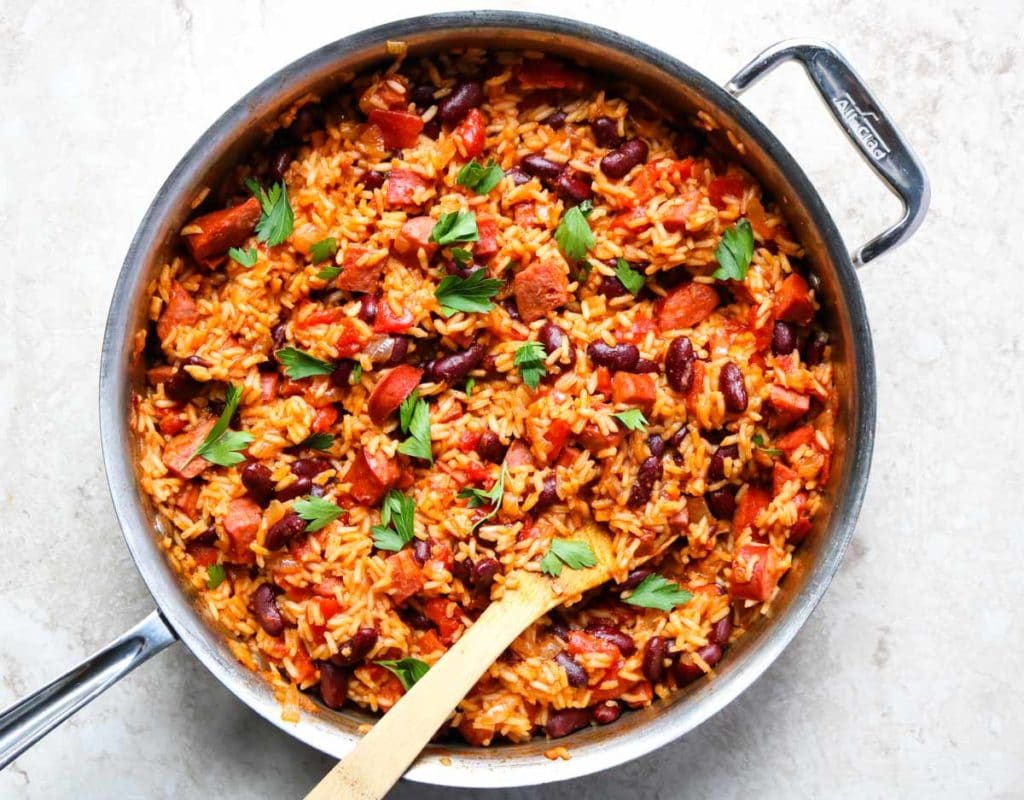 Breakfast for Dinner
Who doesn't love breakfast for dinner? For this menu you will be making homemade pancakes and scrambled eggs.
Classic Chili
This recipe does call for ground beef, which is great if you have some in your fridge or freezer! You can also sub ground turkey or chicken. But if you don't have any protein, just plan to make this vegetarian! Classic Chili or if you have an Instant Pot you can follow this recipe for Instant Pot Chili.
Brown Butter Garlic Noodles
Pasta is always a good go-to when you need to eat from your pantry. In this recipe you will be making a delicious brown butter sauce with garlic. If you don't have spinach go ahead and toss some frozen veggies, like peas, into the pasta! Brown Butter Garlic Noodles
Leftover Night
During the week there will be a point where you may have some leftovers in the fridge. If your family is like mine, then the sound of "leftovers for dinner" immediately becomes tears, here are some ideas for a leftover makeover dinner:
Add marinara sauce to the leftover brown butter noodles.
If you have hot dogs, make chili dogs with leftover chili.
The chili would be a great topper on baked potatoes.
Put leftover dirty rice and beans in a tortilla with some salsa and cheese for rice and bean burritos.
Stir leftover chili into the leftover mac & cheese for chili mac!
Add a little more marinara to thicken the tomato basil soup and serve it over pasta as a tomato basil cream sauce.
Printable Grocery List
Print this grocery list, cross off what you already have, then head to the grocery store prepared! Note that this list does not include the groceries for any of the leftover ideas.
PANTRY MEAL PLAN PRINTABLE GROCERY LIST
In Case you Need More Than a Week
In case you need more than a week's worth of easy pantry, freezer and staple item recipes, here are a couple more to pull from. All these recipes can obviously be adapted to what you have on hand!
Tips for Storing Food in an Emergency
Here are a few tips to make sure you have the right things in your pantry and freezer, and to get the best shelf life from your food:
You CAN freeze your butter and eggs for a longer shelf life. Eggs can freeze up to a year and just need to be thawed in the fridge overnight. Butter can also be frozen for up to a year.
Keep your potatoes in a brown bag, mesh bag, or cardboard box in a cool, dark and humid place – like a basement.
Rice, canned beans, and canned tomatoes are great things to stock up on and keep in your pantry.
Perishable food like fruits and veggies are best purchased frozen for a longer shelf life.
Stock up on evaporated milk. It works as a great substitute for milk in just about any cooked dish. In a pinch you can mix evaporated milk with water in a 1:1 ratio and drink it or use it on cereal.
Cheese can be frozen for up to 6 months.
Some other things to consider buying because they have a long shelf life and are easy to store: jerky, nuts and seeds, canned soups and stews, canned meat like tuna and chicken, granola bars or protein bars, dehydrated fruits like apricots, raisins, dried cherries or blueberries, shelf stable juices and milk.