Oven Roasted Carrots make an amazing vegetable side dish that is the perfect balance of sweet and savory. They are a great side dish for just about any dinner! The best part is that they come together with just 3 ingredients in under 30 minutes and they turn out crisp-tender and delicious!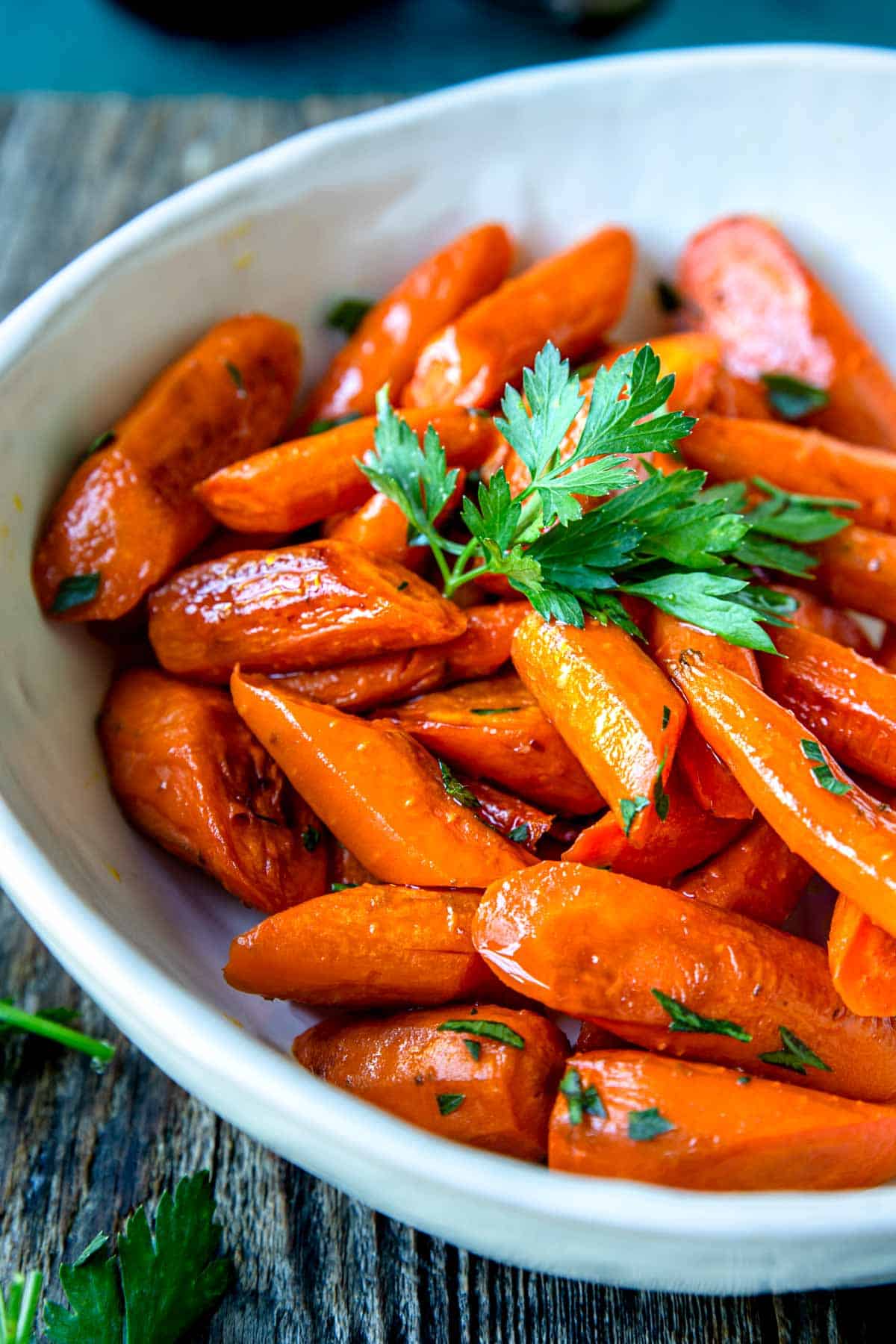 One of our favorite dinners at the Mom's Dinner kitchens are these roasted carrots, roasted garlic mashed potatoes with mushroom gravy and grilled steaks! This is an amazing menu any time of year.
Ingredients
Just like Roasted Asparagus, you only need three ingredients to make this side dish : carrots, olive oil and kosher salt! Couldn't be easier!
Carrot Sizes
Carrots can come in drastically different sizes! I have seen carrots that are two inches around, I have also seen carrots that are like toothpicks! This recipe was written for a medium sized carrot, about 8-10 carrots per pound (shown below is one pound of carrots).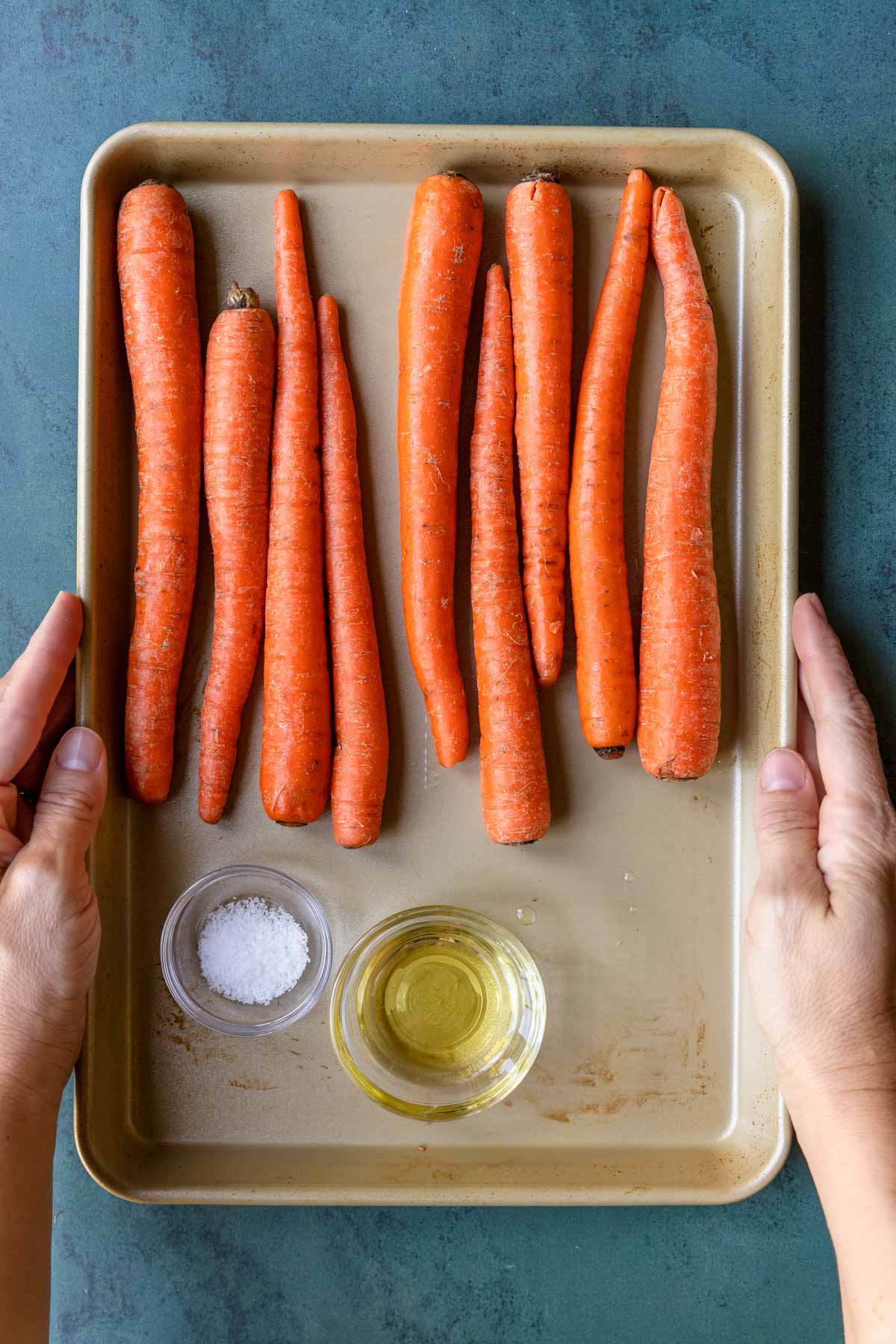 This makes a difference for cooking time. However if you have thicker carrot you can always split them in half lengthwise before cutting into pieces.
If you have kids in your house you probably also have BABY CARROTS in your fridge. Those can be swapped out for whole carrots if you want to use up what you have!
Peeling and Cutting Whole Carrots
Before you roast your carrots you will want to peel, trim and slice into pieces.
There are two ways to peel your carrots:
The traditional way is with a vegetable peeler. That is what I use and it works great.
There is also a fancy way (I learned from Thomas Keller) you can use a clean "green scrub pad" and scrub away the very outer layer of the carrot.
To trim your carrot you will just cut away and discard the stem end, you can also trim away the root end if you want, but isn't necessary.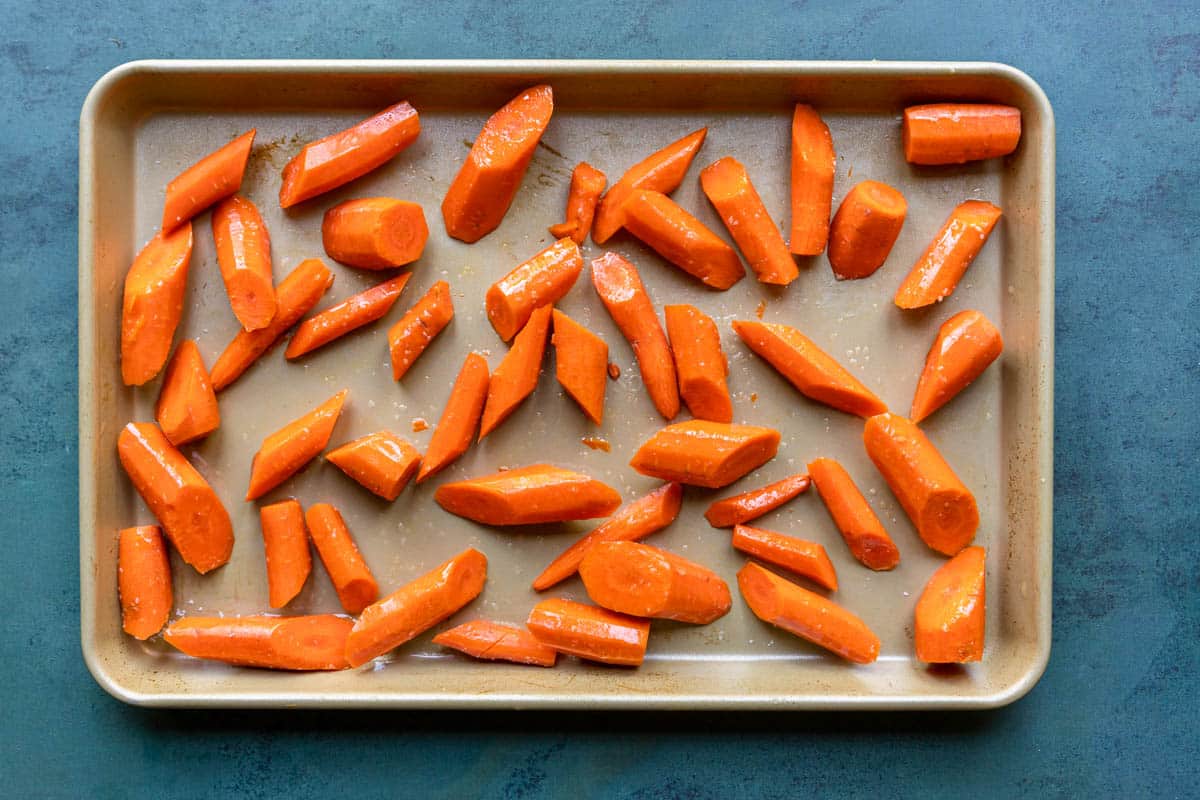 To slice the carrots into pieces you will cut it into 1-2 inch chunks. I like to cut it on the bias (at an angle). This creates fancier carrots, perfect for a Holiday dinner! The thinner ends also cook a little faster and can get a nice caramelization.
Garnish
Your roasted carrots will be beautiful as is, but if you want a little garnish here are some options:
salted butter!
fresh chopped parsley
fresh chopped dill
drizzle of real maple syrup for a sweeter carrot
drizzle of honey
pomegranate arils (great for the holidays)
Fancy Drizzle
For an extra fancy garnish great for the holidays you can melt together:
2 tablespoon butter
1 tablespoon honey
1 chopped garlic clove
Toss the carrots in the mixture. Finish with a sprinkle of fresh chopped parsley.
Half Recipe or Double Recipe
If you are having a smaller dinner or there are just two or three of you, you can absolutely half this recipe. It will still cook for the same amount of time.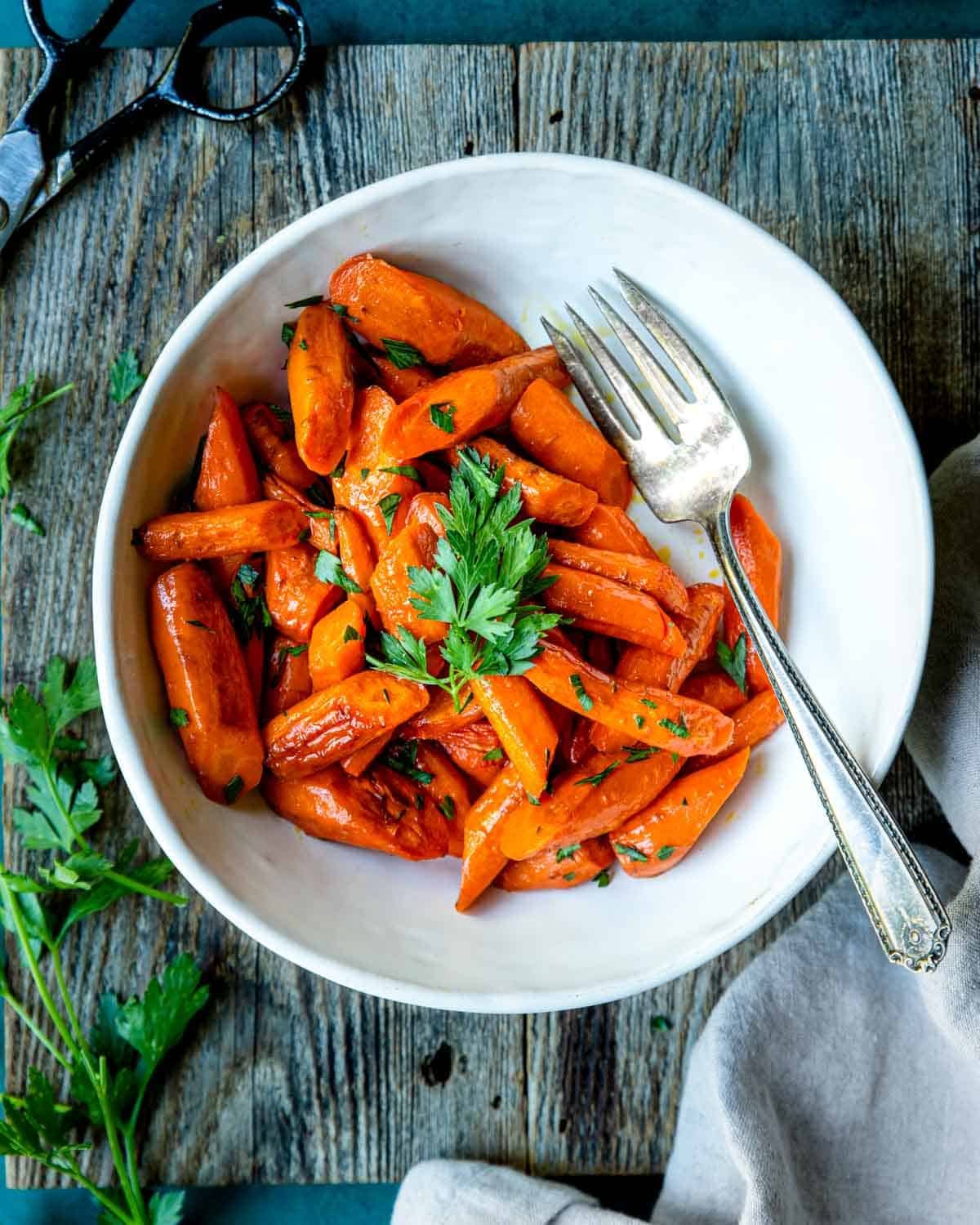 If you choose to double the recipe and cook 4-5 lbs. of carrots, you will also want to use two very large rimmed baking sheets. You may also need to increase the cooking time to 30-35 minutes. Half way through the cooking time when you toss the carrots you will also want to swap the position of the pans in the oven (bc the top of the oven can tend to be hotter).
Great Dishes To Pair with Roasted Carrots
Roasted Carrots go with just about any dinner that needs a veggie side dish. We like to pair them with Pork Tenderloin or Pork Loin, Braised Tri Tip, Meatloaf, Roasted Chicken, Swedish Meatballs, or Steak Bites, just to name a few!
---
Did you make this recipe?!
If you make this recipe I would love to hear your review. Pop down to the comment section and connect with me.
Then sign up for our Weekly Newsletter so you never miss a new recipe!
Oven Roasted Carrot Recipe
A great vegetable side dish of Roasted Carrots that only requires 3 ingredients and 25 minutes.
Print
Pin
Rate
Save
Saved to Grow
Ingredients
2

lbs

carrots

peeled and cut into 1-2 inch pieces

2

tablespoon

oil

olive oil or canola oil work great

1

teaspoon

kosher salt
Instructions
Preheat the oven to 425°. Grab a very large rimmed sheet pan.

Pro Tip: make sure you have a sheet pan large enough so the carrots are not crowded. You want them to roast, not steam.

Peel and wash the carrots. Cut into 1-2 inch pieces.

If you have SUPER thick carrots you may want to cut them in half lengthwise first, to make sure they cook in 25 minutes.

Pro Tip: Cutting the carrots at a diagonal, like pictured, is a great way to make your roasted carrots look a little fancier AND the thinner tips will get a nice caramelization (flavor!).

Place the carrots on the sheet pan and drizzle with oil. Sprinkle on the salt.

With clean hands toss everything together to coat.

Roast in the oven for 15 minutes, then toss the carrots and return to the oven to roast for another 10 minutes.

(25 minutes total)

Pro Tip: carrots come in drastically different circumferences, double check that the carrots are fork tender by piercing with a knife or fork. You shouldn't meet a lot of resistance. If they are not done, place them back in the oven in 5 minute increments.
Serving
Optionally garnish your carrots. Here are some options that pair well with the flavor of carrots: salted butter, fresh chopped parsley, fresh chopped dill, a drizzle of real maple syrup for a sweeter carrot, a drizzle of honey, or pomegranate arils (great for the holidays)
Notes:
FANCY ROASTED CARROT GARNISH: For a fancy garnish, great for the holidays, melt together:
2 tablespoon butter
1 tablespoon honey
1 minced garlic clove.
Toss with the carrots and finish with fresh chopped parsley.
HALF RECIPE: You can absolutely half the recipe, it will still be the same cooking time.
DOUBLE RECIPE: You will want to use two pans to make sure you roast and not steam the carrots. Since the oven will be so full you may need to increase the cooking time to 30-35 minutes. Also swap the pan positions in the oven half way through cooking.
Did you try this recipe? Connect with me & let me know how it turned out by commenting below!
Jump to Comments
Serving:
1
serving
|
Calories:
77
kcal
|
Carbohydrates:
11
g
|
Protein:
1
g
|
Fat:
4
g
|
Saturated Fat:
0.3
g
|
Polyunsaturated Fat:
1
g
|
Monounsaturated Fat:
2
g
|
Trans Fat:
0.01
g
|
Sodium:
369
mg
|
Potassium:
363
mg
|
Fiber:
3
g
|
Sugar:
5
g
|
Vitamin A:
18944
IU
|
Vitamin C:
7
mg
|
Calcium:
38
mg
|
Iron:
0.3
mg
If nutrition facts are provided they are calculated as an estimate to the best of our knowledge.