What is bacon jam, you ask? Well, Bacon Jam is a delicious, syrupy combo of bacon, onions, raisins, brown sugar, balsamic vinegar and Worcestershire sauce.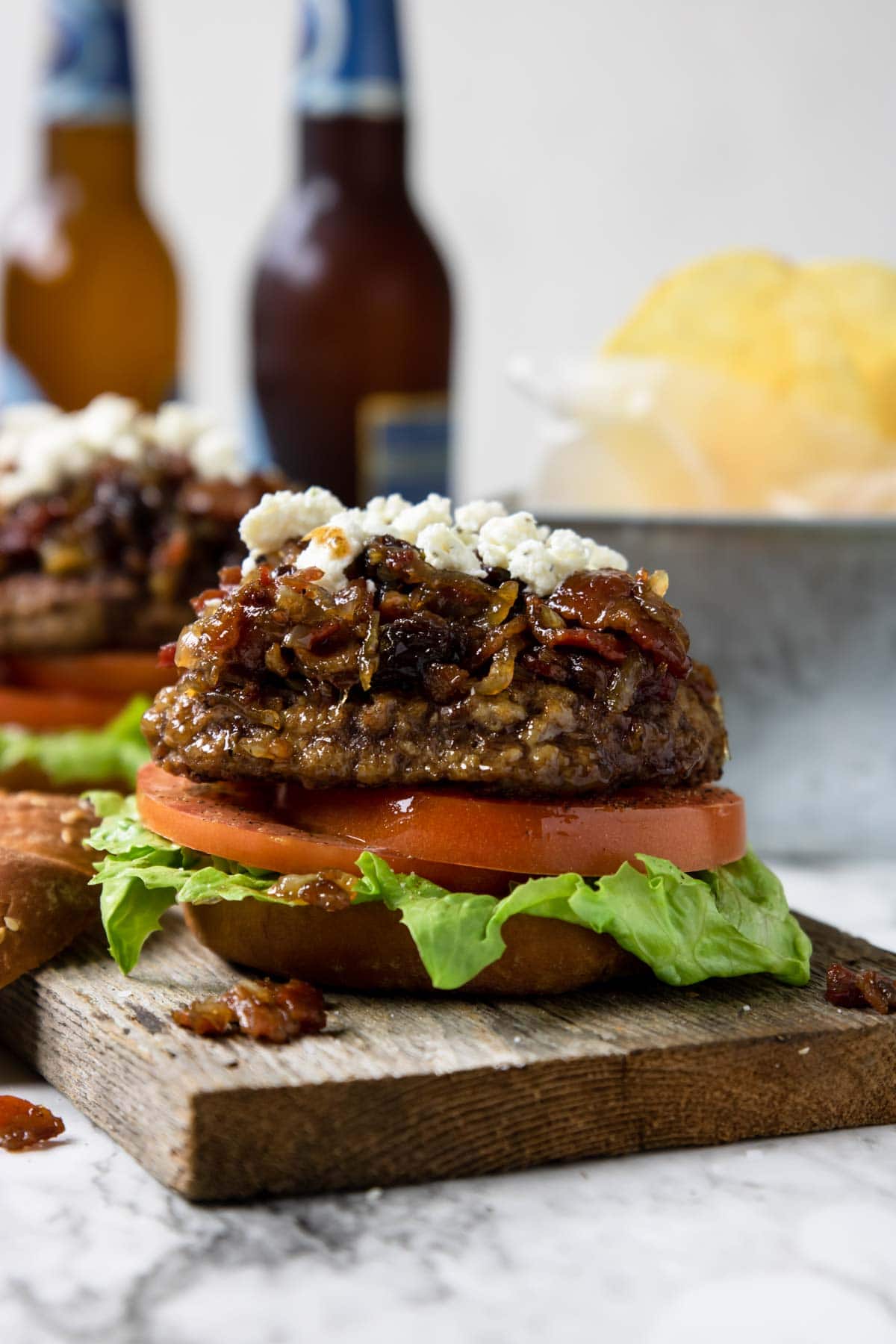 It is a great condiment for classic hamburgers, or it would be really amazing on top of these Grilled Pork Burgers! Put a huge dollop on top of your morning eggs, or pour warm bacon jam on top of some room temp cream cheese for an amazing appetizer.
If eating ALL the bacon has you feeling guilty, check out these other burger recipes: Healthy Chili Lime Turkey Burgers and Greek Turkey Burgers with Raspberry Aioli.
Is it really Jam?
The word "jam" is a little misleading. I don't want you to think this recipe is going to come out like a jelly with bacon in it. This recipe is more of a relish with chunks of bacon and onion coated in a sweet and salty syrupy glaze. Yum!
Bacon Jam Burgers
There may be a lot of ways to use bacon jam, however, eating it on top of a burger is my #1 favorite way!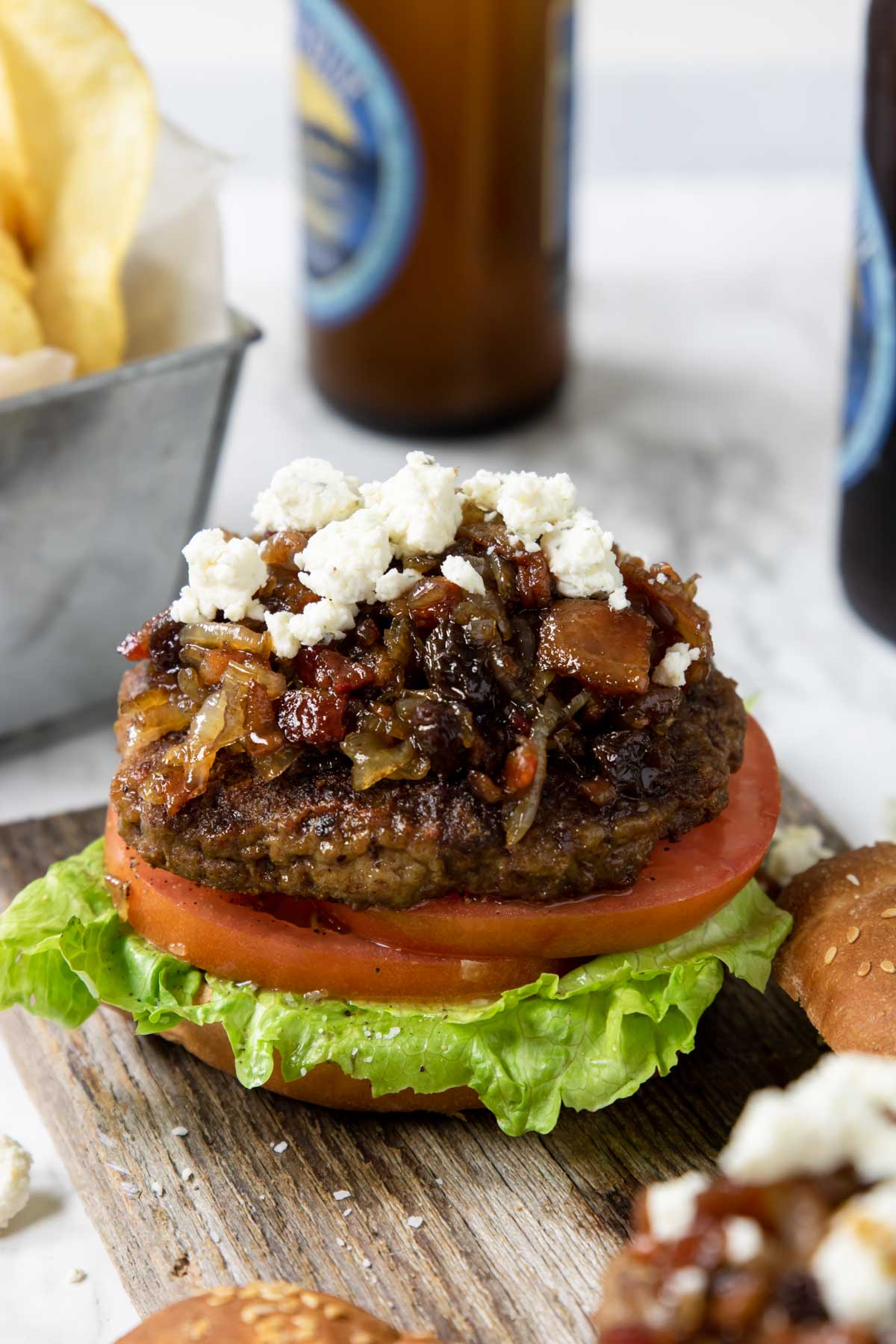 To make this burger exactly like I make it you will need: romaine or arugula, boursin cheese, a slicing tomato sprinkled with garlic powder, salt and pepper, warm bacon jam, and of course a great hamburger.
How to Make Bacon Jam
Start by chopping 1 pound of bacon into 1 inch chunks. Then in a large non-stick skillet, over medium heat, I cook the bacon in two batches until it is crispy. Using a slotted spoon I dish the crispy bacon onto a paper towel lined plate.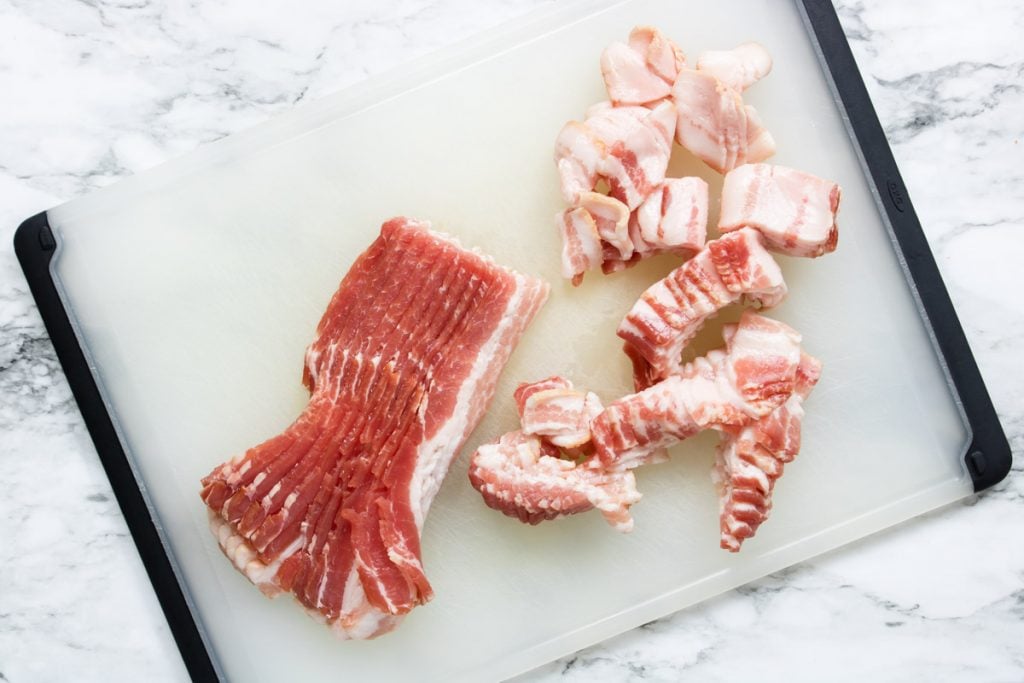 Reserve 3 tablespoon bacon grease. Make sure to reserve the bacon grease in a heat safe bowl.
Slice 2 small yellow onions in very thin slices. Then rough chop the slices so that you do not have any long strands of onion remaining. See the photo below as a visual reference: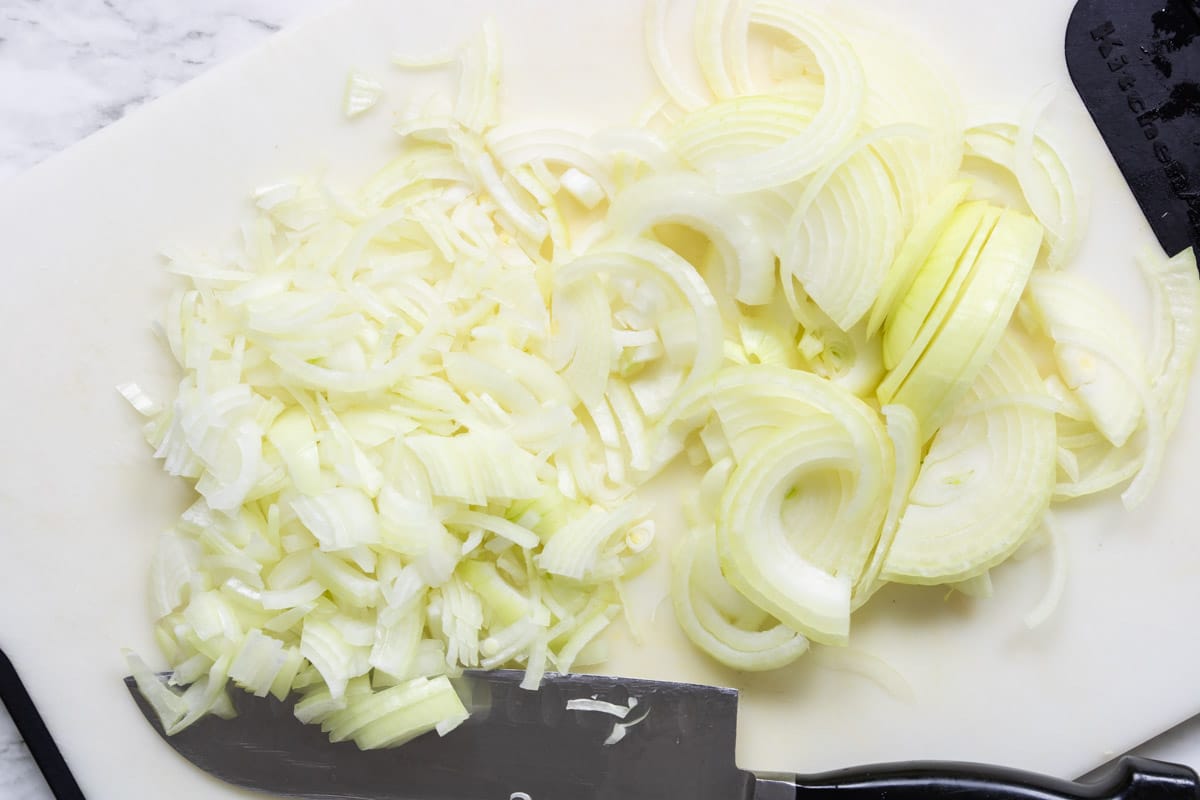 Next cook the onion and garlic in 3 tablespoons of reserved bacon grease, over medium low heat, until the onions are very soft and translucent, about 15 minutes.
Chop through the crispy cooked bacon, so you end up with smaller bits.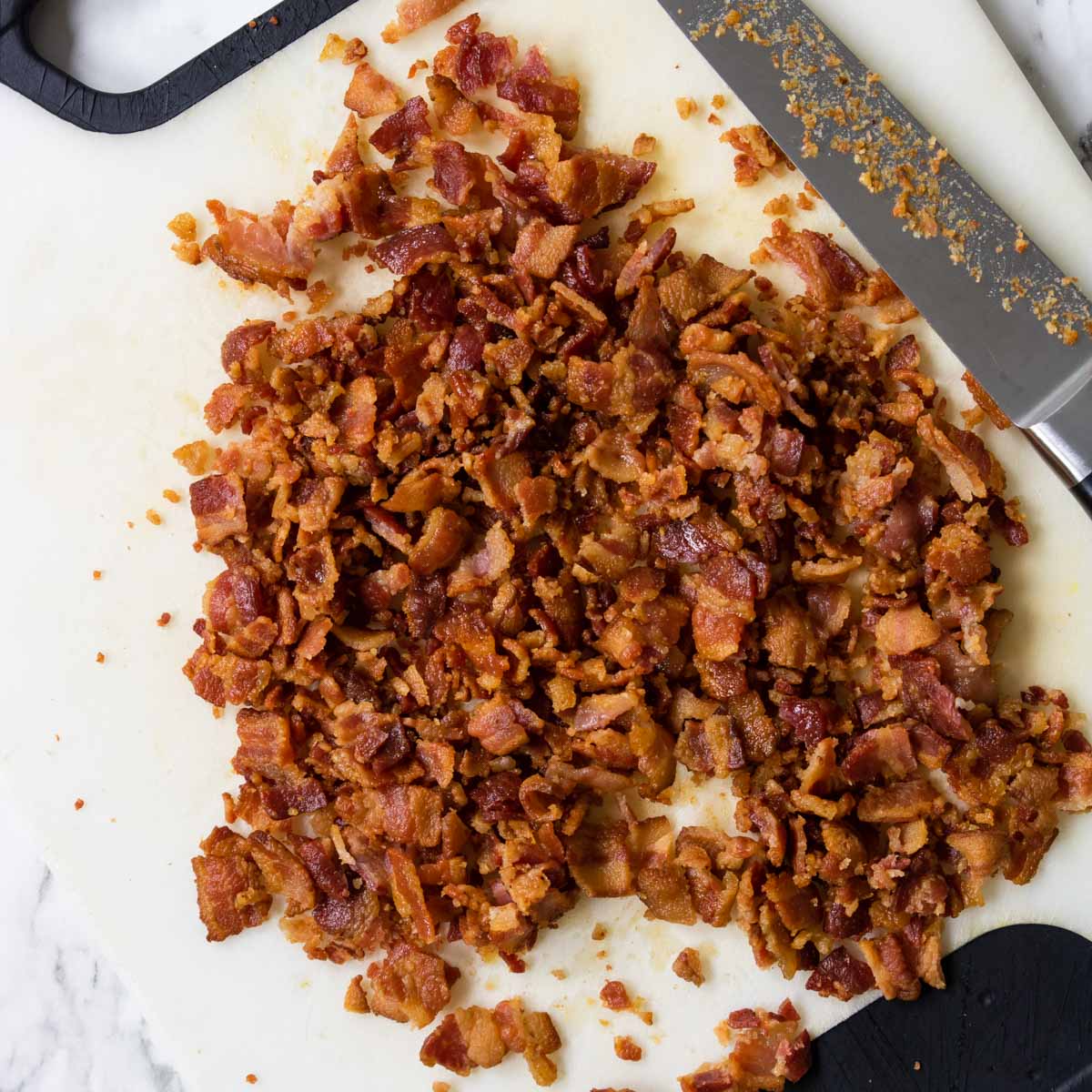 Add the bacon and brown sugar to the onion mixture, stirring occasionally for about 2 minutes.
Next add the raisins, Worcestershire, balsamic vinegar, and water to the bacon mixture. Simmer, stirring occasionally, for 5-8 minutes until the mixture has thickened and looks syrupy.
Storing Bacon Jam
To store any leftover bacon jam simply place it in an airtight container and refrigerate for up to a week.
To reheat it place in in a skillet and heat through over medium low heat. You may need to add a splash or two of water to reconstitute.
How to Make the Perfect Burger
There are a lot of burger recipes out there but this is how I like to make my burgers for the grill. Now unfortunately, I never measure when I make my burgers so it is just a dash of this and a sprinkle of that. This "recipe" will make 4 burgers:
1-1.5 lb. ground beef
Couple dashes of Worcestershire
One egg yolk
Sprinkle in a little garlic powder, onion powder, dried basil, black pepper, and salt.
If you really want a juicy burger put a small pat of cold butter in the center of each burger and then form the patty around the butter.
I like to grill these burgers for 5 minutes on the first side and 4-5 minutes on the second side. That makes a medium well burger.
Additional Ways to Serve Bacon Jam
Make a great appetizer by spreading a little cream cheese on a cracker and then top with warm Bacon Jam.
Use as a condiment for pulled pork sandwiches or grilled chicken sandwiches.
Spread on a pizza crust and top with gouda, fresh mozzarella, brie, or your favorite melty cheese. Put it in the oven or place on the grill to warm thru and melt the cheese.
Fill mini phyllo cups with brie, bake in the oven until the cheese is melted. Top with warm Bacon Jam.
Top a room temp. block of cream cheese with warm Bacon Jam. Serve it with Ritz crackers for a great appetizer. Tip: Add a few sprinkles of cayenne pepper for a Spicy Bacon Jam & Cream Cheese appetizer.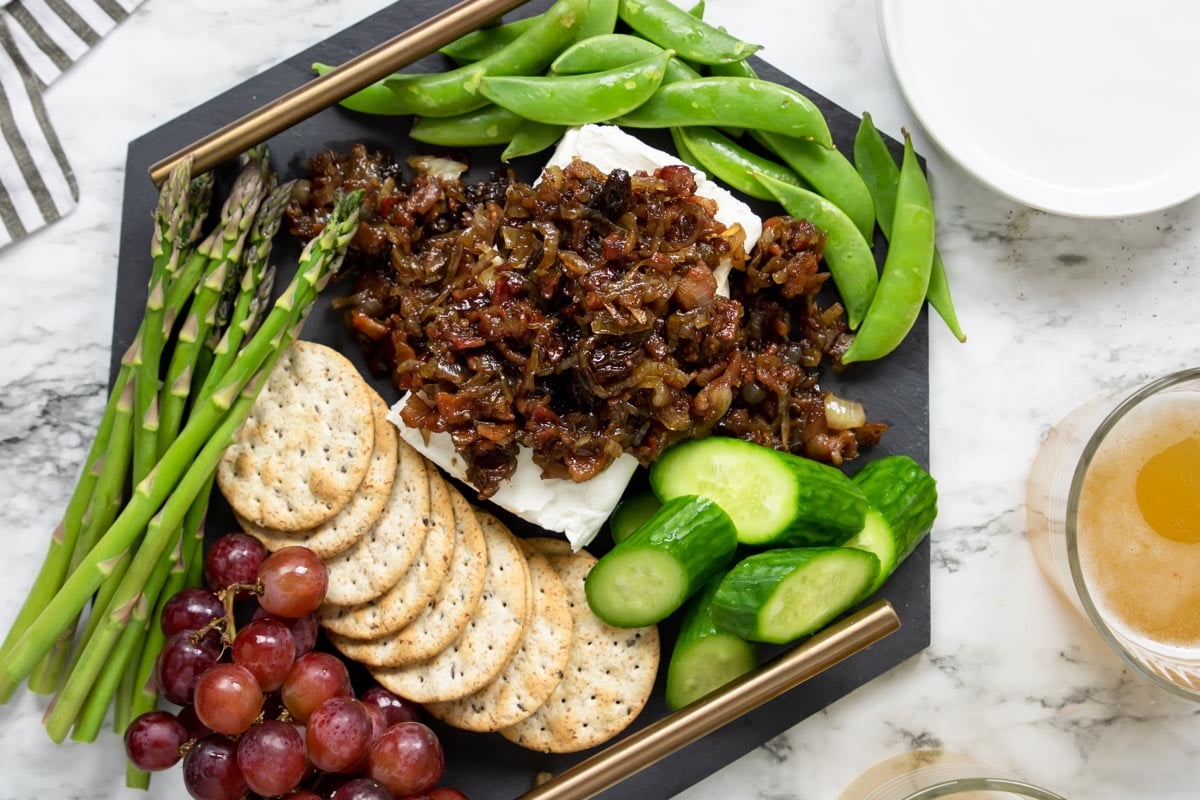 Bacon Jam Recipe
Bacon Jam
This easy bacon jam recipe is salty, sweet, and syrupy with a little kick of vinegar, mixed with bites of bacon and onions. It is the perfect burger topper! It is also great on cream cheese or brie for an appetizer.
Print
Pin
Rate
Ingredients
1

lb.

bacon, grease reserved after cooking

2

cups

yellow onion, thinly sliced then roughly chopped

(about 2 small onions)

2

garlic cloves, minced

3

tablespoons

reserved bacon grease

⅓

cup

brown sugar

2

tablespoons

raisins

1

tablespoon

worcestershire

3

tablespoons

balsamic vinegar

⅓

cup

water

**Optional

pinch

cayenne pepper
Instructions
Slice the bacon into 1 inch chunks and cook in a large skillet until crispy. Reserve the grease rendered from the bacon in a heat safe bowl- set aside. Drain the remaining grease from the bacon on a plate lined with a paper towel and set aside.

Slice your onions very thin and then give them a rough chop, so you do not have long strands of onion remaining. See photo for reference

In the emptied skillet add the onions, 3 tablespoons reserved bacon grease, and garlic. Saute over low heat until the onions are very soft and translucent, about 15 minutes.


Meanwhile, rough chop the cooled bacon.


Add all the bacon and ⅓ cup brown sugar to the onions, stir to coat and cook for 2 minutes.

Add the 2 tablespoon raisins, 1 tablespoon worcestershire, 3 tablespoon vinegar and ⅓ cup water to the bacon mixture. Simmer over medium low heat for 5-8 minutes, until the sauce has thickened and looks syrupy.

Serve immediately or store in an airtight container in the fridge for 5-7 days.
Notes:
To use after refrigeration, reheat the bacon jam on the stove over medium low heat until heated thru, about 5 minutes. You may need to add a teaspoon or two of water to loosen it up.
If you are using this on burgers, you will have enough to top 5-6 burgers.
ULTIMATE BURGER
lettuce, slicing tomato seasoned with salt, pepper and garlic powder, grilled burger, pile on the bacon jam, top with boursin cheese! 
OTHER BURGER OPTIONS
The bacon jam is also amazing piled on top of a Grilled Pork Burger!
Did you try this recipe? Connect with me & let me know how it turned out by commenting below!
Jump to Comments
If nutrition facts are provided they are calculated as an estimate to the best of our knowledge.
Original Post 5-27-17. Updated on 4-25-18, Photos and copy updated 3/11/2020