Of ALL the holiday meals that we eat in a year, EASTER DINNER is my absolute favorite. Our dinner is a very traditional Easter menu has all the flavors that I love: ham, cheesy potatoes, and deviled eggs. It is the feast that I look forward to all year!
Now that you know my LOVE for Easter Dinner, you know that I don't mess around with these flavors! I only include recipes that are tried and true. You can trust that my menu is planned to perfection.
Jump to:
Perfect Easter Dinner Menu
My Easter Dinner menu does not vary. Why mess with perfection!? It is the same delicious menu year after year. All the flavors compliment each other and it is a full, huge buffet.
If you are coming to my house for Easter, you better show up with your best appetite.
I am going to share with you all the recipes from my Easter Dinner Menu for 10. I promise that it will not disappoint. It will soon become your favorite holiday meal too.
All the dishes are fool proof and classic- not to mention easy to make.
The star of the meal, Ham! I found perfection in Ina Garten's Virginia Ham Glaze. It is a blend of chutney, brown sugar, orange, garlic, and dijon. It coats the ham in a sweet, tangy sauce that balances the salt of the ham.
Now, her recipe serves 35… so if you are only serving 10, get a much smaller ham. Something closer to 8-10 pounds.
Print the full recipe by clicking here.
This is a perfect decadent side dish. It is full of butter, cheese, sour cream, and shredded potatoes. You top all that off with crushed potato chips. YUM!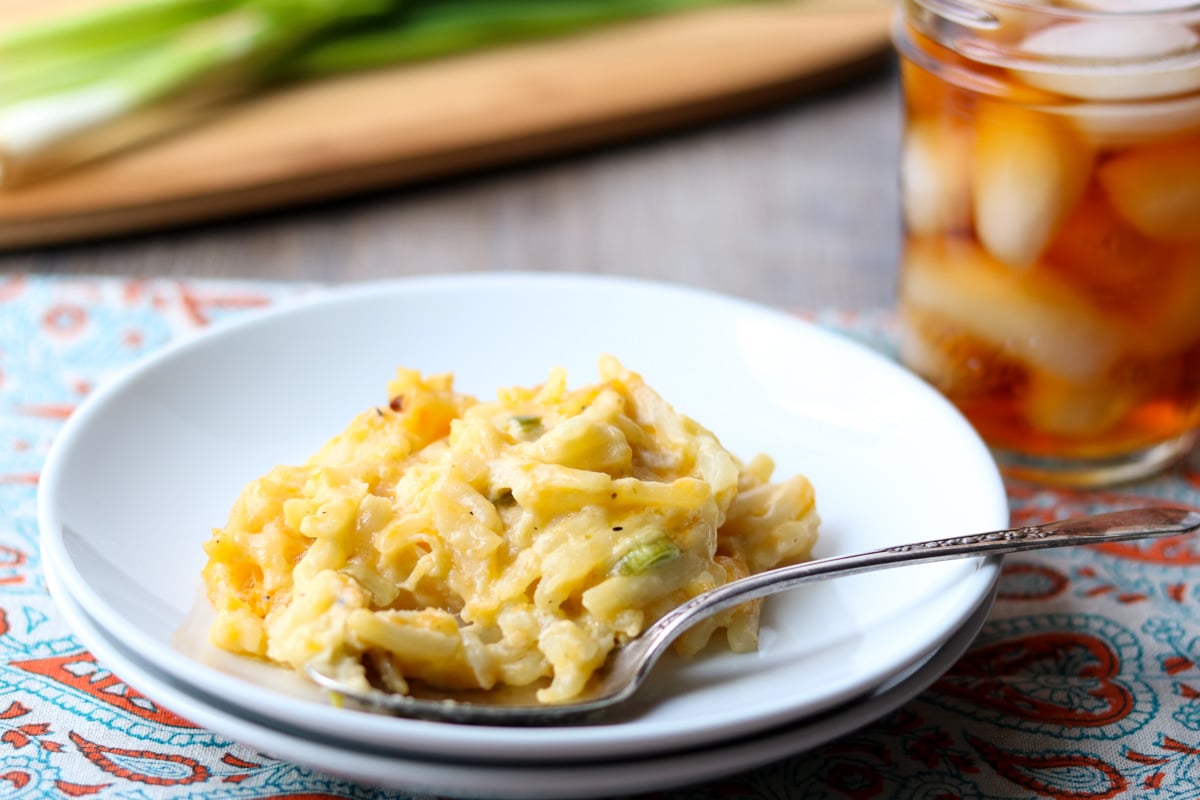 Cheesy Potato Casserole compliments the salty ham perfectly, and balances the freshness of the Broccoli Bacon Salad and Oven Roasted Asparagus.
Print the full recipe by clicking Cheesy Potato Casserole.
Broccoli Bacon Salad is a staple on our holiday table. It is a favorite of my Dad, my Mother-in-Law, and me. The recipe is a mix of fresh, raw broccoli, crunchy sunflower seeds, salty bacon, onions, and sweet raisins, all tossed in a sweet-tangy dressing.
It is the perfect crunch and freshness for this rich meal.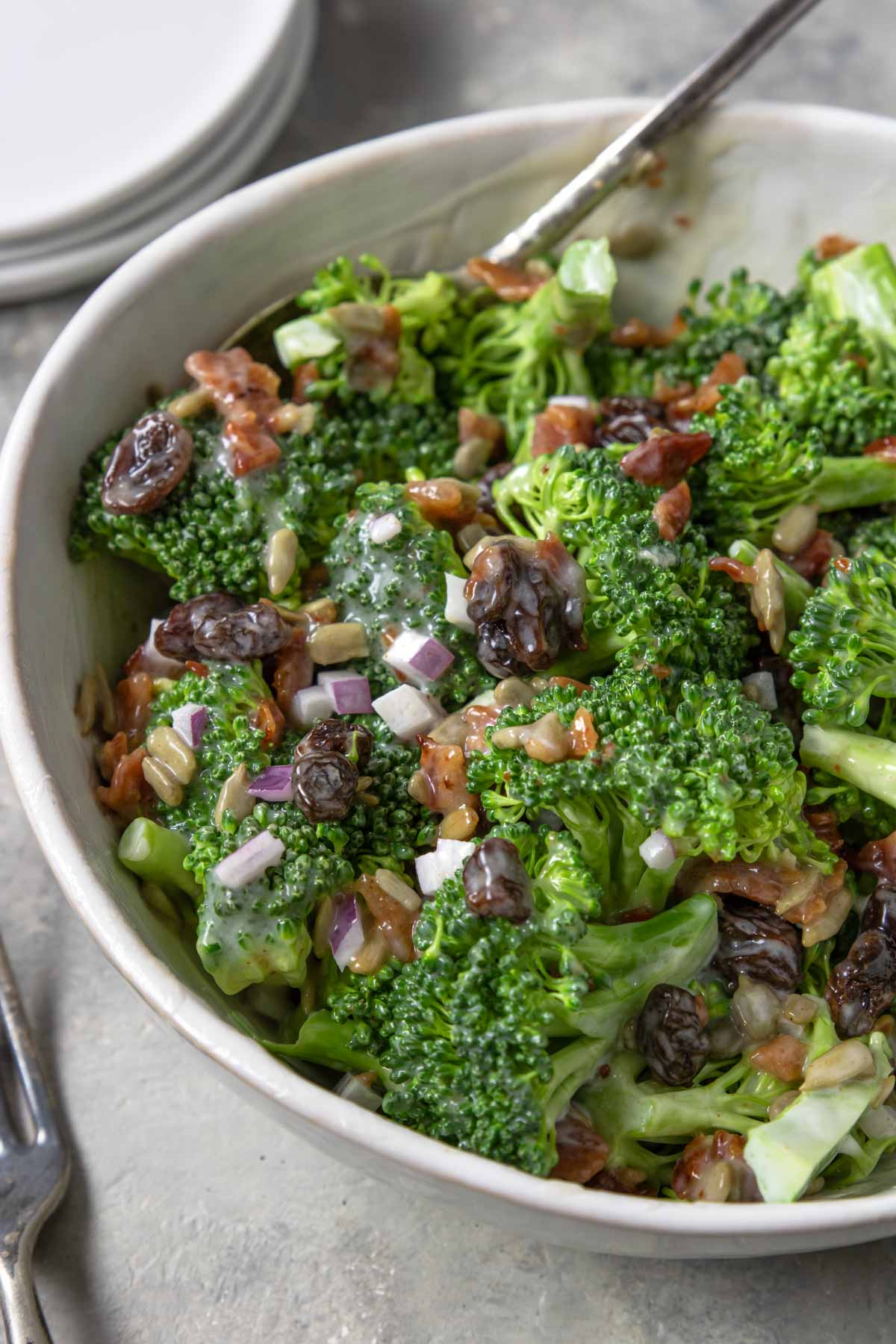 To serve 10, you may want to double this recipe. You will probably have leftovers, but it's really great the next day with a little ham!
Print the full recipe by clicking Broccoli Bacon Salad.
Asparagus just screams SPRING and is the perfect veggie to add to your Easter table. It is abundant and inexpensive in the grocery stores right now.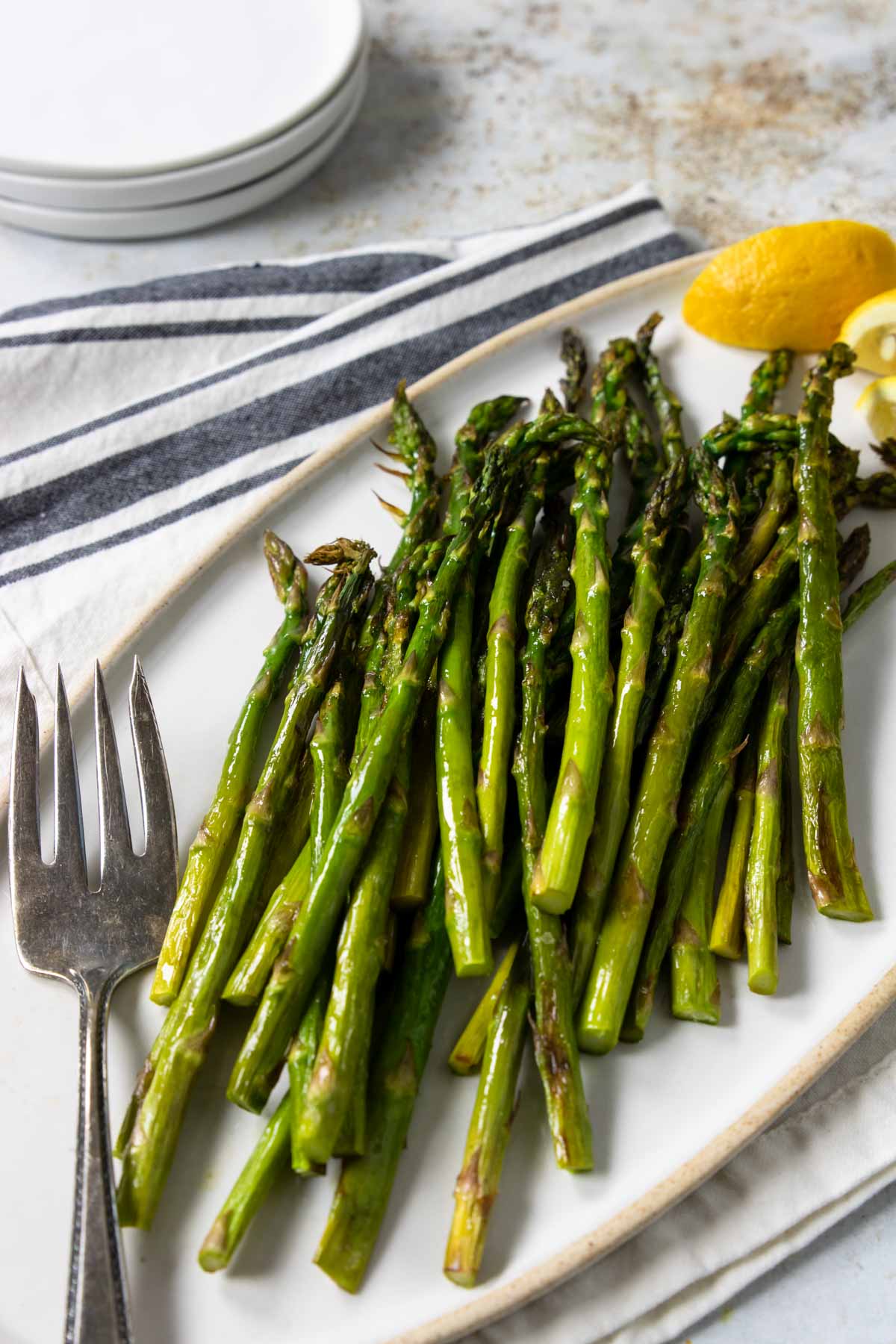 My recipe for Oven Roasted Asparagus leaves the spears a perfect crisp-tender. Sprinkle it with a little Parmesan cheese and salt or zest some lemon over the top for a bright and delicious side dish.
To serve 10, I would recommend you make two bunches of fresh asparagus.
Print the full recipe by clicking Oven Roasted Asparagus.
Here is a throwback for you! Remember when Jello Salads were on all holiday dinner tables. I loved it and I'm ready to bring it back, y'all.
Raspberry Jello Fluff has always been on my Easter Dinner Menu. It is the perfect touch of sweetness in the midst of a very savory and salty dinner.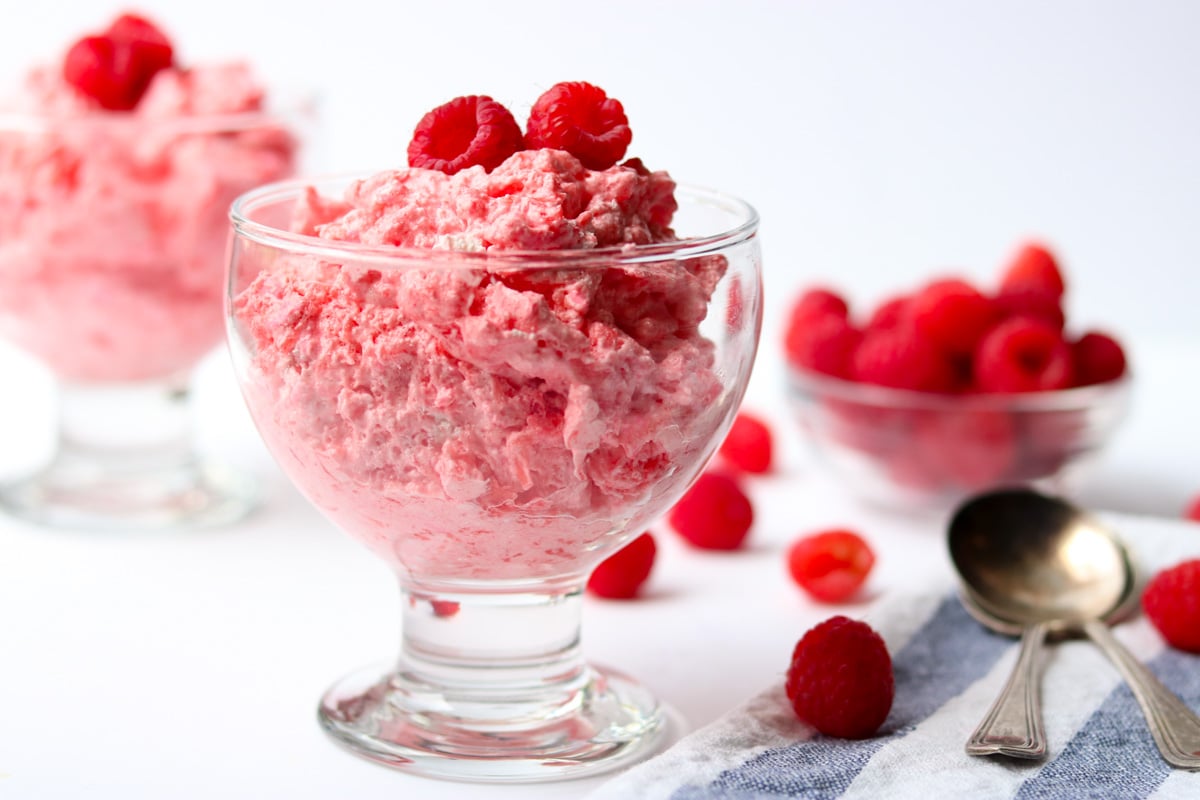 It is like an unsophisticated (but delicious) palate cleanser for your Easter Dinner! HA
Print the full recipe by clicking Raspberry Jello Fluff.
Please don't forget the Deviled Eggs! This is one thing I definitely look forward to. And don't serve them as an appetizer… serve them with the dinner.
You probably already have 1000 boiled and dyed Easter eggs from your kids Easter crafts (use the 5-5-5 Instant Pot Hard Boiled Egg recipe for the very best hard boiled eggs). Crack those up and you are left with lightly colored eggs that the kids will love to see on the table.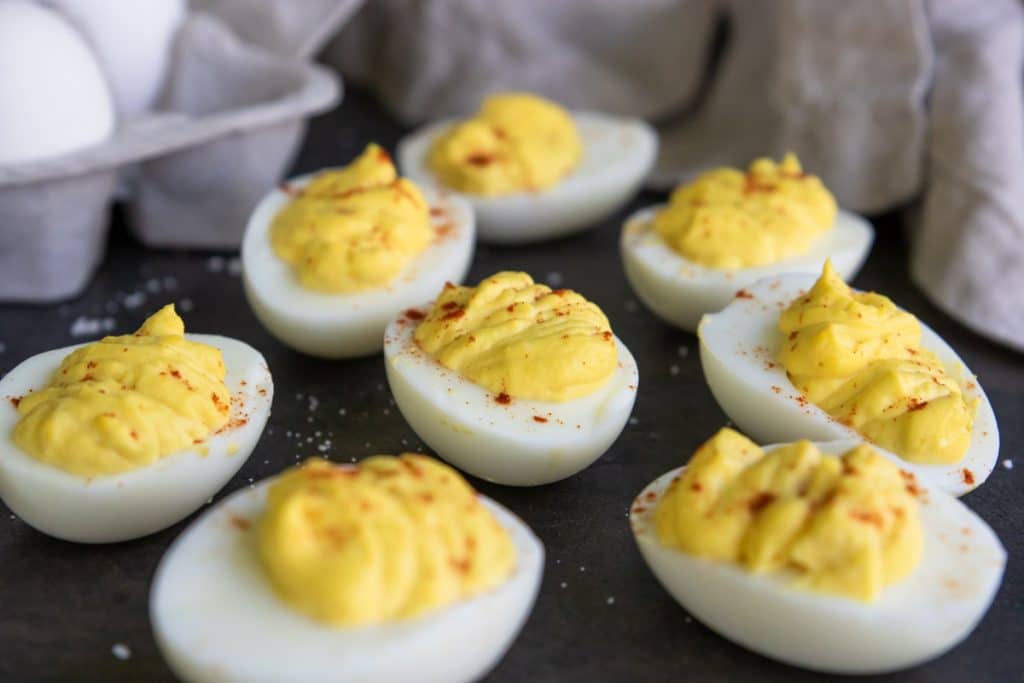 My recipe for Deviled Eggs is a classic one.. no bacon, wasabi, or relish here. Just a creamy, tart, and salty deviled egg with a touch of paprika sprinkled on top for garnish.
Don't miss the piping tips in my Deviled Egg post (video included!).
Print the full recipe by clicking Classic Deviled Eggs.
If you have A LOT of extra hard boiled eggs, make this egg salad recipe for dinner next week!
Rolls & Butter
Don't forget the rolls and butter for the table! I don't have a recipe for you- just take help from the grocery store bakery!
But, don't forget to soften your butter. Everyone hates hard butter for their rolls.
Isn't Carrot Cake a classic Easter dish? This is the perfect ending to a perfect Easter Dinner.
Grandma's Carrot Cake with Cream Cheese Buttercream is a tried and true recipe handed down from my Grandma's recipe box.
The cake is kept moist and tender with crushed pineapple and grated carrot.
The Buttercream is a perfect balance of cream cheese, powdered sugar, and butter. Your guests will be licking their plates!
Print the full recipe by clicking Grandma's Carrot Cake with Cream Cheese Buttercream.
Happy Easter, Everyone!
Originally Posted March 23, 2018 – Copy & Photos Updated March 9, 2020