Pork Milanese is a fancy name for something that is actually really simple.. breaded and pan fried pork! It is a traditional Italian dish that can be made with veal or pork. In this Pork Milanese recipe we are using center cut boneless pork cutlets that have been pounded thin and breaded with panko, seasonings, parmesan, and lemon zest.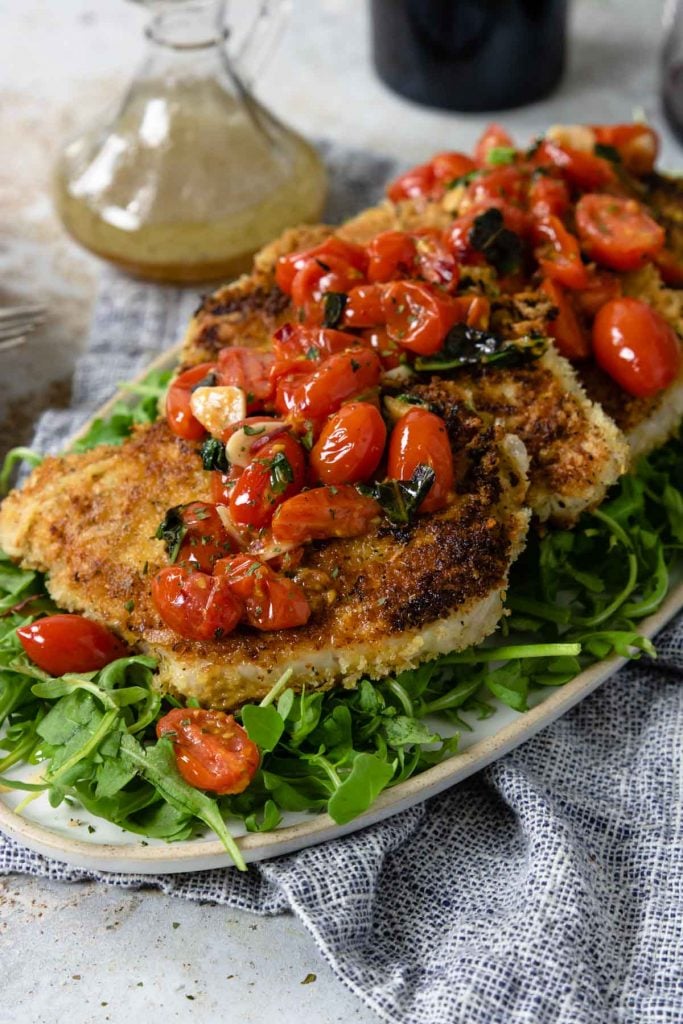 You get a deliciously seasoned and crispy pork cutlet. Then the dish is finished with a pan roasted tomato, garlic, and basil relish.
It is easy enough to make and serve on a weeknight, but nice enough to serve to guests with a really great red wine and some Instant Pot Risotto or mushroom risotto!
If pork isn't your jam, check out this recipe for Chicken Parmesan, it has a lot of the same flavors.
Pan Fried Pork
In this recipe you are pan frying your breaded pork. If I have one piece of advice to give…DON'T OVERCOOK YOUR PORK CUTLET.
Pork cutlets are best cooked to a medium which is about 145 degrees internal temp. I found that if you cook your thin pork chops 2 minutes per side on medium high heat they turn out perfect!
Steps for Making Pork Milanese
Start by pounding your pork cutlets to about ⅓ inch thick. This will help them pan fry faster, without burning the breading.
Brush the pork cutlets with dijon mustard and then dip in the breading mixture, pressing the panko onto the pork.
3. In a pan add ¼ cup olive oil and warm over medium heat. Saute the pork cutlets for about 2 minutes per side. Let rest while you make the tomato relish.
4. Wipe out the pan and then add the 2 tablespoon butter and 1 tablespoon olive oil. Saute the tomato and garlic for 1 minute. Sprinkle in the lemon zest and basil, saute for 30 more seconds.
Serving
Serve your crispy Pork Milanese topped with the tomato relish over a bed of arugula that is dressed with your favorite vinaigrette. You can also serve some lemon wedges on the side.
A side of creamy instant pot risotto or cheesy rice is great too!
Variations
I love a recipe that can be changed to suit taste buds… like kid's picky taste buds! Here are a few ideas:
Use Italian Bread Crumbs instead of panko
Season with the herbs and spices you prefer
Make with chicken or veal
Serve nestled in your favorite marinara sauce
For a brighter flavor finish with a big squeeze of fresh lemon juice
More Dinner Recipes To Love
---
Did you make this recipe?!
If you make this recipe I would love to hear your review. Pop down to the comment section and connect with me.
Then sign up for our Weekly Newsletter so you never miss a new recipe!
Pork Milanese with Tomatoes & Garlic
A delicious recipe for breaded and pan fried pork cutlets that are topped with a flavorful tomato, garlic and basil relish.
Print
Pin
Rate
Save
Saved to Grow
Ingredients
Tomatoes & Garlic
Serving
arugula dressed lightly with vinaigrette, lemon wedges

**Both are optional
Text me the recipe link & ingredients!
Instructions
Lightly pound the pork cutlets with a meat tenderizer or meat mallet until they are about ⅓ inch thick.

On a plate combine the breading ingredients – panko, parmesan, garlic, dried basil, dried oregano, lemon zest and salt.

On a second plate spoon out 3 tablespoons of dijon mustard.

Place the pork cutlets on a third plate.

Tip- also grab a baking sheet to place the pork on once it is breaded.

Rub or brush a pork cutlet on all sides with the dijon mustard, place it in the breading mixture and press the panko on all sides. Give it a very light shake and then place on the baking sheet or clean plate.

Repeat with all the pork cutlets.

In a skillet over medium heat add the olive oil. Once it is hot add the pork cutlets and cook about 2 minutes per side. you want the pork to have an internal temp of 140-145 degrees.

Set the pork aside to rest.

Wipe out the skillet with a paper towel then place back over medium heat. Add the butter and olive oil.

Add in the tomatoes and garlic, saute for 1 minute. Sprinkle in the basil and lemon zest, saute for another 30 seconds. Remove from the heat.

Serve the Pork Milanese topped with the tomato garlic mixture. Place the pork on a bed of arugula that is lightly dressed with your favorite vinaigrette.
Did you try this recipe? Connect with me & let me know how it turned out by commenting below!
Jump to Comments
If nutrition facts are provided they are calculated as an estimate to the best of our knowledge.