Yes, you can make gravy without drippings! Just because you didn't roast a turkey or chicken doesn't mean you cannot have gravy with your mashed potatoes. To make homemade gravy without pan drippings you just need some butter, onions, flour, broth and lots of seasonings. This is an easy gravy recipe, it just takes a little time and patience.
So let's get on with how to make an amazing gravy without pan drippings!
Good Gravy
To make really good gravy you need 4 key ingredients:
Fat (butter)
Flavoring (onions, rosemary, thyme, salt, pepper)
Thickener (flour)
Liquid (meat drippings, stock, or broth)
In this case we are making a gravy without pan/meat drippings, so instead we will be using chicken stock or broth.
How to Make Great Gravy without Drippings
Start with a large skillet, I use a stainless steel skillet. Melt 1 stick of butter over medium – medium/low heat.
Chop the onion into ¼-1/2 inch strips and add to the melted butter. You are going to caramelize the onions, which is to brown them (not burn). Do this by letting the onions simmer in the butter, stirring occasionally. This will take a while, around 15-20 minutes, so be patient! This step adds the most flavor!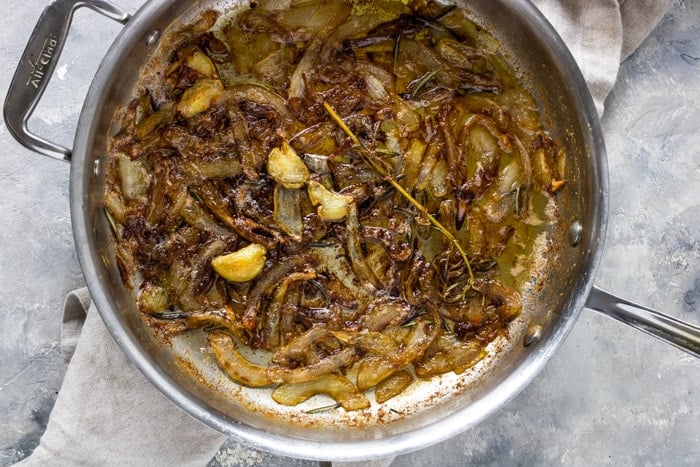 Once you start to see browning around the edges, about 10 minutes in, stir in 1 rosemary (or thyme) sprig and 3 cracked cloves of garlic. Continue to simmer until the onions turn golden brown, about 5-10 more minutes.
Next stir in 1 teaspoon of chicken base. Stir until it melts into the onions.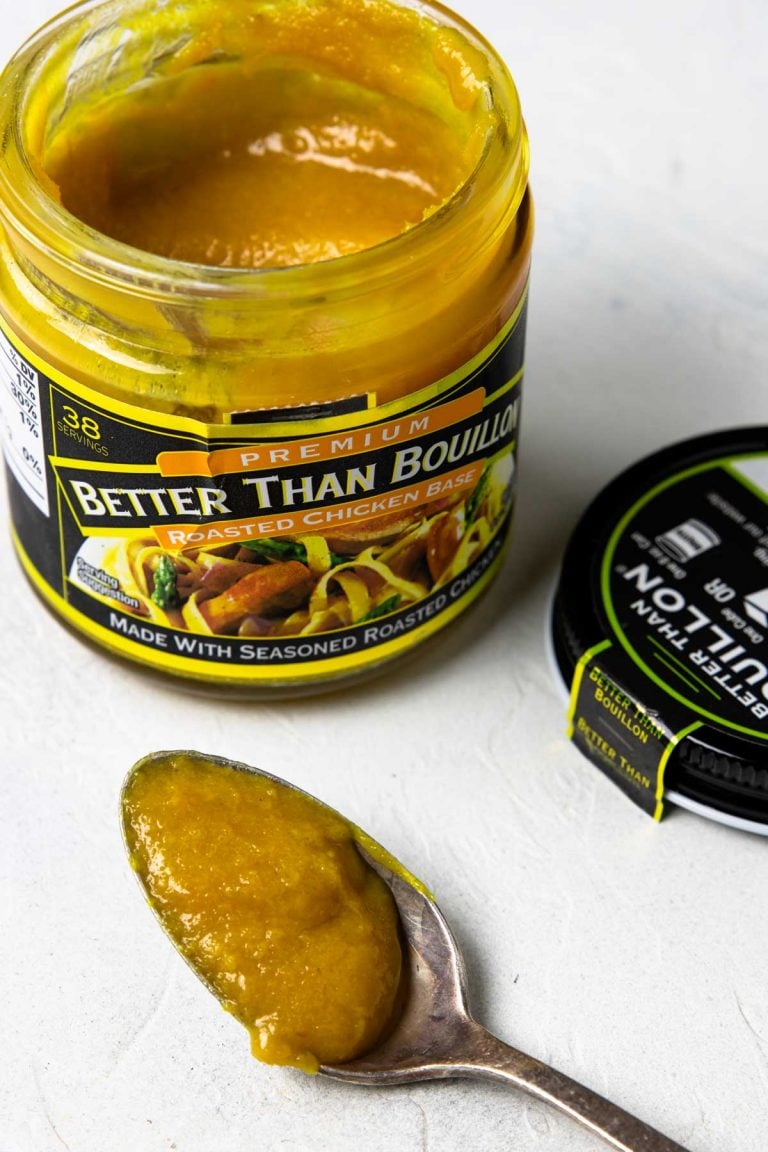 Add ⅓ cup all purpose flour to the onion mixture. Stir it constantly for about 1 minute. This will get rid on the raw flour flavor and help it combine with the flour to make a roux.
Note: if this gravy is for the holidays I will add a dash of dried poultry seasoning and ground sage at this point.
For the next step you will want to grab a whisk. Slowly whisk in 3 cups of chicken stock (or broth). Turn the heat up to medium and let the gravy simmer for about 5 minutes until it is your desired thickness.
Optional- stir in a tablespoon or two of heavy cream to add richness. If you plan on freezing the gravy wait and add this when you are ready to thaw and use the gravy.
Taste for salt & pepper seasoning.
Strain the onions, garlic, and rosemary out of your gravy by pouring it through a fine mesh sieve. (MAKE SURE YOU PUT A BOWL UNDER THE SIEVE so your delicious gravy doesn't go down the drain. LOL). Give the onion mixture a stir in the sieve to help force all the flavor & gravy into the bowl!
Serve your homemade gravy (made without drippings!) over mashed potatoes, stuffing, turkey, and/or chicken.
Thinner Gravy
If you want your gravy thinner just add a little more chicken broth or cream to thin the gravy.
Thicker Gravy
For thicker gravy you can lessen the liquid added to 2 ½ cups, if you have not added the broth.
If you have already added the 3 cups of broth, then keep simmering over medium heat until it thickens. You will want to stir constantly so the bottom does not burn.
Recipes That Go Great with Gravy!!
Homemade Gravy without Drippings
Homemade gravy made without drippings. This is an easy gravy recipe that only requires a couple ingredients and a little time. It is perfect to serve over potatoes, stuffing, chicken, or turkey!
Print
Pin
Rate
Ingredients
8

tablespoon

salted butter

1

yellow onion

cut into ¼-1/2 inch slices

1

fresh sprig of rosemary

(can sub thyme, or use both)

3

plump garlic cloves

cracked using the flat side of a knife

1 ½

teaspoon

chicken base

I use Better Than Bouillon brand

⅓

cup

all purpose flour

3

cups

chicken stock or broth

salt and pepper to taste
Optional
2

tablespoon

heavy cream

dash of ground sage and poultry seasoning

I like to add this if I am serving this gravy during the holidays.
Instructions
Melt the 8 tablespoons of butter in a skillet. In a large skillet over medium-low heat melt the butter, I use a stainless steel skillet.

Caramelize the onions in the butter. Once the butter melts add the onions and simmer, stirring occasionally until the onions begin to brown around the edges, about 10 minutes. Add the cracked garlic & rosemary. Stir in the garlic and rosemary sprig. Continue to simmer until the onions are a deep caramel color, about 10 more minutes. See photo.

Stir in 1 ½ teaspoon chicken base. Mix in the chicken base until it melts into the onion mixture.

If you are adding a couple dashes of poultry seasoning and ground sage, add that now.

Mix in the flour. Add the flour into the onion/butter mixture, stir constantly for 1 minute.

Slowly whisk in the chicken stock. Pour the chicken stock into the flour/onion mixture slowly, all while whisking.

Increase the heat to medium and simmer the gravy. Bring the gravy to a simmer over medium heat, it will thicken as it cooks.

If using the heavy cream, whisk in once the gravy is thickened.

Taste for seasoning. Give the gravy a taste and see if you want to add some salt & pepper.

Strain the gravy. Place a fine mesh sieve over a bowl and pour the gravy through the sieve. Use the whisk to stir the solids making sure you get all the flavor and gravy through the sieve.

Serve!
To thin your gravy:
To thin your gravy add ½ cup stock at a time until it is your desired consistency.
To thicken your gravy:
To thicken your gravy continue to simmer on the stove until it is your desired consistency. Stir continuously so it does not burn on the bottom of the pan.

If it still needs to be thicker, mix a tablespoon of cornstarch with a tablespoon of broth or water, and stir it into the simmering gravy.
Notes:
Tips for Making Ahead & Freezing Gravy:
You can make this gravy ahead of time and freeze it for up to 4 months. You will want to make it without the cream, and then add that when you are ready to reheat and serve.
Make the gravy and cool completely, pour into a freezer safe container, baggie, or ice cube tray (for smaller portions).
Did you try this recipe? Connect with me & let me know how it turned out by commenting below!
Jump to Comments
If nutrition facts are provided they are calculated as an estimate to the best of our knowledge.
Make Ahead and Freeze Your Gravy
Yes! You can freeze gravy!
This gravy can be made ahead and frozen for up to 4 months. You will want to make it without the cream and add that when you reheat to serve.
You can freeze it in containers, ice cube trays for smaller servings, or baggies. Just be sure to cool first before freezing!