This Brown Gravy Recipe will be one of the best you have ever made. The recipe starts with caramelizing onions and garlic and then gets simmered together with beef broth and plenty of seasonings. The onions and garlic are strained out and the brown gravy is thickened to perfection. It is silky smooth and super flavorful, ready for your mashed potatoes!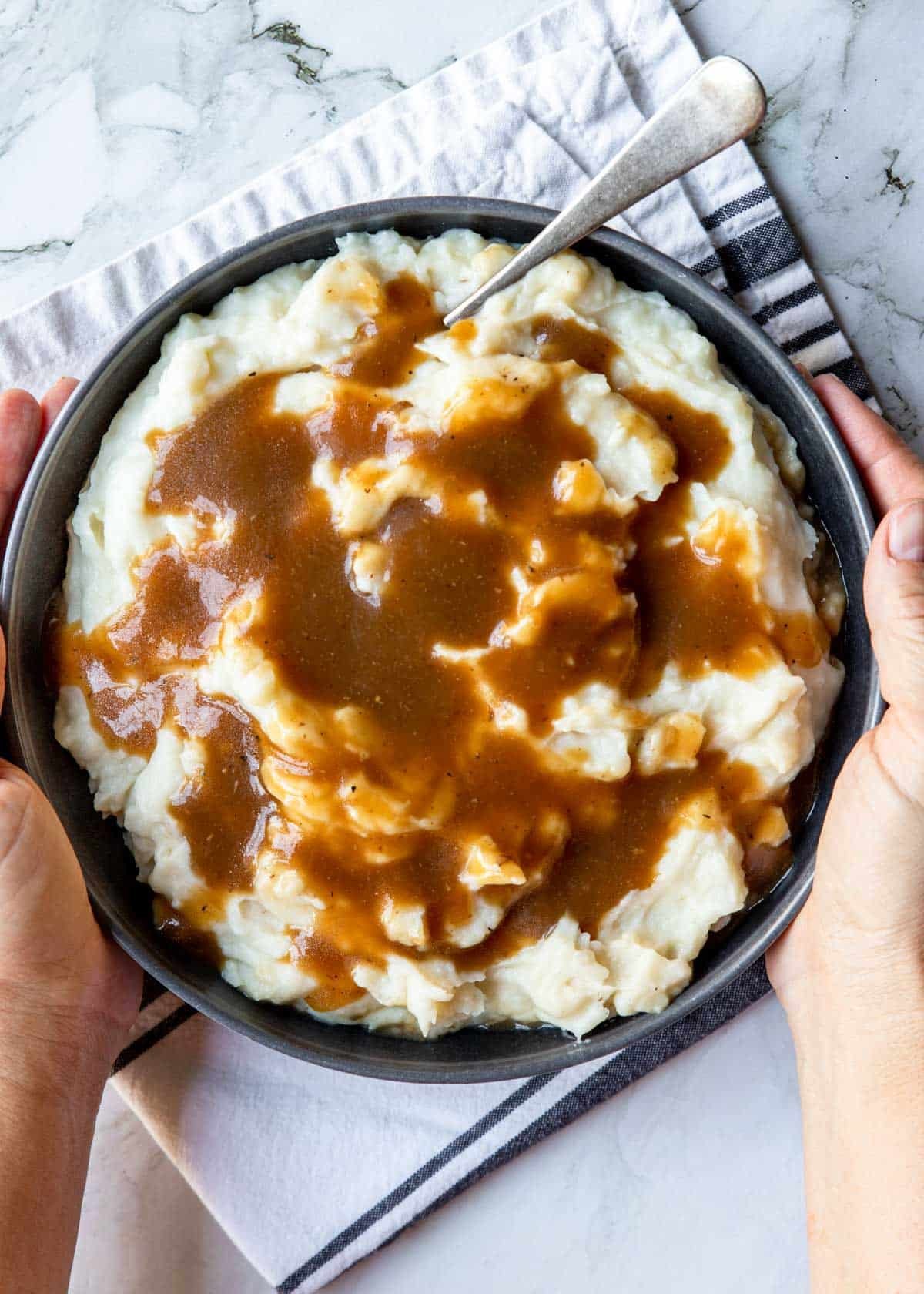 We love that this recipe doesn't require any drippings, just some simple ingredients from your pantry and spice cabinet.
If you are looking for more of a poultry gravy, pop over to this recipe for No Dripping Gravy. It can be made with chicken stock or turkey stock.
And if you love your Instant Pot, you can check out this recipe for Instant Pot Gravy.
No Drippings Required
You do not have to make a chuck roast to have delicious brown gravy. The "drippings" that you use are basically a stock or really strong broth. You can definitely find a quality stock in the grocery store.
Decide which option is going to be best for your brown gravy:
BEEF STOCK- generally made from the bones and meat of a cut of beef. It will be deeper in color and stronger in flavor.
BEEF BROTH- made from simmer meat, no bones. It is going to be lighter in color and have a more mild flavor.
Ingredients
Butter – a little butter will caramelizing the onions and garlic perfectly, which adds the first layer of amazing flavor.
Onion and Garlic – caramelizing the onions and garlic creates a delicious base for this brown gravy. You can leave the onions and garlic in the gravy or your strain them out for a smooth gravy.
Beef Broth – since this is the main ingredient in your gravy, make sure you get a really quality and flavorful broth or stock.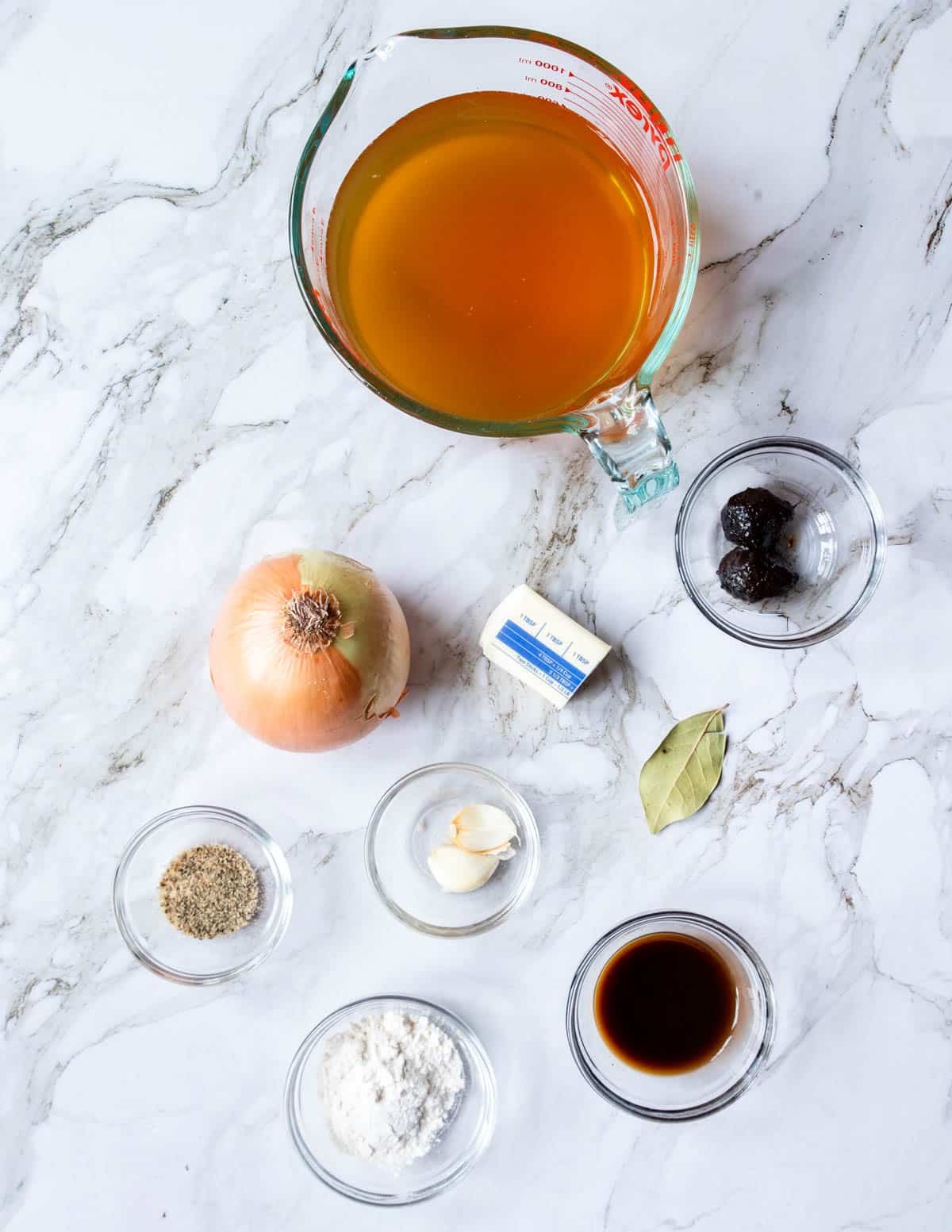 Worcestershire Sauce – adds a deeper layer of flavor for your brown gravy.
Beef Base – you can find beef base in the grocery store in the soup aisle. It will come in a jar in a paste form. We like the Better Than Bouillon brand.
Seasonings – kosher salt, black pepper, onion powder and garlic powder add flavor to the gravy.
Step By Step
Sauté & Caramelize the Onions and Garlic in the Butter.

Add in the liquid and seasoning

Pour in the beef broth, water, Worcestershire, beef base, onion powder, garlic powder, black pepper and bay leaf.

Strain The Solids
Whisk in Thickener.

Mix the remaining ¼ cup beef broth and corn starch, whisk into the simmering gravy.
Serving Brown Gravy
You can serve your brown gravy with any beef that needs a little gravy. It is also great served over mashed potatoes (linked below). Salisbury Steak and Country Fried Chicken or Chicken Fried Steak can do with a delicious brown gravy too.
Storing and Freezing Brown Gravy
Store any leftover gravy in an airtight container in the fridge for up to 4 days. To reheat place in a skillet or pot over low heat. You may need to whisk it vigorously to bring it back together.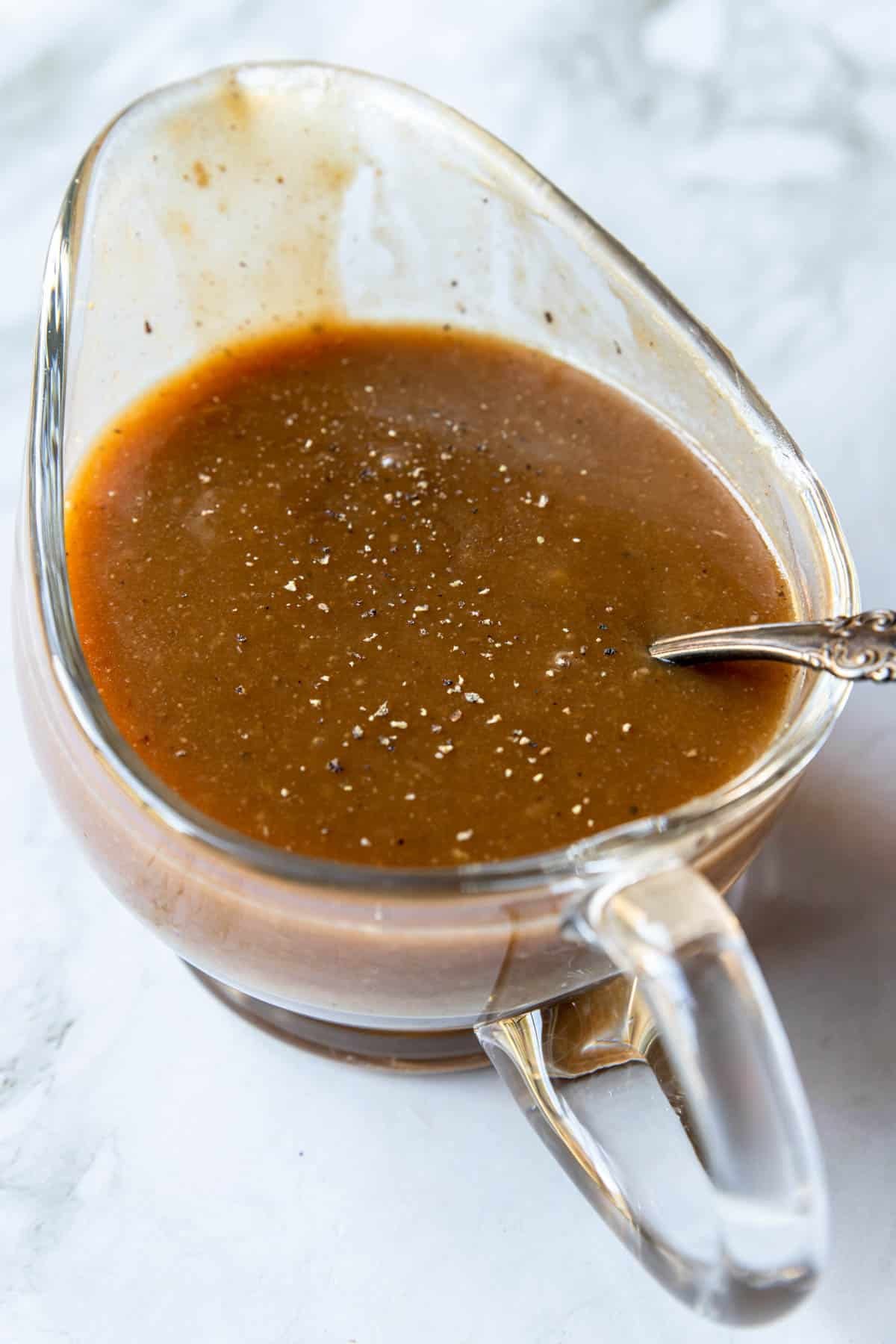 You can also freeze your gravy. Let it cool completely and pour into a freezer safe container. Keep frozen for up to 6 months. To reheat thaw in the fridge over night and then heat on the stove top over low heat. You may need to whisk vigorously to bring it back together.
Gravy Troubleshooting Tips
Of course this Brown Gravy recipe should turn out perfectly! But if something crazy happens along the way or you want to adjust the flavor of your gravy, here are some helpful troubleshooting tips:
Forgot to strain the solids? No problem, move forward with thickening the gravy. Then strain the brown gravy through a fine mesh sieve over a large bowl. Use a wooden spoon to smash the onions and garlic so they release all the gravy.
Gravy not thick enough? Mix up 1 tablespoon corn starch with 1 tablespoon cool water and whisk it into the SIMMERING gravy. Wait a few minutes and repeat if necessary.
Gravy got too thick? Simply whisk in a ½ cup of beef broth, chicken broth or water. See if that brings it to the right consistency, if not repeat with ¼ cup to ½ cup increments
Too Salty? Whisk in a little water. You may need to thicken the gravy a little more, see the step above.
Want more flavor? Throw some whole fresh herbs into the gravy while the gravy simmers; rosemary, sage, and/or thyme. then remove the herbs before serving. You can also whisk in another ½ teaspoon of beef base.
Ended up with lumps in your gravy? Since we don't use flour for this recipe it is unlikely that you will have lumps in your gravy. BUT if it happens, whisk the daylights out of your gravy. If that doesn't work you can run it through a fine mesh sieve. And if that doesn't work, you can pulse your gravy in a blender.
More Gravy Recipes
---
Did you make this recipe?!
If you make this recipe I would love to hear your review. Pop down to the comment section and connect with me.
Then sign up for our Weekly Newsletter so you never miss a new recipe!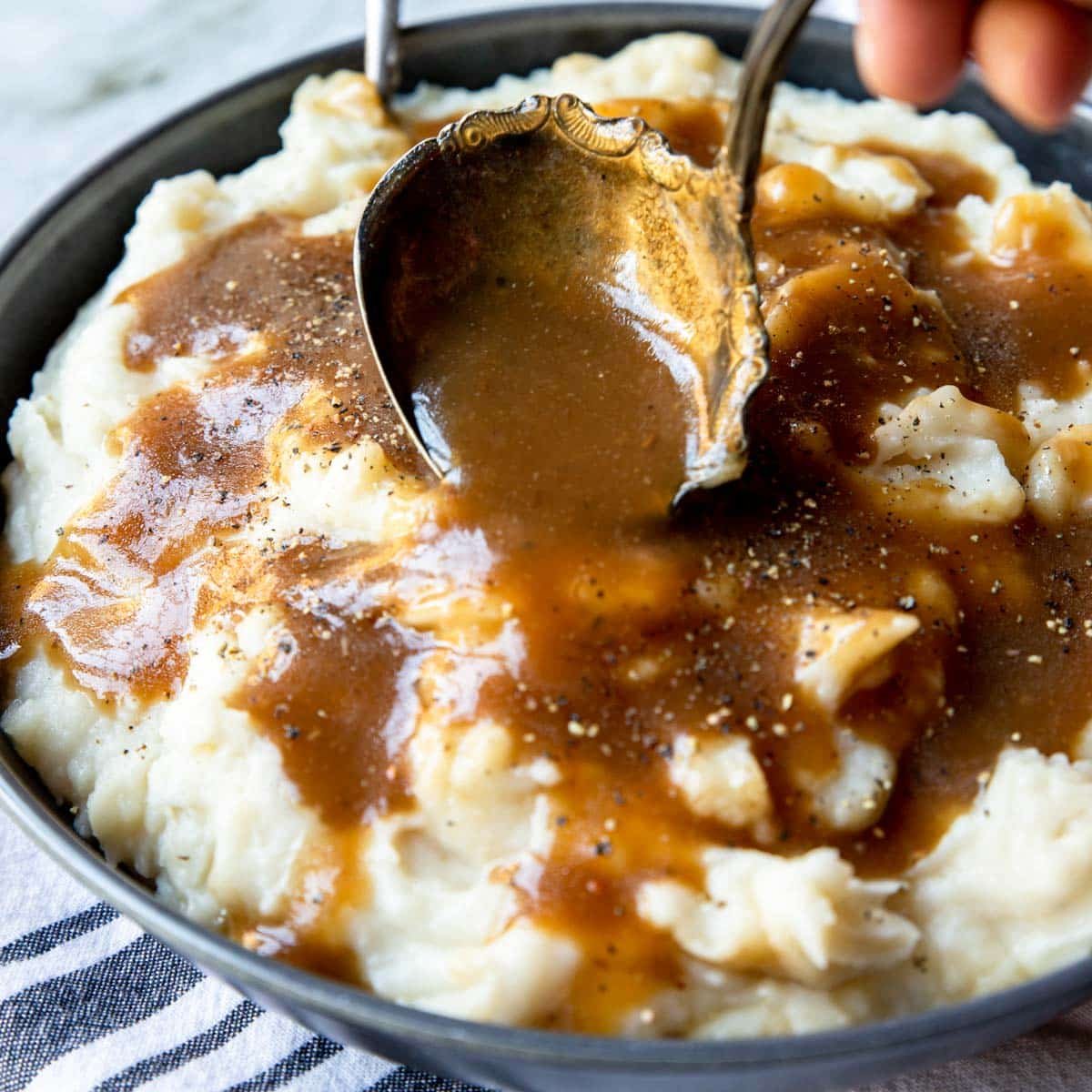 Brown Gravy Recipe
This is a super flavorful Brown Gravy recipe that starts by caramelizing onions and garlic and is seasoned with beef base and spices. Perfect for gravy or any beef recipe!
Print
Pin
Rate
Save
Saved to Grow
Equipment
whisk

(a flat whisk is our fave!)
Instructions
Set a large skillet over medium low heat, melt the butter.

Add the onions and garlic and caramelize in the butter, stirring occasionally, for about 15 minutes until the onions become golden around the edges.

½ large yellow onion,

2 garlic cloves

Stir in the 2 cups beef broth, scraping up any browned bits on the bottom of the pan. This is called deglazing and adds flavor to your gravy!

Also add in the water, Worcestershire, beef base, onion powder, garlic powder, black pepper and bay leaf. Whisk together.

1 cup water,

3 teaspoon Worcestershire sauce,

1 teaspoon Beef Base,

½ teaspoon onion powder,

½ teaspoon garlic powder,

½ teaspoon black pepper,

1 bay leaf

Simmer together for 5 minutes over medium low heat.

Either with a slotted spoon or a mesh sieve over a bowl, strain out the solids before moving on (onions, garlic, bay leaf, then discard).

You can also opt to leave the onions and garlic in your gravy, just make sure to take out the bay leaf.

In a small bowl mix together the corn starch and remaining ¼ cup of beef broth.

Bring the gravy liquid back to a simmer, whisk cornstarch slurry into simmering gravy liquid. It should thicken pretty quickly.

Thicken and simmer for 2-3 minutes.

Taste for seasoning and serve over mashed potatoes or anything made better with brown gravy!
Notes:
MASHED POTATOES FOR SERVING:
Did you try this recipe? Connect with me & let me know how it turned out by commenting below!
Jump to Comments
If nutrition facts are provided they are calculated as an estimate to the best of our knowledge.