Homemade Basil Pesto comes together in minutes in your food processor or blender and only requires a handful of simple ingredients: basil, walnuts, lemon, extra virgin olive oil and kosher salt. No cooking required for this classic Italian sauce.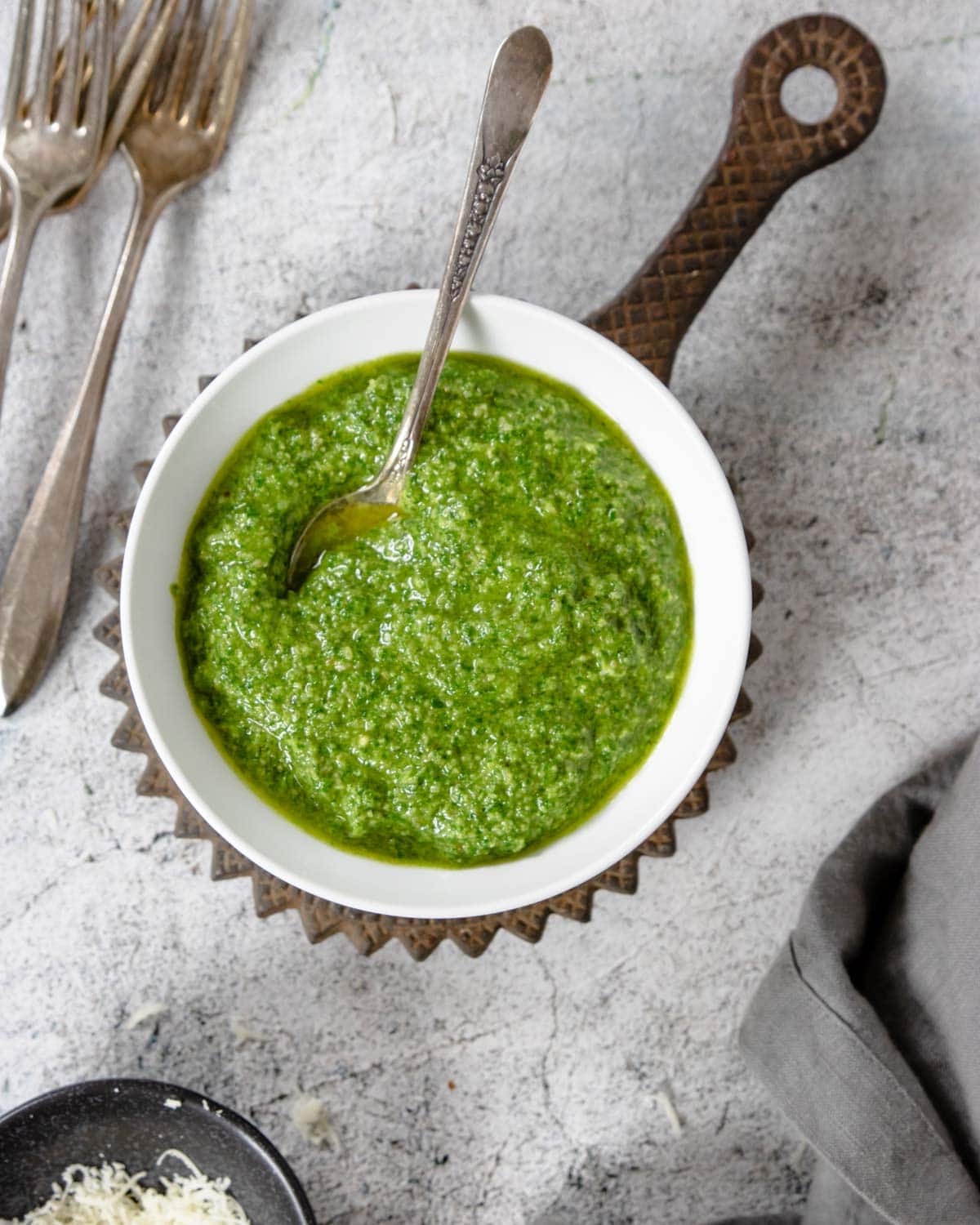 Plus I have included tips on freezing your pesto- you will have enough to last the entire winter!
If you want a smaller batch of pesto for one dinner, pop over to this recipe for Pesto Pasta. or Pesto Cream Sauce. Or if you make this recipe, give it a try in this delicious Pesto Lasagna Skillet Recipe.
If you have an over abundance of fresh basil, this Homemade Basil Vinaigrette is also a great recipe. Goes great over chicken, seafood, steak, potatoes and of course, salads!
Listen To This Recipe
You can listen to the full recipe on the podcast "Let's Make Dinner". I share all the tips and tricks plus recipes to use your fresh pesto!
Why You Will Love This Recipe
It is easy to make and ready in minutes.
Only uses simple ingredients, most of which you probably have!
Freezes perfectly for later use.
It is a bright and healthy sauce.
Great way to use up an excess of fresh homegrown basil.
What is Pesto
If you have never had Basil Pesto, it is a traditional Italian sauce, made from fresh basil leaves. It is a blended herb sauce that is great on chicken, seafood, or pasta.
It has a strong flavor of basil mixed with a tartness of lemon and nuttiness from the olive oil and nuts.
Ingredients
You only need a few simple ingredients to make fresh Basil Pesto.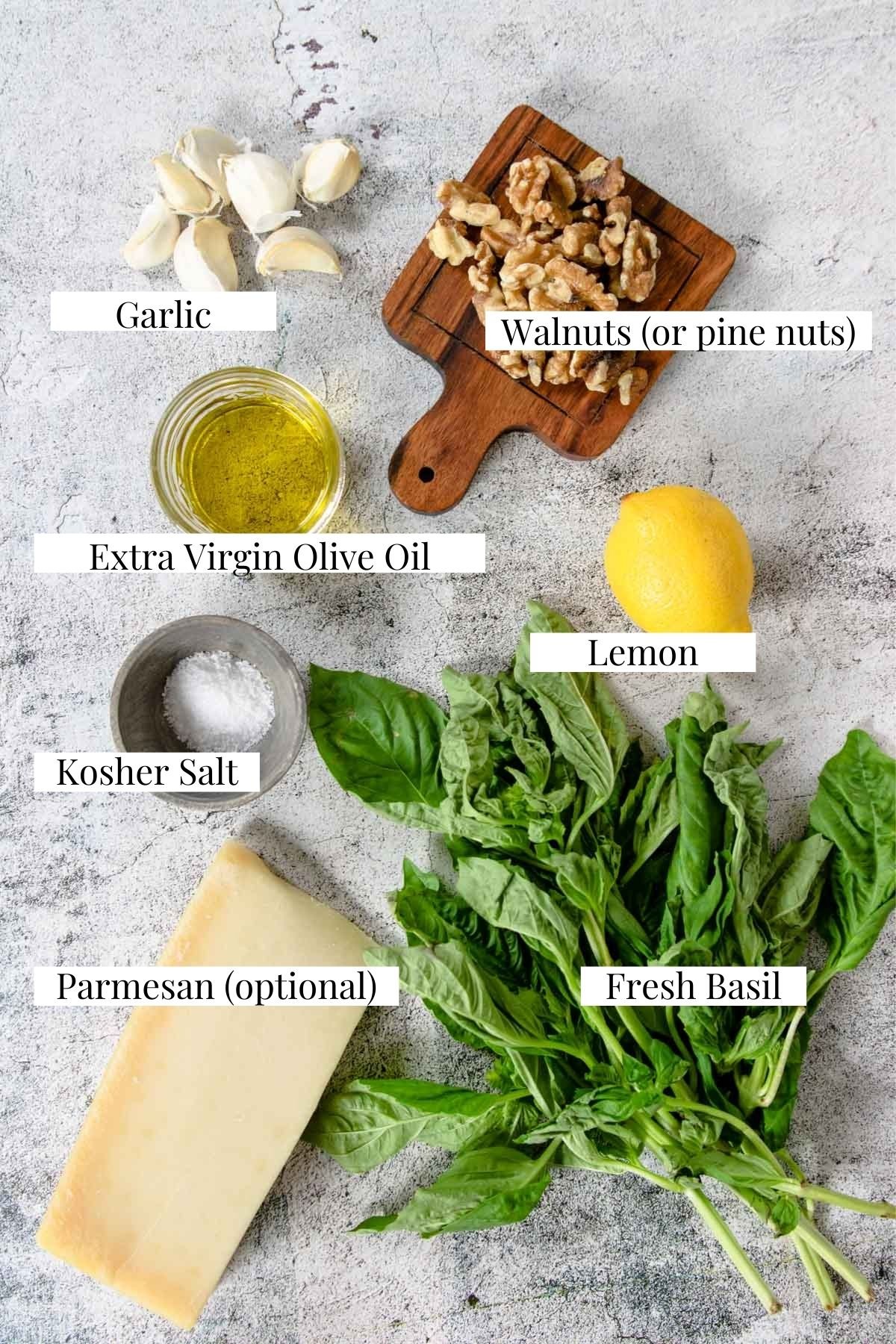 Walnuts – you could also sub toasted pine nuts for the walnuts.
Parmesan Cheese – Fresh grated parm is totally optional here. If I know that I am going to use my Pesto in a pasta recipe that already calls for a lot of parm I might skip it. But just use your tasting preferance here.
Fresh Basil
Every summer I plant basil, just in a pot, on my patio. And every summer I have an overwhelming abundance of basil. More than I could ever use by randomly plucking a few leaves for my pasta. That is where this pesto recipe comes in handy. It is a great way to use up all that fresh basil, making sure it doesn't go to waste.
Tips on growing a healthy, long lasting basil plant:
As the basil plant grows pinch off a few of the new, tiny, itty-bitty leaves growing in the center of the larger leaves. This allows the plant to grow wider and bushier.
Do not let your basil plant go to seed. As the plant grows taller and older it will form flowers at the top. Pluck those flower buds off, down to the nearest basil leaves. This will allow the plant to grow longer and not dry out.
Once your plant begins growing flowers at the top (that you are in turn plucking off), you should have a pretty tall and mature plant. This is the time that should harvest your entire basil plant to make pesto. Cut each stem towards the bottom just above the first (oldest) set of leaves. This will leave just enough plant to regenerate. By cutting your plant this way you will allow it to regrow 1, 2 , or 3 times thru the summer! Giving you a ton of pesto for your freezer!
Step By Step Picture Instructions
Pesto is truly a really easy sauce to make, and it is perfect during a hot summer when you don't want to simmer or boil a sauce!
Start by adding the nuts and garlic to a food processor or strong blender. Pulse about 20-30 times to start breaking them down.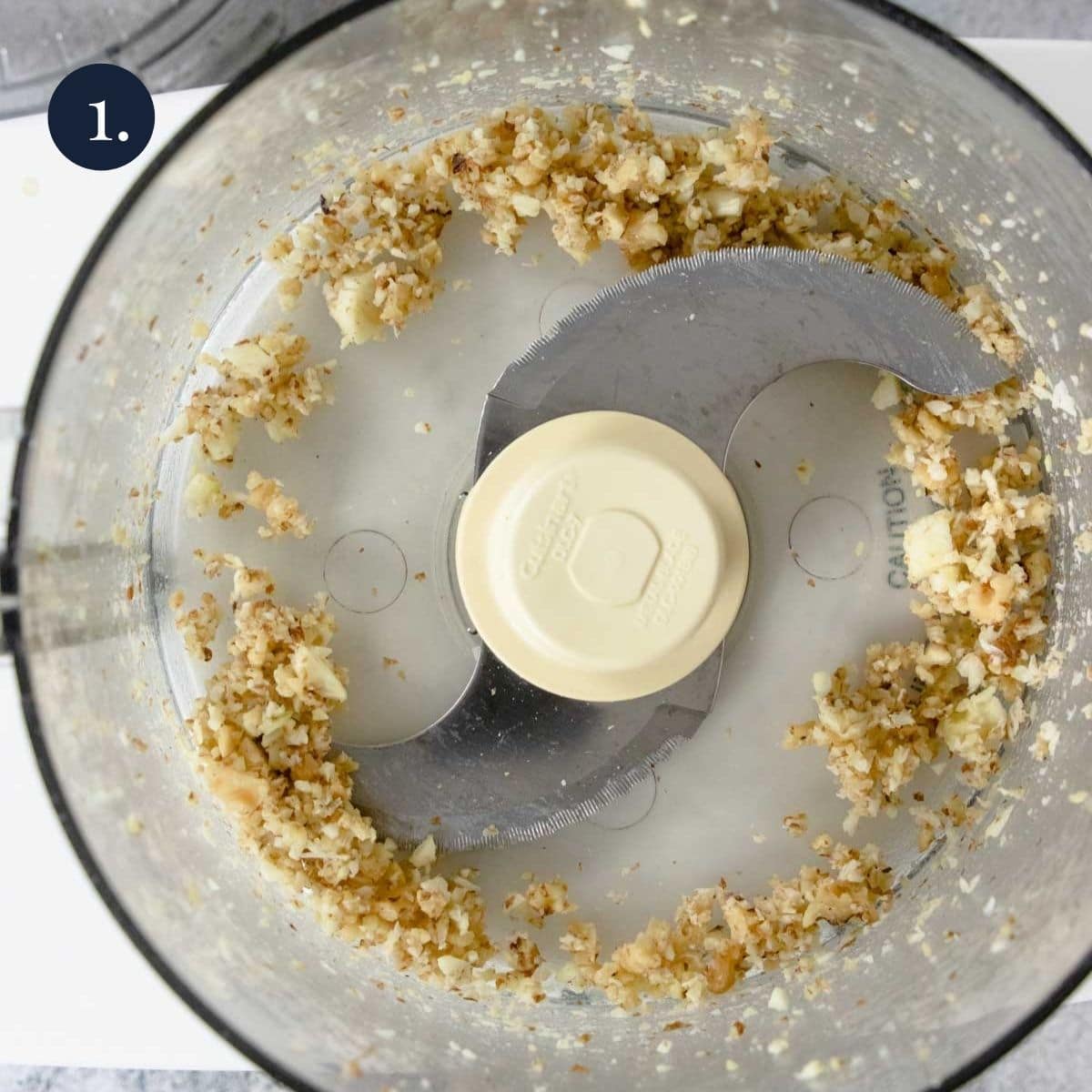 Add the basil, lemon juice, salt and parmesan cheese if using. Turn the processor on and begin to break down the basil.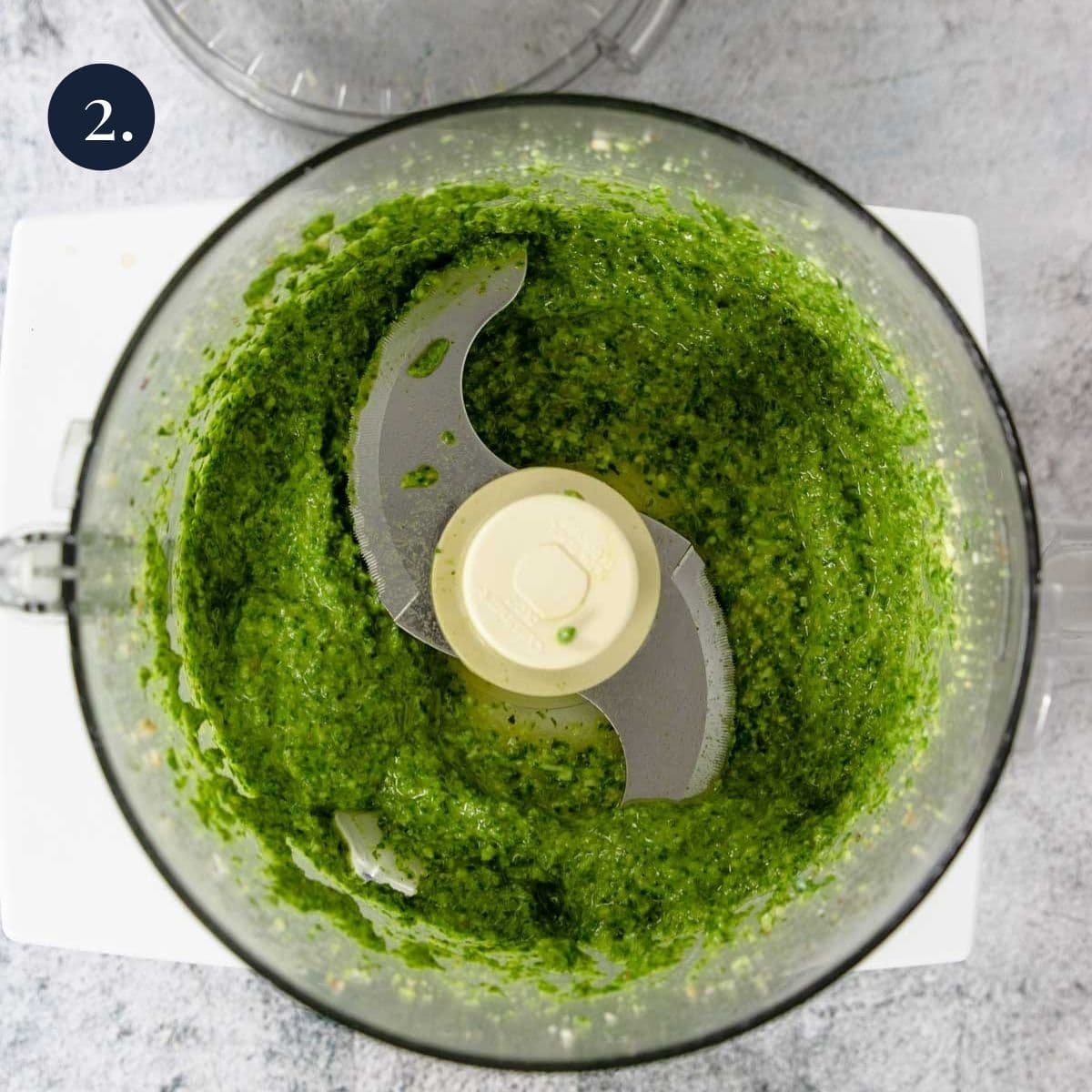 After about 10 seconds, start to slowly add the extra virgin olive oil through the feed tube on the top.
Pro Tip: You may need to stop and scrape the sides to make sure everything gets blended together.
Once it looks pretty smooth, open up the blender and give it a taste to see if you prefer more lemon or want more salt.
Storing
Store your fresh basil pesto in the fridge in an airtight container for up to 1 week.
You can also freeze your pesto so it can be used for longer!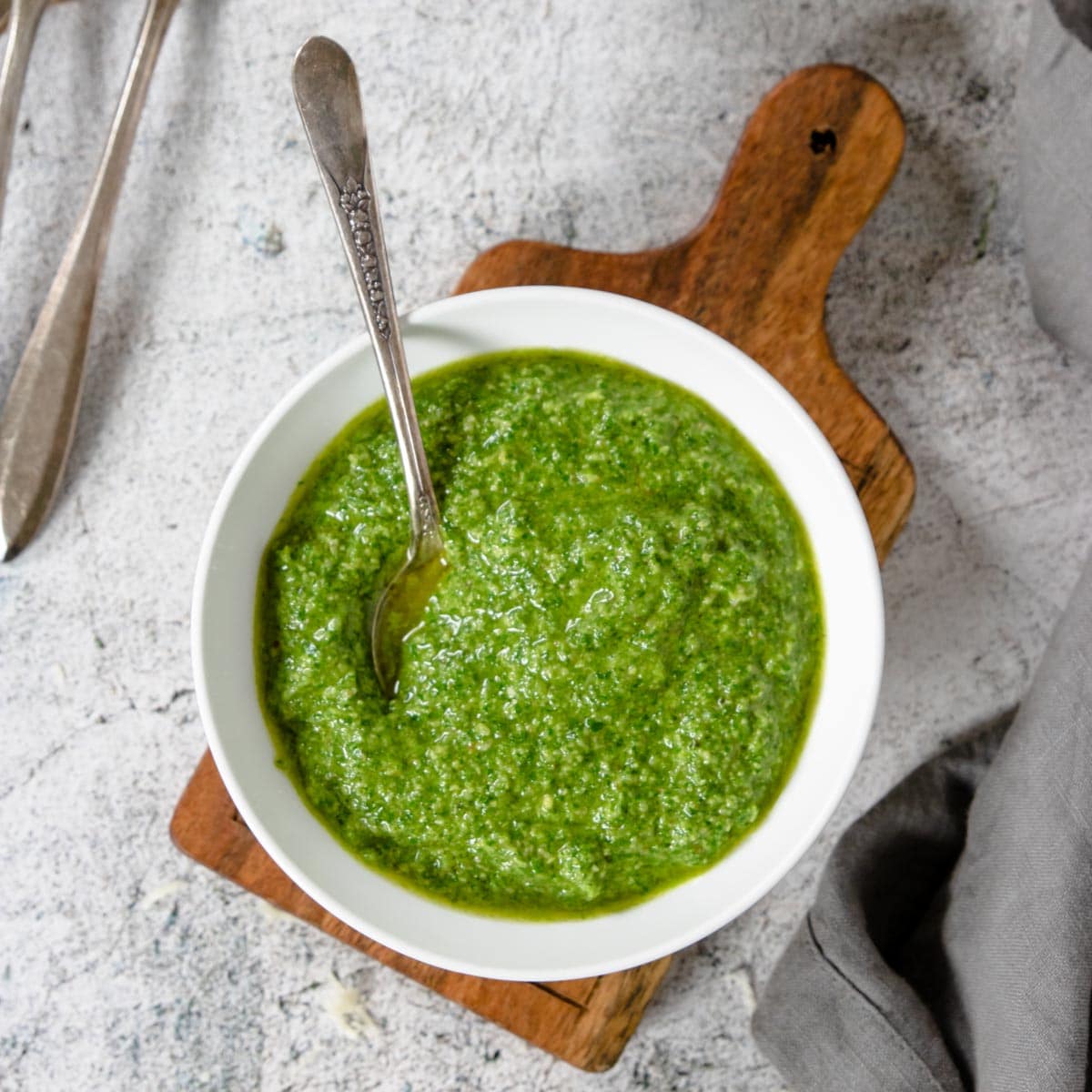 How To Freeze Your Fresh Basil Pesto
You can absolutely freeze homemade pesto! This recipe makes a large batch of fresh pesto so it is great to plan on freezing at least half the recipe.
After making the fresh basil pesto recipe pour it into an ice cube tray- in 1 ½ tablespoon portions. Top each cube with a drizzle of extra virgin olive oil.
Put the ice cube tray in the freezer.
After a couple hours the pesto cubes will be frozen, pop them out and store them in a freezer safe bag.
You can keep the cubes in the freezer for up to 6 months.
Pull out the delicious homemade pesto 1, 2, or 8 cubes at a time to add to your recipes.
How to Use Fresh Basil Pesto
You can use fresh pesto in so many ways! Here are a few recipes to get you started:
Drizzle over a Caprese Salad (tomatoes and mozzarella).
Serve as a sauce for grilled chicken.
Drizzle over Roasted Fennel.
Use as a dip for Roasted Shrimp.
Other Great Basil Recipes
---
Did you make this recipe?!
If you make this recipe I would love to hear your review. Pop down to the comment section and connect with me.
Then sign up for our Weekly Newsletter so you never miss a new recipe!
Ingredients
⅓

cup

Walnuts

( could sub pine nuts)

5

cups

Fresh Basil Leaves

packed

1

cup

Extra Virgin Olive Oil

4

tablespoon

Fresh Lemon Juice

1

teaspoon

Kosher Salt

**Optional ⅓ cup fresh grated parmesan cheese
Instructions
In a food processor with the blade attachment, blend the walnuts and garlic for about 20-30 pulses.

Add the basil, lemon juice, salt, and parmesan cheese (if using) to the walnut mixture.

Start the processor and slowly add the extra virgin olive oil through the feed tube until the pesto comes together and is blended smooth.

Pro Tip: You may have to scrape the bowl down while you are processing to make sure that all the bits and pieces get blended in.

Fresh Basil Pesto can be stored in the fridge, in an air tight container, for about a week
Freezing
Spoon 1½ tablespoon portions into each compartment of an ice cube tray. Top each cube with a little extra virgin olive oil.

Place the tray(s) into the freezer and freeze for up to 12 hours until the cubes are frozen. Pop them out and store in a freezer safe bag, up to 6 months.

You can use the frozen cubes 1, 2, or 8 at a time for your pastas, soups, side dishes and dips.
Did you try this recipe? Connect with me & let me know how it turned out by commenting below!
Jump to Comments
Serving:
1
recipe
|
Calories:
2237
kcal
|
Carbohydrates:
20
g
|
Protein:
11
g
|
Fat:
242
g
|
Saturated Fat:
32
g
|
Sodium:
2340
mg
|
Potassium:
675
mg
|
Fiber:
5
g
|
Sugar:
3
g
|
Vitamin A:
6343
IU
|
Vitamin C:
52
mg
|
Calcium:
296
mg
|
Iron:
7
mg
If nutrition facts are provided they are calculated as an estimate to the best of our knowledge.