Once you eat this Grilled Buttermilk Chicken you will never go back to just plain old grilled chicken again. Promise! The buttermilk marinade makes the chicken impossibly tender and juicy. You will NEVER suffer a dry grilled chicken breast again with this recipe at your side.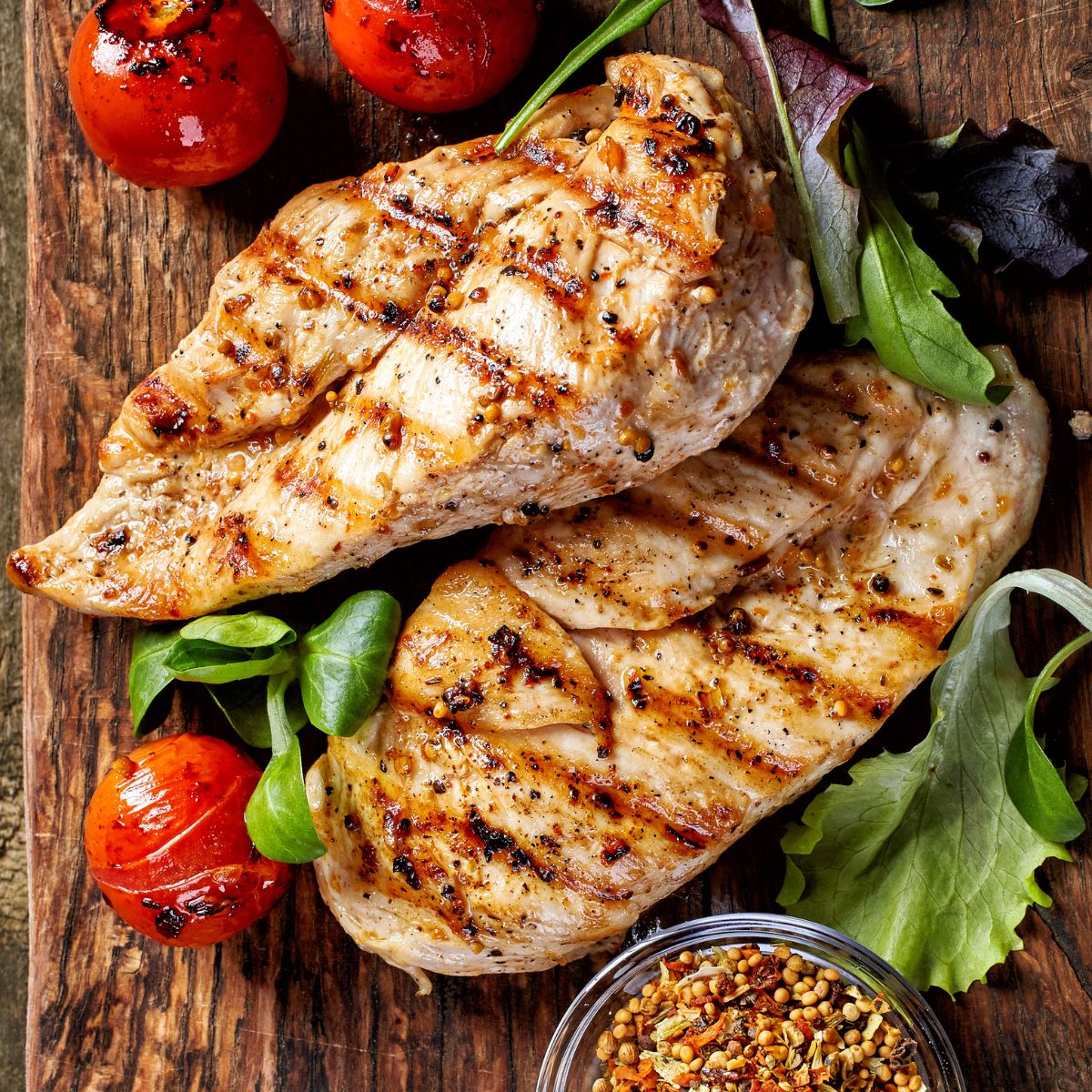 This grilled chicken would be amazing with Fettuccine Alfredo, on top of a Caesar Salad, mixed into a tortellini pasta salad, or in this Creamy Chicken & Noodle recipe! But my absolute favorite is on top of this Basil Pesto Pasta!
Why Use A Buttermilk Marinade?
This is where the magic happens! Modern buttermilk is made by adding lactic acid to a low-fat milk. That lactic acid is what does it's trick on your chicken.
Unlike lemon or vinegar, the lactic acid in buttermilk is a much milder form of acid that tenderizes your chicken perfectly. It keeps it juicy and tender while it grills.
Do You Rinse The Buttermilk Before Grilling?
Definitely do not rinse your chicken under running water. This is actually a kitchen practice that is never recommended because of cross-contamination risks.
Instead, I recommend that when you pull your chicken out of the marinade you lay it on some paper towels in a rimmed baking sheet, then lightly pat the top of the breasts with additional paper towels.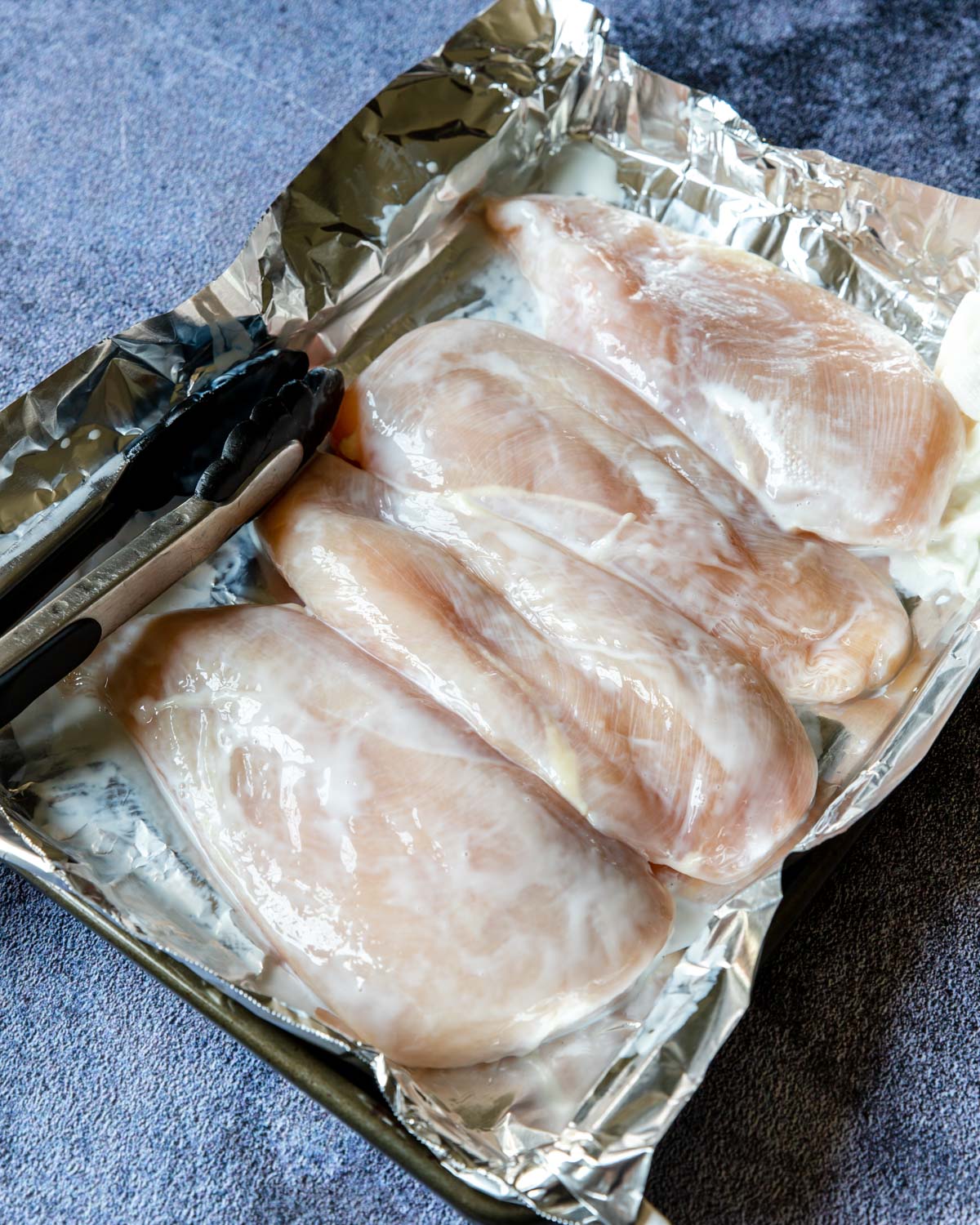 It does not need to be completely dry of buttermilk, but you also don't want it still soaked in buttermilk. See photo for above visual reference.
Ingredients
You only need 4 ingredients to make Grilled Buttermilk Chicken.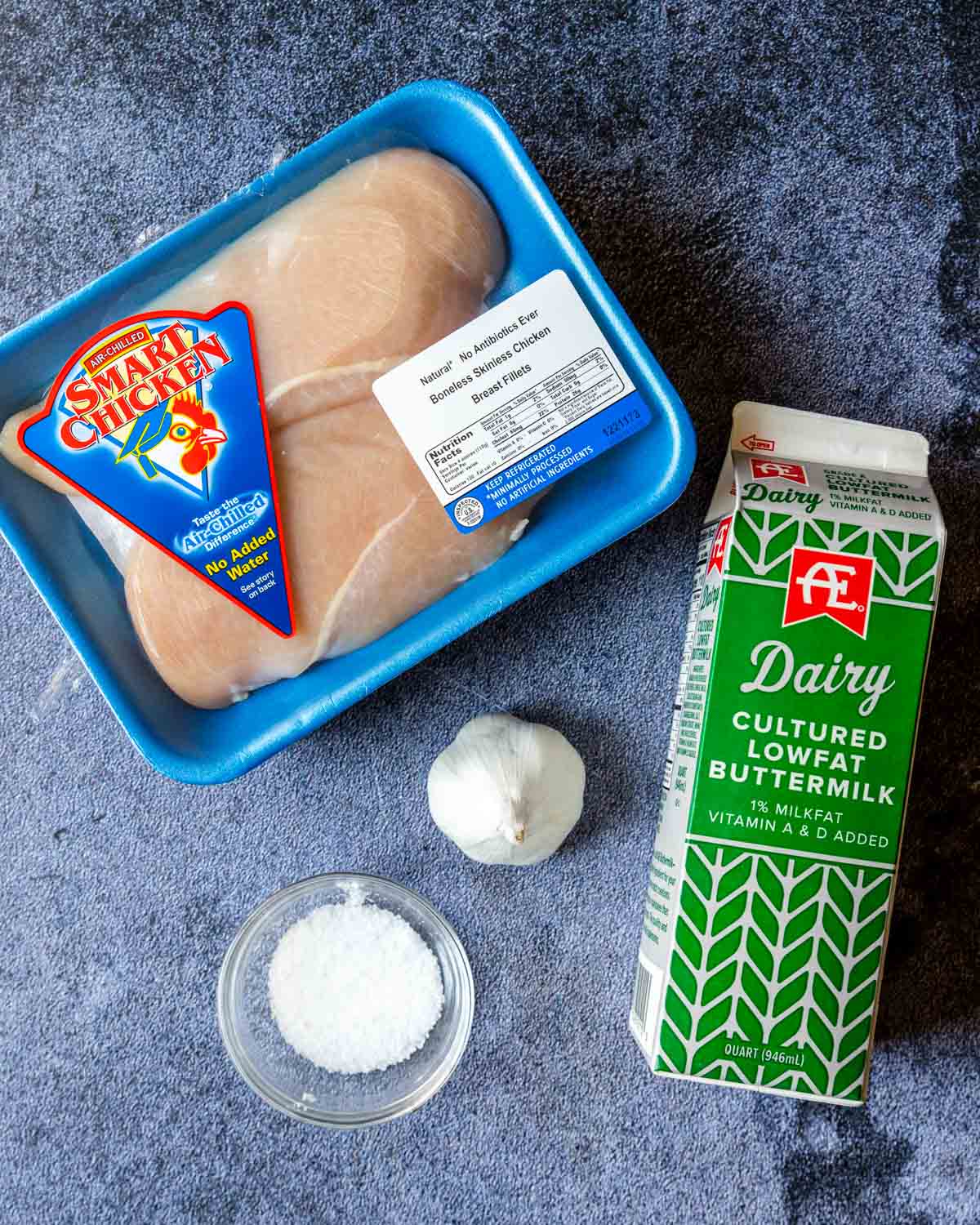 Boneless Skinless Chicken Breast- Great grilled chicken starts by buying the best quality chicken you can. I recommend buying a chicken breast says on the packaging that has been air chilled, like Smart Chicken.
Buttermilk – Yes, there are hacks out there to make your own buttermilk. Which I think are great when you are in a baking pinch.
However, for Buttermilk Marinated Chicken I definitely recommend that you purchase true Buttermilk. Store bought buttermilk is made by adding lactic acid, which is a great tenderizer for your chicken. Most homemade buttermilk hacks are made with lemon or vinegar, which is not what you want in this recipe.
Kosher Salt- You want to use a kosher salt in this recipe, do not use iodized table salt. Kosher salt has a milder/softer saltiness than table salt.
Buttermilk Marinade Step by Step
Salt the chicken.

Grab a pan or dish that will fit all your chicken breast in one layer, some overlapping is ok, but don't pile the chicken on top of each other.

Generously salt the chicken on all sides.

Add the garlic.

Crush your garlic cloves so that the insides are exposed. This will flavor the buttermilk and in turn your chicken. Do not chop or mince your garlic. Those pieces would stick to your chicken and then burn on the grill – that's no good!

Add the buttermilk.

Now pour the buttermilk around the chicken. Do not pour it right over the chicken or all the salt will wash off.

Shimmy the chicken around so the buttermilk surrounds all the pieces.

Marinate.

Now cover the pan and pop it in the fridge to marinate for 12-24 hours.

Pro Tip: if you have lots of kids getting in and out of your fridge I recommend placing the buttermilk/chicken pan on a rimmed baking sheet to catch any spills.
Grilling Your Buttermilk Marinated Chicken
It's time to grill!
Prep chicken.

Remove your chicken from the fridge. Line a rimmed baking sheet with paper towels.

Lay your chicken on the paper towels and then take a few extra and dab the top of the chicken. It is not necessary to remove all the buttermilk, you just don't want it soaking in the milk before it goes on the grill.

Leave the chicken out at room temp while your grill heats.

Prep the grill.

Set your grill up for direct and indirect grilling. If you use a charcoal grill that means you will leave one side of the kettle empty and pile the hot coals on the other side.

Grill the chicken.

Start your chicken over the direct side. Grill for about 4 minutes.

Flip the chicken (as long as it easily releases from the grill, if not, wait another minute). Cook for another 4 minutes over direct heat.

Now move to the indirect side of the grill. Check the internal temp. If the chicken is not at 160-165 degrees pop the lid on the grill and let it cook over indirect heat until it reaches 160-165 degrees. This could be anywhere from 1 minute to 5 minutes depending on how thick and big your chicken breasts are.

Remove from the grill.

Once they are cooked through remove your chicken breasts from the grill and let them rest for 5 minutes. I do not like to tent my chicken with foil because it can prolong the carry-over cooking and end up overcooking your chicken.
Dipping Sauce
There is an optional dipping sauce in the recipe card. It is a great creamy sauce with a little kick of heat from the horseradish. This is also a great schmear for chicken sandwiches.
Some other great dips for grilled chicken are:
Side Dish Recipes
Here are some great side dishes to make this Buttermilk Grilled Chicken into a meal:
---
Did you make this recipe?!
If you make this recipe I would love to hear your review. Pop down to the comment section and connect with me.
Then sign up for our Weekly Newsletter so you never miss a new recipe!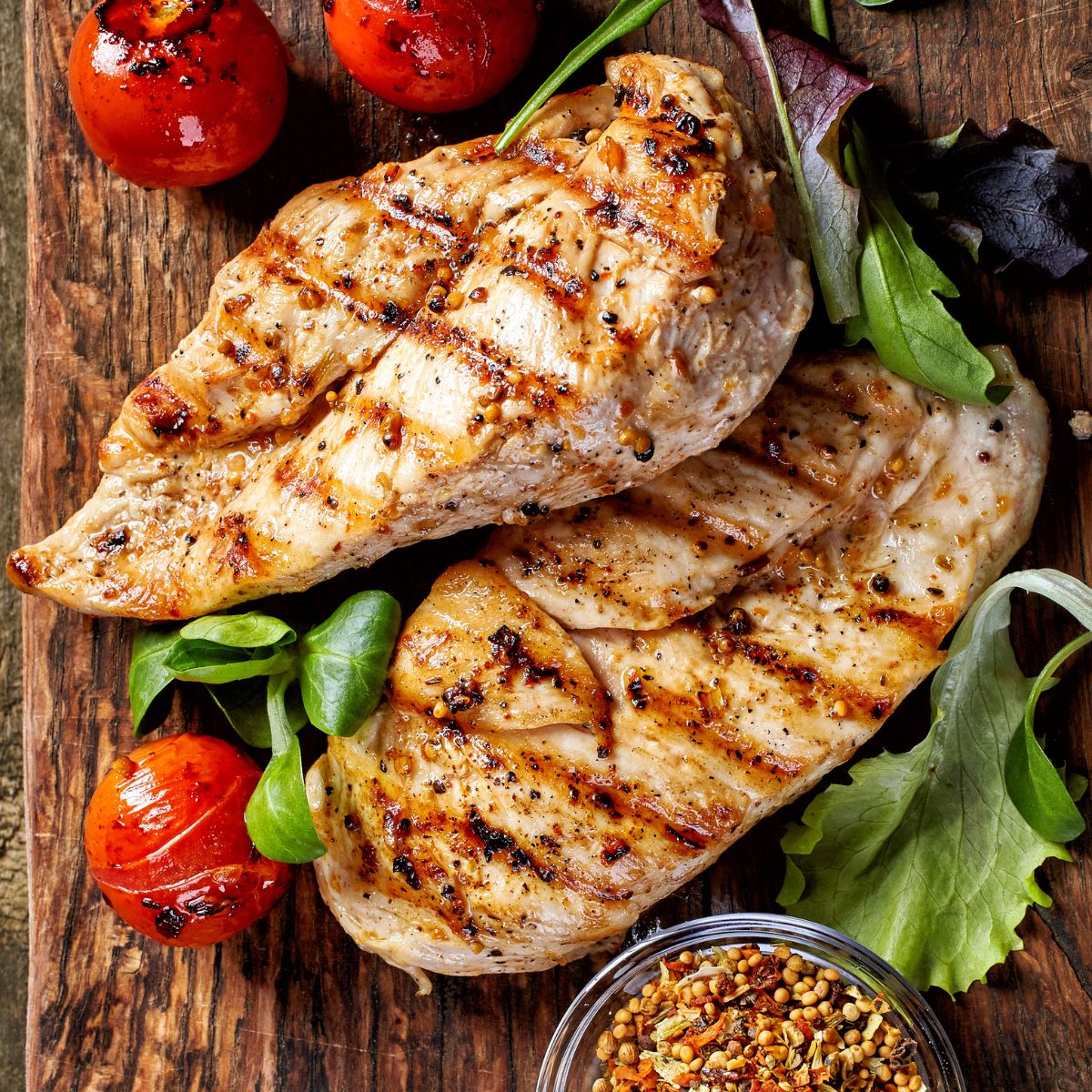 Buttermilk Marinated Grilled Chicken Recipe
Amazing Grilled Chicken that is impossibly juicy and tender from a buttermilk marinade.
Print
Pin
Rate
Save
Saved to Grow
Ingredients
6

fresh boneless skinless chicken breasts

** see notes on chicken breasts below.

2

cups

buttermilk

6

fresh whole garlic cloves

(more if you LOVE garlic)
Instructions
Lay all your boneless skinless chicken breasts in a rimmed pan/dish that will fit all your chicken, without layering.

6 fresh boneless skinless chicken breasts

Salt both sides of the breasts, generously!!

Smash your garlic cloves so they are cracked and the insides are exposed, but do not mince or chop the garlic.

Nestle it around the chicken.

6 fresh whole garlic cloves

Pour the buttermilk around the edges of the chicken, then shimmy the pan/chicken to make sure the buttermilk is surrounding the chicken.

Tip: Don't pour the buttermilk directly over the chicken, you want to salt to stay somewhat adhered to the chicken.

Cover the pan and pop in the fridge for 12-24 hours.

Pro Tip: if you don't have tight fitting lid on your chicken dish and have lots of kids grabbing things out of your fridge, I recommend placing the pan with the chicken and buttermilk on a rimmed baking sheet to catch any spills or accidents.!
Grilling Buttermilk Chicken
Set your grill up for direct and indirect grilling. If you have a charcoal grill this means that you will pile all your hot coals on one side of the kettle.

Remove the chicken from the buttermilk and place on a paper towel lined baking sheet.

Let some of the buttermilk drain from the chicken. Give it a pat with some extra paper towels to absorb any excess buttermilk. However, it is ok if there is still some milk left on the chicken.

See photo for reference.

Leave your chicken at room temp while your grill heats up! This is called tempering and will help your chicken cook more evenly.

When your grill is hot and ready place the chicken breast over the coals/heat for direct heat grilling, about 4 minutes on the first side.

Once the chicken will easily release from the grill flip it to the second side. Grill for another 4 minutes.

Now move the chicken to the indirect grilling side.

Check the temp, if it has not reached 160° internal temp then pop the lid on the grill and cook over indirect heat until the chicken reaches an internal temp of 160°-165°.

This could be anywhere from 1 minute to 5 minutes depending how large your chicken breasts are.

Remove your fully cooked chicken from the grill and let it sit for 5 minutes before cutting or serving.

I do not like to tent with foil, this will prolong the carryover cooking and possibly over cook your chicken.
Notes:
Boneless Skinless Chicken Breasts: I absolutely recommend buying the very best chicken breasts you can, whether that is from a butcher or a really good brand (like Smart Chicken). Finding one that is air chilled is a great indication that it will be quality poultry.
If you have really thick/large chicken breasts I recommend splitting them lengthwise into two thinner breasts! They will marinate better and cook more evenly. 
Don't be shy with the salt. Give it a good bath in kosher salt before putting in the fridge. This will help the chicken be more flavorful and tender.
Do not rinse your chicken before you marinate it. 
Buttermilk: You can make your own buttermilk with milk and vinegar or lemon. However in this case I recommend that you use true buttermilk.
Did you try this recipe? Connect with me & let me know how it turned out by commenting below!
Jump to Comments
Serving:
1
breast
|
Calories:
178
kcal
|
Carbohydrates:
4
g
|
Protein:
27
g
|
Fat:
6
g
|
Saturated Fat:
2
g
|
Polyunsaturated Fat:
1
g
|
Monounsaturated Fat:
2
g
|
Trans Fat:
1
g
|
Cholesterol:
81
mg
|
Sodium:
215
mg
|
Potassium:
526
mg
|
Sugar:
4
g
|
Vitamin A:
166
IU
|
Vitamin C:
1
mg
|
Calcium:
98
mg
|
Iron:
1
mg
If nutrition facts are provided they are calculated as an estimate to the best of our knowledge.